BIO-GEO CHEMICAL CYCLE:
Bio – Living organism
Geo – Rock, Soil, Air, Water
Chemical – Material or Nutrients
Cycle – Path
All the types of material required by ecosystem in addition to energy, are available continuously to system through recycling. Thus there is a constant exchange of materials between the living organisms and their abiotic environment through the recycling of materials. This phenomenon is called Bio-geo chemical cycle.
The mineral elements taken up from the environment (soil as well as air) by the green plant – the producers, are again returned to the environment through consumers and decomposers.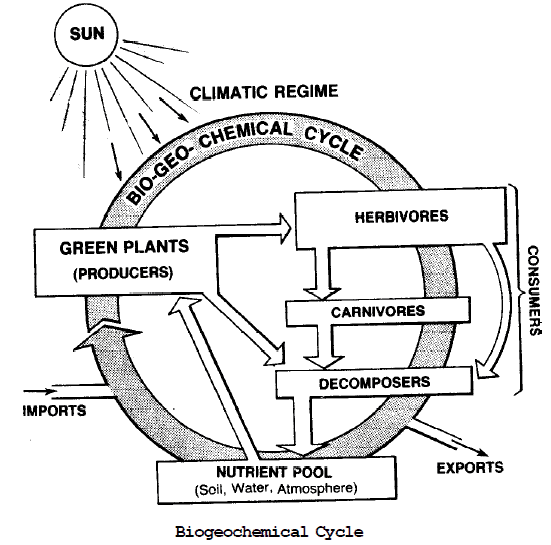 The following types of cycle are found in an ecosystem:
(i) Gaseous Cycle – C, H, N, O cycles. Reservoir is in the atmosphere (air) or in Hydrosphere(water).
(ii) Sedimentary cycle – P, S, Ca cycles reservoirs are in the earth's crust (lithosphere).
Note : In these cycles, the bulk material remains in the inactive reservoir on earth's crust like sediment of sea, or water bodies.
CARBON CYCLE:
The main source of carbon is atmosphere and in hydrosphere it is rocks of carbonates. Carbon is present in lithosphere in the form of coal and petroleum. The carbon released from them is present in the atmosphere in the form of carbon dioxide. The green autotrophs utilize CO2 from the air to synthesize food materials which is obtained by other organisms as food. Carnivores obtain their carbonic food from the herbivores. These carbonic matter produce CO2 through the oxidation or respiration which dissolve in air or water and is again utilized by the plants.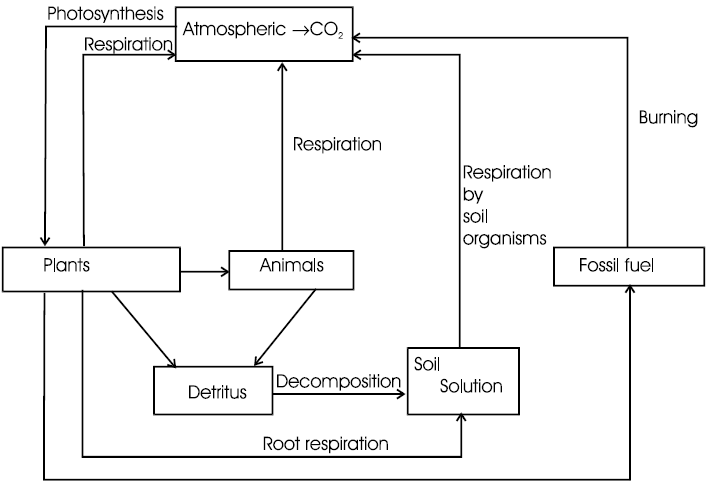 NITROGEN CYCLE:
Atmosphere is the only source of nitrogen. 78% nitrogen is present in atmospheric air. Plants absorb nitrogen in the form of nitrate ions.
Nitrogen cycle is completed in following steps:
1. Nitrogen fixation –
In this process first of all some bacteria and blue green algae converts atmospheric nitrogen into nitrogenous compounds viz ammonia, amino acid or nitrate salts.
e.g.

Blue green algae – Anabaena , Aulosira ,Nostoc → In flooded rice field in tropics.
Note :
(1) Azotobacter is aerobic bacteria.
(2) Clostridium is anaerobic bacteria.
(3) Symbiotic relationship where the nitrogen fixing bacteria does not penetrate deep into host tissue, is known as associative symbiosis.
2. Nitrification –
Conversion of ammonia into nitrate is called nitrification.
Nitrification process is completed in two steps:

Note :
(a) Few quantity of nitrate comes in soil by electrochemical or photochemical process.
(b) Now few quantity of this nitrate is absorbed by plants.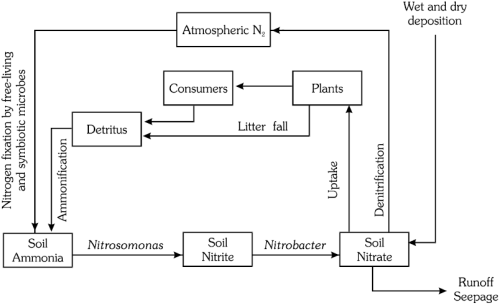 3. Nitrogen assimilation –
Plants absorb nitrate from the soil and form protein. When consumers eat these plants, these plant proteins are transferred into consumers.
After the death of plants and consumers, litter is formed in which protein is present.
4. Ammonification –
Protein present in litter, is converted into ammonia by some ammonifying bacteria.
e.g. Bacillus vulgaris, Bacillus mycoides, Bacillus ramosus.
5. Denitrification –
Some quantity of nitrate which is not used by plants is converted into nitrogen by denitrifying bacteria. e.g. Thiobacillus denitrificans, Pseudomonas denitrificans
Note : Some nitrate washed out from the ecosystem through seepage.
PHOSPHORUS CYCLE:
Phosphorus is the main constituent of protoplasm, plasma membrane, bones and teeth. Main source of phosphorus is rocks. It comes from the weathering of phosphorus containing rock in the soil. Plants absorb this phosphorous from the soil and transfer this phosphate to animals and after the death of animals it is released again into the lithosphere by the action of decomposers.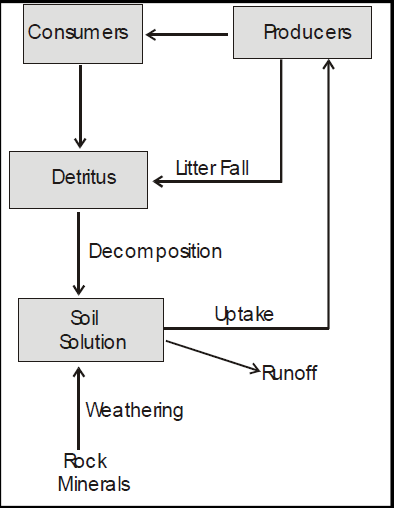 Sometimes some of the elements like phosphorus and calcium reach into the sea through water, from where they transform into rocks. They separate from the cycle for a long time so it is also known as sedimentary cycle.
But when these rocks break after sometime then this phosphorus is again made available to the sea plant or sea weeds, which pass into fish and sea birds. The excretory materials of birds on the rocks of sea shore is called Guano and it is a source of phosphorus.
Note :- Plants absorb phosphate from the soil in the form of orthophosphate (Po43–).
Difference between Carbon and Phosphorus cycle:
1. Atmospheric inputs of phosphorus through rainfall are much smaller than carbon.
2. Gaseous exchanges of phosphorus between organism and environment are negligible.
WATER CYCLE:
Water is indispensable for life. Sea is the main source of water on earth, water is always present in the atmosphere in the form of water vapour. Water is also evaporated from other places from where it reaches into the atmosphere. These vapours form clouds in the atmosphere, condensation of water vapour forms clouds, mist, fog and ice at high altitudes. It comes again on the earth in above forms.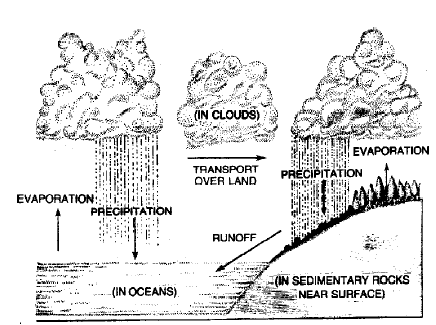 Water cycle plays a significant role on the earth. Plants and animals receive water or absorb water. Water participates in various metabolic activities of the body of organisms and again it is formed. Water is converted into food through the photosynthesis in plants. Water is also present in protoplasm of all organisms.This water again comes into the atmosphere through transpiration from the plants and evaporation and sweating from the animals. Thus, this cycle goes on continuously. The oxygen cycle and hydrogen cycle is also found in the ecosystem as above cycles.
Note :
1. Water cycle is directly operated by solar radiation and it is under the control of forests.
2. The term "Cycle" is used for the movement of matter and the term "Flow" is used for the movement of energy.