Different Branches of Science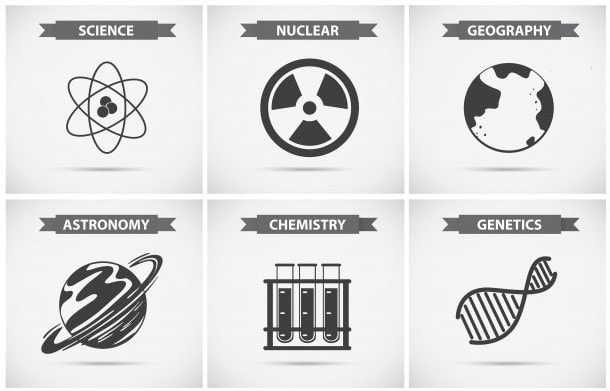 Branch ➜ Concerning Field
Aeronautics ➜ Science of flight of aeroplanes.
Astronomy ➜ Study of heavenly bodies.
Agronomy ➜ Science dealing with crop plants.
Angiology ➜ Deals with the study of the blood vascular system.
Anthology ➜ Study of flowers.
Anthropology ➜ Study of apse and man.
Apiculture ➜ Honey industry (Bee Keeping)
Araneology ➜ Study of spiders.
Batracology ➜ Study of frogs.
Biochemistry ➜ Deals with the study of chemical reactions in relation to life activities.
Biotechnology ➜ Deals with the use of micro-organisms in commercial processes for producing fine chemicals such as drugs, vaccines, hormones, etc. on a large scale.
Cardiology ➜ Study of heart.
Craniology ➜ Study of skulls.
Cryptography ➜ Study of secret writing.
Cryogenics ➜ Study concerning with the application and uses of very low temperature.
Cytology ➜ Study of cells.
Dermatology ➜ Study of skin.
Ecology ➜ The study of the relationship between organisms and the environment.
Entomology ➜ Study of insects.
Etiology ➜ Study of the cause of disease.
Eugenics ➜ Study of improvement of the human race by applying laws of heredity. It is related to future generations.
Evolution ➜ Deals with the study of the origin of new from old.
Exobiology ➜ Deals with life or possibilities of life beyond the earth.
Floriculture ➜ Study of flower yielding plants.
Geology ➜ Study of condition and structure of the earth.
Genetics ➜ Study of heredity and variations.
Gerontology ➜ Study of female reproductive organs.
Horticulture ➜

Study of garden cultivation.
Haematology ➜ Study of blood.
Herpetology ➜ Study of liver.
Iconography ➜ Teaching by pictures and models.
Immunology ➜ Science which deals with the study of resistance of organisms against infection.
Jurisprudence ➜ Science of law.
Kalology ➜ Study of human beauty.
Lexicography ➜ Compiling of a dictionary.
Mycology ➜ Study of fungi.
Myology ➜ Study of muscles.
Nephrology ➜ Study of kidneys.
Neurology ➜ Study of nervous system.
Numismatics ➜ Study of coins and medals.
Obstetrics ➜ Branch of medicine dealing with pregnancy.
Oneirology ➜ Study of dreams.
Ophthalmology ➜ Study of eyes.
Ornithology ➜ Study of birds.
Osteology ➜ Study of bones.
Palaeontology ➜ Study of fossils.
Philately ➜ Stamp collecting.
Philology ➜ Study of languages.
Phonetics ➜ Concerning the sounds of a spoken language.
Physiography ➜ Nature phenomenon.
Pedology ➜ Study of soils.
Pathology ➜ Study of disease causing organisms.
Phycology ➜

Study of algae.
Physiology ➜ Science dealing with the study of functions of various parts of organisms.
Pisciculture ➜ Study of fish.
Pomology ➜ Study of fruits.
Seismology ➜ Study of earthquakes.
Sericulture ➜ Silk industry (culture of silk moth and pupa).
Serpentology ➜ Study of snakes.
Telepathy ➜ Communication between two minds at a distance with the help of emotions.
Taxonomy ➜ Study of classification of organisms.
Virology ➜ Study of virus.
Try yourself:The science of sound is dealt by
Elements, Symbols And Atomic Numbers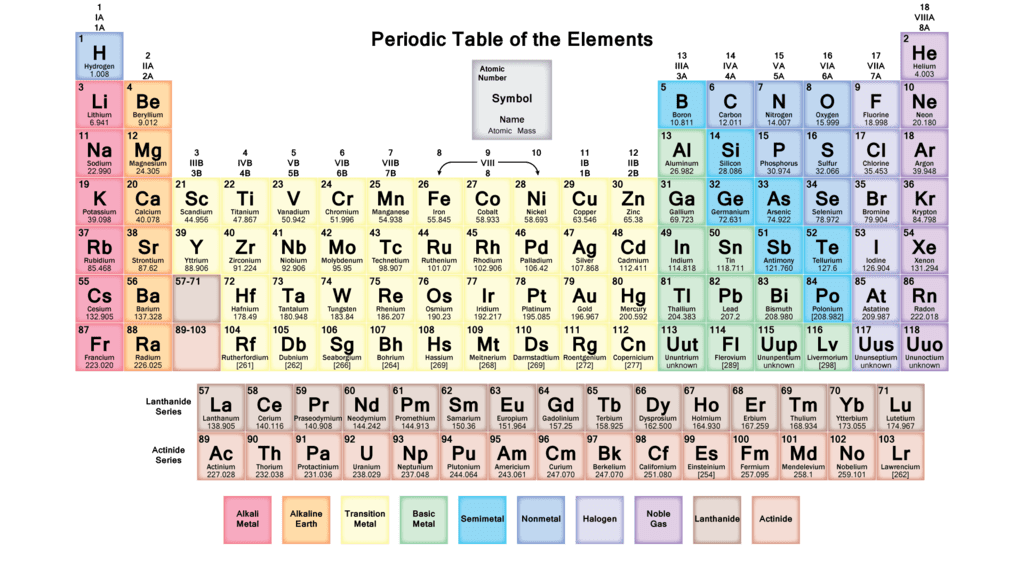 Element(Symbol) ➜ Atomic Number

Hydrogen (H) ➜ 1
Helium (He) ➜ 2
Lithium (Li) ➜ 3
Beryllium

(

Be) ➜ 4

Boron

(

B) ➜ 5

Carbon

(

C) ➜ 6

Nitrogen

(

N) ➜ 7

Oxygen

(

O) ➜ 8

Fluorine

(

F) ➜ 9

Neon

(

Ne) ➜ 10

Sodium (Natrium)

(

Na) ➜ 11

Magnesium

(

Mg) ➜ 12

Aluminium

(

Al) ➜ 13

Silicon

(

Si) ➜ 14

Phosphorous

(

P) ➜ 15

Sulphur

(

S) ➜ 16

Chlorine

(

Cl) ➜ 17

Argon

(

Ar) ➜ 18

Potassium (Kalium)

(

K) ➜ 19

Calcium

(

Ca) ➜ 20

Titanium

(

Ti) ➜ 22

Vanadium

(

V) ➜ 23

Chromium

(

Cr) ➜ 24

Manganese

(

Mn) ➜ 25
Iron (Ferrum) (Fe) ➜ 26
Cobalt (Co) ➜ 27
Nickel (Ni) ➜ 28
Copper (Cuprum) (Cu) ➜ 29
Zinc (Zn) ➜ 30
Germanium (Ge) ➜ 32
Bromine (Br) ➜ 35
Krypton (Kr) ➜ 36
Zirconium (Zr) ➜ 40
Silver (Ag) ➜ 47
Tin (Stannum) (Sn) ➜ 50
Antimony (Stabnium) (Sb) ➜ 51
Iodine (I) ➜ 53
Barium (Ba) ➜ 56
Gold (Aurum) (Au) ➜ 79
Mercury (Hydragerm) (Hg) ➜ 80
Lead (Plumbum) (Pb) ➜ 82
Bismuth (Bi) ➜ 83
Radium (Ra) ➜ 88
Thorium (Th) ➜ 90
Uranium (U) ➜ 92
Plutonium (Pu) ➜ 94
Curium (Cm) ➜ 96
Common and Chemical Names of Some Compounds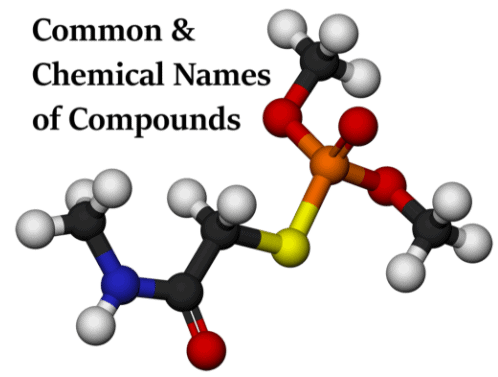 Common Name ➜ Chemical Name (Chemical Formula)

Dry ice ➜ Solid Carbon Dioxide (CO2)
Slaked Lime ➜ Calcium Hydroxide (Ca(OH)2)
Bleaching Powder ➜ Calcium Oxychloride (CaOCI2)
Nausadar ➜ Ammonium Chloride (NH4CI)
Caustic Soda ➜ Sodium Hydroxide (NaOH)
Rock Salt ➜ Sodium Chloride (NaCI)
Caustic Potash ➜ Potassium Hydroxide (KOH)
Potash Alum ➜ Potassium Aluminium Sulphate (K2SO4.AI2(SO4)3.24H2O)
Epsom ➜ Magnesium Sulphate (MgSO4.7H2O)
Quick Lime ➜ Calcium Sulphate (CaO)
Plaster of Paris ➜ Calcium Sulphate

(CaSO4)1/2 H2O
Gypsum ➜ Calcium Sulphate (CaSO4.2H2O)
Green Vitriol ➜ Ferrous Sulphate (FeSO4.7H2O)
Mohr's Salt ➜ Ammonium Ferrous Sulphate (FeSO4 (NH4)2SO4.6H2O)
Blue Vitriol ➜ Copper Sulphate (CuSO4.5H2O)
White Vitriol ➜ Zinc Sulphate (ZnSO4.7H2O)
Marsh Gas ➜ Methane (CH4)
Vinegar ➜ Acetic Acid (CH3COOH)
Potash Ash ➜ Potassium Carbonate (K2CO3)
Hypo ➜ Sodium Thiosulphate (Na2S2O3.5H2O)
Baking Powder ➜ Sodium Bicarbonate (NaHCO3)
Washing Soda ➜ Sodium Carbonate (Na2CO3.10H2O)
Magnesia ➜ Magnesium Oxide (MgO)
Chalk (Marble) ➜ Calcium Carbonate (CaCO3)
Lunar Caustic ➜ Silver Nitrate (AgNO3)
Laughing Gas ➜ Nitrous Oxide (N2O)
Chloroform ➜ Trichloro Methane (CHCI3)
Vermelium ➜ Mercuric Sulphide (HgS)
Borax ➜ Borax (Na2B4O7.10H2O)
Alcohol ➜ Ethyl Alcohol (C2H5OH)
Sugar ➜ Sucrose (C12H22O11)
Heavy Water ➜ Deuterium Oxide (D2O)
Globar's Salt ➜ Sodium Sulphate (Na2SO4.10H2O)
T.N.T. ➜ Tri Nitrotoluene (C5H2CH3(NO2)3)
Calomel ➜ Mercurous Chloride (Hgci)
Sand ➜ Silicon Oxide (SiO2)