BUSINESS
NIIF, DP World to create investment platform for ports, logistics business
On 22nd January 2018, National Investment and Infrastructure Fund (NIIF) announced that, it has partnered with DP World to develop an investment platform for ports, terminals, transportation and logistics businesses in India.
NIIF partners with DP World:
i. The platform will work on investment avenues in the ports sector, including sea ports, river ports and transportation.
ii. Investment will also be done in freight corridors, port-led special economic zones, inland container terminals, and logistics infrastructure including cold storage.
iii. This platform will invest $3 billion of equity to acquire assets and develop projects. This partnership is part of a MoU signed in May 2017.
About National Investment and Infrastructure Fund (NIIF):
♦ CEO – Sujoy Bose
♦ Executive Director – Prakash Rao
Mercedes unveils India's first, locally made BS-VI car
On January 19, 2018, Mercedes-Benz unveiled India's first Bharat Stage BS-VI-compliant car produced at its Pune facility.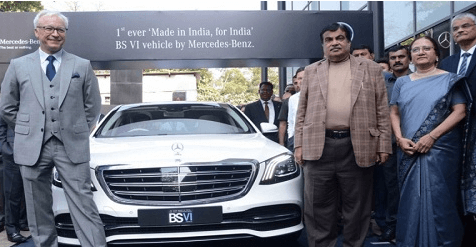 More Information about India's first BS-VI-compliant car:
i. The unveiling of this car was does in presence of Union Transport Minister Nitin Gadkari.
ii. On January 19, 2018, Mercedes-Benz also received certificate of compliance to the Central motor vehicles rule (CMVR) from the Automotive Research Association of India (ARAI) for its BS-VI-compliant car.
iii. In context of this news, it is to be noted that in October 2016, Indian Government decided to skip one stage and migrate to BS-VI directly from BS-IV from April 2020.
ixigo introduces India's first augmented reality feature for Train Passengers
ixigo, has launched AR Coach Position feature, India's first augmented reality (AR) feature on its trains app.
AR Coach Position feature:
i. Using the AR Coach Position feature, train travellers can locate their coach positions exactly, for more than 13,000 passenger trains at nearly 7,000 railway stations in India.
ii. Using iPhone 6+ or latest versions of iPhone, users can get their coaches categorized and labeled and find out how far they are from their coach.
iii. ixigo has also released Station Alarm and Rescheduled trains features. The Station Alarm feature alerts users when they approach their destination station.
iv. The rescheduled trains feature helps users check if their train is cancelled, diverted or rescheduled.
About ixigo:
♦ Headquarters – Gurgaon
♦ CEO & Founder – Aloke Bajpai
APPOINTMENTS & RESIGNS
Om Prakash Rawat appointed as new Chief Election Commissioner
On 21st January 2018, Om Prakash Rawat was appointed as the next Chief Election Commissioner.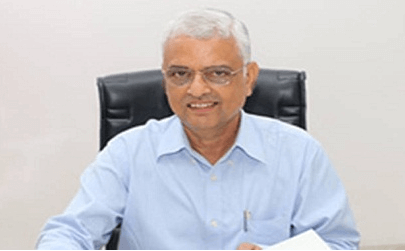 Om Prakash Rawat – Chief Election Commissioner:
i. Om Prakash Rawat replaces AK Joti as Chief Election Commissioner. Om Prakash Rawat is a retired IAS officer of 1977 batch.
ii. He was joint secretary in the Ministry of Defence earlier. He became the Election Commissioner in August 2015. He becomes the 22nd Chief Election Commissioner of India.
iii. Ashok Lavasa has been appointed as an Election Commissioner in place of Om Prakash Rawat. Sunil Arora is another Election Commissioner at present.
Some important stadiums in India:
♦ Rajiv Gandhi International Stadium – Hyderabad
♦ Jawaharlal Nehru Stadium – Kochi
♦ Jawaharlal Nehru Stadium – Delhi
♦ DY Patil Stadium – Navi Mumbai
IPS Officer O P Singh takes charge as Uttar Pradesh DGP
O P Singh has been appointed as DGP (Director General of Police) of Uttar Pradesh.
O P Singh – Uttar Pradesh DGP:
i. O P Singh is a 1983 batch Indian Police Services (IPS) officer. He has taken charge as Director General of Police (DGP) of Uttar Pradesh.
ii. He has been relieved from the post of Director General of Central Industrial Security Force (DGCISF).
About wildlife sanctuaries of Uttar Pradesh:
♦ Bakhira Sanctuary – Sant Kabir Nagar district
♦ Chandra Prabha Wildlife Sanctuary – Chandauli district
♦ Kachhua Sanctuary – Varanasi district
AWARDS & RECOGNITIONS
AP IT minister Nara Lokesh receives Kalam Innovations in Governance Award (KIGA)
On 20th January 2018, Andhra Pradesh IT minister Nara Lokesh was honoured with the Kalam Innovations in Governance Award (KIGA) at an event organised by the APJ Abdul Kalam International Foundation, in New Delhi.
Nara Lokesh – Kalam Innovations in Governance Award:
i. The Kalam Innovations in Governance Award (KIGA) award was presented to Nara Lokesh by Desh Deepak Verma, Rajya Sabha Secretary General, for outstanding work in improving governance.
ii. A P J Abdul Kalam International Foundation was established in memory of former President A P J Abdul Kalam. It focuses on development of the society in various fields.
About A. P. J. Abdul Kalam:
♦ 11th President of India
♦ Profession – Professor, Author, Aerospace scientist
♦ Born – 15 October 1931