CLAT 2023 took place on Sunday, December 18, from 2 PM to 4 PM, at 127 test centers across 23 states and 2 union territories in India. According to official notification, the scores for CLAT 2023 were calculated and confirmed on Thursday, December 22, 2022. The result for CLAT Exam is only available online at consortiumofnlus.ac.in starting from December 23, 2022.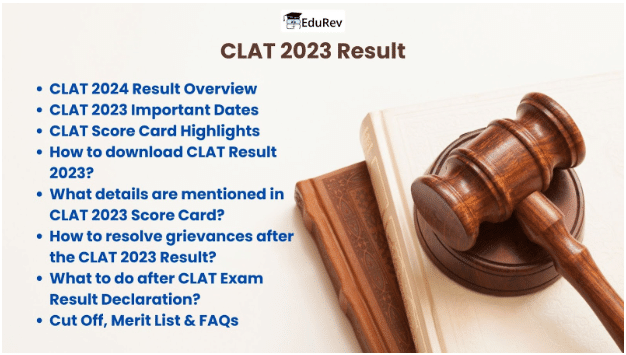 The CLAT 2023 scorecards can be obtained by candidates by logging into their account on the CLAT 2023 portal via the Consortium of NLUs' website. This article covers all necessary information regarding the CLAT 2023 Exam result, including an overview, highest marks, result downloading steps, what to expect after the result is released, and much more.
Aspiring law students who aim to achieve a high rank in CLAT Exam can enhance their preparation for CLAT with EduRev Infinity for CLAT
CLAT 2023 Result Overview
The Consortium of NLUs has declared the CLAT 2023 Result on its official website. Candidates who took the exam on December 18, 2022, can access their CLAT Result and Score Card by logging in to the NLUs website: consortiumofnlus.ac.in. The highest mark secured in CLAT 2023 UG was 116.75. And total two male candidates secured a 100.00 Percentile in CLAT 2023. Here is the quick highlight of CLAT 2023 Result:
Particulars

Details

CLAT Result Declaration Date

December 23, 2022

Highest marks CLAT UG

116.75

Maximum percentile in CLAT UG

100 by two candidates

Second Highest Percentile CLAT UG

99.99 by four candidates
Check here:
NOTIFICATION: CLAT 2023 RESULTS

Duration of CLAT 2023

120 minutes
(160 minutes for PwD/ SAP candidates)

No. of Questions

Total of 149 questions
(One question withdrawn in the Final Answer Key)

CLAT 2023 Exam Sections

5 sections

English Language

30 Questions

Current Affairs Including General Knowledge

35 Questions

Legal Reasoning

40 Questions

Logical Reasoning

30 Questions

Quantitative Techniques

15 Questions

Marking Scheme

+1 for correct answer
- 0.25 for incorrect answer
Check: CLAT Exam Syllabus, Pattern, Marking Scheme and more here.
Check: CLAT Exam Handbook: Registration, Cut OFF, Syllabus, Counselling, Result & More
To increase your chances of getting into a top NLU for CLAT 2024, consider utilizing EduRev Infinity Package for CLAT to improve your preparation. With 500+ tests, 1200+ documents, and 1000+ videos available in EduRev Infinity for CLAT, you can confidently ace the exam. Check the document: What do you get under EduRev Infinity for CLAT?
CLAT 2023 Important Dates
CLAT 2023 was administered by the consortium on December 18, 2022, in an offline format and CLAT 2023 Exam Result was released on December 23, 2022. The full schedule for CLAT 2023 is listed below:
Check all the important dates of CLAT 2023 in this document.
Check about CLAT Exam counselling and its important dates here.
Check CLAT Bible: 8 Steps to Ace your CLAT Exam with Ease!
CLAT Score Card Highlights & Importance
The CLAT result 2023 has been announced in the form of individual scorecards as well as percentiles.
Participating National Law Universities (NLUs) will conduct the admissions process to the five-year integrated UG and PG programmes commencing in the Academic Year 2023-24 based on CLAT 2023 scores.
61 non-NLU affiliate universities will use CLAT 2023 scores for admissions to five-year integrated UG and PG law programmes commencing in the Academic Year 2023-2024.
Check here: List of NLUs, 61 non-NLU affiliate universities & other participating colleges accepting CLAT Score
Check here: CLAT 2024 Application Form: Notification, Dates, Application Process, Eligibility & more
How to download CLAT Result 2023 Scorecard?
To access the CLAT 2023 Result and to download CLAT 2023 Score Card follow these steps:
Go to the official website of CLAT: consortiumofnlus.ac.in
Click on the "CLAT Result" tab on the top of the homepage.
Enter your login information, including your Registered ID and Password.
Press the "Submit" button.
Your CLAT 2023 Score Card will be displayed on the screen.
Download and save the scorecard for future reference.
Below we have provided a snapshot of CLAT 2023 Result Screen for you.


To achieve great results in CLAT 2024, consider taking the mock tests provided in Edurev Infinity Package for CLAT.
Also check the document: CLAT 2024 Mock Tests: Importance, Tips & Full Length & Section Wise Mock Tests
What details are mentioned in CLAT 2023 Score Card?
After downloading CLAT 2023 Result, the candidates will find the below details prescribed on their respective results.
Photograph
Application Number
Admit Card Number
Candidate's Name
Date of Birth
Marks Obtained
All India Rank
Candidate's Category Rank (CR)
Candidate's NRI Rank (if applicable)
Candidate's NRI Sponsored Rank (if applicable)
Below we have provided CLAT Score Card Sample for your reference.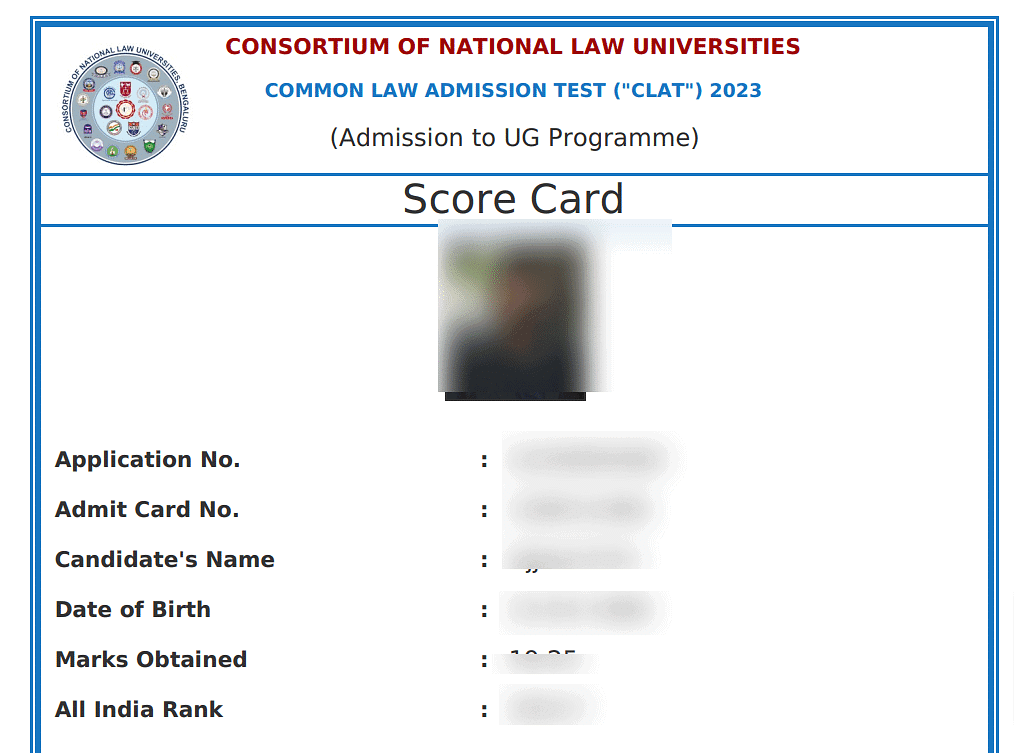 How to resolve grievances after the CLAT 2023 Result?
If the candidates find any discrepancy in CLAT 2023 Result, they must fill the grievance directly from the official website within a stipulated time. Candidates may file a grievance regarding the CLAT 2023 Final Answer Keys as well as the conduct of CLAT 2023 at their respective Test Centres. Grievance submission period for CLAT 2023 was from 9:00 AM on Monday, December 26, 2022 to 9:00 AM on Thursday, December 29, 2022. Here is the step by step process of CLAT Grievances Filing Process
Step-1: Login to your CLAT account;
Step-2: Click the 'Submit Grievance' button;
Step-3: State the nature of your grievance;
Step-4: Describe your grievance (max. 1,000 characters);
Step-5: Upload supporting documents;
Step-6: Submit the declaration form;
Step-7: Click the 'Submit' button.
Check all about CLAT Exam Answer Keys through this document.
Check all about CLAT Exam Test Centers though this document.
CLAT 2023 Result: Tie-Breaking Rules
The tie-breaking criteria for CLAT 2023 UG Results will be used if multiple candidates score the same marks. The following steps will be taken by the exam authority to resolve the tie:
Higher marks in the legal aptitude section.
Older age.
Computerized draw of lots.
Edurev Infinity courses can help you prepare for CLAT Exam and increase your chances of breaking the eligibility tie-breaker score. All the courses in the EduRev Infinity for CLAT have been curated by the mentors of toppers like Saumya Singh (AIR 1), Harsh Tomar (AIR 2), Mouli Jain (AIR 5) & more.
What to do after CLAT Exam Result Declaration?
CLAT Exam counseling starts after CLAT results declaration. Counselling process is the official procedure for assigning a seat in a National Law University (NLU) based on the candidate's All India Rank (AIR) and preferences marked on the admission form. The process includes online registration, selecting NLU choices, seat allocation in NLUs, and paying the CLAT counselling fees. It is the final admission process and the candidate can join an NLU after it is completed. Here are the details of What to do after CLAT Exam Result Declaration?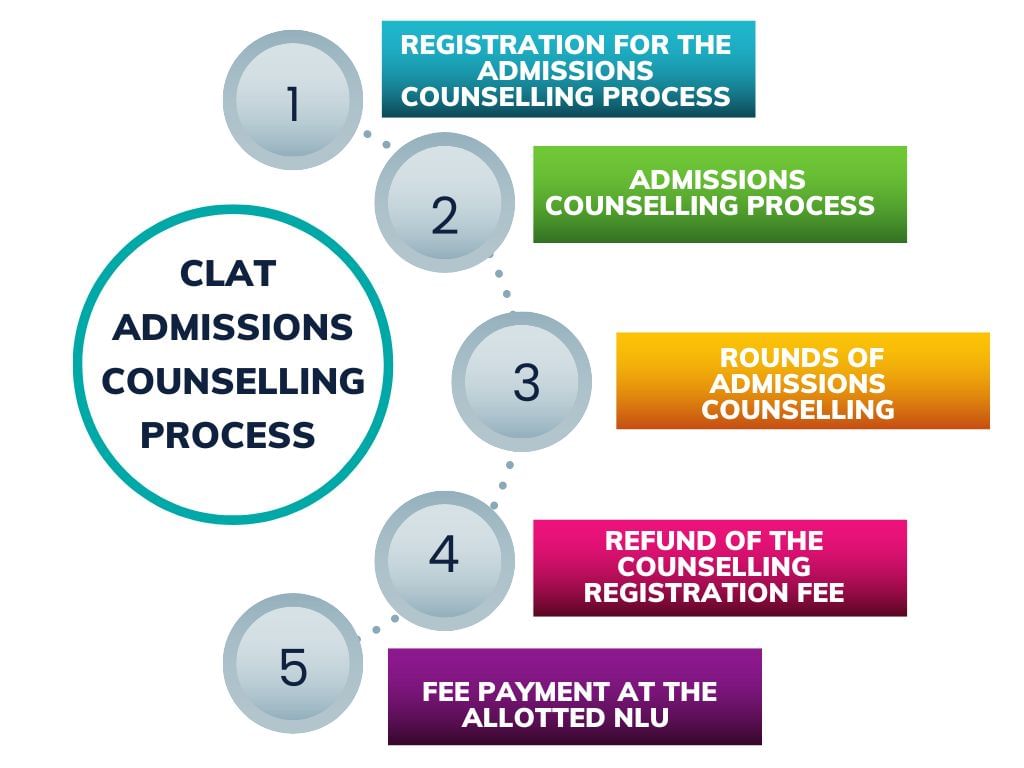 1. Register for CLAT Admissions Counselling Process after CLAT Results
Eligible candidates were invited to participate in the admissions counselling process based on their rank list and the admissions matrix provided by each National Law University. Invitations were sent via email, SMS, and on the CLAT 2023 portal to the registered email address and mobile number.
Registrations for the counselling process were opened on December 28, 2022, at 6:00 PM and were closed on January 12, 2023, at 6:00 PM.
Candidates must pay the counselling registration fee by 6:00 PM on January 12, 2023, as per their category:
General Category: Rs. 30,000/-
ST/SC/OBC/BC/EWS/PWD categories: Rs. 20,000/-
Payments can only be made online through the Consortium website after logging in to the CLAT 2023 portal. The counselling registration fee is refundable.
To register for the admissions counselling process, candidates need to:

Login to their CLAT account
Click the 'Make Payment' button (if selected for the counselling process)
Complete the payment of the counselling registration fee
Wait for 'Payment Successful' message before logging out
Avoid waiting till the last minute to make payments
Note: Only successfully registered candidates will be considered for seat allotment & Registration for the counselling process does not guarantee admission to any member NLU. Unallotted candidates from previous rounds may be allotted a seat during subsequent rounds if vacancies open up.
2. Participate in the Admissions Counselling Process.
Each candidate allotted a seat at NLU can choose between "Freeze", "Float", or "Exit" options in each round of counseling based on the conditions outlined in the admission counseling calendar. The "Freeze" option requires payment of a confirmation fee and full university fee to confirm the allotted seat.
The "Float" option allows the candidate to hold their allotted seat while waiting for a higher preference NLU seat and pay the difference in fees. The "Float" option expires after the 4th round. The "Exit" option allows the candidate to leave the counseling process, but results in forfeiture of the confirmation fee. The confirmation fee is a non-refundable fee of Rs. 20,000 in the first and second rounds.
3. Learn about the Admissions Counseling Rounds
5 rounds of admission counseling with dates in Admissions Counseling Calendar. Candidates wait for next round if not allotted seat. 5th round in June 2023 fills remaining vacancies with eligible candidates. "Float" options become "Freeze".
Central admission process closes, but member NLUs may admit candidates following norms to fill vacancies.
4. Learn about the Refund Policy for Counselling Registration Fees
Refund Policy: If a candidate is not allotted a seat or exits the Counselling Process, their Counselling Registration Fee will be fully refunded. If they exit after June 10, 2023 with a seat, a Rs 5,000/- deduction will be made.
If found ineligible, a Rs 5,000/- deduction will be made and the remaining fee will be refunded. Refunds will only be made to the original account. Confirmation Fees paid will only be adjusted at NLU and are not refundable.
5. Fee Payment at the allotted NLU
Candidates who choose Freeze option in 1st or 2nd round must pay balance University fees by 11:59 PM May 20, 2023. Failure to pay by the deadline means the candidate will forfeit the seat & Confirmation fee and will receive a Counselling Registration fee refund with Rs. 5,000 deductions.
Candidates allotted seats in the 3rd-5th round must pay the balance of university fees by the deadline set in Admissions Counselling Calendar or by respective NLU. NLU reserves the right to reject admission if a discrepancy is found in the submitted documents.
Important: Check about the details of all the above steps in the document: All about CLAT Counselling Also, Check Required Documents for the Admissions Counselling Process and Admissions Counselling Calendar in the same doc.
What is CLAT Cut Off 2023?
The CLAT 2023 Cutoff is the lowest score needed to get into a NLU through the CLAT counseling. Each NLU (National Law University) may have a different cut off, depending on factors like the number of seats, the number of applicants, and the reservation policy. To get into the NLU you want, you need to get a score higher than the cut-off.
To get an idea of which law colleges a candidate may be eligible for admission, it is recommended to review the cut-off scores of all NLUs. A table is provided below that includes links to a comprehensive analysis of past years' CLAT cut-off scores.
Learn in detail about CLAT Cut off though this document.
Learn about CLAT Best Books through this document:
What is CLAT 2023 Merit List or CLAT Provisional Allotment List?
The CLAT 2023 Merit List, also known as the CLAT Provisional Allotment List, is a list of candidates who have qualified for admission to NLUs through CLAT 2023. The merit list is prepared on the basis of the candidates' scores in the CLAT 2023 exam and the preference of colleges they have given during the counselling process. The merit list is usually released by the consortium of NLUs after the counselling rounds are completed. The merit list determines the candidates' eligibility for admission to the various law programmes offered by the NLUs.
Check here the College Wise 1st Provisional Allotment List of CLAT 2023.
Learn in detail about CLAT Merit Lists or CLAT Provisional Allotment List though this document.
Check: CLAT Merit List 2023 - All Rounds
CLAT 2023 Second Merit List (Published on January 27, 2023)
CLAT 2023 Third Merit List (to be published in May 25, 2023)
CLAT 2023 Fourth Merit List (to be published in June 5, 2023)
CLAT 2023 Fifth Merit List (to be published in June 15, 2023)
Also read:
CLAT 2022 First Merit List
CLAT 2022 Second Merit List
CLAT 2022 Third Merit List
CLAT 2022 Fourth Merit List
CLAT 2022 Fifth Merit List
Must Read Articles
All about CLAT
CLAT Notification
CLAT Eligibility Criteria
CLAT Exam Pattern
CLAT Syllabus
CLAT Sample Papers
CLAT Previous Year Papers
CLAT Participating NLUs
CLAT Counselling
CLAT Preparation
CLAT Application Process
CLAT Study Material
CLAT Previous Year Analysis
CLAT Mock Tests
CLAT Results
CLAT Counselling
Frequently Asked Questions (FAQs) about CLAT 2023 Result
When will the CLAT 2023 results be declared?
The results of CLAT 2023 were declared on December 26, 2022. The results were made available on the official website of CLAT. The CLAT 2023 scorecards can be obtained by candidates by logging into their account on the CLAT 2023 portal via the Consortium of NLUs' website: consortiumofnlus.ac.in
What is the highest score in CLAT UG 2023?
The topper of CLAT 2023 has achieved a remarkable score of 116.75 marks. Abhinav Somani from Nagpur got the highest score of 116.75 and topped the CLAT Exam with a 100 Percentile. Four students — two from Maharashtra and one each from Punjab and Rajasthan — secured 99.99 percentile.
What is a good score in CLAT out of 150?
A good score in CLAT out of 150 marks would typically range from 100 to 120 marks. CLAT 2023 Topper got a score of 116.75. This shows that the actual score considered as a good score varies each year and also depends on various factors such as the number of applicants, the difficulty level of the exam, and the number of seats available.
What is the eligibility criteria for CLAT 2023?
To be eligible for CLAT 2023, the candidate must have passed their Class 12 examination or equivalent with a minimum of 45% marks for general category candidates and 40% for SC/ST candidates. The candidate must also be below 20 years of age for UG courses and below 30 years of age for PG courses as on July 01, 2023.
Check this document to know in detail about CLAT Eligibility Criteria: Educational Qualification, Age Limit, Minimum Marks & Reservation Policy
Is the CLAT exam difficult?
Yes, CLAT is widely acknowledged as a challenging law entrance exam in India. The level of difficulty can differ based on the candidate's preparation and understanding of the exam format and curriculum. With consistent preparation for 6-7 months, utilizing resources such as EduRev's Infinity Courses, one can aim to achieve a satisfactory score in CLAT. Check the courses:
How many candidates appear in the CLAT exam each year?
CLAT is a popular law entrance exam in India, and every year, around 60,000 candidates appear in the exam. The exam is conducted for admission to both UG and PG courses offered by national law universities. Number of applications in 2022 were 60,895 and Number of test-takers were 5,6472.
What is EduRev Infinity Package for CLAT? What will I get after I purchase it?
The EduRev Infinity Package for CLAT is an all-in-one package for CLAT preparation. It is a special pass that unlocks all the EduRev Infinity courses to prepare for CLAT (and other law exams). With this package, you can study through thousands of videos & documents and take unlimited tests.
Though EduRev Infinity is more about quality than quantity, if we have to put a number, you would get around 25+ EduRev courses, which includes 500+ tests, 1200+ docs, and 1000+ videos for courses of EduRev Infinity!
Some of the famous courses in the EduRev Infinity Package:

Section-wise courses for Quantitative Techniques, Logical Reasoning, Legal Reasoning, Current affairs, English Language, and others.
Passage Based questions for CLAT Preparation
Mock Test Series for CLAT
Preparation guide for CLAT

And this is just the tip of the iceberg, any new course that is added under EduRev Infinity Package for CLAT and other law exams over the year will also be a part of the package, with detailed solutions with every question, higher preference for questions asked, early access to new features and upcoming deeper analysis are all a part of EduRev Infinity!
All the content offered on EduRev has been curated by the mentors of Neharika Chabbra (AIR 137), Shravani Shendye (AIR 120), Kessia Kurriakose (AIR 110), and Ansh Jain (AIR 203) & other experts.
And if you're still wondering, what all do you get in the EduRev Infinity Package for CLAT, here's a quick video to help you understand same: What all do you get under EduRev Infinity for CLAT
With all the resources and guidance, you'll be well-equipped to ace the CLAT and make your dream of becoming a lawyer a reality!