Guidelines for providing offset to the traffic islands from the road edge
The orientation of islands near intersections is dictated by the alignment of the intersecting roadways and their associated travel paths. Proper island design must minimize the potential for vehicle impacts and reduce their severity. This is most often accomplished by offsetting the approach ends of islands from the edge of travel lane them, tapering them inward. Another technique that is the use of rounded approach noses that may also be sloped downward on their approach ends. The general design dimensions of corner islands for roadways in shown in Fig. 31:21. Another design consideration for islands is their surface finishing. Islands may be paved or landscaped. Though paved islands are easier to maintain, yet they are typically not as aesthetically pleasing. The use of colors that have contrast with the pavement surface is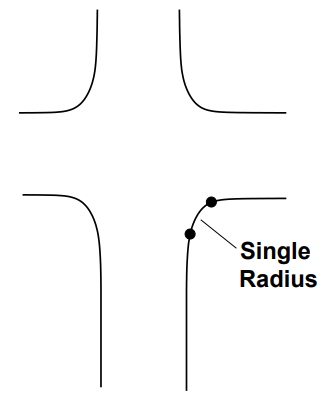 Figure 31:22: Various types of curves used for a turning roadway , (a)Simple Radius
desirable because they allow the island to be more clearly seen by drivers. Normally concrete islands are paired with asphalt roadways and vice versa. Brick paver are also used in areas where aesthetics are important. Other concerns include the need to provide adequate slope to the surface of the island to facilitate drainage and to keep the island free of sight obstructions and collision. Thus, all landscaping features should be kept below the clear vision envelop and should not incorporate other fixed hazards.
Curve/taper combinations for turning roadways and islands
The combination of a simple radius flanked by tapers can often fit the pavement edge more closely to the design motor vehicle than a simple radius (with no tapers). Figs. 31:22, 31:23 and 31:24 shows the various types of curves that can be used for a roadway. The closer fit can be important for large design motor vehicles where effective pavement width is small (due either to narrow pavement or need to avoid any encroachment), or where turning speeds greater than the design speed are desired. Table. 31:3 and Table. 31:4 summarizes design elements for curve/taper combinations that permit various design motor vehicles to turn, without any encroachment, from a single approach lane into a single departure lane (Note: W should be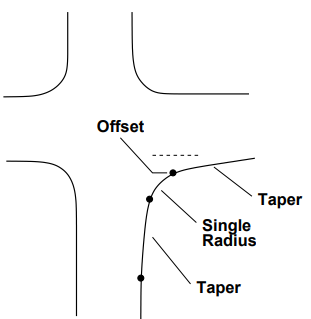 Figure 31:23: Various types of curves used for a turning roadway, (b)Radius and Taper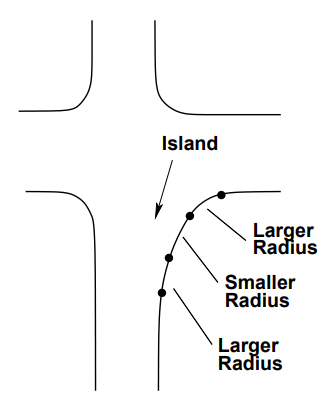 Figure 31:24: Various types of curves used for a turning roadway, (c)Turning Roadway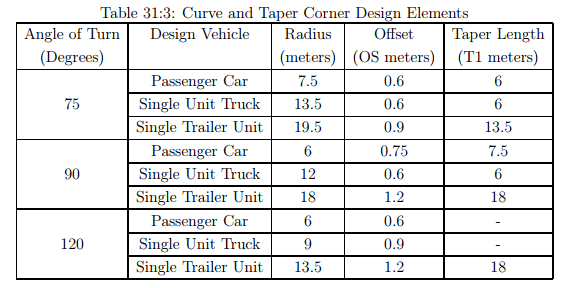 determined using the turning path of the design vehicle) The width of the roadway can be found out from Table. 31:5 given below.
Guidelines for design of Median islands
The general guidelines to be followed in the design of median islands (separators of opposing traffic flows) are:
1. The approach noses should be offset 0.6 to 1.8 m from through lanes to minimize accidental impacts.
2. Shape should be based on design turning paths and island function. (Generally parabolic or circular arcs are used)
3. The length of median before the intersection is related to approach speed (normally 3 sec driving time to intersection). It is also affected by available widths, taper designs and local constraints. 4. The width of the medians should serve its primary intended function.
5. The median should always be provided well past crest vertical curves.
Fig. 31:25 shows the general design elements of medians provided just at the approach to a intersection. The required median widths for performing their intended functions are provided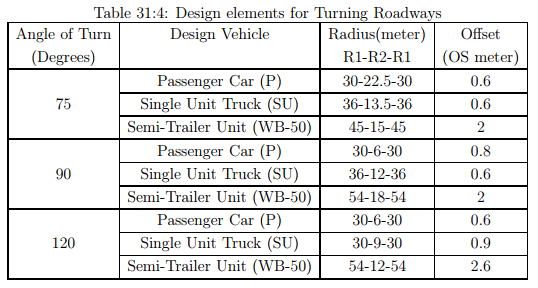 Table 31:5: Width of roadway required for negotiating the turn for different classes of vehicles (W)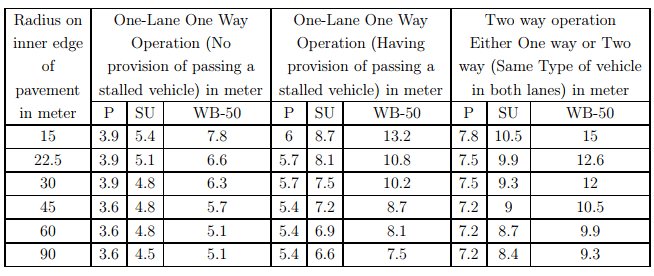 Figure 31:25: Design Criteria for raised median approaches to intersections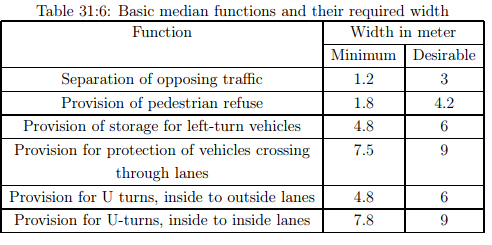 by AASHTO and are shown in Table. 31:6 below. These widths are empirical and can be applied at an intersection with reasonable efficiency.
Auxiliary Lanes
Auxiliary lanes are used under conditions of relatively high traffic volumes in the intersections. In these cases, traffic congestion problems can be significantly alleviated with auxiliary lanes to handle turning movements. The median lane should be 12 feet (3.6m), but not less than 10 feet (3.0m) wide and should be clearly marked for this purpose.
Auxiliary lanes can also be introduced to provide for both left turns and right turns at intersections. The need for such lanes is determined by capacity analysis and the acceptable level of service designated for the facility. The lanes should be at least 2.7m wide for reconstruction and resurfacing projects and at least 3.0m, preferably 3.6m for new construction projects. Auxiliary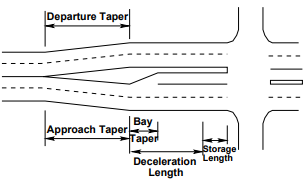 Figure 31:26: Components of Auxiliary Lane
lane shoulders can be reduced to 0.6 m wide on rural sections and 0 m wide on sections with curb and gutter. The length of auxiliary lanes consists of five components:
1. Approach Taper
2. Deceleration Length
3. Bay Taper
4. Storage Length, and
5. Departure Taper.
A typical auxiliary lane with the components are shown in Fig. 31:26 below. These are discussed in detail in the following section.
1. Approach Taper- The length of the approach taper varies with operating speeds. Guidelines for determining lengths are: (i) For speeds 70 kmph and over: L = 0.6WS, and (ii) For speeds under 70 kmph: L = WS2/100 where, L is the length of entering taper in m, W is the width to be tapered in m, and S is the operating Speed in kmph.
2. Deceleration Length- The deceleration length is that required for a comfortable stop of a vehicle from a speed that is typical of the average running speed on the facility. The Bay Taper can be considered part of the deceleration length. AASHTO has again given a table for calculating the decelerating length value from the design speed value (Table. 31:7).
3. Bay Taper - This is a straight line taper with ratios varying from 5:1 to 10:1. Higher speed facilities should generally have longer tapers. Empirically, the minimum and maximum values of bay taper are taken as 18m and 36m respectively.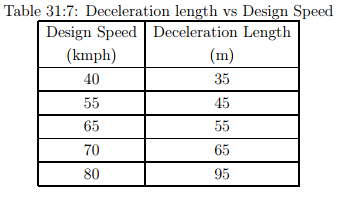 4. Storage Length - The storage length should be sufficiently long to store the number of vehicles likely to accumulate during the average daily peak period. (a) At unsignalized intersections, length to be based on the number of vehicles likely to arrive in an average 2-minute period within the peak hour. (b) At signalized intersections, the required length depends on the signal cycle length, the signal phasing arrangement and the rate of arrivals and departures of left turning vehicles.
5. Departure Taper - The departure taper is normally taken equal in length to that of the approach taper and should begin opposite the beginning of the Bay Taper.