INTRODUCTION
Economics is the social science of studying the production, distribution and consumption of goods and services and it is a complex social science that spans from mathematics to psychology. At its most basic, however, economics considers how a society provides for its needs.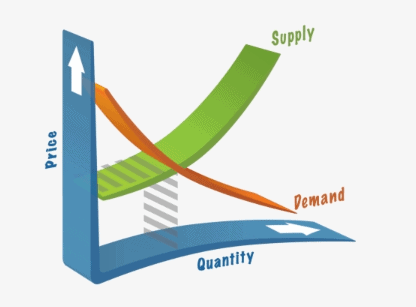 Economics
It is a social science which relates to:
(a) Study of scarce resources
(b) Allocation of scarce resources to different use (problem of choice)
(c) Study of welfare at individual as well as society level
LORD ROBINS "Economics is science which study human behaviour as a relationship between ends and scarce means which have alternative uses '

SCARCITY AND CHOICES GO TOGETHER
➢ " Economics is about making choices in the presence of scarcity " Explain?
Scarcity means situation where supply of resources is less than demand for resources S<D. Resources are not only scarce but also have alternative uses.
For example: Land can be used for agriculture or factories or warehouse purpose. This gives rise to problem of choice as selection is to be made out of many alternatives. A family has to make choice between different goods and services that are available. It can have more of a good only by giving up some amount of other goods and services.
If things were available in plenty then there would have been no choice problem, people can have anything they want. However this is not true as even the richest person on earth have scarcity of time and have to make choices, likewise- food, housing, clothing are scarce. Therefore it can be concluded that problem of choice arises out of scarcity and study of such choices at individual, society, national and international level is economics all about.

CENTRAL PROBLEM OF ECONOMY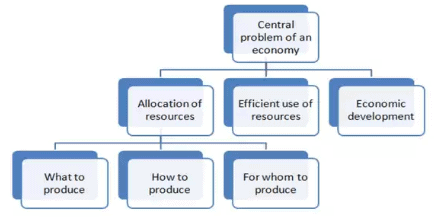 1. Allocation of Resources
It refers to utilisation of resources for production of goods and services so that maximum want of the people is satisfied.
(i) What and How Much to Produce: It involves two-fold decisions: what goods and services are to be produced .this problem is concerned with choice of goods that is determining which of the consumers good like sugar, cloth, oil, ghee, are to be produced and which of capital good like machine, tractors, equipment are to be produced. Similarly choices is to be made between war time goods (guns, tanks, rifles) and peace time goods (cloth, food grain, t.v., bread). If the economy aim at satisfying present wants, then more of consumer good will be produced and if the aim is to increase production capacity and satisfy wants in future then more of capital good should be produced.
Thus the guiding principle is to allocate resources which gives maximum aggregate satisfaction. The next decision is how much to be produced because with limited resources if economy produces more of one good it can produce lesser of another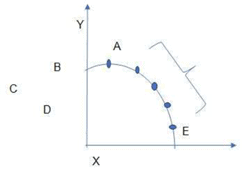 Suppose an economy decides to produce only two goods wheat (representing agriculture good) and cloth (representing industrial good).
⇒ If all the resources are used for the production of wheat alone then 100 tonnes of wheat can be produced (Point A).
⇒ If all the resources are used for the production of cloth alone then 4 bales of cloth can be produced (Point E).
⇒ Point B, C, D shows combination of two goods that can be produced.
In economics problem of what to produce is studied under " PRICE THEORY".

(ii) How to Produce: This problem is concerned with how to organize production i.e. CHOICE OF TECHNIQUE OF PRODUCTION to produce a given level of output. It refers to choosing
⇒ Labour intensive technique (where labour is used more than capital) or
⇒ Capital intensive technique (where capital is used more than labour) so that production is carried at minimum cost.
⇒ Example: cloth can be produced with the help of Handloom which ensures greater employment or with the help of Modern power looms which ensure greater efficiency and productivity. Thus there is conflict between SOCIAL JUSTICE on one hand and EFFICIENCY PRODUCTIVITY on another hand.
⇒ In underdeveloped country supply of labour is large and wage rate is low, LIT is preferred where as in developed countries CIT is largely used as the guiding principle is that combine that factor of production so that minimum cost per unit of output is incurred.
In economics problem of how to produce is studied under "THEORY OF PRODUCTION". Current production method are inefficient if it is possible to produce one more unit of atleast one good without producing less of another technique.
Point 'I' is inside the PPC curve which indicates inefficient technique of production. By improving technique or choosing right technique, an economy can either move to:
Point 'B'(more production of wheat)
Point 'D'(more of cloth)
Point 'C'(more of both the product in some ratio)
(iii) For Whom to Produce: This problem deals with the question as to how an economy distributes its total production among different economic units(who gets how much to consume) and refers to distribution of income and wealth in the society.
Example: How much a computer engineer consumed is based on his earning as compared to doctor or a teacher. It has two aspects: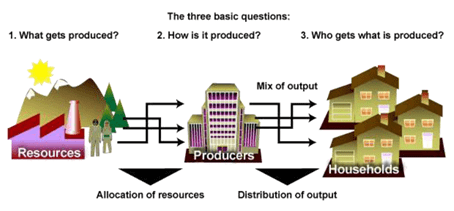 (a) Personal Distribution among different individual and household. It is concerned with the problem of inequality in distribution.
(b) Functional Distribution among different factors of production (land, labour, capital, entrepreneur). It is not related to problem of inequality.
In economics, problem of whom to produce is studied under " THEORY OF DISTRIBUTION"
➢ How to achieve fuller utilisation of resources.
This problem related to removal of involuntary unemployment and achievement of Full employment. In every economy the resources like land is underutilised, labour is unemployed and capital remains idle, these all lead to wastage of scarce resources.
Example: Mass unemployment in India reflects a huge wastage of human resources which is due to scarcity of complementary factor (capital in particular). This makes actual output less than potential output.
This problem is expressed IN TERMS OF INCREASED LEVEL OF OUTPUT. A country is faced with the problem of how to increase its production capacity so that total production is increased and hence standard of living of people is raised.
This is possible only if:
(a) Economy GENERATES OR DISCOVER MORE RESOURCES
Example: discovery of oil reserves in Gulf countries or generation of more skilled population (like IT engineers) in India
(b) Economy improves its technology which can produce more output with given input. Growth of resources is indicated by RIGHTWARD SHIFT OF PPC as New curve MN shows higher level of output of both wheat and cloth. It can also shift to the left if the resources decrease. It is a rare possibility but sometimes it may happen due to:
Fall in population
Due to destruction of capital stock caused by large scale natural calamities, war.
Opportunity Cost
When an option is chosen from alternatives, the opportunity cost is the "Cost" incurred by not enjoying the benefit associated with the best alternative choice. It is key concept in economics and has been described as expressing "the basic relationship between scarcity and choice".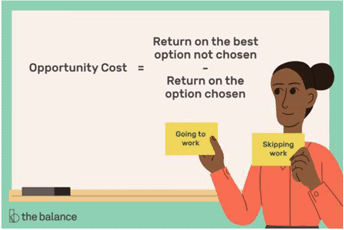 ⇒ Monetary: Example if a teacher is getting Rs. 5000 in a school and if he move to other school where he gets Rs. 6000, then opportunity cost is Rs 5000 which is foregone or value at next best alternative.
⇒ Physical: Example opportunity cost of eating in a restaurant may be book not purchases
⇒ Time: Opportunity cost of time devoted to studies is leisure not done
Difference between Micro Economics and Macro Economics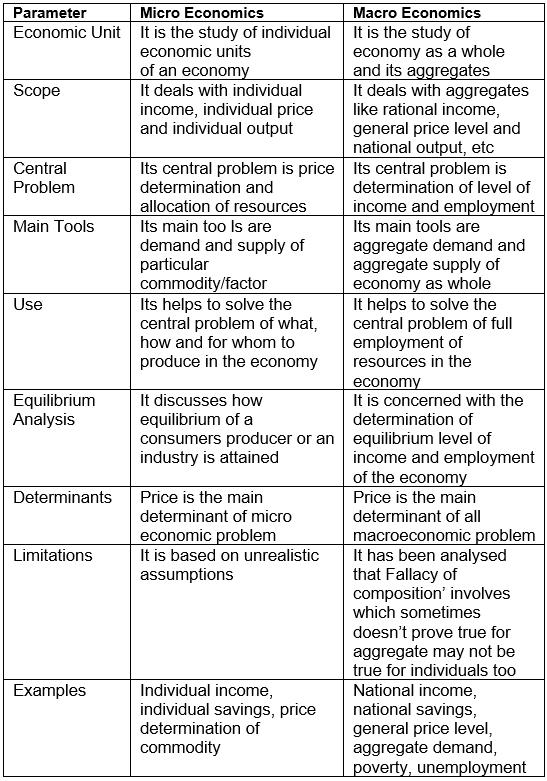 PRODUCTION POSSIBILITY CURVE (PPC)
Concept - The curve which shows alternative combinations of production of two goods which an economy can c produce within given resources and technology.
It is also known as:


➢

Production Possibility Frontier


➢

Transformation curve

(a) Shifting of PPC Curve
When there is change in technology or resources or in both, it brings shifts or rotation in PPC.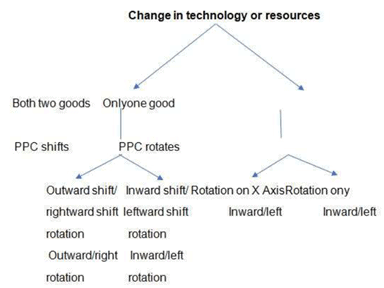 (i) Outward/rightward: Increase in resources or improvement in technology or both.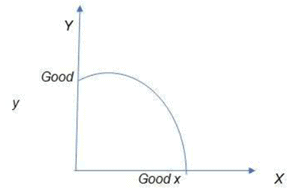 Fig: Outward Shift Of PPC
It happens only when the economy grows. Outward shift is also known as Economic Growth
Economic growth enables more goods and services
Reasons
Increased resources
More training of employees
Greater investment in capital goods
Increase in population
Discovery of new resources
Improved technology
(ii) Inward /leftward: Decrease in resources or degradation in technology or both.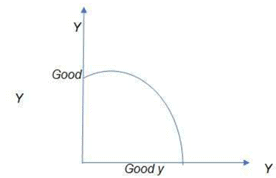 Fig: Inward Shift of PPC
This causes output to decrease
Reasons
Decrease availability of resources(natural disaster floods, drought etc.)
Degradation in technology
Example: On march 11, 2011 Japan suffered a triple disaster (9 point earthquake, Tsunami, Power plant incidents) that had tremendously decreased the production in country which caused a leftward shift.
(b) Rotation Of PPC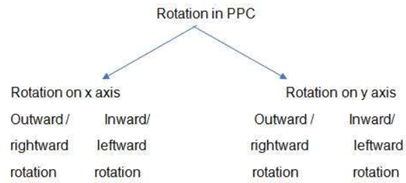 (i) Rotation on X-axis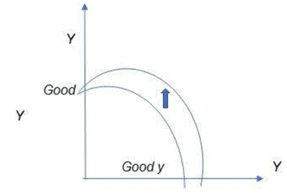 Outward rotation on x-axis - PPC rotates rightward from AB to AB1 due to growth of resources and technological improvement of good x.
Inward rotation on x-axis - PPC rotates inward from AB to AB2 due to decline of resources and technological degradation for good x.
(ii) Rotation on Y-axis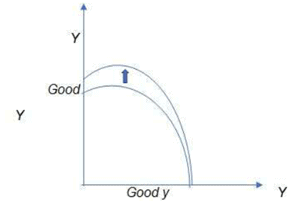 Outward rotation on y-axis - PPC rotates rightward from AB to A1B due to growth of resources and technological improvement of good y
Inward rotation on y-axis - PPC rotates inward from AB to A2B due to decline of resources and technological degradation for good y