FLUID PROPERTIES
Definition of Fluids:- A fluid is a substance which flow continuously under the action of shear force (however small the force may be), as long as shear force is there the fluid moves or deforms.
E.g: - Liquids, gases, vapour etc.
For a static fluid shear force = 0
Density or mass density (S):- Mass per unit volume of a fluid is called its density
s = (m/v)
Density of water is maximum at 4ºC.
Density of water at 4ºC = 1000 kg/m3.

Ideal Fluid (Perfect Fluid)

Non-viscous, friction less & incompressible.
Does not offer shear resistance against flow.
Bulk modulus is infinite
Used in mathematical analysis and flow problems.
Ideal fluid has no surface tension


Real Fluid

Possess the properties such as viscosity, surface tension and compressibility.
Offers resistance against flow.


Specific gravity (G or S)

G or S = Density of substance / Density of water at 40C
Specific gravity for water is 1.0 at 4ºC and that of mercury is 13.6
Specific gravity varies with temperature therefore it should be determined at specified temperature (4ºC)


Specific weight (unit weight) or weight density (g')
g'=rg
r = mass density
g = due to gravity, acceleration

Newton's Law of Viscosity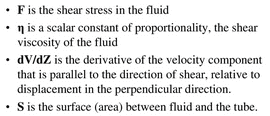 Non-Newtonian Fluids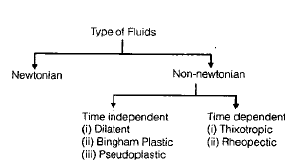 These do not follow Newton's law of viscosity. The relation between shear sterss and velocity gradient is

Where A and B are constants depending upon type of fluid and condition of flow.(i) For Dilatant Fluids: n > 1 & B = 0
Ex. Butter, Quick sand
(ii) For Bingham Plastic Fluids: n = 1 & B ¹ 0 Ex. Sewage sludge, Drilling mud These fluids always have certain minimum shear stress before they yield.
(iii) For Pseudoplastic Fluids: n < 1 & B = 0 Ex. Paper pulp, Rubber solution, Lipsticks, Paints, Blood, Polymetric solution etc.
(iv) For Thixotropic Fluids : n < 1 & B ¹ 0 Viscosity increase with time.
Ex. Printers ink and Enamels.
(v) For Rheopectic Fluids: n > 1 & B ¹ 0 Viscosity decreases with time
Ex. Gypsum solution in water & Bentonite solution.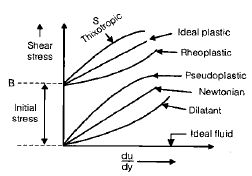 Viscosity

Due to viscosity a fluid offers resistance to flow. It is due to cohesion and intermolecular attraction.
(i) Dynamic Viscosity ( m) Its SI unit is Pascal second or N-s/m2 Its CGS unit is Poise = Dyne-sec/cm2 1 poise = 0.1 N–s/m2
(ii) Kinematic Viscosity

Its SI unit is m2/s.
Its CGS unit is cm2/s or stoke
1 Stoke = 10–4 m2/s
Viscosity of liquids decrease with temperature whereas viscosity of gases increase with temperature.
fluids with increasing order of viscosity are air, gasoline, water, crude oil, castor oil.
Viscosity of water at 1ºc is 1 centipoise.
Viscosity of fluids is due to cohesion and molecular momentum transfer.

Surface Tension (S)

Surface tensions is due to cohesion only.
Surface tension decrease with increase in temperature and it alos act when fluid is at rest
It is a surface phenomenon
At critical point liquid and vapour are at same state thus suface tension is zero swater = 0.0736 N/m at 20ºC
Smercury = 4.51 N/m
(i) Pressure inside a liquid drop, in excess of atmospheric pressure
p= 4s/d, where s is surface tension d is dia. of drop
(ii)Pressure inside a soap bubble, in excess of atmospheric pressure
p= 8s/d
(iii) Pressure inside jct
p = 2s/d
Capillary Action

Capillary action is due to adhesion and cohesion, both.
Height of water in capillary tube

where,
g = Specific weight,
h = rise in capillary
ρ = density of fluid
S = surface tension of water & glass
r = radius of tube
θ = angle of contact between the liquid and the material
θ — 0º for water and glass
θ — 128º for mercury and glass
For capillary action dia of tube should be less than 3cm.
When a liquid surface supports another liquid of density " rb ", then rise in capillary is given as

Compressibility
It refers to change in volume/density due to change in pressure.
The compressibility reciprocal of bulk modulus of elasticity (K).
Compressibility = 1/k
In compressible fluids the velocity of sound is given by

C = velocity of sound in fluid
K = Bulk modulus of fluid