THERMODYNAMIC RELATIONS EQUILIBRIUM AND STABILITY




where
g is Gibbs function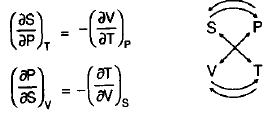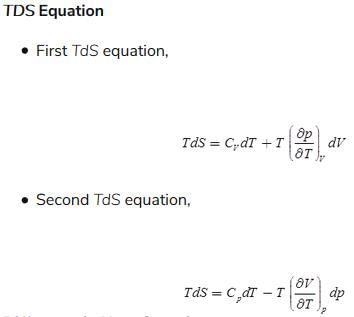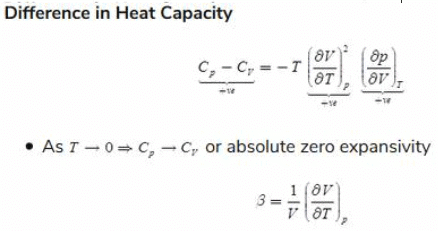 Joule-Thompson Effect
When a gas is throttled then first its temperature increase (heating) as the pressure decrease but after a particular pressure, temperature decrease (cooling) as pressure decrease. At different initial temperature different such pressure exist.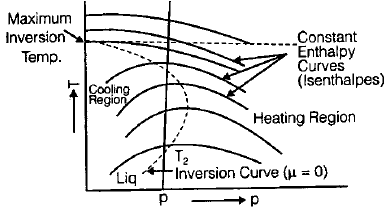 The curve connecting all transition point is inversion curve.
The Joule-Thompson Coefficient is:

For ideal gas μj = 0 i.e. in throttling process temperature of ideal gas remains constant.
If initial temperature and pressure are within inversion curve, i.e. below maximum inversion temperature, cooling happens.
Except Hydrogen and Helium the maximum inversion temperature of all the other gases is more than atmospheric temperature so cooling occurs in throttling of those gases.
For Hydrogen and Helium maximum inversion temperature is below atmospheric temperature so heating occurs after throttling.
For cooling of Hydrogen and Helium after throttling, they should initially be cooled below their maximum inversion temperature.
There is no change in Temperature when an ideal gas is made to under go a Joule-Thompson expansion
Clausius-Clapeyron equation
Clausis-Clayperon equation is a way of characterizing a discontinuous phase transition between two phases of matter of a single constituent.
On a P-T diagram, the line separating two phases is known as the coexistence curve.

where dp/dT is the slope of the tangent to the co-existence curve at any point, l is the specific latent heat, T is the temperature and V is the specific volume change and S stands for specific entropy.
where,
Sf = entropy of the final phase
Si = entropy of the initial phase
Vf = volume of the final phase
Vi = volume of the initial phase
Triple Point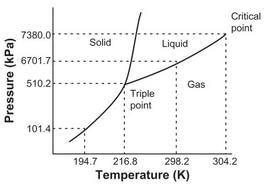 Phase diagram for water and any other substance on p–T coordinates.
Slope of sublimation curve at the triple point is greater than that of the vaporization curve.
i.e. (dy/dx)sublimation > (dy/dx)vaporization
Gibbs phase rule for non reactive system
Degree of freedom:
f = c – p + 2
c — no. of components
p — no. of phases