Substance
A pure form of matter that cannot be separated or broken down further by any physical process.
Example: Sodium chloride cannot be separated into sodium and chlorine by physical processes, so it is a substance. But it can be separated from a salt solution by evaporation therefore, a salt solution is not a substance.
Examples of physical processes: Sieving, Winnowing, Evaporation, Filtration, Sublimation etc.
Mixture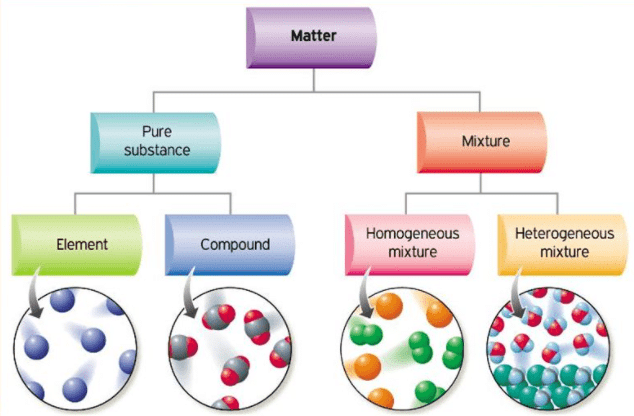 Made up of more than one type of substances that may or may not be separated by physical processes.
Types of mixture:
Homogenous Mixtures: A type of mixture in which the constituent substances mix evenly throughout is known as homogenous mixture.
Example: A salt or sugar solution
Heterogeneous Mixtures: A kind of mixture in which the constituent substances do not mix evenly is known as heterogeneous mixture.
Example: Iron fillings mixed with salt, a mixture of pebbles and sand, a mixture of oil and water.
➢ Solution
Homogeneous mixture of two or more substances is called a solution.
Example: Air, Salt or Water Solution, Alloys etc.
The particle of solution are smaller than a nanometer (10-9m) and cannot be seen with naked eyes.
They cannot scatter a beam of light passing through them.
Solute particles cannot be separated by filtration; neither do they settle when left undisturbed.
➢ Alloys
Homogeneous mixtures of two or more metals that cannot be separated by physical processes.
Example: Brass is an alloy of 30% zinc and 70% copper.
➢ Solute
The component of a solution gets dissolved into another component. Usually the one present in a smaller amount.
➢ Solvent
The component of a solution that dissolves other substances. Usually, the solvent is the one present in a larger amount.
Example: In a sodium chloride solution, water is the solvent (present in a larger amount) while sodium chloride is the solute.
Concentration of a solution = Amount of solute / Amount of solution
OR
Amount of solute / Amount of solvent
Methods of expressing concentration of a solution:
(i) Mass by mass percentage of a solution

(ii) Mass by volume percentage of a solution

➢ Suspension
Heterogeneous mixture in which a solid is dispersed in a liquid.
Particles of suspension can be seen with our naked eyes.
Suspensions can scatter a beam of light and makes its path visible. Tyndall effect
Salute particles settle down when left undisturbed or by filtration.
Examples: Sand in Water, Muddy Water etc.

Path of light is not visible in a solution but can be seen through a suspension
Tyndall Effect
Scattering of light by a colloidal or suspension solution is known as tyndall effect.
➢ Colloidal Solutions
It is a heterogeneous mixture.
The particles of colloidal solution cannot be seen with our naked eyes.
Colloidal solutions can scatter a beam of light to show tyndall effect.
Particles of colloidal solutions cannot be separated by filtration or sedimentation.
The solutes in a colloidal solution are called the dispersed phase and the solvent is called the dispersion medium.
Examples: Fog, Milk, Shaving cream, smoke, cheese etc.
Purification Methods for Mixtures
(i) Evaporation
The process of converting a liquid into vapours is known as evaporation.
Volatile substance evaporates a lower temperature and can be separated from a mixture by heating.
Volatile substance: A substance that evaporates easily on heating. E.g. kerosene, petrol, water etc.
(ii) Centrifugation
Spinning of a mixture at very high speed is known as centrifugation.
A centrifuge is an instrument that is used for centrifugation.
Cream can be separated from milk by centrifugation.
Heavier substances in the mixture settles at the bottom while the lighter particles stay on the top.
Application:
Used in laboratories blood and urine tests.
Used in dairies to separate cream from milk.
Used in washing machines to dry clothes.
(iii) Decantation: It is used to separate two immiscible liquids
Immiscible Liquids: Liquids that do not dissolve with each other and one forms a clearly visible layer over the other.
Examples: Oil and water.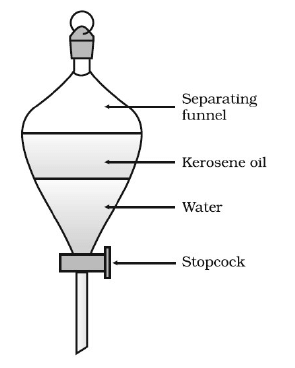 Decantation
Process:
The two liquids are allowed to stand without disturbance unless they form two clearly visible layers.
A beaker is kept under the funnel and the stop cock is opened slowly.
The water starts moving into the beaker.
The stopcock is closed as soon as all the water has moved in the beaker.
The water gets collected in the beaker while the kerosene is separated in the separating funnel.
(iv) Sublimation: A process in which a solid such as camphor or ammonium chloride directly converts to gaseous state on heating without becoming liquid is known as sublimation.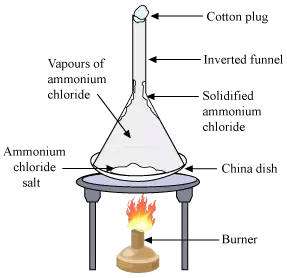 Separation of Ammonium Chloride from a Mixture
The vapours of ammonium chloride stick to the walls of the inverted funnel when the mixture of ammonium chloride and salt is heated in the above setup or experiment while the salt remains in the china dish.
(v) Chromatography
The process of separation of the components in a mixture such as dye on the basis of their solubility of affinity with the solvent.


Chromatography Setup
Process:
Dye or ink in loaded on a point at the bottom center of a paper strip.
A jar is filled with an appropriate solvent (water in this case).
The strip is hanging in the jar such that it just touches the solvent present in the jar.
The water will move up the filter paper and the components present in the dye will move along with it depending upon their affinity (attachment) with water or the filter paper.
Since all the components have different affinities they move at different rates and are collected at different regions on the filter paper.
Applications:
To separate colours from a dye.
To separate pigments a leaf.
To separate drugs from the blood.
(vi) Distillation
It is used in the separation of miscible liquids, which do not decompose on boiling and have sufficiently different boiling points.
The mixture is first heated.
The substance with low boiling point evaporates first.
The vapours are collected and cooled down using cold water to its liquid state again.
The liquid state is collected in a beaker.
The experimental setup for distillation is given below.


Distillation for separation of Acetone from its solution.
(vii) Fractional Distillation
Principle:
It uses the same principle as that of distillation
The only difference is that it is used for the separation of two or more miscible liquids, which do not decompose on boiling and the difference in their boiling point is less than 25K
A fractionating column is attached between the distillation flask and the condenser.
The fractionating column is filled with beads that provide surface area for vapours to cool and condense repeatedly.
Applications:
It is used in refining of petroleum.
It is used for the separation of gases from air.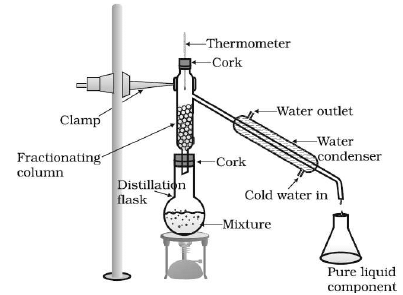 Setup for fractional distillation
➢ Separation of gases from Air through fractional distillation
Air is a homogeneous mixture of various gases.
Principle:
The air is liquefied by increasing the pressure and decreasing the temperature.
The liquid air is then allowed to warm up in a fractional distillation column.
Since gases present in air have different boiling point they turn again into gases at different temperatures.
Examples: Oxygen has a boiling point of -1830C, Nitrogen has a boiling point of -1960C and argon has a boiling point of -1860C.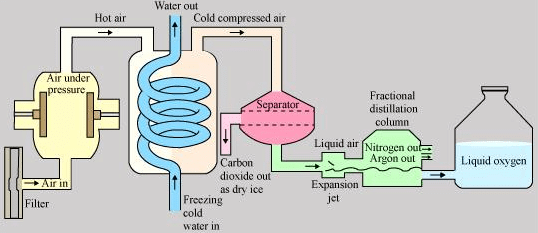 Setup for Fractional Distillation of air to separate various gases
(vii) Crystallization
It is a process of obtaining pure crystals of a solid from its solution.
It is better that evaporation as:
Some solids decompose on heating such as copper carbonate and some gets charred such as sugar.
It is better than filtration because:
Some impurities remain dissolved and the substance obtained may not be pure.
Applications:
Purification of salts from sea water.
Obtaining crystals of alums from mixtures.
Obtaining crystals of various enzymes in laboratories.
➢ Purification of Water


Water Purification System ➢ Sedimentation
The processes of settling heavy impurities when water is left undisturbed.
➢ Chlorination
The process of using chlorine in minimum amount to kill any microorganisms present in the water to make it safe for drinking.
Physical and Chemical Processes
➢ Physical Properties
The properties of a substance that can be observed and specified such as its rigidity, strength, state, melting point, boiling point, density etc.
➢ Chemical Properties
The properties of a substance that cannot be observed or specified. Chemical reactions of a substance with other substances such as reactions of metals and non-metals with oxygen or water.

Pure Substances
Substances that are made up of either a single type of molecules or more than one type of molecules present in fixed proportion (ratio) all throughout.
Types of Pure Substances:
(i) Elements

A form of matter that cannot be broken down into simpler substances.
Types of elements:
(a) Metals
Hardness: All metals except bromine and mercury are solid and hard at room temperature (240C). Nonmetals may or may not be hard. They can be gaseous, powdery or solid.
Conductors: Metals are good conductor of heat and electricity. Heat and electricity can pass through metals, although not all metals conduct at the same rate. Non-metals do not conduct heat and electricity.
Malleable: Metals can be beaten into thin sheets and this property of metals is called malleability. Nonmetals are not malleable and becomes powdery when beaten.
Sonorous: Metals produce a ringing sound when hit. Non-metals are not sonorous
Ductile: The property of metals to be drawn into wires is known as ductility. E.g. – Sodium, Calcium, Aluminum, copper, iron, zinc etc.
(b) Non–Metals
They are brittle, are not lustrous, malleable, sonorous nor ductile and are poor conductors of heat and electricity.
Example: Carbon, Iodine, Oxygen, Nitrogen, Chlorine etc.
(ii) Compounds

A compound is made up of two or more elements that combine chemically in fixed proportion.
Example: Calcium carbonate, Sodium Chloride, Water, Calcium carbonate, Zinc sulphate etc.