VAPOUR COMPRESSION CYCLE
If in a Reversed Carnot Cycle
Refrigerant is compressed from dry saturated condition.
Expander is replaced by a throttling device.
The modified cycle is vapour compression cycle with no draw back of reversed carnot cycle with vapour as refrigerant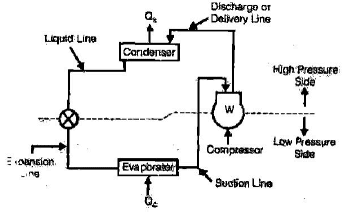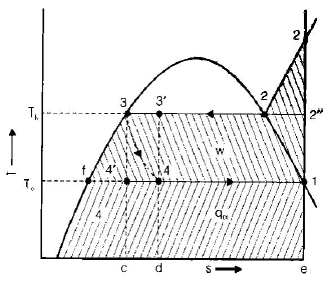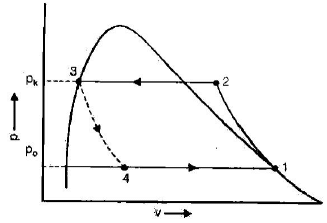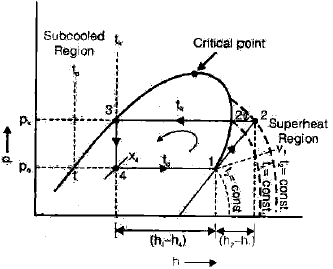 Refrigerant circulation rate

Volume of suction vapour = m& V1
V1 – Specific volume of the vapour at suction
Actual piston displacement volume of compressor hv = volumetric efficiency of compressor
Power consumption of compressor

Heat rejected in the condenser

The superheat discharge temperature is found by

Refrigerating effect = (h1 - h4 ) = Q0

In case of R - 11, R - 22 and Ammonia system, wet suction state leads to maximum COP, for all other refrigerants system. suction from super heated state gives maximum COP,
Actual vapour compression system has following deviation from simple VCC.
(i) Superheating of vapour in evaporator.
(ii) Heat gain and superheating of vapour in suction line.
(iii) Pressure drop in suction line
(iv) Polytropic compression instead of isentropic compression due to friction.
(v) Pressure drop at discharge valve.
(vi) pressure drop in condenser and evaporator.
(vii) Subcooling of liquid in condenser and heat gain in liquid line.
EFFECT OF OPERATING CONDITIONS ON COP OF PAOUR COMPRESSION CYCLE.
Effect of Decrease in Evaporator Pressure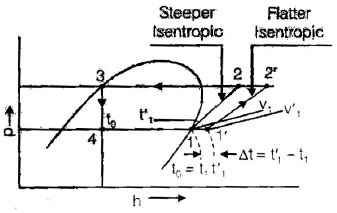 Decrease in refrigerating effect
Increases in specific volume of suction vapour
Decease in Volumetric efficiency of compressor due to increase in pressure ratio.
Increase in compressor work
Effect of Increase in Condenser Pressure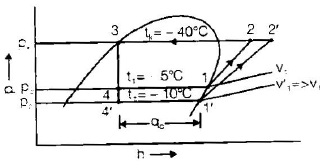 Deceases in Refrigerating effect
Increase in compressor work
Decrease in volumetric efficiency of compressor
Increase in mass flow of refrigerant.

COP decreases with both decreasing evaporator pressure and increasing compressor pressure. Effect of decreasing evaporator pressure is more on hte decrease in COP than the effect of increase in condenser pressure by same account.
Effect of suction Vapour Superheat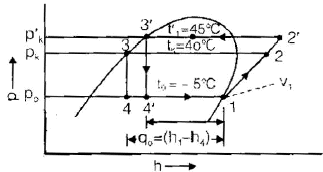 Increase in Refrigerating effect
Increase in specific volume of suction vapour
Increase in compressor work.
It ensures complete vaporization of liquid before entering compressor.

For R - 12, suction vapour superheat increases the COP.
For R-22 & ammonia system, suction vapour super heat decreases the COP.
Effect of Liquid subcooling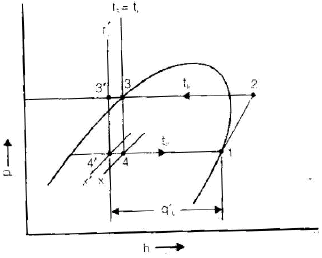 Increase in refrigerating effect
Compressor work is same & COP in creases
If Energy Gained by Subcooling is Utilized in super Heating the Suction Vapour

For R-12, work per TR is decreased and COP increases.
For R-22 Ammonia, work per TR increases & COP decreases.

There is large pressure drop in evaporator and very less drop in condenser. So pressure drop in evaporator is very critical in design.