Microwave Hybrid Circuits
The interconnection of two or more microwave device using waveguides, tees or direction coupler is called as microwave junction. 
We use traveling waves as a variables to characterize the hybrid parameters because at microwave range:
(i) It is difficult to mea sure total voltage a nd current at the posrts of network.
(ii) Short and open circuits are difficult to achieve over a broad band of frequencies.
To overcome these problems, we characterize the new parameters called S-parameters.

Waveguide Tees:
E-plane Tee (Series Tee): S13 = – S23 For a matched junction S-matrix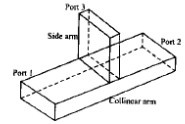 S- matrix of E-plane tee is given by

H-plane Tee : S13 = S23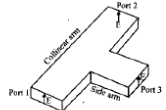 S=matrix

Magic Tee (Hybrid Tee) : Combination of E=plane Tee and H-plane Tee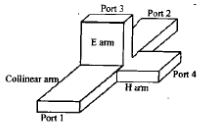 1. If input at port 1 and port 2 is applied, the output will be zero at port 3 and additive at port 4.
2. If input is appllied at port 4 it is divided equally between port 1 and port 2 and does not appear at port 3.
3. If input is applied at port 3, it will produce an output of equal magnitude and opposite phase at port 1 and port 2 and output at port 4 is zero i.e. S34 = S43 = 0.

Application of Magic Tee: Measurement of impedance, as a mixer, duplexer.
Hybrid rings (Rat-Race circuits):

S-matrix:
If input is at port 1, it will not appear at port 3. If input is at port 2, it will not appear at port 4.
Directional Coupler:

Coupling Factor :

Directivity:

Coupling factor is a measure of percentage of incident power being sampled while directivity is a measure of how well the directional coupler distinguish between the forward and the reverse travelling powers.

Isolation:
S-Matrix:

Circulator: circulator is a four port microwave device in which wave can only flow from nth port to (n+1)th port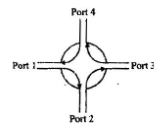 Isolator: An isolator is a device which provides very small attenuation in one direction and provides maximum attenuation in the opposite direction. 
It is uniline device used to improve frequency stability in microwave generators in which the reflection from the load affects the generating frequency.