Chapter 5 Fluid Dynamics
Reynolds equation = Intertia force + gravity force + viscous force + turbulence force + pressure force 
Navier - Stoke's equation = Intertia gravity force + pressure force + viscous force 
Eulers equation (represents momentum equation in a 2-D, inviscid steady flow) Inertia force = gravity force + pressure force 
Bernoulli's equation (Conservation of Energy) Assumptions in Bernoullis equations:
(i) fluid is ideal
(ii) flow is steady
(iii) flow is continous
(iv) fluid is incompressible
(v) flow is non-viscous
(vi) flow is irrotational
(vii) applicable along a stream line Z cons tant pg P


where,



= velocity head
p/rg = pressure head
z = elevation of datum head



= piezometric head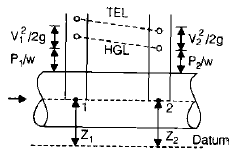 The line representing the sum of all 3 heads is known as total energy line or total head line. 
Line joining the points of piezometric heads is known as hydraulic grade line or piezometric line. 
Piezometric head remains constant normal to the stream lines in case of uniform diameter straight pipe. 
Flow in pipe bend, considered as irrotational flow. Piezometric head line for outer boundary is above than the inner boundary and pressure is also more at outer boundary 
HGL is always parallel and lower than TEL.
Energy gradient



Kinetic Energy correction factor (i) For laminar flow in pipes, a = 2 (ii) For f ully devel op turbulent f low in pipes, a = 1.33 Lower value is applicable for rough surface and high Reynolds number. 
Pressure at stagnation point where velocity of flow is zero is known as the stagnation pressure.


where po = static pressure and


= dynamic pressure

Fx and Fy represents the reaction of bend on water. 
Torque exerted by the water on the pipe will be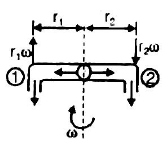 V1 = tangential velocity component of absolute velocity at 1
V2 = tangential velocity component of absolute velocity at 2