TRIAC
Triode + AC → TRIAC
These are multiplayer (5 layers), three terminals semiconductor devices which operate in both direction (quadrant I and III). In other words, there are two SCRs connected in anti-parallel. These operate in the same manner as an SCR in either direction. Triac activates on either a positive or negative gate voltage i.e. it can be triggered into conduction when gate is either positive or negative w.r.t. T1.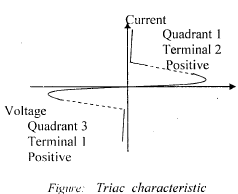 The current-voltage characteristic of the triac is symmetrical about the origin as shown in figure.
| | | |
| --- | --- | --- |
| Mode | Potential of T2 | Potential of gate with respect to T1 |
| I+ | Positive | Positive |
| I- | Positive | Negative |
| III+ | Negative | Positive |
| III- | Negative | Negative |
The operating modes of the triac are given in the table. Triacs are usually most sensitive to gate current in the I+ and III– modes, and least sensitive in the mode III . The gate current IGT, required to trigger as triac is typically 40 mA in the T and III" modes, and 60-100 mA in the I" and I1I+ modes. The main disadvantage with triacs is that the positive breakdown voltage is different than its negative breakdown voltage.