Gate Turn Off Thyristor
Gate Turn Off Thyristor A gate turn-off (GTO) thyristor is a pnpn, 3 terminal device can be turned-on like an ordinary thyristor by a pulse of positive gate current.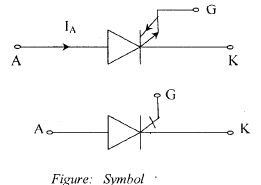 Conventional thyristors suffer from the disadvantage that the gate looses control when once it is turned on, therefore an external circuitry is required for commutation of the thyristor. The GTOs are free from this disadvantage and can be turned off by applying a negative high current pulse at the gate terminal. The gate turn off capability provides a flexibility in circuit applications, making it possible to control power in DC circuits without the necessity of commutation circuits.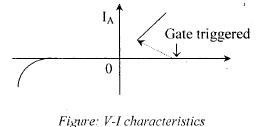 O n turn, on, the GTO thyristor must be supplied with a high initial gate current to establish the conduction. The gate current of GTO thyristor must be maintained at the level necessary to prevent any possible drop out from the conducting stage. On turn off the current is rapidly diverted from the gate of the GTO to ensure a rapid and effective turn, off.
The two transistor analogy of GTO is shown in figure below. When a positive signal is applied, a GTO switches into conduction state like the ordinary thyristor. However in an ordinary thyristor the current gains of NPN and PNP transistors are very high so that gate sensitivity for turn on is very high and on state voltage drop is low. However, in a GTO, the current gain of PNP transistor is low so that turn off is possible if sufficient current is drawn from the gate. When a negative gate signal is applied, the excess carriers are drawn from the base region of NPN transistor and collector current of PNP transistor is diverted to gate.
Thus the base drive of NPN transistor is removed and this in turn removes the base drive of PNP transistor and turn off is achieved.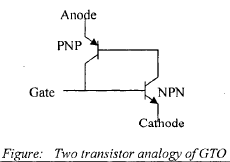 Disadvantage and Advantage over Thyristor Disadvantage
1. Latching current and holding currents are higher.
2. Losses are more as on-state voltage drop is more.
3. Gate circuit losses are more.
4. Reverse voltage blocking capability is less.
Advantage w.r.t. SCR
1. Faster switching speed.
2. More [di/dt] rating at turn on as iv is more.
3. More compact than SCR.
4. More efficient as commutation loss are absent.
5. No commutation circuitry required and hence no noise due to elimination of choke of commutation circuit.