Tissue
A group of cells that have a similar structure and perform a specific function.
Plant Tissues
➢ Meristematic Tissue
It consists of cells that are continuously dividing.
It helps in the growth of the plant and is found in the growing regions of the plant such as the root tip and the shoot tip.
The cells of meristematic have a dense cytoplasm because it is rich in food material for the dividing cells.
The food is not stored but utilized during division so they do not even have vacuoles.
Meristematic tissue is further classified into three categories: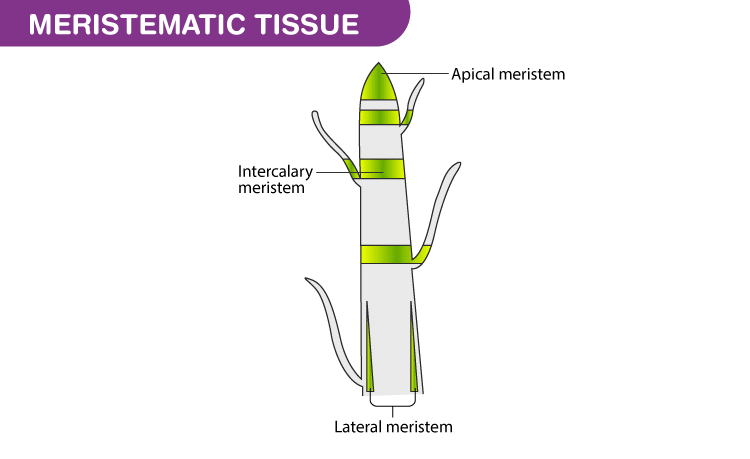 1. Apical meristem: Found on the apical regions of the plant such as the root tips and the shot tip. It increases the height of the plant.
2. Lateral meristem or cambium: It increases the girth or diameter of a plant. It is present inside the stem of the plant between xylem and phloem (later in the chapter).
3. Intercalary meristem: It is present between the nodes of the plant or at the base of the leaves. It increases the height of the nodal region.
➢ Permanent Tissue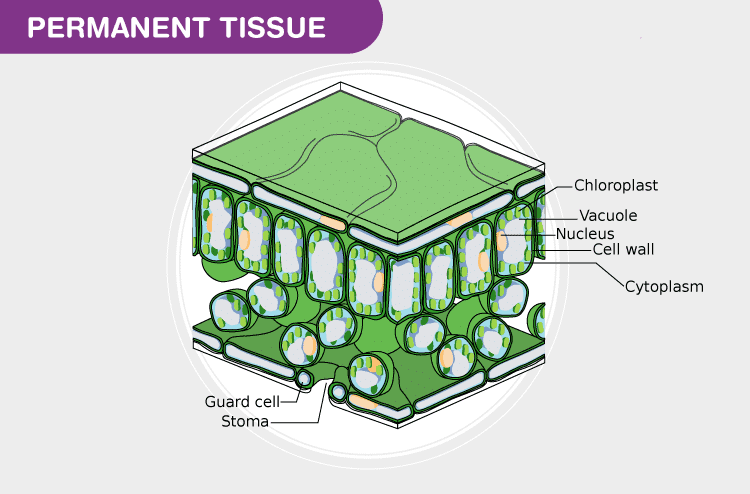 Differentiation: The process of taking up a permanent shape, size and function by a cell is called differentiation. Permanent tissues are formed once the cells have been differentiated.
Permanent tissues are of two types :
1. Simple Permanent Tissue
Made up of only one type of cells.
They are protective and supportive in nature.
Types of simple permanent tissues:
(a) Parenchyma tissues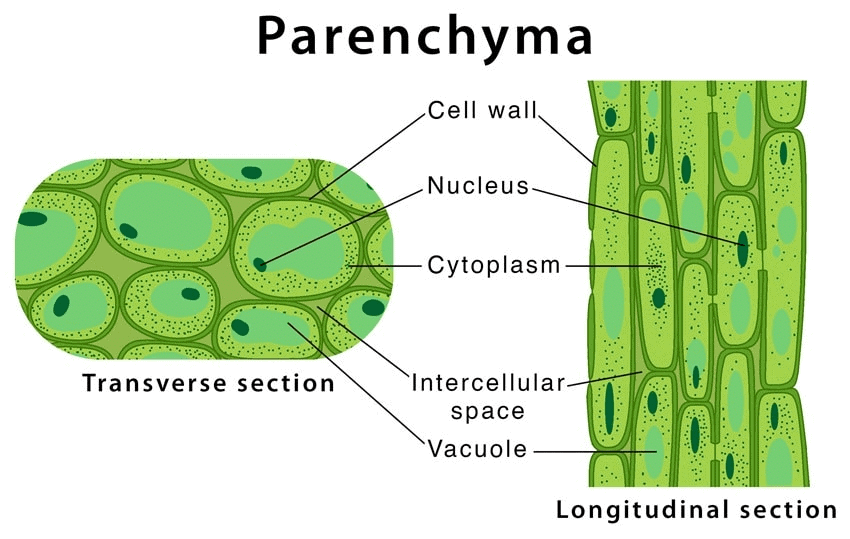 Contains living cells.
Packaging tissue to fill up spaces.
Unspecialized cells.
Thin cell walls.
Loosely packed and have large spaces between them.
Provide support and store food.
Chlorenchyma: Parenchyma tissue that contains chlorophyll and performs photosynthesis.
Aerenchyma: Parenchyma tissue that contains large air spaces and provides buoyancy (floating ability) to plants.
(b) Collenchyma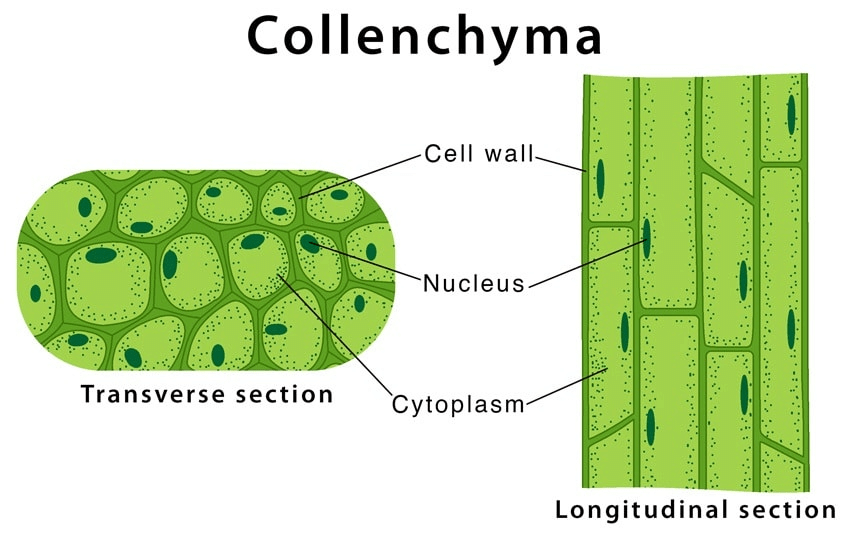 Contains living cells.
Provides flexibility to the plants.
Present in leaf and stem.
Provides mechanical strength to the plant.
Cells are irregularly thickened at corners.
Cells have very little intercellular spaces.
(c) Sclerenchyma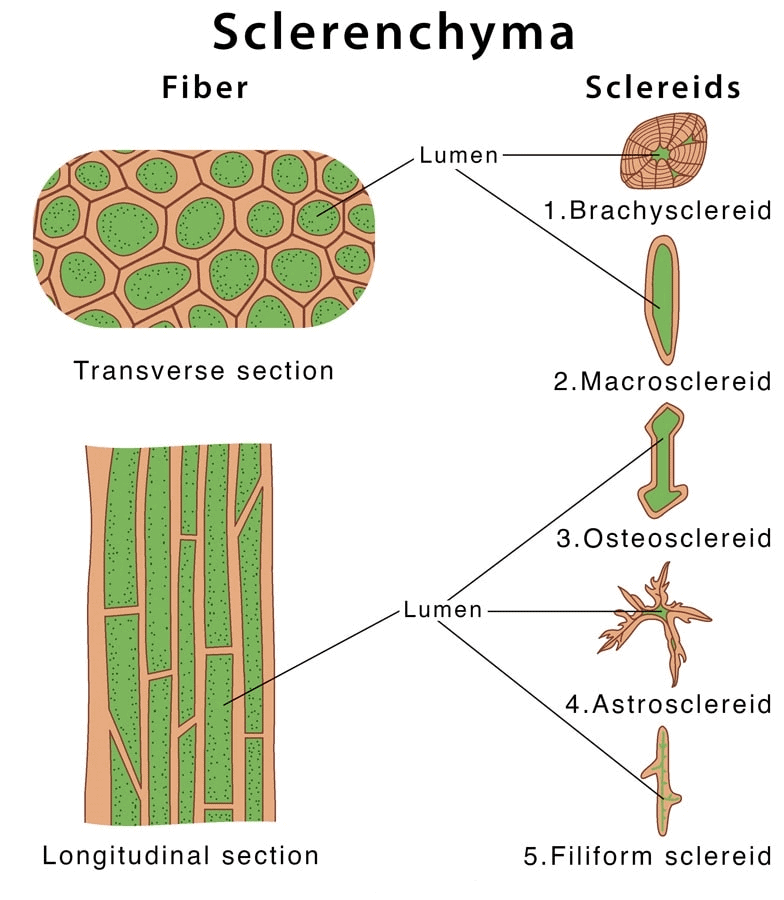 It makes the plant hard and tough.
The cells in this tissue are dead.
The cell walls are thickened with lignin.
Lignin is a chemical that hardens the cell walls.
There are no intercellular spaces.
It is present in stems around vascular bundles (later in the chapter), seeds and nuts.
Provides strength to the plants.
(d) Epidermis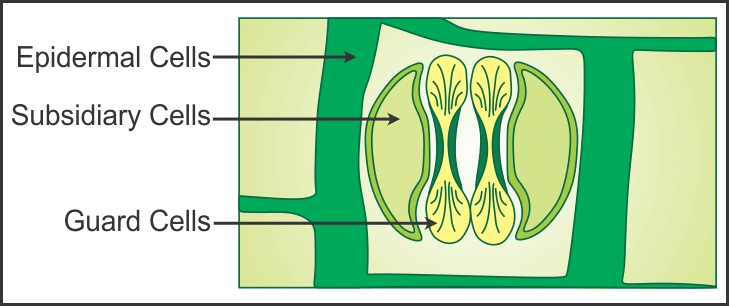 Stomata
Outermost layer of cells in a plant.
It protects the internal parts of the cell.
Waxy and water resistant in the aerial parts of the plant.
There are no intercellular spaces to prevent water loss.
Although small pores called stomata are present in the epidermis of the leaves that help in exchange of gases and transpiration (loss of water).
Epidermis in roots have root hair, which increases the surface area to absorb water and minerals from the soil.
In desert pants it has a thick layer of cutin (waterproof chemical substance) to prevent water loss.
As it grows older it is replaced by several layer of secondary meristem called cork or bark, which consist of dead cells arranged without intercellular spaces.
A chemical substance called suberin in found in the walls of cork cells, which make it impervious to water and gases.
2. Complex Permanent Tissue
It is composed of two or more types of cells.
They are conducting or transporting tissues.
Complex tissues are of the following two types :
(a) Xylem
Different types of cells present in xylem are tracheid, vessels, xylem parenchyma and xylem fibers.
All the cells except xylem parenchyma are dead at maturity.
The cells have thick cell walls.
Tracheid and vessels are tubular structure and helps in transportation of water and minerals vertically.
Xylem parenchyma stores food and helps in sideways conduction of water and minerals.
Xylem fibers play supportive role in conduction.
Xylem transports water and minerals from the roots to the leaves. Xylem can transport only in one direction.
(b) Phloem
Different types of cells present in phloem are sieve tube, companion cells, phloem fibers and phloem parenchyma cells.
Sieve tube are tubular structures with punctured walls that help in transportation of prepared food from the leaves to various parts of the body.
All the cells except phloem fibers are living.
Phloem transports prepared food from leaves to all the other parts of the plant. Phloem ca transport bi-directionally
Animal Tissues
➢ Epithelial Tissue
Protective innermost and outermost layer of cells present on various organs.
E.g. Skin, the linings of mouth, blood vessels and lungs.
Cells are tightly packed with no intercellular spaces to form a continuous sheet.
Permeability (ability to allow entry or exit through itself) varies and plays an important role to regulate exchange of materials.
Types of Epithelial Tissue: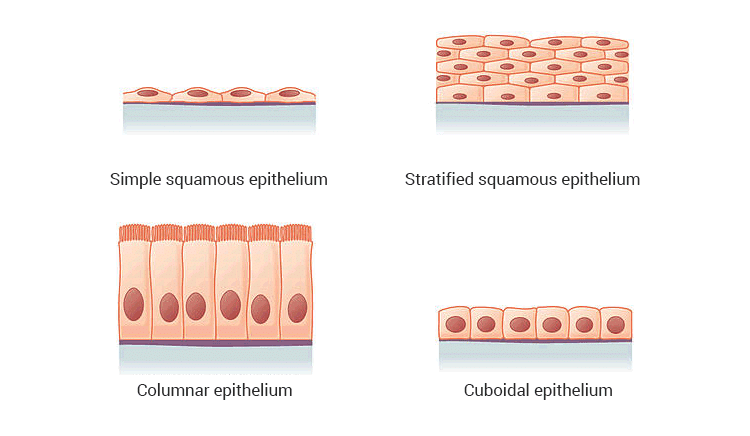 1. Squamous Epithelial
Extremely thin and consist of simple flat epithelial cells.
Have a selectively permeable membrane (allows the passing of few substances and blocks other).
Present in the walls of blood vessels, alveoli in lungs, esophagus (food pipe) and mouth lining.
2. Stratified Epithelial
The epithelial tissue, which consists of several layers of cells is known as stratified epithelial tissue.
Skin is an example of stratified epithelial tissue.
Skin consist of the outer layer called epidermis, the middle layer is called dermis and the innermost layer is known as hypodermis.
3. Columnar Epithelial
Columnar epithelial cells consist of column like cells that have secretory function.
They also have finger like projections called cilia in the respiratory tract that helps in clearing the mucus.
The columnar epithelia tissue with cilia are also known as ciliated columnar epithelial tissue.
It is present in respiratory tract and intestinal lining.
4. Cuboidal Epithelial
Consists of cube-shaped cells.
Present in kidney tubules and salivary glands.
Provides mechanical support.
Often acquire secretory function and folds to form multilayer gland. Such type of cuboidal epithelial tissue is also called glandular epithelium.
➢ Connective Tissue
It connects, supports and separates various other tissues present inside the body. Cells are loosed packed and buried in a matrix.
Various connective tissues are:
1. Blood
Blood Tissue
The cells are present in a liquid matrix called plasma.
Red blood cells, white blood cells, and platelets are present in the plasma.
It also contains proteins, hormones and various salts.
Blood transports gases, food and waste material to appropriate organs.
2. Bone
It forms the skeleton of the body and supports.
It supports other organs of the body with the help of muscles. It is strong, non-flexible and the matrix is made of calcium and phosphorus.
The bone cells are called osteoblasts.
3. Ligament
It connects two bones.
It is elastic.
Contain little matrix.
4. Tendons
Connects bone to muscles.
Fibrous
Limited flexibility but great strength.
5. Cartilage
Widely spaced cells present in a matrix of proteins and sugars.
Smoothens bones and joints.
Present in nose, ear, trachea and larynx.
The cells of cartilage are called chondrocytes.
It can be folded e.g. ear pinna.
6. Areolar Tissue
Found between the skin and the muscles.
It is also present around blood vessels and nerves.
Fills the empty spaces between organs.
Helps in tissue repair.
7. Adipose Tissue
Present under the skin and between internal organs.
Stores fat and provide insulation.
The cells of adipose tissue are called adipocytes.
➢ Muscular Tissue
Cells are called muscle fibers, which are elongated
Helps in movement
Contain contractile proteins, which helps in contraction and relaxation of muscles
Types of Muscle Fibers: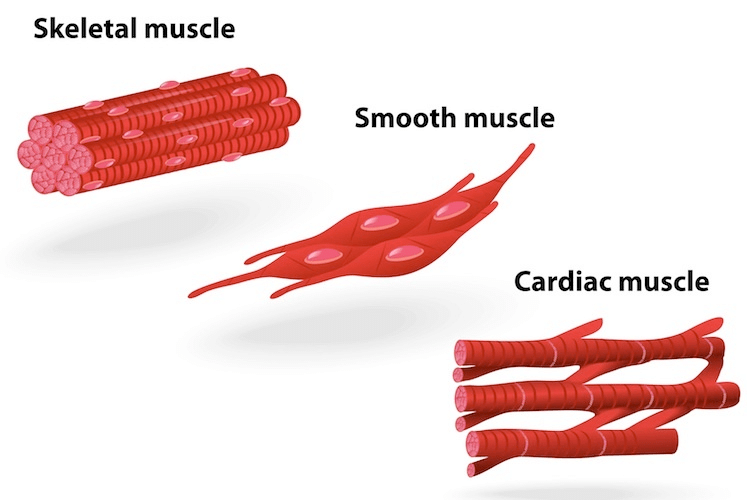 1. Striated Muscles
Shows light and dark bands when seen under a microscope.
Cells are cylindrical, unbranched and have many nuclei.
Responsible for voluntary movement (movements that can be controlled by us).
2. Smooth Muscles (Unstriated Muscles)
Responsible for involuntary actions such as movement of blood vessels, digestive tract, iris of eyes, uterus and lungs.
Cells are spindle-shaped (pointed from both ends).
Cells have a single nucleus (uni-nucleate).
3. Cardia Muscles
Present in the heart.
Regular contraction and relaxation.
Cylindrical, branched and have a single nucleus.
4. Nervous Tissue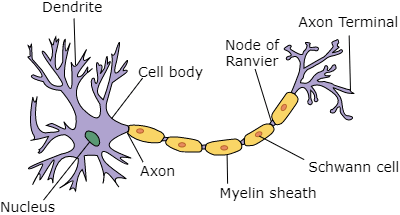 Nervous Tissue
Receives a stimulus, carries it to the brain where it is processed and bring the response.
Brain, spinal cord and nerves are made up of nervous tissue.
A nerve cell is called a neuron.
It consists of a cell body that contains several hairs like structures called dendrites.
A tubular structure arises from one end of the cell body, which is called an axon.
The axon ends into several branched structures called nerve endings.
The axon is filled with neurotransmitters such as acetylcholine that carries the signal and transmits signals from one neuron to another.