COTTER AND KNUCKLE JOINTS
A cotter is a flat wedged-shape piece of rectangular cross-section and its width is tapered from one end to another for an easy adjustment. 
The cotter is usually made of mild steel or wrought Iron. A cotter joint is a temporary fastening and is used to connect rigidly to co-axial shafts which are subjected to axial tensile or compressive forces. 
It is usually used in connecting a position rods to the cross head of a reciprocating steam engine, strap end of connecting rod etc.
Types of Cotter Joints 

Socket and Spigot cotter joint 
Sleeve and cotter joint 
Gib and cotter joint.

Socket and Spoigot Cotter Joint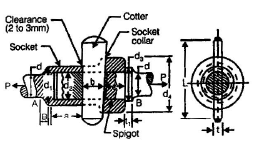 Formula

Failure of rods in tension

Failure of spigot in tension across the weakest section

Failure of the rod or cotter in crushing p = d2.t.sc
Failure of socket in tension across the slot.

Failure of cotter in shear (double shear) p = 2 bt. ts
Failure of socket collar in crushing p = (d4 – d2) . t . sc
Failure of socket end in shearing p = 2(d4 – d2) c × ts
Failure of rod end in shear p = 2ad2 . ts
Failure of spigot collar in crushing

Failure eof spigot collar in shearing

Knuckle Joint

A knuckle joint is used to connect two rods which are under the action of tensile force. If the joint is guided, the rods may support a compressive load. 
Its use may be find in the link of a cycle chain, the rod joint for roof truss, valve rod joints with eccentric rod, pump rod joint, tension link in bridge structure and lever and connection of various types. 
The material used for the joint may be steel or wrought iron.