SHEAR STRESSES IN BEAMS
(ii) Solid Circular Section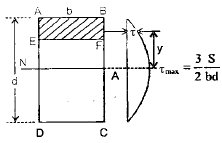 • The shear stress at a fibre on the plane of cross-section located at a distance y from
neutral axis is given by



moment of the area above
EF y = distance form neutral axis.
I = moment of inertia about
N.A. b = width of the beam at the level EF
Shear stress in terms of y form N.A. is given by

Average shear stress is given by

Maximum shear stress occurs at the N.A. & is given by


Hence

The distance from N.A. at which the average shear stress is equal to the local shear stress


(ii) Solid Circular Section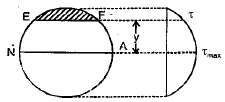 The shear stress at a fibre on the plane of cross-section located at a distance y from neutral axis is given by

Maximum shear stress occurs at the N.A. & is given by

Average shear stress is given by


Hence

The distance from N.A. at which the local shear stress is equal to average shear stress is given by



(iii) Triangular Section

Shear stress at a distance y form vortex is given by

Maximum shear stress exists at (at the middle of triangle) and is given by

Average shear stress is given by

Shear stress at N.A. form top is given by



(iv) Diamond Section

Shear stress at level PQ is given by



Average shear stress =
Hence tn.a. = tavg
Maximum shear stress occurs at form top and bottom or form neutral axis


Hence


(V) I Section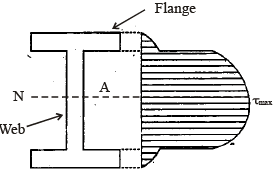 Shear Stress distribution in flange: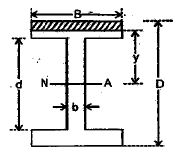 Shear stress at the junction of flange & web, but within the flange.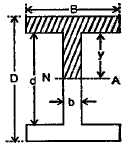 Shear stress distribution within the web

Maximum shear stress exists at N.A. and is given by

Shear stress at the junction of web and flange but within the web


Shear stress distribution in some other section: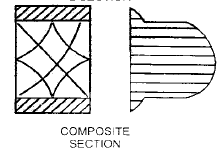 CORE OF SECTIONS OF DIFFERENT SHAPES
1. Rectangular Section
In order that tension may not develop, we have the condition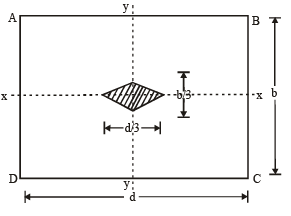 wherek = radius of gyration of the section with respect to the NA
d = depth of the section
Thus, for not tension in the section, the eccentricity must not exceed



For a rectangular section of width b and depth d.



and A = b.d.
Hence



Substituting this value of k, we get



or


Thus the stress will be wholly compressive throughout the section, if the line of action of P falls within the rhombus (as shaded portion of figure), the diagonals of which are of length d/3 and b/3 respectively. This rhombus is called the core or kern of the rectangular section.
2. Solid Circular Section


The core of a solid circular section is a circle, with the same centre, and diameter d/4.
3. Hollow Circular Section
For a hollow circular section,


Hence the core for a hollow circular section is a concentric circle of diameter



where d = inner diameter,
D = outer diameter.