Fibre
The thin strands of thread are called fibre.

Types of Fibre:
Natural fibres- The fibres which are obtained from plants and animals are called natural fibres.
Examples: cotton, jute, silk, wool.
Plant Fibre: Cotton and jute are plant fibre.
Animal fibre: Silk and wool are animal fibre.
Synthetic fibre- The fibre which is synthesized in the industry from simple chemicals obtained from petroleum is called synthetic fibre. Examples: Nylon, Acrylic, Polyester.

Wool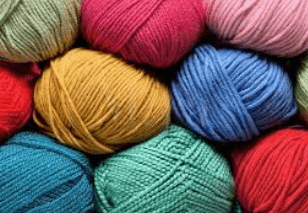 We get wool from the hair of the sheep, goat, rabbit, yak, and camel. Wool is used for making warm clothes, such as sweaters, caps, shawls, gloves, and blankets, etc. Wool is also used in making carpets and upholstery.
Wool from Animals
The wool comes from sheep, goats, yak, and other animals. These wool-yielding animals bear hair on their body because hair keeps them warm, and wool is derived from these hairy fibers.
Wool is used to making various wool fabrics like woolen clothes, carpets, woolen sweaters, saddle cloths, etc.



Rearing and Breeding of Sheep for Wool

Rearing: It is a breeding process, feeding and providing medical care to sheep. These animals are kept since they produce valuable products for human beings.
Breeding: Some particular breeds of sheep are specially chosen to give birth to sheep which have only soft under hair. This process of selecting parents for obtaining special characters in their offspring is termed 'selective breeding.'
Processing Fibres into Wool

The skin of the sheep is hairy, having two types of fibres forming its fleece:
(i) the coarse beard hair
(ii) the fine soft under-hair near the skin is the fleece.


This fleece is the primary source of fibres of wool.
Making fibre into wool follows a series of processes: Shearing, → Scouring → Sorting → Dyeing → Straightening, Rolling, and Combing.
Occupational hazards of fibre production

Sometimes the sorters get infected by a bacterium, anthrax, which causes a fatal blood disease called sorter's disease.
Silk
Silk from Animals
Silk is a natural protein fibre obtained from silkworm and can be used as a textile fibre.
Different types of silkworms produce various kinds of silk.
It can be differentiated based on luster and texture. Few examples are Kosa, tassar, mooga, etc. Various types of silk moths produce them. One of the common types is the mulberry silk moth.
Development of Silk Moth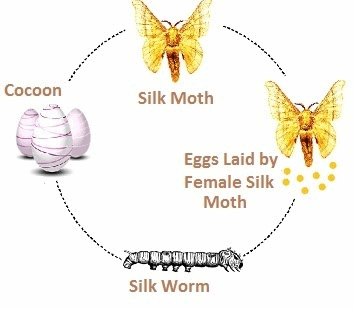 Sericulture
The rearing of silkworms to produce raw silk is called sericulture.
In this process, silkworms are reared at appropriate temperature and humidity to get silk threads from cocoons.
Processing Silk Obtained from Cocoons
Cocoons are collected and left under the sun or boiled for separating the silk fibres.
After that reeling of silk is done, the process of unwinding silk from a cocoon.
Then, the spinning of silk fibres into threads is done.
The silk threads obtained are woven into desired clothes.