CHALLENGES TO CULTURAL DIVERSITY
1. India is a culturally diverse country having communities of different religions, languages, sects, races and castes.
2. Cultural identities can be a challenge if competition, conflict or social, economic inequalities exist among them.
3. Community Identities are universal
ascriptive, based on birth rather than choice
give a sense of security and identity
4. NATION is a large scale community consisting of different communities. A state refers to an abstract entity consisting of a set of political legal institutions claiming control over a particular geographical territory & people living in it.
NATION STATES are communities that have a state of their own in the modern world.
5. States feel threatened by the cultural diversity and adopt ASSIMILATION or INTEGRATION policies to create a harmonious society.
6. ASSIMILATION POLICY: aim at persuading, encouraging or forcing all citizens to adopt a uniform set of cultural values and norms.
7. INTEGRATION POLICY: Aim at restricting public culture to common national pattern while a non-national cultures to be limited to the private sphere.
8. Indian Nation State.
Population-1029 million
Languages & dialect—1,632
Religions—Hindus (80'5%),Muslims(13.4%), Christians(2.3%), Sikhs(1.9%), Bhuddhist(0.89%) Jains(0.4%)
Indian nation state has adopted neither assimilationist nor internationalist model.
9. REGIONALISM is the ideology of commitment to a particular regional identity which could be based on language, ethnicity and other characteristics in addition
to geography.
10. Sociologically minorities are a collective group, have a strong sense of solidarity, feeling of togetherness and belonging having common experiences of
disadvantages prejudices and discrimination.
11. COMMUNALISM refers to aggressive chauvinism based on religious identity where one religious group sees itself as the legitimate, superior and worthy with
other groups being inferior illegitimate and opposed.
12. CHARACTERISTICS FEATURES OF COMMUNALISM:
Cultivates aggressive political identity
Religious identity overrides everything else
Communalism is a recurrent source of tension & violence in India—
Anti Sikh riots in Delhi in 1984
Ant Muslim riots in Gujarat in 2002
13.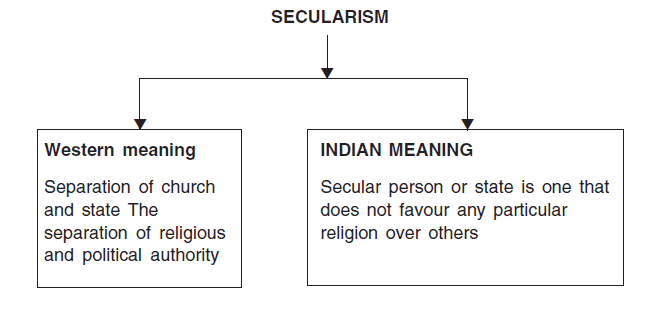 14. AUTHORITARIAN STATE:
It is a state in which the people have no voice and those in power are not accountable to anyone. Authoritarian states often limit or abolish civil liberties like freedom of speech, freedom of the press, freedom of political activity, right to protection from wrongful use of authority, right to the due processes of the law, and so on.
15. CIVIL SOCIETY:
Civil society is the non-state and non-market part of the public domain in which individuals get together voluntarily to create institutions and organizations. It is the sphere of active citizenship: here, individuals take up social issues, try to influence the state or make demands on it, pursue their collective interests or seek support for a variety of causes. It consists of voluntary associations, organisations or institutions formed by groups of citizens. It includes political parties, media institutions, trade unions, non-governmental organizations (NGOs)

The Indian people had a brief experience of authoritarian rule during the 'Emergency'

enforced between June 1975 and January 1977.

Parliament was suspended

new laws were made directly by the government.
Civil liberties were revoked
large number of politically active people were arrested and jailed without trial.
Censorship was imposed on the media and government officials could be dismissed without normal procedures.
Civil society activities
Today the activities of civil society organizations have an even wider range, including advocacy and lobbying activity with national and international agencies as well as active participation in various movements.
The issues taken up by Civil Society today are diverse, tribal struggles for land rights,

devolution in urban governance,
campaigns against rape and violence against women,
rehabilitation of those displaced by dams and other developmental projects,
fishermen's struggles against mechanised fishing,
rehabilitation of hawkers and pavement dwellers,
campaigns against slum demolitions and for housing rights,
primary education reform,
distribution of land to dalits,
keeping a watch on the state and forcing it to obey the law and so on.
Among the most significant recent initiatives is the campaign for the Right to Information