India: Our Country, Our Love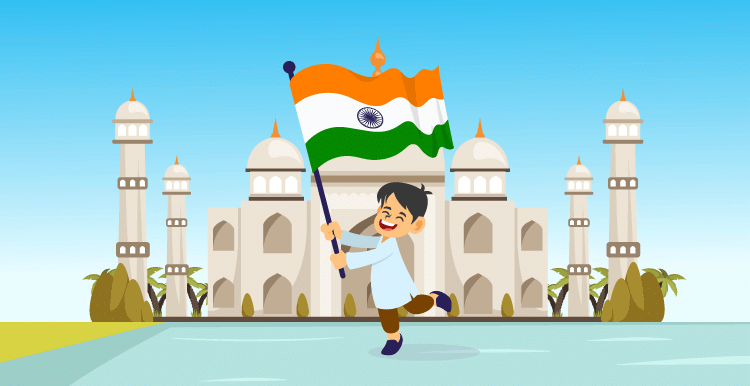 Our country-India offers a wide variety of physical features and climatic conditions. There are mountains, valleys, plains, plateaus, seas, rivers, lakes and beaches. All these make India one of the most beautiful countries of the world.
The variety of physical features reflects itself in a great diversity in the living styles of men and women. There is an amazing variety of wildlife and natural forests.
Beauty of India
The widespread of the country leads to a wide variety of physical conditions.
These conditions influence the type of houses people build, their dresses, festivals, eating habits, and many other things.

Dresses of People of India
Each physical region or climatic belt has some distinctive characteristic. How these blend together to make India a strong nation is an interesting study.
Diwali is one of the major festivals of India.
The present Unit describes the physical and climatic regions of the country.
Try yourself:Which festival is celebrated to commemorate the return of Lord Rama to Ayodhya after defeating Ravana?
Physical and Climatic Regions of the Country

India is a big and beautiful country. Something like a kite, it is broad in the middle and narrow at the top and bottom.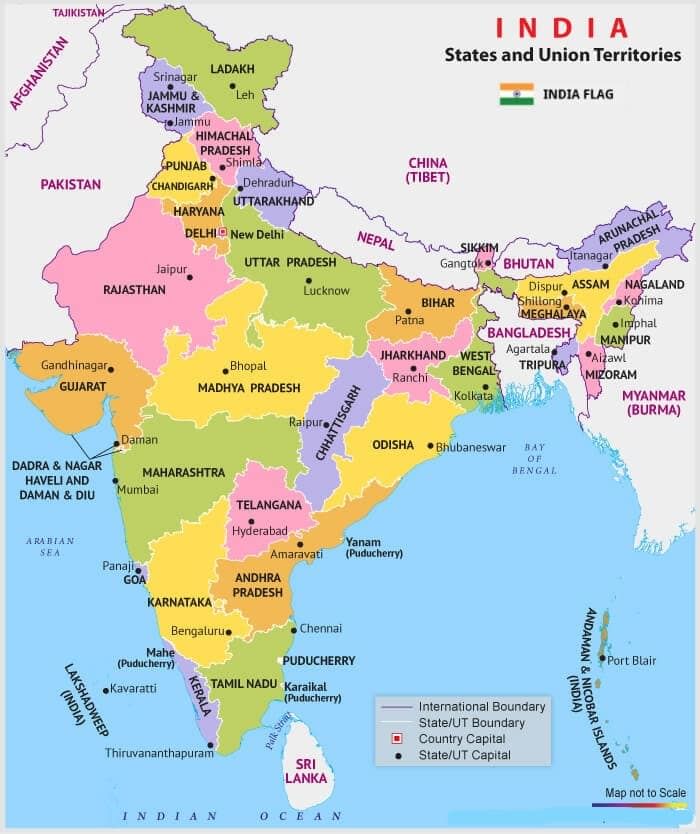 Map of India
The State of Jammu and Kashmir is placed like a crown on Mother India's head.
The southern end has the Bay of Bengal in the east, the Arabian Sea in the west, and the Indian Ocean at the bottom.
Kanyakumari marks the southernmost tip of the mainland.
From North to South, the boundaries of our country extend to 3,214 kilometers. The East to West distance is 2,933 kilometers.
The islands of Andaman and Nicobar in the Bay of Bengal and Lakshadweep in the Arabian Sea are part of India.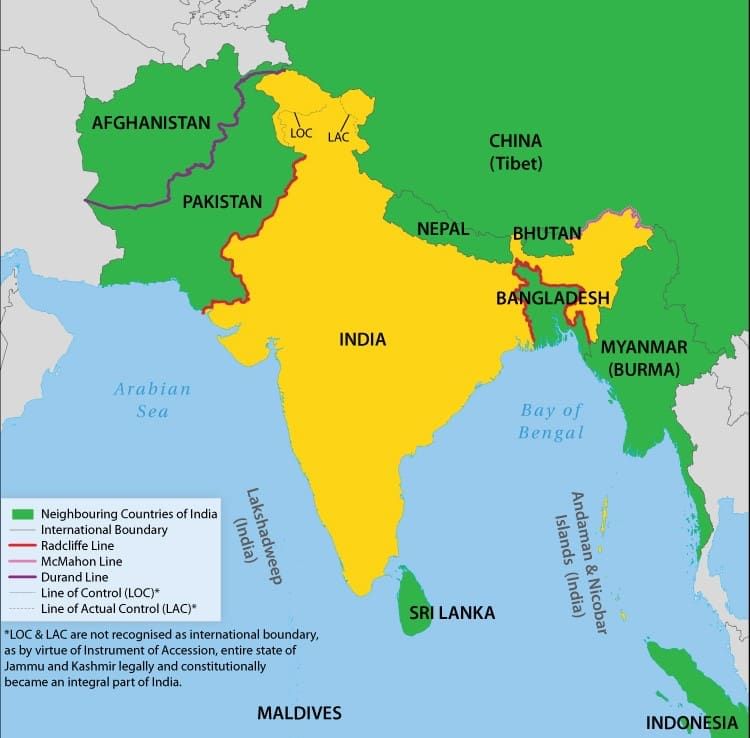 Neighboring Countries of India
China, Nepal, and Bhutan are our neighboring countries in the north. Sri Lanka is our neighbor in the South.
Bangladesh and Myanmar lie to the East of India. Pakistan and Afghanistan lie in the West.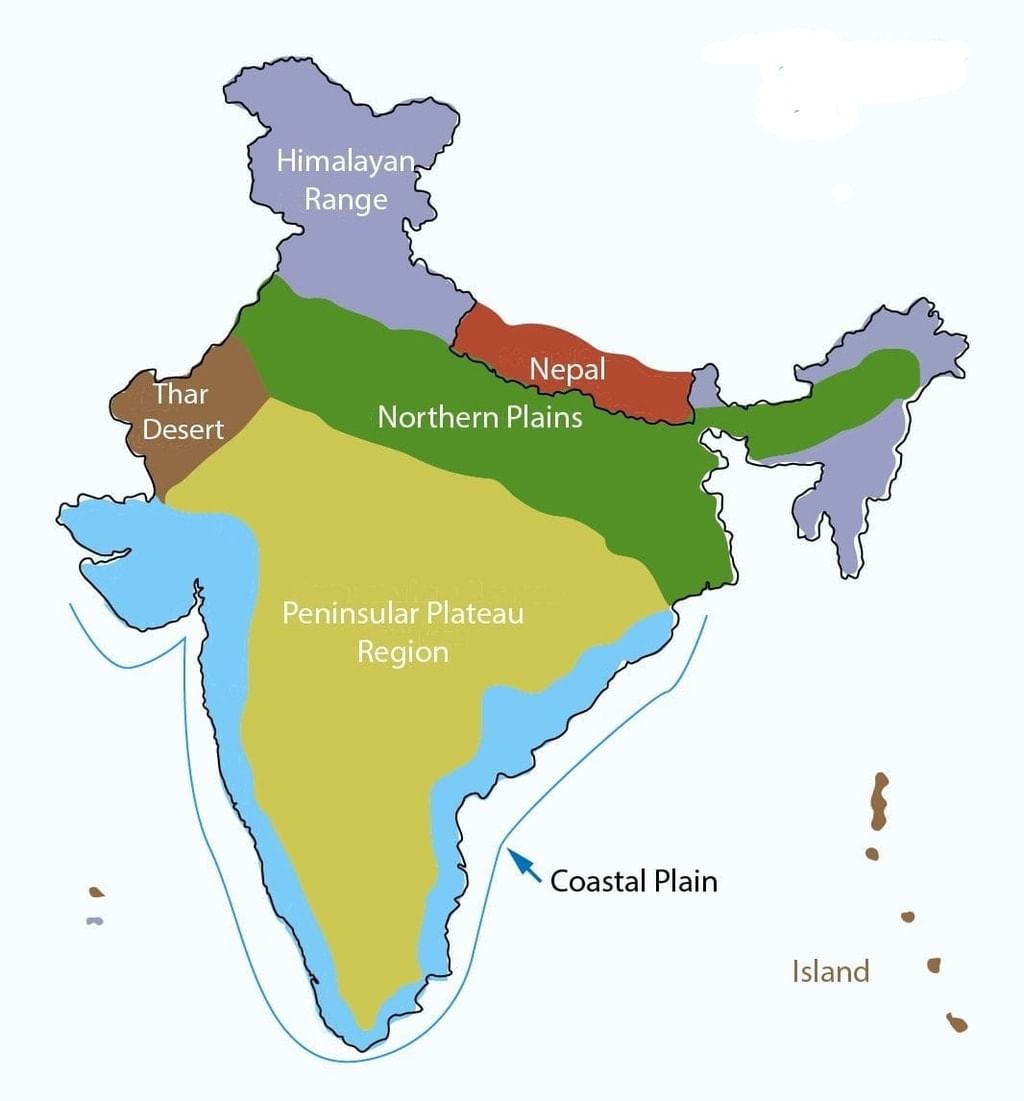 Physical Divisions of India
"India is the seventh-largest country in the world. Russian Federation, Canada, China, United States, Brazil, and Australia are bigger in size. But in terms of population, India occupies second place. China has more people than India."
Try yourself:The Lakshadweep Islands are situated in _______________.
Political Divisions
India became an independent country on 15 August 1947. Today India is a union of 28 states and eight Union Territories, including the National Capital Territory of Delhi.
The names of all the states and the Union Territories, and their capitals, are given in Table.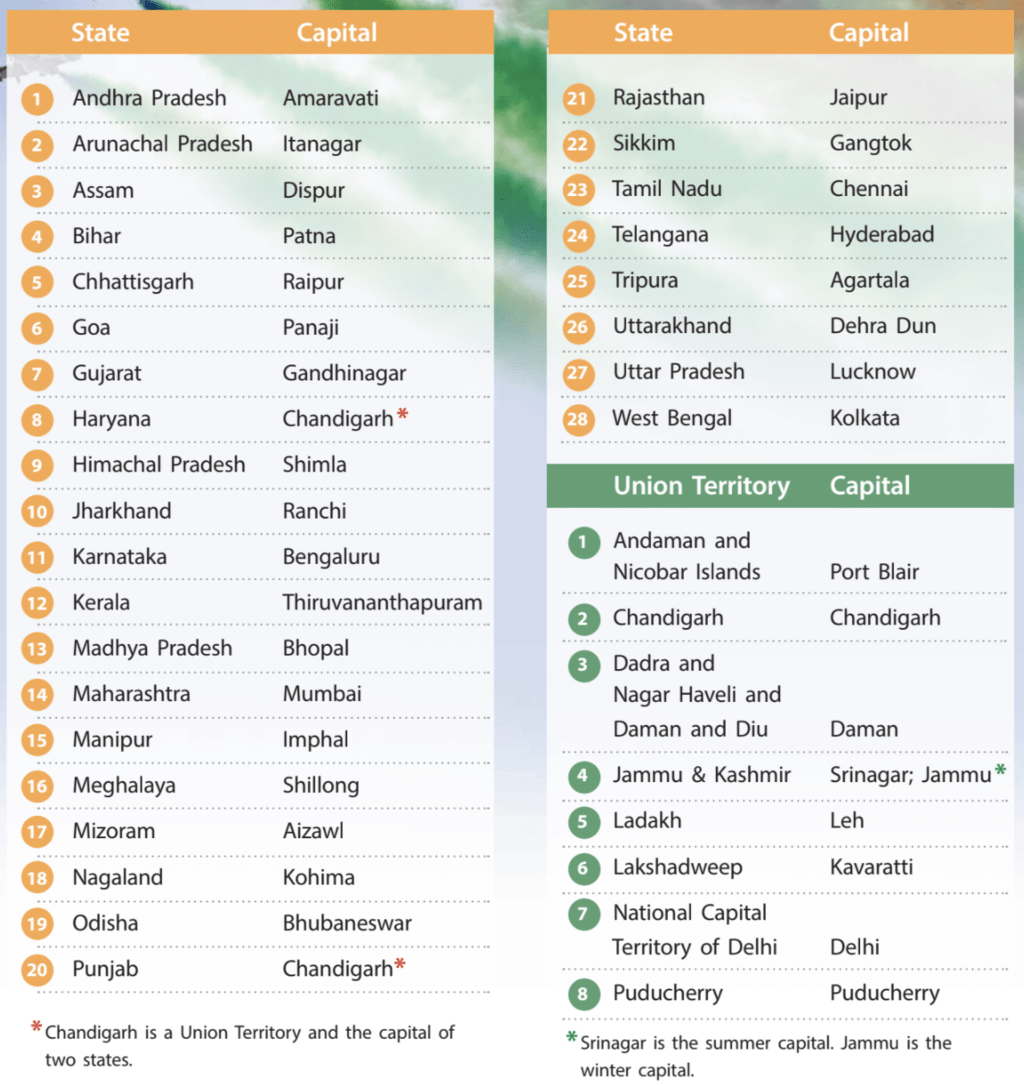 Here are a few more facts:

Rajasthan is the largest state in area. Goa is the smallest.
The seven states in north-eastern India are called the Seven Sisters. These are Arunachal Pradesh, Assam, Manipur, Meghalaya, Mizoram, Nagaland and Tripura.
Telangana was carved out of Andhra Pradesh. Hyderabad is the capital of Telangana. Amaravati is the capital of Andhra Pradesh.