Soil is the upper layer of the earth composed of loose surface material. It is amixture of many substances including many minerals, remnants of plants and animals, water and air. The health of the soil depends on its interaction between air, water, minerals, plant and animal remnants i.e. with its parent material.
Soil is an important part of our ecosystem. Soil is the seat, and raw material for plant growth. It is the most fundamental resource of our country.
The soils of India are broadly divided in the following six types:
Mountain Soils: There are many soils covered in this type. Slopes of mountains have gravelly, very small broken pieces of stones which in the latter part turn in finer stones mixed with alluvium and than deep alluvium in the river valleys. Steep part of the mountains does not allow any deposit of soil. Orchards are grown on the slopes, rice in valley and potato almost in all areas.
Alluvial Soils: These soils are formed of deposit of silt and sand brought down by the rivers flowing from the Himalayas and the great Indian Plateau. These soils are very fertile. These cover the vast areas of the basins of Sutlej, Ganga, and Brahmaputra. Almost all the crops are grown on this soil.
Black Soils: The black soils cover large part of Maharashtra, some parts of Gujarat and Madhya Pradesh and small parts of Karnataka, Andhra Pradesh and Tamil Nadu. This soil is formed from volcanic lava. It has the quality of retaining moisture even during the dry season. This soil is good for growing cotton, sugarcane, wheat, onion, and some fruits.
Red Soils: These cover large part of Tamil Nadu, Karnataka, Goa, Maharashtra, Andhra Pradesh, Odisha, Chotanagpur Plateau and Meghalaya Plateau. These are formed from rocks like granite. and others. These are less fertile and are not as important as alluvial and black soils. This soil is suitable for rice, millet, maize, groundnut, tobacco and fruits.


India – Major Soils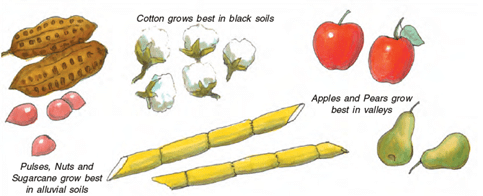 Different crops need different types of soils
Laterite Soils: These soils are found in areas of high altitude and heavy rainfall in Karnataka, Tamil Nadu, Madhya Pradesh, Jharkhand, Odisha, Assam and Meghalaya. The soils are least fertile. The crops generally grown are rice, millets, sugarcane, rubber, coffee and tea.
Desert Soils: The soil is sandy. The colour is either red or light brown. It is found in areas which has very low rainfall. When irrigation is available crops like cotton, rice, wheat, etc. can be grown with the help of fertilizers. The soils are found in western Rajasthan, western Haryana, southern Punjab, Saurashtra and Kuchchh.
Soil Erosion
Soil erosion is described as carrying away of soil. Natural elements by which soil erosion takes place are wind, rain, land slides, glaciers. Social activities which assist natural forces in soil erosion are over grazing, deforestation, nature of land use and methods of cultivation.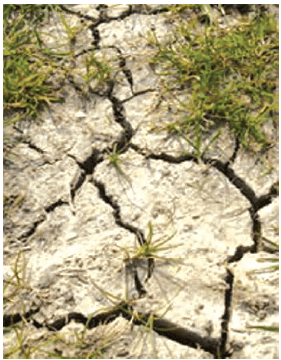 Soil Erosion
Soil Conservation
To check soil erosion is soil conservation. If the soil is washed away or blown away, it gets lost forever for that particular area or region. In other words, soil conservation is to hold the soil in its place. Roots of plants specially grass provide hold to soil. That is why plantation is so important. Rows of trees or shelter belts are planted to protect the fields in desert regions from wind erosion. Grazing by sheep, goat and other animals is to be better organized to avoid overgrazing.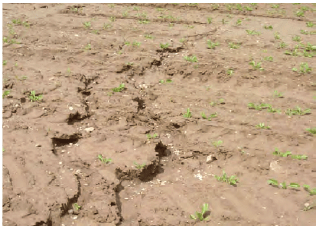 Soil conservation
Free running of water on hill slopes is broken by zigzag small embankments to avoid water erosion. Small and large dams control floods but these have created other problems. Contour ploughing and terracing are practiced on hill slopes to avoid water erosion.
Land sliding, avalanches are partly controlled because large natural forces work behind them.
Things To Remember

Soil is the fundamental resource of our country.
Broadly, soils are of six types.
Soil erosion is described as carrying away of soil.
To check soil erosion is soil conservation.
A forestation, tree plantation, planned grazing, small and large dams, contour ploughing, terrace farming are some of the methods of soil conservation.