The Characteristics of Road Transport are
1. Roads are used by various types of road vehicles like cars, buses, truck, two and three wheeled automobiles, pedal cycles and animal drawn vehicles. But railway tracks are used only by rail locomotives and wagons, waterways are used only by ships and boats.
2. Road transport requires a relatively small investment for the government. Motor vehicles are much cheaper than other carriers like rail locomotives and wagons, water and air carriers. Construction and maintenance of road is also cheaper than that of railway tracks, docks, harbors and airports.
3. Road transport offers a complete freedom to road users to transfer the vehicle from one lane to another and from one road to another according to need and convenience. This flexibility of changes in location, direction, speed, and timing of travel is not available in other modes of transport.
4. In particular for short distances travel, road transport saves time.
5. Speed of movement is directly related with the severity of accident. The road safety decreases with increasing dispersion in speed. Road transport is subjected to a high degree of accidents due to flexibility of movements offered to the road users.
6. Road transport is the only means of transport that offers itself to the whole community alike.

Comparison of Different Modes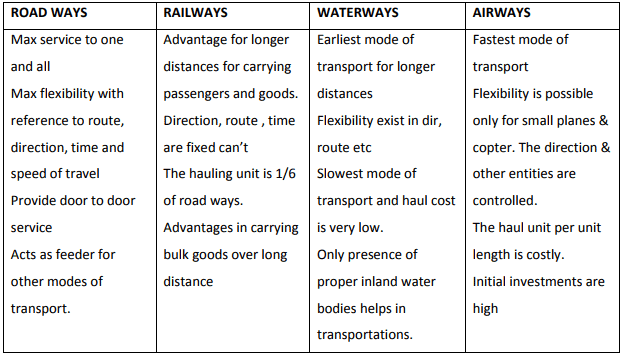 Roadways:
Advantages:
1.Flexibility: It offers complete freedom to the road users.
2.It requires relatively smaller investments and cheaper in construction with respect to other modes.
3.It serves the whole community alike the other modes.
4.For short distance travel it saves time.
5.These are used by various types of vehicles.

Disadvantages:
1.Speed is related to accidents and more accidents results due to higher speed.
2.Not suitable for long distance travel 3.Power required per tonne is more.

Railways:
Advantages:
1.Can transport heavy loads of goods at higher speed
2.Power required per tonne is less compared to roadways
3.Chances of accidents are less.

Disadvantages:
1.Entry and exist points are fixed
2.Requires controlling system and no freedom of movement
3.Establishment and maintenance cost is higher.

Waterways:
Advantages:
1.Cheapest: Cost per tonne is lowest
2.Possess highest load carrying capacity
3.Leads to the development of the industries.

Disadvantages:
1.Slow in operation and consumes more time
2.Depends on weather condition
3.Chances of attack by other countries on naval ships are more.
4.Ocean tides affects the loading and unloading operation
5.The route is circuitous.

Airways:
Advantages:
1.It has highest speed
2.Intercontinental travel is possible
3.Journey is continuous over land and water

Disadvantages:
1.Highest operating cost (cost/tonne is more)
2.Load carrying capacity is lowest
3.Depends on weather condition
4.Should follow the flight rules.

Jayakar Committee Recommendations and Implementation
Recommendations: Over a period after the First World War, motor vehicles using the roads increased and this demanded a better road network which can carry mixed traffic conditions. The existing roads when not capable to withstand the mixed traffic conditions. For the improvement of roads in India government of India appointed Mr. Jayakar Committee to study the situations and to recommend suitable measures for road improvement in 1927 and a report was submitted in 1928 with following recommendations:

1.Road development in the country should be considered as a national interest. As the provincial and local government do not have the financial and technical capacity for road development.
2.Extra tax to be levied from the road users as fund to develop road.
3.A Semi-official technical body has to be formed to collect and pool technical Know how from various parts of the country and to act as an advisory body on various aspects of the roads.
4.A research organization should be instituted at National level to carry out research and development work and should be available for consultation.

Implementations:
Majority of the recommendations were accepted by the government implemented by Jayakar Committee.
Some of the technical bodies were formed such as,
1.Central Road Fund (CRF) in 1929
2.Indian Roads Congress (IRC) in 1934
3.Central Road Research Institute (CRRI) in 1950.