Global and Indian Chemical Industries
The chemical industry is one of the world largest sectors of economy. In 2008, its sales exceeded 3 trillion USD and more than 20 million people around the global have job connected to chemical industry. Figure M-I 1.3 give details of world chemical market.
World Chemical Market: 2 tr. USD Global Chemical Market: Growing @ 1.5 times GDP Petrochemical dominate with Share 40percent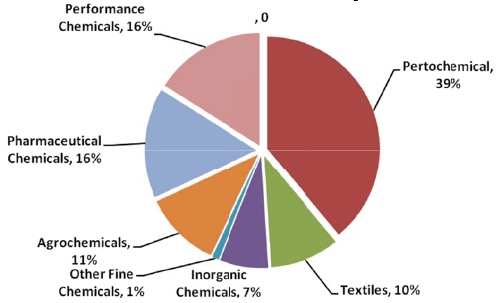 Figure M-I 1.3: World Chemical Market
Sources: Nanvaty, 2008
Indian chemical industry is an important constituent of the Indian economy. Its size is estimated at around US $ 35 billion approx. which is equivalent to about 3% of India' GDP. The total in Indian Chemical industry is approx. 60 billion and total employment is about 1 million. The Indian chemical sector accounts for 13-14% of total exports and 8-9% of total imports of the country. Export of chemicals and related products was 24.066 billion USD in 2008-9 accounting to 13.63 of total imports. In terms of volume, it is 12th largest in the world and 3rd largest in Asia. Currently per capita consumption of products of chemical industry in India is about 1/10th of the world average.
Over the last decade, the Indian chemical industry has evolved from being a basic chemical producer to becoming and innovative industry. Driving force for development of chemical industry is given in Table M-I 1.2 with investments in R&D, the industry is registering significant growth in the knowledge sector comprising of specialty chemicals, fine chemicals and pharmaceuticals with annual growth rate over 10%. The total production of organic chemicals during 2008-09 works out to 1.25 million with value of 0.9717 billion. The size of the petrochemicals segment was estimated at 13.96 billion. Total size Dyestuff industry is estimated 4 billion USD. There are 50 organized industries and over 900 small-scale industries. India has 8.5-9% global market share. The India pharmaceutical industry is the fourth largest volume terms and 15th largest market in value terms.
The market will reach 20 billion USD by 2015 and 30 billion USD by 2020. The size of the Agrochemicals industry estimated at over 1billion USD. Fertiliser capacity N and P as (P3O5) is 12.29 and 10.90 million tones and production 10.9 and 3.40 million tones respectively. The turnover during 2008-09 was around 28.49 USD. Chemical and fertilizer sector in India presently constitutes 14% of the domestic industrial activity [Lokhapare, 2011, Annual report 2010-11]. Segments of the Indian chemical industry are given in Table M-I 1.3. Details of major chemical production and growth are shown in Table M-I 1.4.
Table M-I 1.2 Driving Force Indian Chemical Industry
Surface Area : 3.287 Million Km2
Population : 1. 2 Billion
Coastline : 6,000 km
Port traffic : Over 350 Million TPA
Road Length : Over 3 Million Km
Railways : 100,000 Track Km
(Largest in Asia, 2nd in the World)
Growth of Population 1951 : 36 Crore To present 130 Crore
Growth in vehicle population: more than five fold
India's passager vehicle production projections :
In 2010 – 2.6 million Vehicles
By 2015 – 5.1 million Vehicles
By 2020 – 9.7 million Vehicles
Contribution of GDP by: Agriculture: 25%, Industry: 24% Services: 51%
Table M-I 1.3: Segments of the Indian Chemical Industry
---
Basic Chemicals ( 49.05%): Market value:32.78USD
Inorganic chemicals:(Caustic chlorine, soda ash, sodium bicarbonate, carbon black, titanium oxide, sulphuric acid, hydrochloric acid etc.)
Organic chemicals( acetic acid, acetic anhydride, acetone, phenol, methanol, formaldehyde, nitrobenzene, malice anhydride, aniline, chloromethanes, acetaldehyde, ethanol amines, ethyl acetate etc.
Petrochemicals( Olefins, aromatics-benzene, toluene, xylenes, fibre intermediates MEG, PTA, acrylonitrile, propylene, caprolactam, adipic acid, hexamethylene diamine, phthalic anhydride, methanol, LAB, polymers, synthetic fibre, etc)
Fertilizers( Nitrogenous and Phosphatic)
Other industrial chemicals Specialty Chemicals (24.69%
Specialty Chemicals (24.69%): Market value:16.50USD
Paints and varnishes,
Textile chemicals
Dyestuffs and intermediates
Catalysts
Plastic additives
Adhesive sealants
Industrial gases
Knowledge Chemicals (26.6%): Market value:17.55USD
Pharmaceuticals
Biotechnology
Agrochemicals
Table M-I 1.4: Product-wise Production of Major chemicals
Major Chemical Products

Production 2010-11 in

000' MT

Alkali Chemicals

Caustic soda

2178.45

Chlorine

1503.99

Soda ash

2298.75
Total alkali chemicals

Inorganic chemicals

Aluminium chloride, Calcium carbide, Carbon black,

Potassium chlorate, Titanium oxide, Red phosphorous

5981.19

Total

572.04

Pesticides and Insecticides

1341.75

Dyes and Dyestuff

8023.54

Organic Chemicals(Acetic acid, Acetic Anhydride, Acetone, phenol, Methanol, Formaldehyde, Nitrobenzene, Maleic anhydride, Penta-erithritol, Aniline, Chloromrthanes, Isobutylene, MEK, ONCB,PNCB, Acetalldehyde, Ethanolamines, Ethyl acetate, nitrotoluene)

1341.76

Aromatics

Benzene

Mixed xylene.

Orthoxylene

Toluene

Paraxylene

Total

945

44

400

128

2137

3654

Synthetic Fibres(Acrylic , Polyester, Nylon, Polypropylene , fibrere

1169

Polymers( Polyethylene, Polypropylene, Polystyrene, Poly

vinyl chloride)

5292

Elastomers ( Styrene butadiene rubber, Polybutadiene rubber, Ethylpropylene dimmers, Ethyl vinyl acetate, Nitrile rubber)

94

Synthetic Detergent Intermediates

LAB

Ethylene oxide

475

164

Performance Plastics(ABS resin, Polymethyl metha- acrylate(PMMA), Styrene acrylonitrile(SAN), Nylon

192

Fibre Intermediates (Acrylonitrile, Caprolactam, Dimethyl terephathalate, Monoethylene glycol, Purified terephthalic acid)

4098

Olefins, Ethylene, Propylene, (Butadiene)

4837

Aromatics (Benzene, Toluene, Mixed xylene, Ortho xylene,

Para xylene)

3654

Other petro based chemicals (Butanol,C4 raffinate, diethylen glycol, Diacetone alcohol, 2-ethyl hexanol, methylemetha acrylate, Phthalic anhydride, Propylene oxide, Propylene glycol, polyvinyl acetate resin, vinyl acetate monomer)

512
Source: Annual report 2011-2012 Department of Chemicals & Petrochemicals (Ministry of Chemicals & Fertilizer)
Chemical Feed Stocks: Past, present and future feedstock for chemical industry is mention below. Details of these raw material have been discuss in Lecture 2
PAST

PRESENT & FUTURE

> Coal, Salt, Biomass, Natural rubber, cotton,

Gaseous: Natural Gas, Condensate, Refinery

Gases, Coal Bed Methane, Gas Hydrate, Shale gas

Liquids : Naphtha, Solvent Extracts, Middle Distillates
Solids : Coal, Coke, Wax, Residues
Biomass: Agriculture residue, Algae
Sea Chemicals: Salt, Bromine, Iodine, Titanium, Zirconium etc More> 64 elements
Characteristic of the Indian Chemical Industry [Lokhapare, 2011]
High domestic demand potential as the Indian markets develops and per capita consumption levels increases.
High degree of fragmentation and small scale of operations
Limited emphasis on exports due to domestic market focus
Low cost Competitiveness as compared to other countries due to the high cost of feed stocks and power
Low focus on R & D despite initiatives to innovate processes to synthesis products effectively
Indian Chemical Industry Weaknesses: Although Indian chemical industry has made consistent growth during last six decades, however, compare to global level there is lot of scope for further development. Some of the weaknesses are
Sizes of older units well below global levels
High cost structures
Higher cost of raw materials
Long gestation periods
Integration and infrastructure inadequacies
Process development, Low R &D investment
Mindset
Typical Issues for Chemical Industries
Due to various technological and engineering developments, chemical industry has been able to reduce the cost of production. Changes in technology and raw materials have shifted regularly and frequently towards Lower costs and competitive, Better conversion and efficiency, high productivity, less energy consumption, Broader spectrum of product grades. However, due to increasing cost of raw materials and stringent environment issues, chemical industry is facing major challenges in future. Typical issues in chemical industry to meet the future challenges are shown in Figure M-I 1.4.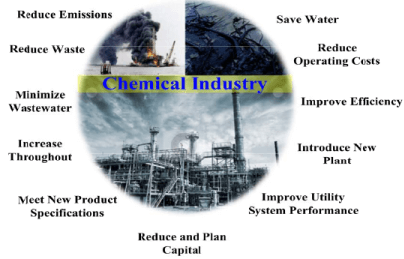 Figure M-I 1.4: Typical Issues in Chemical Industry