Aspirants in Class 10 should begin by setting goals, learning to manage their time, and attempting to be consistent in their performance by working hard from the first day of the session onwards, remembering that nothing is impossible if one is motivated to achieve it.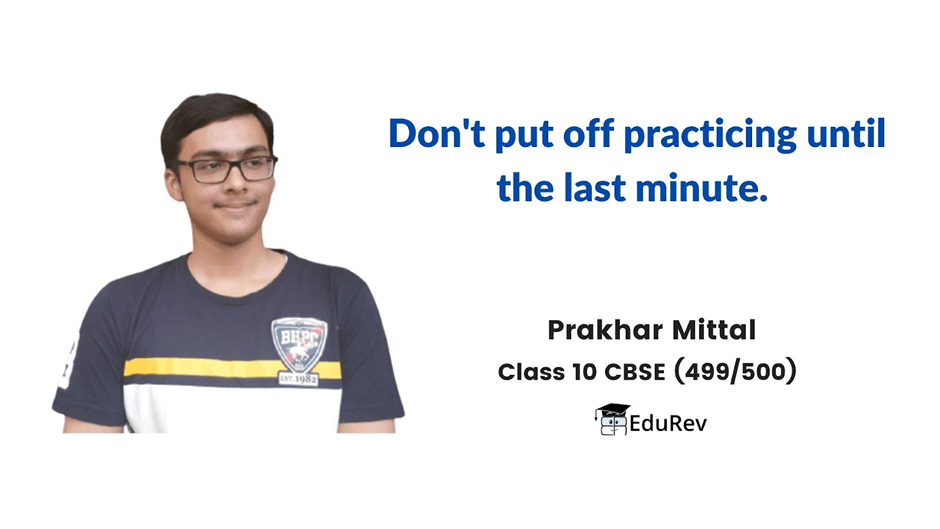 Why did EduRev make this guide?
We intended to provide the best/perfect answer to the question "How to Prepare for Class 10 Boards" once and for all.
This guide was created to teach in a guided manner so that you can do well in Class 10 by only studying What Actually Matters for the Boards preparation.
How was this guide made?
This guide was created by EduRev experts based on the toppers' strategies and interviews.
While preparing this document, the toppers' study patterns, schedules, and strategies were carefully examined so that pupils might follow in their footsteps.
How to Prepare for Class 10 Boards?
This section is designed to assist hopefuls in developing a well-thought-out preparation strategy for class 10 board exams. Let's have a look at a foolproof STEP-BY-STEP plan for preparing for the Board exams.
Step 0: Know the Exam Pattern and be familiar with the Curriculum


According to CBSE Guidelines for 2021-22, Examinations will be conducted termwise i.e. TERM 1 & TERM 2.
The Subjects are divided into Compulsory, optional and Subjects of internal assessment.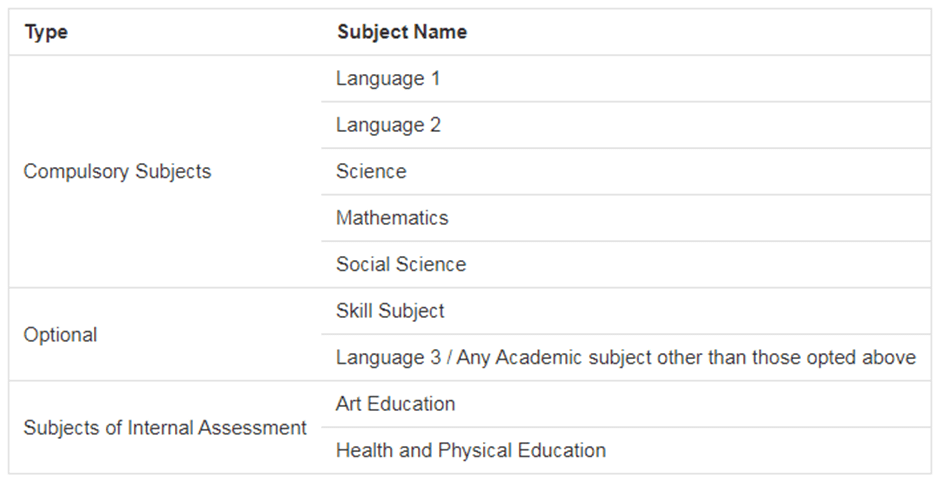 For detailed information of the exam pattern and Syllabus, Click here.
Step 1: Class 10 Study Routine to be Followed

Sleep Pattern: The sleep pattern should be healthy; some high performers go to bed early and rise early, while others study late at night because it is the only time when disruption is minimised. 8 hours of sleep is required to maintain a healthy balance between your studies and your thinking.
What to study in a day: Fix your schedule for the number of courses you'll be studying on a given day, excluding school hours.
Do remaining tasks: After school, take a break and begin studying for any remaining topics from the morning.
Refresh your mind: You should spend some time with your friends in the evening, preferably outside the house, to refresh your thoughts and get some fresh air.
Complete the School work: After that, you can finish your school tasks, finish your remaining studies, and end the day with a nice night's sleep.
Avoid Distractions: Use of social media should be kept to a bare minimum for study purposes; otherwise, you should avoid all social media platforms if at all possible.
Tip for Parents

Be the Sleep Police: When it comes to sleep, most teenagers are running on empty, yet we all know they need enough rest to think clearly, make sound decisions, stay calm under pressure, and enjoy the moments. While it may seem impossible to control how much sleep your teen gets, make sleep a priority in your home.
Step 2: Begin your Preparation by reading the NCERTs
The completion of NCERT books is the most significant level for improving grades in board examinations.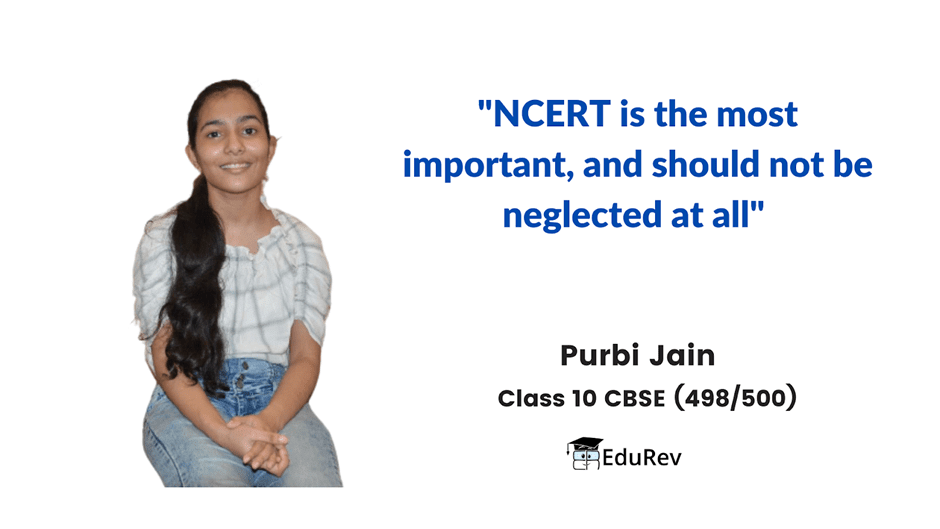 In NCERT Books, never leave any point neglected. Begin rehearsing questions that are crucial in terms of the examination when you have completed a comprehensive study of the NCERT books. After that, move on to sample papers and complete as many as possible.
NCERT is Bible: For CBSE Board Class 10th, NCERT is the bible. Line by line, read NCERT. All NCERT problems, including solved examples, must be completed. EduRev provides NCERTs and its solutions chapterwise for every subject as given below:
(i)

NCERTs for Mathematics


(ii)

NCERTs for Science


(iii)

NCERTS for Social- Science


(iv)

NCERTs for English


(v)

NCERTs for Hindi

What's Important: NCERT tables, charts, and diagrams are critical (revise 2-3 times).
Additional Exercises: Additional NCERT Exercises are more than sufficient for practise.
Sample Papers & PYQs: NCERT is sufficient for conceptual clarity, however for practice, we can attempt sample papers, and PYQ papers. You can practice tests like that from EduRev, click here to start your Sample paper practice from today as well as you can practice PYQ from here.
Step 3: Board Exams: A Subject-by-Subject Approach (for Compulsory Subjects)
After analyzing the syllabus and the importance of NCERT, it's time to start with a subject-wise preparation approach.
(a) How to Prepare for Mathematics Class 10?

NCERT for Maths: Every day, 2-3 hours of time should be given. For math practice, using solely NCERT is adequate. For CBSE Board Class 10th, NCERT is the bible. Solve all NCERT problems, including examples that have been solved. EduRev provides NCERTs for all the chapters,

click here

to read NCERTs of Mathematics.
R.D. Sharma & R.S. Aggarwal: Complete R.D. Sharma if you have time; it will expose you to a wide range of questions. You can get Solutions of R.D. Sharma exercises and Tests of R.D. sharma on EduRev only by Clicking here.
Calculation Mistakes: Math errors are common, so put in a lot of practice time for chapters like Volume and Surface Area to enhance your calculation skills. You can practice questions from the Maths course given in EduRev. As well as a complete

Course of Mathamatics

where only questions from NCERT are given in EduRev for student's good practice of questions.
Mark the Important Questions: Mark the questions that are difficult for you, questions from topics in which you are weak, or questions in which we frequently make mistakes, and go over them again and again before the Exam.
Practice Questions: Questions on concepts should be marked and practised over and over. You can practice termwise questions from EduRev, click the links given below for practicing.
(i)

CBSE New Pattern: Term I Practice Questions


(ii)

CBSE New Pattern: Term II Practice Questions

Revision: Mathematics Chartbook which is a quick revision guide to all the formulas & concepts of mathematics has been included in EduRev Infinity Package for Class 10.
(b) How to Prepare for Science Class 10?
Read NCERT: You should read NCERT in its entirety, line by line. Each table, chart, and diagram in the NCERT should be memorised at least twice. Do NCERT in-chapter and back-questions. Do NCERT Exemplar objective questions. You can get all NCERT chapterwise textbook and solutions,

click here

.
How to deal with practical problems: For practical problems, read the experiments thoroughly and memorise the requirements for materials, steps, and conclusions.
Mark the Important Questions: Mark difficult questions during preparations so that you can go over them again before the exam.
Practice Questions: Questions on concepts should be marked and practised over and over. You can practice termwise questions from EduRev, click the links given below for practicing.
(i)

CBSE New Pattern: Term I Practice Questions


(ii)

CBSE New Pattern: Term II Practice Questions

Diagrams: Even if diagrams aren't asked in questions, they should be made if time allows. Diagrams should be labelled and produced in a clean manner.
Other Books: In addition to NCERT, Lakhmir and Manjit Singh books can be used for science theory and practice questions. In EduRev Infinity Package for Class 10 Lakhmir Singh and Manjit Kaur Book Solutions are included which is an easy capsule to gulp down all the concepts of the subject and showcase it in the best possible way with minimum effort.
Self made notes: Self-notes should be taken in order to revise afterwards. If you need, already made short notes, EduRev has this in its courses, to read Click here. Also EduRev provides a complete Course of Science for reading theory, practicing questions as well as watching amazing conceptual videos.
(c) How to Prepare for English Class 10?


Schedule: Most people overlook this subject, although it deserves equal attention. For English, at least 2-3 hours of study time on weekends is required.
Literature isn't that difficult; you can cover it all with NCERT.
Reading Section: Practice 2-3 Passages per day, and chances of scoring good in this section will increase.
Literature Section: EduRev provides very concise notes, questions to practice and video summaries of the chapters in its English Literature Course, you can go through it to ease your efforts. You can also go through notes of First Flight and Foot Prints from EduRev.
Grammar Section: If you want to ace Grammar, you can also get everything that will come in exams related to grammar from EduRev in its English Grammar Course.
Writing Section: Practice composing letters, reports, and stories for the Writing Section of English. If you studied extensively, there is a very low probability that you will receive poor grades on the final exam.
Novel Reading: As well as practicing novel questions is necessary, you can get all the summaries and questions related to it from

Novel's Course

present in EduRev platform.
Question Practice: Practicing questions is one of the most important steps, you can practice questions of TERM 1 & Questions of TERM 2 from EduRev platform by clicking on the links given.
(i) CBSE New Pattern: Term I Practice Questions
(ii) CBSE New Pattern: Term II Practice Questions
(d) How to Prepare for Social Science Class 10?


Step 4: Importance of Previous Year Questions and Sample Papers in Exam Preparation
Practice is the key to success. No matter how much you study, you can't score well in board exam until and unless you have not practiced with pen and paper before appearing for the exam. Therefore, it is important that you must solve as many sample papers as you can before appearing for the actual exam.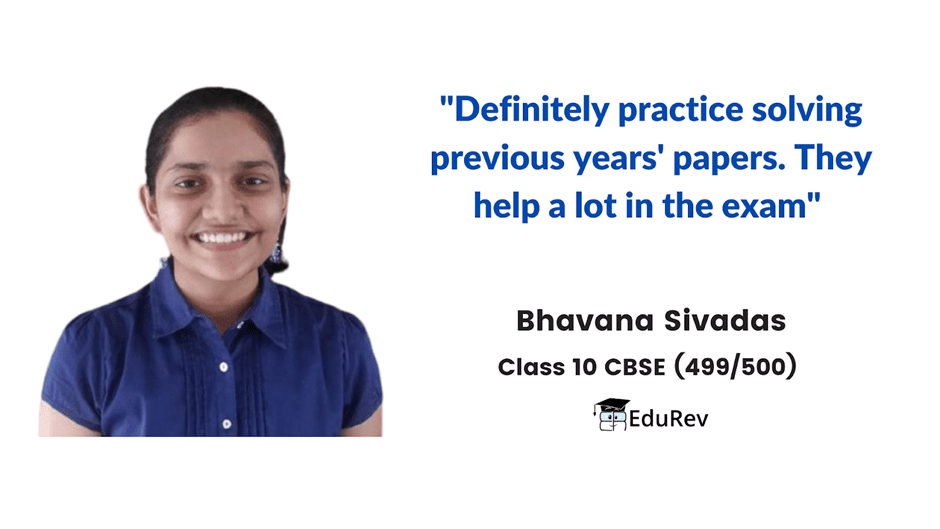 What Matters: NCERT is sufficient, but you must study it carefully and determine what is truly vital, which will be determined based on previous year's problems.
Preparation gets better: Previous Year Question Papers help in better preparation. EduRev provides

Previous Year Question Papers

&

Sample Paper for Class 10

for your practice.
Exam Vibes: Solving PYQ with a fixed time period will give you the real feel of the exam.
Give lots of practice tests: It is really important to complete your syllabus & Revision by January and start giving practice tests or PYQ of 10 years after that only.
Watch the Clock: Time Management while giving PYQs is really important because this will help you to complete your exam on time in real exam. So, it is recommended to fix the timer in the alarm clock while writing the practice tests and Previous year papers.
No stress should be taken: Don't be overstressed because of any reason like less marks initially while solving PYQs, it will be improved with time and number of practice tests you will give.
Frequently asked concepts: When you will go through previous year papers, you will find that some concepts are frequently asked in board exams, every year.
Step 5: Begin Revision before 2-3 months of the Boards
Most of the board exam toppers lay special emphasis on revision. After you study or learn any topic it is important that you must revise that topic frequently. For ease you can revise through Subject wise mind maps for class 10 given in EduRev.
During the last few months before board exams, revision is more important than studying anything new.
For revision purpose, you can also take help of study material prepared by experts at EduRev from the links given below:
Revision of every chapter and every topic is important for many times.
Step 6: Clear all the possible doubts that you may have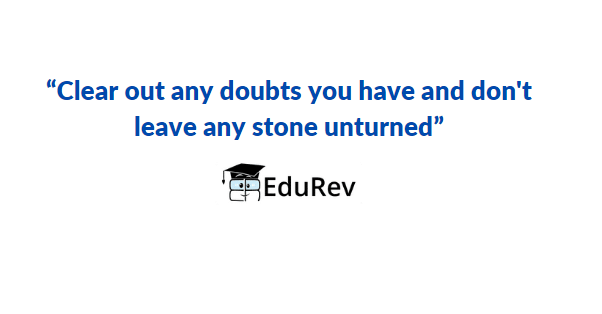 If you want to learn maximum in minimum time then you should clear your doubts to your teachers.
Discuss your doubts with your teachers and friends, and make sure you clear them up or analyse them thoroughly.
If you have any reservations, you can attend or take extra lessons from teachers, which would be quite beneficial.
Many of your notions will be clarified if you clear your uncertainties, and you will remember those things for far longer than if you don't.
Step 7: Tips for Parents: Provide study assistance to your kid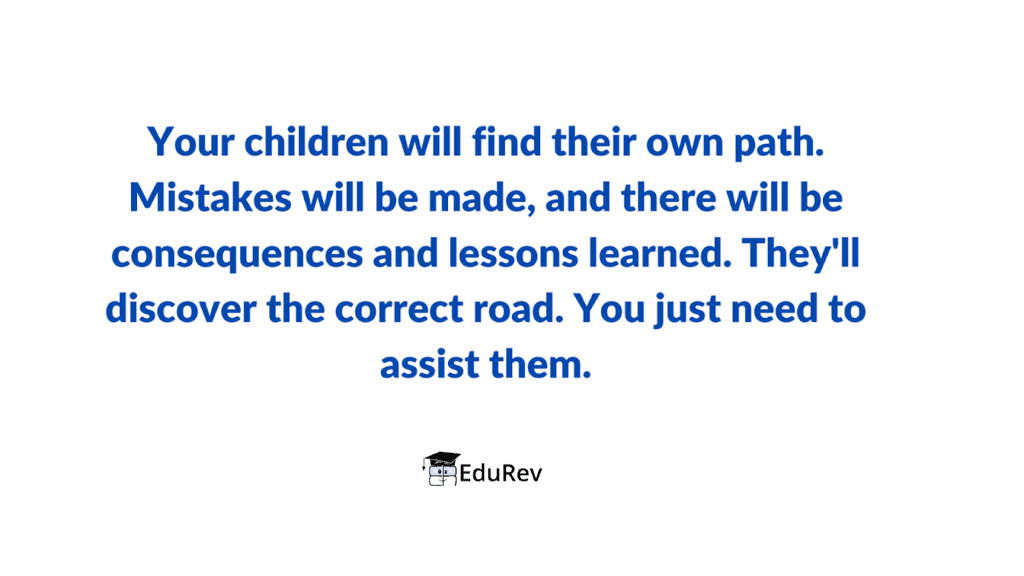 Schedule Planning: Planning is essential for assisting your teen in studying when juggling many subjects. Because grades are so important in high school, it's critical to plan ahead for studying, especially if your teen's schedule is already filled with extracurricular activities. EduRev helps you with this by providing you the course of

How to Prepare for Class 10

.
Take small steps: Help your kid break down work into smaller parts and stick to the studying calendar timetable so he or she isn't studying for many tests in one night. Remind your teen to take notes in class, organise them by subject, and go over them with you when you get home.
Test Analysis: Encourage your kid to attempt lots of tests for each subject from EduRev because this will help them to remember more and help them to know their weak areas. After completing the tests it is really important for them to analyse the test afterwards which EduRev do automatically by telling you your weak areas, your rank and your marks.
Strategies to Prepare through EduRev

Several strategies, such as basic questioning, asking for the missing word, and generating practise tests, might assist your teen in reviewing content and studying.
EduRev provides you with lot of tests as well as gives you access to create dynamic tests which only you can create.
EduRev provides you with

How to Prepare for Class 10

Course which will guide your child for simple strategies which all the toppers followed while preparing for Boards.

Your kids interest is important: One of the most valuable learning resources you can provide your child is to encourage them to be themselves. Everyone learns in a different way and has various interests. Let them pursue what they want for their career (like which stream they want to choose), discuss things with them and make a common conclusion considering their consent.
Step 8: Things to keep in mind while attempting for Board Exams
What not to do: When the exam is approaching, don't try new questions.
Answer writing for all subjects: In board exams, the manner in which answers are presented is critical so answer writing techniques should be known. It is necessary to maintain proper spacing between answers. On the response sheet, write your answers in points. Highlight important keywords in the answer.
How to write a solution in Maths: Examiners will award you good marks if your exam sheets are neat and tidy, if you make detailed responses with clear steps, and if you submit your final answer in a black box.
Avoid last-minute revision: In order to avoid any confusion just before entering your exam center, avoid last-minute revision. Studying more is not equal to knowing more. So, don't stretch and don't stress.
Q.1. If a student fails in pre-board examination, does that mean one cannot appear in the Board examination?
Pre-Boards help students to know how well they are prepared for the Board examination. A student cannot be detained from appearing in the Board examination if otherwise eligible.

Q.2. I have a doubt whether the pre board examinations marks would be considered in the board examinations?
No, the marks obtained in the pre-board examination are not added or included in the Board examination marks.

Q.3. Do examiners deduct marks for exceeding the word limit and spelling mistakes, especially in the language papers?
No marks are deducted for exceeding the word limit. Marks for spelling mistakes and other errors are deducted in the Language Papers.

Q.4. Is it compulsory to write the answers in the same sequence as in the question paper?
No, you may attempt those questions in the beginning which you know best. Make sure that you write correct answer number to each question

Q.5. Is it compulsory for a student who has failed in theory to repeat the practical examination also?
No, The candidate shall appear only in the theory and previous practical marks will be carried forward. For more information, refer to: www.cbse.nic.in