Section - B
Q.7.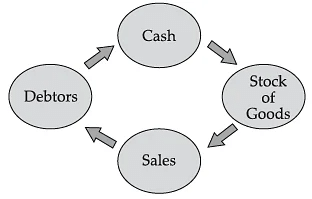 (i) Identify the type of business whose operating cycle is represented above?
(ii) Analyze the working capital requirement for the type of business identified in (i)
(i) Trading Business

(ii) For trading, where there is no manufacturing (or conversion), the operating cycle will be shorter so the working capital requirement would be less.

Q.8. Calculate the Return on Equity (ROE) for Multi International Limited manufacturing pre mix for instant shakes and smoothies from the details given below:
Investment ₹ 10,00,000/-
Borrowed Funds ₹ 6,00,000/-
Interest rate per annum is 10%.
Monthly sales revenue is ₹ 6,00,000/- and Cost of goods sold is ₹ 3,00,000/-.
Fixed expenses per month ₹ 2,00,000/- (salary ₹ 1,50,000/-, rent and utility ₹ 50,000/-)
Depreciation ₹ 10,000/-
Tax @ 20%.
If Multi International Limited wishes to know how their own money is being used, which parameter for performance evaluation, ROE or ROI, should be used?
ROE for Multi Enterprises is 226%

ROE is a good indicator for performance evaluation.

Q.9. Explain the various approaches used in promotion strategy.
(i) Above-the-line promotions use mass media methods. This type of promotion focuses on advertising to a large audience. It includes conventional media like print, online, television and cinema advertising.

(ii) Below-the-line methods are very specific, memorable activities focused on targeted groups of consumers. They are under the control of the organisation. The purpose of these activities has been to develop the brand by creating awareness and building a brand profile.

(iii) Through-the-line refers to an advertising strategy involving both above and below the line communications in which one form of advertising points the target to another form of advertising thereby crossing the "line".

Q.10. Elaborate on any three types of mergers?
(i) Conglomerate merger: A merger between firms that are involved in totally unrelated business activities. There are two types of conglomerate mergers: pure and mixed. Pure conglomerate mergers involve firms with nothing in common, while mixed conglomerate mergers involve firms that are looking for product extensions or market extensions.

(ii) Horizontal merger: A merger occurring between companies in the same industry. Horizontal merger is a business consolidation that occurs between firms which operate in the same space, often as competitors offering the same goods or service.

(iii) Market extension merger: A market extension merger takes place between two companies that deal in the same products but in separate markets. The main purpose of the market extension merger is to make sure that the merging companies can get access to a bigger market and that ensures a bigger client base.
(iv) Product extension merger: A product extension merger takes place between two business organizations that deal in products that are related to each other and operate in the same market. The product extension merger allows the merging companies to group together their products and get access to a bigger set of consumers. This ensures that they earn higher profits.

(v) Vertical merger: A merger between two companies producing different goods or services for one specific finished product. A vertical merger occurs when two or more firms, operating at different levels within an industry's supply chain, merge operations.

Q.11. Identify and explain the type of pricing method used by the following companies:
(i) Toothcare, a new brand in the field of toothpastes decided to launch their small packs at a cost of ₹ 5 only which will be sold in the rural market to capture more market share.
(ii) Drinko Ltd., decided to sell their new energy drink initially only in the urban market. The
Marketing and Finance team decided together that 200 ml tetra pack will be sold at ₹ 10 and
1000 ml will be sold at ₹ 40.
(iii) Bukno, a startup firm in the field of Artificial Intelligence decided to sell their voice enabled vacuum cleaner in the market for ₹ 1,00,000 for a limited time period to cover the initial research and development costs.
(i) Penetration pricing: It is a pricing strategy where the price of a product is initially set at a price lower than the eventual market price, to attract new customers. The strategy works on the expectations that customers will switch to the new brand because of the lower price.

(ii) Variable price method: Variable pricing is a marketing approach that permits different rates to be extended to different customers for the same goods or services. It may come into play when the customer is committing to the purchase of large volumes of goods or services.

(iii) Creaming or skimming: Goods are sold at higher prices so that fewer sales are needed to break even. Selling a product at a high price, sacrificing high sales to gain a high profit is therefore "skimming" the market. Skimming is usually employed to reimburse the cost of investment of the original research.