Ques 1: In some countries of the world the sex ratio is unfavourable to women.? Give one reason.
Ans: One of the reasons for unfavourable sex ratio for women in some countries could be lower socio-economic status of women in these areas resulting in female foeticide, female infanticide and domestic violence against women.

Ques 2: Why is the large integrated steel industry located close to the source of raw material? Give one reason.
Ans: The large integrated steel plants use bulky and weight-losing raw material (ores).Hence they are located close to the sources of raw material to reduce transport cost.

Ques 3: How is the importance of a seaport judged?
Ans: The importance of a port is judged by the size of cargo and the number of ships handled. The quantity of cargo handled by a port is an indicator of the level of development of its hinterland.

Ques 4: Name the state of India having lowest density of population as per 2011 census.
Ans: According to 2011 Census Arunachal Pradesh has the lowest density of population.

Ques 5: Define the term hinterland?
Ans: Hinterland means the land behind a port, in shipping usage. A port's hinterland is the area that it serves, both for imports and for exports.

Ques 6: Study the diagram given below and answer the questions that follow: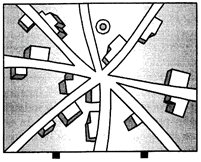 (i) Identify and name the pattern of settlement.
(ii) In which areas do we find such rural settlement patterns?
(iii) Give one feature characteristic of this type of settlement pattern.
Ans: (i) Star like pattern.
(ii) Largely in plains and valleys.
(iii) The settlement takes place along all the roads that converge at a point.

Ques 7: Explain the importance of Indira Gandhi Canal for providing water for irrigation in the Canal Command area.
Ans: Indira Gandhi Canal, previously known as the Rajasthan Canal, is one of the largest canal systems in India. Introduction of canal irrigation has brought about a large scale transformation in the agricultural economy of the region.
(i) Soil moisture has been a limiting factor in successful growing of crops in this area. Spread of canal irrigation has led to increase in cultivated area and intensity of cropping.
(ii) The traditional crops sown in the area, gram, bajra and jowar have been replaced by wheat, cotton, groundnut and rice. This is the result of intensive irrigation.
(iii) This intensive irrigation, has led to tremendous increase in agricultural and livestock productivity.
(iv) The crops can be grown every year with the help of canal water.

Ques 8: Differentiate between Mixed farming and Dairy farming; stating any five points of distinction.
Ans: The differences are as follows:
(i) The use of a single farm for multiple purposes, as the growing of cash crops or the raising of livestock is called as mixed farming. Dairy farming involves the management of dairy cows and milking operations to ensure maximum milk production.
(ii) it is practised mainly near urban and industrial centres which provide neighbourhood market for fresh milk and dairy products. Dairy farms occupy coastal and low-ly-ing meadowlands and rolling pasture lands of Europe and United States.
(iii) The crops associated with it are wheat, barley, oats, rye, maize, fodder and root crops. Fodder crops are an important component of mixed farming. Dairy farms produce, milk and milk related products.
(iv) Equal emphasis is laid on crop cultivation and animal husbandry. In dairy farming a greater emphasis is placed on the improvement of herds, scientific management of livestock, maintenance of sheds and storage of dairy products.
(v) In mixed farming a farmer can take up different types of practices for income generation while doing his main business of agriculture. These practices are ? poultry faming, dairy farming, bee keeping, sericulture, pisciculture, shrimp farming, goat and sheep rearing, piggery and agro forestry. However in dairy farming farmers focus on rearing of livestock only.

Ques 9: Explain how the modern agricultural technology? and ?expansion of irrigation? played a crucial role in enhancing agricultural output in India.
Ans: There has been a significant increase in agricultural output due to improvement in technology and expansion of irrigation.
(i) Production and yield of many crops such as rice and wheat has increased at an impressive rate. Among the other crops, the production of sugarcane, oilseeds and cotton has also increased appreciably. India ranks first in the second largest producer of rice, wheat, groundnut, sugarcane and vegetables.
(ii) Expansion or irrigation has played a very crucial, role in enhancing agricultural output in the country, it provided basis for introduction of modern agricultural technology such as high yielding varieties of seeds, chemical fertilizers, pesticides and farm machinery. The net irrigated area in the country has increased from 20.85 to 54.66 million ha over the period 1950-51 to 2000-01.
Over these 50 years, area irrigated more than once 1.11 an agricultural year has increased from 1.71 to 20.46 million ha. This spurt of agricultural growth came to be known as ?Green Revolution?. This also gave impetus to the development of a large number of agro - inputs agro - processing industries and small-scale industries. This strategy of agricultural development made the country self - reliant in food grain production.