Ques 1: How did Brahmanas develop a sharper social divide? Give two examples.
Ans: Brahmins created sharper social divide classifying certain social categories as untouchables and outside the caste system. Secondly, Brahmanas composed texts such as Manusmriti which laid down norms for all social categories thus making the caste and occupational structure more rigid.

Ques 2: Explain the meaning of 'Sufi Silsila'.
Ans: Sufi Silsila means a continuous link between master and disciple among Sufis. This chain stretched as an unbroken genealogy to the Prophet Muhammad. Spiritual power and blessings were transmitted to devotes through this channel that is sufi silsila.

Ques 3: How were the hill stations a distinctive feature of colonial urban development? Give two reasons.
Ans: Hill stations were a distinctive feature of colonial urban development because:
1. British found hill stations environment similar to that in Europe therefore they established avenues for recreation, holidays, Anglican Church etc. which are features of urban development.
2. Also, Cholera and malaria were particularly feared and therefore hill stations were also developed as sanitariums for cure and recovery of illness of soldiers.

Ques 4: Describe briefly what has been found in burials at the Harappan sites.
Ans: The burials in Harappan sites have helped in knowing three things mainly:
1. If there was any instances of hierarchy in the society.
2. How the Harappans used to see death and what were rituals associated.
3. General information about social life through ornaments and artifacts etc.
The burials were in the form of pits and sometimes these pits were lined with bricks also.
This might signify that people higher in hierarchy were buried in brick-lined graves.
Archaeologists also found jewellery, ornaments and pottery in burials of both men and women. This perhaps indicates a belief that these could be used in afterlife.
Example: In the excavations at the cemetery in Harappa in the mid-1980s, an ornament consisting of three shell rings, a jasper bead and hundreds of micro beads was found near the skull of a male.
In some instances the dead were buried with copper mirrors. But on the whole we find that Harrapans used to put ordinary jewellery and pottery etc., they did into believe in buying precious things with the dead.

Ques 5: Explain how Kharosthi was deciphered.
Ans: Most of the Prakrit inscriptions were written in the Brahmi script. However some, in the northwest, were written in Kharosthi.
The deciphering of Kharosthi script was facilitated by find of coins of Indo-Greek kings who ruled over the area during 2nd to 1st BC. These coins contain the names of kings written in Greek and Kharoshti scripts.
European scholars who could read Greek script compared the letters of Greek and Kharosthi.
For example, the symbol for "a" could be found in both scripts for writing names such as Apollodotus. Thus comparison with the Greek script helped in deciphering of Kharosthi.
In 1830s James Prinsep identified the language of the Kharosthi inscriptions as Prakrit and thus it became possible to read longer inscriptions also.

Ques 6: 'Many rituals, religious beliefs and practices were not recorded in a permanent visible form - as monuments or sculptures or even paintings.' Critically examine the statement.
Ans: Monuments, sculptures and paintings are permanent visible forms which depict the life, ethos as well as beliefs of that particular society in that era.
But relying fully on these visible forms can?t give clear picture of the society of that time because many communities and peoples may not have felt the need for keeping lasting records even if they might have had vibrant traditions or religious activities and philosophical ideas.
Also, more often than not day-to-day life aspects are missed by these visible forms and they mostly focus on special events and occasions. Therefore what is depicted by these visible art forms may be just a fraction of the reality.
But at the same time we can't neglect the contribution of these sculptures in understanding the beliefs and philosophical ideas. Architecture reflects many ideas and prevalent notions at that time such as aesthetic ideal and variations within those ideals, how power was conceived and expressed through structures and attributes such as bricks and stones, pillars and arches etc. Buildings also express the vision of those who built them.

Ques 7: Explain how do the historians usually classify the contents of the present text of Mahabharata.
Ans: Historians usually classify the contents of the present text under two broad heads:
1. Narrative: Sections that contain stories are classified as the narrative. E,g. Any dramatic episode such as plots of Duryodhana to kill Pandavas etc. are part of narrative.
2. Didactic: Didactic refers to something that is meant for purposes of instruction. Therefore sections that contain prescriptions about social norms are designated as didactic.
Though this division is not watertight and often didactic sections include stories as well as narratives often contain a social message.
Example: The most important didactic section of the Mahabharata is the Bhagavad Gita, which contains the advice offered by Lord Krishna to Arjuna regarding dharma and duty.
Historians also agree that the Mahabharata was meant to be a dramatic, moving story, and that the didactic portions were probably added later.

Ques 8: Explain briefly any five striking features about the location of Vijayanagara.
Ans: Vijayanagar as a capital was chosen on some well thought lines with respect to security, water, forest, legitimacy to king's rule etc.
1. The most striking feature about the location of Vijayanagara is the natural basin formed by the river Tungabhadra which flows in a north-easterly direction.
2. The surrounding landscape is characterized by granite hills that seem to form a girdle around the city. These granite hills provided security to the capital from any external aggression.
3. Also, the area where Vijayanagara lies is one of the most arid zones of peninsula therefore tanks and water reservoirs were necessitated. Therefore a number of streams flow down to the river from the granite hills and embankments were built along these streams to create reservoirs of varying sizes.
Example: Kamalapuram tank, Hiriya canal etc.
4. Another striking feature is that Vijayanagara was located in topography where there was abundance of forests and agricultural lands. The rulers utilized this and thus fortification not only encircled the city but also its agricultural hinterland and forests. Thus helping them in times of encirclement of fort by enemy.
5. Also, Vijayanagara has shrines of Virupaksha and Pampadevi, therefore it seems that the choosing Vijayanagara as capital is inspired by this as the Vijayanagara kings claimed to rule on behalf of the god Virupaksha.

Ques 9: Describe the condition of an average peasant of North India during the seventeenth century.
Ans: During seventeenth century the conditions of average peasant was not very good, though it was better than what was to follow during British Raj.
The average peasant of North India mostly possessed a pair of bullocks and two ploughs to work in fields. Seldom did they have more than this.
The average land holding was very less among average peasants and those who had 5-6 Acres were considered to be affluent.
Though agriculture was labor intensive but peasants did use technologies that often harnessed cattle energy. For example, the wooden plough, this was light and easily assembled with an iron tip or coulter.
Most of the average peasants were engaged in subsistence agriculture but they also sowed vegetables like tomatoes potatoes and chilies etc. which were introduced from the New World at this time.
The Mughal state also encouraged peasants to cultivate such crops as they brought in more revenue. Example: Sugarcane, mustard etc.
This shows that subsistence and commercial production were closely intertwined in an average peasant's holding.

Ques 10: 'For members of the nobility under the Mughals, imperial service was a way of acquiring power, wealth and highest possible reputation.' Examine the statement.
Ans: Imperial services were created by Akbar. It was based on ability rather than birth, whose members were obliged to serve wherever required. This system of administration was based on loyal service and cash payments.
A person wishing to join the service petitioned through a noble, who presented a tajwiz to the emperor. If the applicant was found suitable a mansab was granted to him. Thus getting a mansab meant a high prestige.
Akbar gave mansabs to Rajput kings such as Raja Bharmal Kuchhwaha and Indian Muslims. Iranians gained high offices under Jahangir and Aurangzeb appointed Rajputs to high positions, and under him the Marathas accounted for a sizeable number within the body of officers. Members of Hindu castes inclined towards education and accountancy were also promoted such as Akbar's finance minister, Raja Todar Mal, who belonged to the Khatri caste.
The nobles participated in military campaigns with their armies and also served as officers of the empire in the provinces. Each military commander recruited, equipped and trained the main striking arm of the Mughal army, the cavalry. The troopers maintained superior horses branded on the flank by the imperial mark.
Thus the nobles in imperial service had power, wealth as well as prestige.

Ques 11: Why was the power of Jotedars within the village more effective than that of Zamindars? Explain.
Ans: In the early nineteenth Century, jotedars were a class of rich peasants. They acquired vast areas of land and controlled local trade as well as money lending. Thus exercising immense power over the poorer cultivators of the region. A large part of their land was cultivated through share croppers who brought their own ploughs, labourers in die field, and handed over half the produce to jotedars after the harvest.
Within the villages, the power of jotedars was more effective than that of Zamindars because the Zamindars who often lived in Urban areas whereas the jotedars were located in the villages and exercised direct control over a considerable section of poor villagers.
Jotedars forcefully resisted efforts by zamindars to increase the Jama of the village, prevented zamindars officials from executing their duties, mobilised ryots, who were dependent on them, and deliberately delayed payments of revenue to zamindar. When the estates of die zamindars were auctioned for failure to make revenue payment, jotedars were often the purchasers. Zamindars could prosecute defaulters; bur the judicial process was long drawn so they, did not involve in legal battles.
The jotedars were most powerful in North Bengal. Therefore in the village, jotedars were more powerful than Zamindars.

Ques 12: How did the white officers make it a point, during the 1820s till 1840s to maintain friendly relations with the sepoys? Describe briefly.
Ans: The relationship of the sepoys with their superior white officers underwent a significant change from what they were from 1820s to 1840s and what they were after that.
During 1820s to 1840s British officials maintained friendly relations with sepoys and tried to mingle with them. There was not a very sharp divide of inferiority and superiority.
British would take part in leisure activities of sepoys such as wrestling with them, fencing and going out hawking.
Many of them tried to establish connection through language also and many were fluent in Hindustani and were familiar with the customs and culture of the country. There was mutual trust among sepoys and British officials.
These officers were disciplinarian and father figure rolled into one. There was almost equal treatment and they did not have sense of superiority. There was no discrimination and teasing the sepoys for racial inferiority unlike what happened after 1840s.
There was no abuse and physical violence which became common after 1840s and thus the distance between sepoys and officers grew.

Ques 13: 'Many historians still remain sceptical of oral history.' Examine the statement.
Ans: Oral history is the collection and study of historical information about individuals, families, important events, or everyday life using audiotapes, videotapes, or transcriptions of planned interviews.
Thus, oral history gives us qualitative information about the historical events but there are some demerits of oral history too.
Oral data seem to lack concreteness and the chronology they yield may be imprecise. Oral data may be unique to the person who is giving data and hence the uniqueness of personal experience makes generalization difficult. A large picture cannot be built from such micro-evidence.
Historians also argue that oral accounts are concerned with tangential issues, and since the data is collected form a small number of people, which remain in memory are irrelevant to the unfolding of larger processes of history.
However, with regard to events such as the Partition in India and the Holocaust in Germany, there is no dearth of testimony about the different forms of distress that numerous people faced. So, there is ample evidence to figure out trends, to point out exceptions by comparing statements from written and oral data.
Further, the oral .history is not always tangential. Example: The felt experience of partition give true picture of the stress, agony and fear they went through.
Therefore, oral history has merits too and it reveals the experiences and facts which were hitherto ignored. Oral history is complementary to written and visible form of history rather than contradictory.

Ques 14: A communist member, Somnath Lahiri, saw the dark hand of British imperialism hanging over the deliberations of the Constituent Assembly. Examine the statement and give your own views in support of your Answer.
Ans: Constituent Assembly deliberations starred la late 1946 and India was still under the crown rule by then it is in this background that Somnath Lahiri opined the given statement.
He said that there is influence of British imperialism on the deliberations and the deliberations are not independent of interference from British. Though an interim administration headed by Jawaharlal Nehru was m place but it could only operate under the directions of the Viceroy and the British Government in London. For any dispute Indians had to go to Federal court or go to England to put forth the point.
Thus he said that the final power was still in. the hands of British. Therefore Lahiri suggested that India should declare independence then and there.
Though Lahiri was not wrong in his stand as British government had some conditions within which the Constituent Assembly was to function but going by the practical reality, it was clear that British influence could not be washed away.
As Nehru ji said that source of strength of Constituent Assembly is derived from the will of people and not from British government's charity. Therefore, as was done, it was in the interests of Indians that Constituent Assembly worked and expressed aspirations, such as democracy, equality, justice etc., of those who participated in the movement. Our Constitution today, which we are proud of, was prepared by the Constituent Assembly.

Ques 15: Explain how the Amara-Nayaka system was a major political innovation of the Vijayanagara Empire. Why did strain begin to show within the imperial structure after the death of Krishnadeva Raya in 1529?
Or
Explain the organisation of the administration and army during the rule of Akbar as given in 'Ain'.
Ans: The Amara-nayaka system was a major political innovation of the Vijayanagara Empire. Most probably many features of this system were derived from the iqta system of Delhi Sultanate.
Nayakas of Vijayanagara were warriors holding an office bestowed on them by the central government on the condition of rendering military service.
The Nayakas had political aspirations which at times conflicted with the aims of the rulers. They were the agents of the rayas. They were given territories called amaram to govern by the rayas.
These nayakas possessed revenue and administrative rights over these territories. They collected taxes and other dues from peasants, craftsman and traders in the area. They used part of the revenue for personal use. Some of the revenue was also used for the maintenance of temples and irrigation work.
They deposited the rest with the state treasury. Amara-nayaka was a designation conferred on a military officer or chief who had under his control a specified number of troops. They were required to maintain elephants, horses and soldiers in certain numbers, which were included in the royal army during wars.
Part of the revenue collected by them was used in maintaining a stipulated contingent of horses and elephants. They sent tribute to the king annually and personally appeared in the royal court with gifts to express their loyalty. Kings occasionally asserted their control over them by transferring them from one place to another.
In course of time, nayakas began to assert their military, administrative and economic powers, which later became a major cause of the decline of the Vijayanagara empire after the death of Krishnadev Raya.
Krishnadeva Raya was one of the most successful rulers India has seen. He maintained a good army and exploited natural resources and made a big and prosperous empire. But after him there were internal strains among the successors and finally the empire was ruined by external invaders.
His successors were opposed by the rebellious nayakas and military chief. Since there was no able ruler after the death of Krishnadeva Raya, the power was no more centralized and on the other hand nayaks had immense power to even oppose the central authority.
By 1542 control at the centre had shifted to another ruling lineage of the Aravidu, which remained in power till the end of the seventeenth century. During this period the military ambitions of the rulers of Vijayanagara as well as those of the Deccan Sultanates resulted in shifting alignments and this led to the Battle of Talikota which was the major factor in the destruction of Vijayanagara.
A very rare alliance of the Deccan sultanates led to a crushing defeat, in which Vijayanagar was completely routed. The Sultanates army later plundered Vijayanagara and reduced it to the ruinous state.The empire went into a slow decline after this, although trade with the Portuguese and British continued. The empire was finally conquered by the Sultanates of Bijapur and Golkonda.
Or
The Ain-i-Akbari is the third volume of the Akbarnama containing information regarding Akbar?s reign in the form of, what would be called in modern times, administration reports, statistical compilations, or gazetteers. It contains the ain (i.e. mode of governing) of Akbar, and is, m fact, the administration report and Statistical Return of his government.
Administration:
Political government: Akbar's system of central government was based on the system that had evolved since the sultanate but the functions of various departments were carefully reorganised by laying down detailed regulations for their functioning:
(i) The revenue department was headed, by a wazir, responsible for all finances and management of jagirs and inam lands.
(ii) The head of the military was called the mir-bakshi, appointed from among the leading nobles of the court. The mir bakshi was in charge of intelligence gathering, and also made recommendations to the emperor for military appointments and promotions.
(iii) The mir saman was in charge of the imperial household, including the harems, and supervised the functioning of the court and royal bodyguard.
(iv) The judiciary was a separate organization headed by a chief gazi who was also responsible for religious beliefs and practices.
Taxation: Akbar set about reforming the administration of his empire's land revenue by adopting a system that had been used by Sher Shah Suri. A cultivated area where crops grew well was measured and taxed through fixed rates based on the area's crop and productivity. However, this placed hardship on the peasantry because tax rates were fixed on the basis of prices prevailing in the imperial court, which were often higher than those in the countryside.
Akbar changed to a decentralized system of annual assessment, but this resulted in corruption among local officials and was abandoned in 1580, to be replaced by a system called the dahsala. Under the new system, revenue was calculated as one-third of the average produce of the previous ten years, to be paid to the state in cash.
In order to organize his military personnel, Akbar devised a system of ranks, or mansabs, based on the "decimal" system of army organization used by the early Delhi sultans and the Mongols. Although they fell under the jurisdiction of the mir bakhshi, each owed direct subordination to the emperor.
The nobles participated in military campaigns with their armies and also served as officers of the empire in the provinces. Each military commander recruited, equipped and trained the main striking arm of the Mughal army, the cavalry. The troopers maintained superior horses branded on the flank by the imperial mark. The emperor personally reviewed changes in rank, tides and official postings for all except the lowest-ranked officers. Akbar, who designed the mansab system, also established spiritual relationships with a select band of his nobility by treating them as his disciples.
Thus Under Akbar, for members of the nobility, imperial service was a way of acquiring power, wealth and the highest possible reputation.

Ques 16: Explain any three broad architectural styles used by the British for the public buildings in the colonial cities, with examples.
Or
Explain did Quit India Movement was genuinely a mass movement.
Ans: The British arrival in 1615 overthrew the Mughal Empire. Britain reigned India for over three hundred years and their legacy still remains through building and infrastructure.
The major cities colonized during this period were Madras, Calcutta, Bombay Delhi, Agra Hyderabad etc.
For public buildings three broad architectural styles were used, they are:
1. Neo-classical style
2. Neo-Gothic style
3. Indo-Saracenic style
1. Neo-classical style included construction of geometrical structures fronted with lofty pillars. It was derived from a style that was originally typical of buildings in ancient Rome and then modified in Europe. It was considered particularly appropriate for the British Empire in India as the British imagined that a style that embodied the grandeur of imperial Rome could now be made to express the glory of imperial India as well as suitability for tropical weather. The Town Hall in Bombay was built in this style in 1833.
The Elphinstone Circle made during 1860s was a commercial building which was inspired from models in Italy It made innovative use of covered arcades at ground level to shield the shoppers and pedestrians from the fierce sun and rain of Bombay.
2. Neo-Gothic: It was characterized by high- itched roofs, pointed arches and detailed decoration. The Neo-Gothic style was revived in the mid-nineteenth century in England and during this time structures were being built in Bombay, therefore an impressive group of buildings facing the seafront including the Secretariat, University of Bombay and High Court were all built in this style.
The most spectacular example of the Neo-Gothic style is the Victoria Terminus, the station and headquarters of the Great Indian Peninsular Railway Company. The British invested a lot in the design and construction of railway stations in cities, since they were proud of having successfully built an all India railway network and their uniform Neo-Gothic style gave a distinctive character to the city.
3. Indo-Saracenic style: Towards the beginning of the twentieth century a new hybrid architectural style developed which combined the Indian with the European. This was called Indo-Saracenic. The inspiration for this style was medieval buildings in India with their domes, chhatris, jalis, arches.
Example: the Gateway of India, built in the traditional Gujrati style in 1911.
The industrialist Jamsed Ji Tata built the Taj Mahal Hotel in a similar style. Besides being a symbol or Indian enterprise, this building became a challenge to the racially exclusive clubs and hotels maintained by the British. Thus this style was not seen totally alien to India.
Or
Quit India movement was genuinely a moss movement because it saw widespread participation from women students, peasants, zamindars etc. and even industrialists. This was not witnessed hitherto in all preceding movements.
After the failure of the Cripps Mission, Mahatma Gandhi decided to launch his third major movement against British rule i.e., Quit India Movement which began in August 1942.
Although Gandhiji was jailed at once but still younger activists organized strikes and acts of sabotage all over the country. Particularly active in the underground resistance were socialist members of the Congress, such as Jayaprakash Narayan. In several districts, such as Satara in the west and Medinipur in the east, independent government were proclaimed. Thus there was widespread realization - chat all should come together to resist Britishers.
The movement revealed the determination of the people to undergo any amount of suffering for the cause of the country. It witnessed participation of students, working class and peasants. Actually, it was the participation of the peasant communication that turned the movement into a mass upsurge. The British responded with much force, yet it took more than a year to suppress the rebellion. This movement was successful in bringing into its ambit hundreds of thousands of ordinary Indians.
Since most leaders were jailed leaving the movement to be leaderless the protest took a violent turn. Large-scale protests and demonstrations were held all over the country. Workers remained absent in masse and strikes were called.
However, while the Congress leaders languished in jail and masses were rising in anger and protest, all the other major parties rejected the Quit India plan, and most cooperated closely with the British, as did the princely states, the civil service and the police. The Muslim League supported the Raj and grew rapidly in membership, and in influence with the British.

Ques 17: Read the following passage carefully and answer the questions given at the end of it:
A Tiger Like Husband
This is a summary of a story from the Adi Parvan of the Mahabharata:
The Pandavas had fled into the forest. They were tired and fell asleep; only Bhima, the second Pandava, renowned for his prowess; was keeping watch. A man-eating rakshasa caught the scent of the Pandavas and sent his sister Hidimba to capture them. She fell in love with Bhima, transformed herself into a lovely maiden and proposed to him. He refused. Meanwhile, the rakshasa arrived and challenged? Bhima to a wrestling match. Bhima accepted the challenge and killed him. The others woke up hearing the noise. Hidimba introduced herself, and declared her love for Bhima. She told Kunti?I have forsaken my friends, my dharma and my kin; and good lady, chosen your tiger-like son for my man ...., whether you think- me a fool, or your devoted servant, let me join you, great lady, with your son as my husband?
Ultimately, Yudhisthira agreed to the marriage on condition that they would spend the day together but that Bhima would return every night. The couple roamed all over the world during the day. In due course Hidimba gave birth to a rakshasa boy named Ghatotkacha. Then the mother and son left die Pandavas. Ghatotkacha promised to return to the Pandavas whenever they needed him.
Some historians suggest that the term rakshasa is used to describe people whose practices differed from those laid down in Brahmanical texts.
(i) Who was Hidimba? Why was show sent to Pandavas and what did she do? Explain.
(ii) How did Hidimba plead with Kunti for her love?
(iii) Why were Pandavas sent to the forest?
(iv) On what conditions did Bhima agree for marriage with Hidimba?
Or
A Prayer to Agni
Here are two verses from the Rigveda invoking Agni, the god of fire, often identified with the sacrificial fire, into which offerings were made so as to reach the other deities: Bring, O strong one, this sacrifice of ours to the gods, O wise one, as a liberal giver. Bestow on us, O priest, abundant food. Agni, obtain, by sacrificing mighty wealth for us.
Procure, O Agni, for ever to him who prays to you (the gift of) nourishment, the wonderful cow, May a son be ours, offspring that continues our line?.
Verses such as these were composed in a special kind of Sanskrit, known as Vedic Sanskrit.
They were taught orally to men belonging to priestly families.
(i) Why were offerings made to Agni? Explain.
(ii) Mention the language in which prayers were made and why?
(iii) How and when were the sacrifices made?
(iv) List the objectives of the sacrifice.
Ans: A Tiger - like husband
(1) Hidimba was a rakshashi who was sister of a man-eating rakhasha named Hidimb.
Hidimb caught the scent of humans and thus he sent her sister to capture pandavas so that she and her brother can kill and eat them.
When she reached there and saw Bhim, she fell in love for him and transformed into a beautiful woman and proposed Bhim for marriage. She then pleaded Kunti also for accepting her as daughter-in-law.
(2) She pleaded to Kunti and said that she has left her kins and even rakhsha dharma and has fallen for Kunti's son Bhima. She also said that she will always be a devoted servant to Kunti.
(3) Pandavas escaped the episode of Lakshagriha through the tunnel and were hiding themselves in jungle.
(4) Bhim married Hidimba on the promise that both can stay together and roam in day time but he will have to return to Pandvas in night. This was particularly necessary for safety of Pandavas from fear of attack from nocturnal rakhshas.
Or
A Prayer to Agni
(1) Offerings were made to Agni because Agni is considered to be God associated with sacrificial fire and it was considered that this fire is a medium through which all offerings will reach to other deities too.
(2) These prayers were composed in Vedic Sanskrit. This was not the language of common use but was used by only Brahmins and Priests therefore it was composed in Vedic Sanskrit because these were to be spoken by priests only.
(3) Sacrifices were performed collectively, though some were performed by the heads of households for the well-being of the domestic unit. More elaborate sacrifices, such as the rajasuya and ashvamedha, were performed by chiefs and kings who depended on Brahmana priests to conduct the ritual.
(4) Sacrifices were performed mainly because people prayed for various well beings such as cattle, sons, good health, long life etc. The sacrifices to Agni were a medium through which it was considered that sacrifices and prayers will reach to other deities. Therefore priests used to pray all deities such as Soma, Indra etc. through sacrifices in fire.
They prayed for completion of any new start, wealth and sons so that their lineage is carried forward.

Ques 18: Read the following passage carefully and answer the questions given at the end of it:
Travelling with the Mughal army
Bernier often travelled with the army. This is an excerpt from his description of the army's march to Kashmir:
I am expected to keep two good Turkoman horses, and I also take with me a powerful Persian camel and driver, a groom for my horses, a cook and a servant to go before my horse with a flask of water in his hand, according to the custom of the country. I am also provided with every useful article, such as a tent of moderate size, a carpet, a portable bed made of four very strong but light canes, a pillow, a mattress, round leather table-cloths used at meals, some few napkins of dyed cloth, three small bags with culinary utensils which are all placed in a large bag, and this bag is again carried in a very capacious and strong double sack or net made of leather thongs. This double sack likewise contains the provisions, linen and wearing apparel, both or master and servants. I have taken care, to lay in a stock of excellent rice for five or six days? consumption, of sweet biscuits flavoured with anise (a herb), of limes and sugar- Nor have I forgottoen a linen bag with its small iron hook for the purpose of suspending and draining da hi or curds; nothing being considered so refreshing in this country as lemonade and dahi.
(i) Who was Beriener? Give his brief introduction.
(ii) What was the purpose of his travel and what was expected of him while going on travel? Describe briefly.
(iii) What things would you like to take with you while going on travel and why? Explain.
Or
Declining a Royal Gift
This excerpt from a sun text describe the proceedings at Shaikh Nizamuddin Auliya's hospice in 1313:
I (the author, Amir Hasan Sijzi) had the good fortune of kissing his (Shaikh Nizamuddin Auliya's) feet. At this time a local ruler had sent him the deed of ownership to two gardens and much land, along with the provisions and tools for their maintenance. The ruler had also made it clear that he was relinquishing all his rights to both the gardens and land. The master ... had not accepted that gift. Instead, he had lamented:
"What have I to do with gardens and fields and lands? ....
None of.... our spiritual masters had engaged in such activity? Then he told an appropriate story, "... Sultan Ghiyasuddin, who at that time was still known as Ulugh Khan, came to visit Shaikh Fariduddin (and) offered some money and ownership deeds for four villages to the Shaikh, the money being for the benefit of the dervishes (sufis), and the land for his use. Smiling, Shaikh al Islam (Fariduddin) said: ?Give me the money. I will dispense it to the dervishes. But as for those land deeds, keep them. There are many who long for them.
Give them away to such persons?
(i) What did the local ruler send to Shaikh Nizamuddin Auliya and why? Explain.
(ii) What did Ulugh Khan offer to Shaikh Fariduddin when he visited him?
(iii) Why did Nizamuddin Auliya refuse to accept the offer of Amir Hassan Sijzi and what did he say to him?
Ans: Travelling with the Mughal army
(1) Francois Bernier was French and was a doctor. He was also a political philosopher and historian.
He came to the Mughal Empire in search of opportunities in mid seventeenth century. He was closely associated with the Mughal court, as a physician to Prince Dara Shukoh and later as an intellectual and scientist, with Danishmand Khan, an Armenian noble at the Mughal court.
(2) He used to travel because firstly he worked under Mughal court in capacity of physician to Prince Dara Shikoh and hence was to travel with the army.
Secondly, Bernier travelled to several parts of the country, and wrote account of what he saw, frequently comparing what he saw in India with the situation in Europe.
Example: He gave detailed account of Indian society, its economic, social and political life, Mughal court etc.
(3) While going on travel I would like to take some different items that what were used by Bernier because of change in technology and social life. But some basic things would remain same, though they might be modified version of what was taken by him.
If I am going on a travel which requires me making food etc. then I would take a foldable tent with me along with some-utensils. Though I would take use and throw plates rather than leather plates to eat in. Some packed items such as biscuits etc would be helpful in a five-six days travel.
I would also like to take bedding and some clothes, water bottle, a pan to cook steam rice and some rice along with pickle so that I don't need to cook vegetables or dal etc. Plus I would take torch with me which would be helpful in dark areas. I would also take some identity cards and money along with me.
Or
Declining a Royal Gift
(1) The local ruler sent an offer whereby he wanted to donate two gardens and some land to Nizzamuddin Aulia. He also offered their maintenance also.
The local ruler sent these gifts because it was believed that the auliya could intercede with God in order to improve the material and spiritual conditions of ordinary human beings and thus were popular among the masses. Thus rulers wanted to show their allegiance with Sufis and also wanted to gain legitimacy from them.
(2) Ulugh Khan offered money and land to Shaikh Fariduddin. He said money can be distributed among sufis while the land was for the use of Shaikh Fariduddin.
(3) A major feature of the sufi tradition was austerity, including maintaining a distance from worldly power. They accepted donations in cash and kind and rather than accumulate donations, they preferred to use these fully on immediate requirements such as food, clothes, living quarters and ritual necessities etc. But Amir Hasan Sijzi was offering him gardens and land which could not be used for above mentioned purposes.
Aulia told him that land and gardens are of no use to Sufis and none of their spiritual masters had accepted such. He told him a story of Ulugh khan and Shaikh Fariduddin whereby Shaikh accepted the money but refused to take land.

Ques 19: Read the following passage carefully and answer the questions given at the end of it:
A Small Basket of Grapes
This is what Khushdeva Singh writes about his experience during one of his visits of Karachi in 1949:
My friends took me to a room at the airport where we all sat down and talked.... (and) had lunch together. I had to travel from Karachi to London.... at 2.30 a.m.... At 5.00 p.m..... I told my friends that they had given me so Menerously of their time, I thought it would be too much for them to wait the whole night and suggested they must spare themselves the trouble. But nobody left until it was dinner time....
Then they said they were leaving and that I must have a little rest before emplaning ... I got up at about 1.45 a.m. and, when I opened the door, I saw7 that all of them were still there.....parting, presented me with a small basket of grapes. I had no words to express my gratitude for the overwhelming affection with which I was treated and the happiness this stopover had given me.
(i) Give a brief introdudon of Khushdeva Singh.
(ii) How did his friends show their affection for him?
(iii) Explain how Khushdeva Singh was seen as a symbol of humanity and harmony.
(iv) How does oral history help historians in reconstructing events of the past?
Or
What should the qualities of a national language be?
A few months before his death Mahatma Gandhi reiterated his views on the language question:
This Hindustani should be neither Sanskritised Hindi nor Persianised Urdu but a happy combination of both. It should also freely admit words wherever necessary from the different regional languages and also assimilate words from foreign languages, provided that they can mix well and easily with our national language. Thus our national language must develop into a rich and powerful instrument capable of expressing the whole gamut of human thought and feelings. To confine oneself to Hindi or Urdu would be a crime against intelligence and the spirit of patriotism.
Harijansevak, 12 October 1947
(i) Explain the views of Gandhiji about the qualities of the national language we should have.
(ii) Explain what the Congress had accepted by 1980 about the shape of our national language.
(iii) Explain what qualities Hindustani language possesses.
Ans: A Small Basket of Grapes
(1) Khushdeva Singh was a Sikh doctor who specialized in the treatment of tuberculosis and he was posted at Dharampur in present day Himachal Pradesh. He worked tirelessly to provide health care to migrants, Hindus, Muslims, Sikhs alike.
(2) Khushdeva had a flight at 2:00 am but he had reached the airport in afternoon only. His friends spent full time with him. After dinner time Khushdeva went to sleep but when he opened the door for emplaning he saw that his friends were waiting for him outside. They accompanied him till the plane and then gave him a small basket of grapes as a symbol of affection. Khushdeva was overwhelmed by this affection.
(3) Khushdeva immersed himself in his work day and night and provided healing touch, food, shelter, love and security to numerous migrants, Muslim, Sikh, Hindu alike thus showing harmony to all humans irrespective of religion.
He made humble efforts to discharge his duty as a human being to fellow human beings.
The residents of Dharampur developed the kind of faith and confidence in his humanity and generosity that the Delhi Muslims and others had in Gandhiji and they felt safe under him. Therefore Khushdeva was truly a symbol of harmony and humanity.
(4) Oral history is the collection and study of historical information about individuals, families, important events, or everyday life using audiotapes, videotapes, or transcriptions of planned interviews. It gives information about human feelings and experiences which historians can't get through written text or visible data. Oral history gives the qualitative aspects of the events of past.
Or
What should the qualities of a National Language be?
(1) According to Gandhiji a national language should be such that it can be spoken and understood by all people of the country. It should not be rigid rather it should be flexible enough to incorporate new words from regional language as well as foreign language.
He said only if the language is flexible it become a medium of full expression of intellectual ideas. If the language is flexible which can be adopted according to regional languages then no one will feel left out and would add to the intellectual thought in India.
Gandhiji said that language should become a platform for unity of people despite their regional and religious differences. Therefore he said that Hindustani should neither be sanskritized nor should it be Persianized (urdu).
(2) By the 1930s, the Congress had accepted that Hindustani ought to be the national language.
(3) Hindustani was a language which the common people could easily understand. It was a blend of Hindi and Urdu and it was a popular language of a large section of the people of India.
It was a composite language enriched by the interaction of diverse cultures. Over the years it had incorporated words and terms from very many different sources, and was therefore understood by people from various regions. This became a multi-cultural language.
Gandhiji thought this would be a language which would connect people, Hindus to Muslims and North Indians to South Indians.
However, as communal conflicts deepened language became associated with the politics of religious identities and there was rise by Sanskritized Hindi and Persianized Urdu.

Ques 20: On the given political outline map of India mark and label the following:
Ashokan Pillar inscriptions/cities/towns:
Topra, Sanchi, Kaushambi, Meerut, Mathura.
Or
On the given political outline map of India mark and label the following South Indian cities, during fourteenth to eighteenth centuries:
Bijapur, Quilon, Vijayanagara, Kanchipuram, Golconda.
Ans: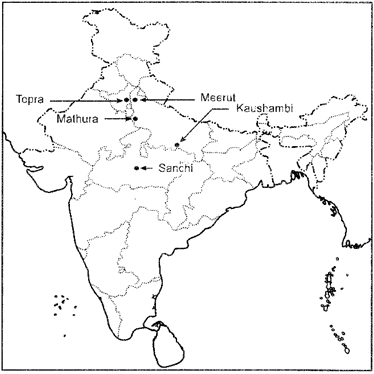 Or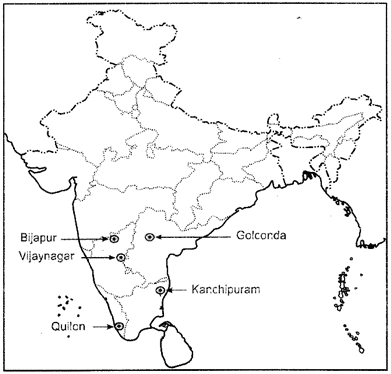 Ques 21: On the given political outline map of India five important centres of the Indian National Movement have been marked as 1, 2, 3, 4, 5. Identify them and write their names on the lines drawn near them.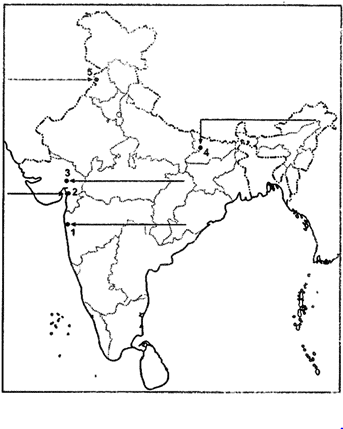 Ans: