Favorskii rearrangement
In 1914 A. Favorskii observed a ring contraction when 2-chlorocyclohexanone reacted with alcoholic alkali . This reaction is akin to Wallach reaction (also known as Wallach
degradation) involving the conversion of 2,6-dibromocyclohexanone to cyclopentanone . The Favorskii rearrangement became versatile and generalized to α-haloketones of the type indicated in equation (15). As pictured, the proposed mechanism involves the 1,3-dipolar species and cyclopropanone as intermediates .

Among the experimental evidences of the cyclopropane intermediate are those of Bordewell and of Lotfield . The former worker found that the same product has been
obtained from two different α-chloroketones as given in equation (16). The latter author, on the other hand, obtained convincing results from 14C-labeling studies on 2-
chlorocyclohexanone; an even distribution of 14C between the two formed products has been detected as illustrated in equation (17).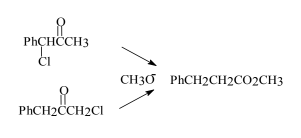 (16)

(17)
The most extensive use of Favorskii rearrangement is by far in ring contractions. An on-top example is the synthesis of Eatonís cubane via a double Favorskii rearrangement as depicted in equation (18). The Ramberg-Backlund reaction produces olefins through a Favorskii-type mechanism from α-halogenosulfones in the presence of a strong base.

Allylic rearrangement
Allylic system is very liable to rearrangement owing to the very plausible resonance. Few examples are selected to throw some light on this particular system. The first one is the mixture of 1-bromo-2-butene and 3-bromo-1-butene observed in the Wohler-Ziegler allylic bromination of 2-butene with N-bromosuccinimide (NBS) as appeared in equation (19) . The second example is the observed equilibrium mixture between 1-bromo-2-butene and 3- bromo-1-butene when heating either one of these compounds as given in equation (20) . An allylic radical rearrangement seemingly takes place in both cases.

(19)

(20)
The allylic rearrangement is also common in allyl-based Grignard reagents; the equilibrium shown in equation (21), often called "butenyl Grignard" is a typical example.
This equilibrium has been confirmed by 1H NMR analysis revealing both 2-butenylmagnesium bromide and 1-methylpropenylmagnesium bromide .

(21)
The last example is depicted in equation ( 22) where α and γ -methylallyl chlorides are shown to give, in the presence of potassium ethoxide, exclusively normal products (A and B) respectively, in a bimolecular reaction SN2. However the ethanolysis of each one affords, in a monomolecular reaction SN1, a mixture of these two products. In the latter case, an allylic carbonium ion rearrangement is involved.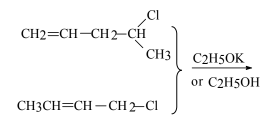 (22)
Not only in low molecular weight substances has the allylic rearrangement been observed, but also in high molecular weight analogues, the polymeric systems. The
halogenation of butyl rubber (polyisoprene) comes up with exo- and endo-allylic structure halobutyl rubber as traced in equation (23). No addition reaction has occurred but rather a substitution reaction through an allylic rearrangement induced by the halide anion .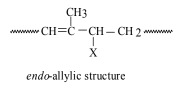 In an attempt to apply the "vapor deposition polymerization" (VDP) on 1-vinyl [2.2] paracyclophane, Cram observed a ring expansion of the cyclophane, visibly through an allylic radical rearrangement .
An allylic-sort rearrangement has been established in the polymerization of a great deal of linear internal olefins in the presence of Ziegler-Natta catalysts like AlEt3 - TiCl3 . These reactions are called "monomer isomerization polymerization"; that is, the polymerization occurs only after the isomerization of the monomer as depicted in equation (24). Polymers were found to consist almost entirely of 1-olefin units. 1,4-Cylohexadiene also underwent monomer isomerization polymerization to yield poly(1,3-cyclohexadiene).
Moreover, the copolymerization of some of the above-cited monomers with the Ziegler-Natta catalyst in conjunction with a nickel dimethylglyoxime or transition metal acetylacetonates resulted in copolymers containing 1-olefin units of the corresponding monomers.

Recently the living cationic isomerization polymerization of β-pinene was reported, as well as its isomerisation copolymerization with styrene and methylstyrene initiated by 2-
chloroethyl- vinyl ether HCl adduct coupled withTiCl3-(O iPr) .
Isonitrile-Nitrile rearrangement
French chemists are credited for the first reporting on the thermal isonitrile-nitrile rearrangement as depicted in equation (25) . Later, in his study on the thermal p-
tolylisocyanide -p-tolylcyanide isomerization, Rabinovitch suggested the below activated complex, shown in equation (26), in which the development of a new C-C bond is nearly synchronous with breaking of the N-C bond . In less than one decade, this proposal was validated theoretically and experimentally by Roald Hoffmann and J. Casanova respectively. The thermal rearrangement of arylisonitrile is accompanied with a concomitant formation of highly colored tetramers which are indigo derivatives.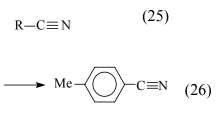 Rearrangements on Carbonyl Group
Benzylic rearrangement
Probably the first intramolecular rearrangement in organic reactions is that observed by Liebig in 1838 when the benzil was treated with a basic solution. But, it was Jena in 1870 who illustrated the Liebigís compound as benzylic acid . About a century later, Ingold proposed the common experimentally-evidenced mechanism of this rearrangement as shown in equation (27).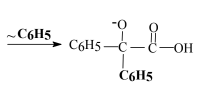 A feature of the benzylic rearrangement is the better migration ability of the phenyl group substituted with weaker electron-donating groups (such as m-chloro) than that with stronger electron-donating groups (such as p-methoxy).
One special case is the rearrangement of phenylglyoxal to mandelic acid in an alkaline medium as in equation (28). In this instance, a hydride shift is observed after the preferential attack of the aldehyde group by OH. A similar 1,2-hydride shift to carbonyl group occurs in the intramolecular Cannizzaro reaction on the glyoxal molecule to yield HOCH2COOH, the hydroxy-acetic acid.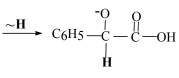 Rearrangements on Heteroatoms
Hofmann rearrangement
In 1882 A. W. Hofmann found that the reaction of amides with bromine in basic solution afforded products with one carbon less than the starting amide . This latter facet
of the reaction, often called "Hofmann degradation" (Scheme 4), makes this rearrangement a distinct reaction in synthesis. In the generally accepted mechanism (a), both N-bromoamide and the isocyanate can be isolated which supported this pathway. However, mechanism (b) that presents a nitrene should be also taken into account .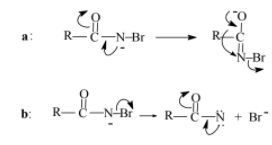 Scheme 4: Mechanism of Hofmann rearrangement.
It is interesting to note that the Hofmann degradation of optically active amides with a chiral carbon bound to the carbonyl groups yields products with retention of configuration.
Two rearrangements related to Hofmann' are the Curtius degradation (Theodor Curtius, 1890) and the Wolff rearrangement (Ludwig Wolff, 1912). While in the Curtius
rearrangement a nitrene intermediate is possible as in Hofmannís, a carbene intermediate may ensue in the Wolff rearrangement as can be noticed in equations (29) and (30). The Wolff rearrangement is the key step in the Arndt-Eistert synthesis, reaction (30).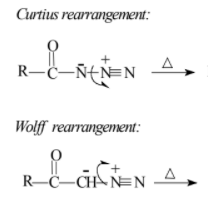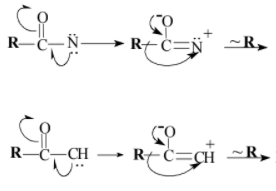 Beckmann rearrangement
In 1887 Ernst Beckmann observed the acid catalysis conversion of ketoximes and aldoximes to their corresponding amides (31) . Protic acids, Lewis acids, anhydrides, and acid halides promote efficiently this rearrangement. Yet, the picryl ether oxime undergoes Beckmann rearrangement in the absence of a catalyst, and this would indicate that the acid is rather used to engender a better leaving group. The yields of such rearrangement up to 95% are not surprising

(31)
A general observation of this rearrangement is that the group in position anti to the leaving will migrate preferentially to the nitrogen atom in a concerted fashion as shown in (32).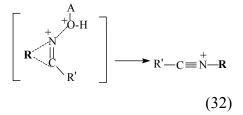 With Bronsted acids, both RCO-NHR' and RCO-NHR' are often obtained. To account for this finding, an interconversion between the syn and the anti forms of the oxime
can be envisioned as a possible pathway in which the C-N rotation occurs.
The Beckmann rearrangement is well valorized in the industrial production of one of the important polyamides, nylon 6, equation (33) .

Of particular interest is the deviation of the oximes of α, β-unsaturated alicyclic ketones from the expected Beckmann rearrangement, producing instead aromatic amines in
the presence of the Beckmann mixture ( (CH3CO)2O + CH3COOH + HCl). This peculiar deviation is known as Semmler-Wolff- Schroeter reaction or chemically known as oxime aromatization. The Beckmann rearrangement is extended to oximes of esters and ethers R1R2C = NOR3, by A. W. Chapman in 1925, and therefore, this reaction was coined the "Beckmann-Chapman rearrangement". Regard may be paid to a special oxime mentioned in Table 4 which, itself, is an interesting rearrangement product of a Barton reaction.
A somewhat similar kind of rearrangement but to a lesser degree is the photo-promoted intramolecular rearrangement of the nitro group in poly(β-nitrostyrene) as shown in equation (34) . This particular rearrangement is of great significance as far as a phenyl- containing polyamide can be formed upon reduction of the rearranged polymer. This latter polymer, due to the -CO-N(OH)- linkage in the matrix, is soluble in acetone, methanol, and ethanol at room temperature, a very important solubility feature.