Complex Permanent tissue
Complex tissues are made of more than one type of cells. All these cells coordinate to perform a common function.
Xylem and phloem are examples of such complex tissues. They are both conducting tissues and constitute a vascular bundle.
Xylem
Xylem allows the one-way conduction of water.
Xylem has the main function in the conduction of water and mineral salts from the roots to the top of the plant.
Xylem consists of tracheids, vessels, xylem parenchyma and xylem fibres. The cells have thick walls, and many of them are dead cells.
Tracheids
Tracheids are elongated dead cells with bordered pits.
Tracheids have the function in the conduction of water in gymnosperms and pteridophytes.
They have hard, thick and lignified walls. Their function is conduction of water and providing mechanical support to the plant.
Vessels
Vessels is long cylindrical, tube-like structure with lignified walls and a wide central lumen.
Xylem vessels help in the conduction of water in angiosperms.
The cells are dead as these do not have protoplast.
The cells are arranged in longitudinal series in which the partitioned walls (transverse walls) are perforated, so the entire structure looks like a water pipe.
Their main function is the transport of water and minerals. It also provides mechanical strength.
Xylem fibres
Xylem fibres provide tensile strength and mechanical strength to the plants.
These cells are elongated, lignified and pointed at both the ends.
A xylem fibre helps in the conduction of water and nutrients from root to the leaf and provides mechanical support to the plant.
Xylem Parenchyma
The cells are living and thinly walled. The main function of xylem parenchyma is in the storage of food materials.
Phloem
Phloem allows two-way translocation of food in plants.
Phloem is made up of four types of elements: sieve tubes, companion cells, phloem fibres and the phloem parenchyma. Sieve tubes are tubular cells with perforated walls.
Phloem is unlike xylem in that materials can move in both directions in it. Phloem transports food from leaves to other Parts of the plant. Except for phloem fibres, phloem cells are living cells.
Sieve tube
Sieve tubes are living but lack nucleus whey they get mature. These are elongated, tube-like slender cells placed end to end. The transverse walls at the ends are perforated and are known as sieve plates. The main function of sieve tubes is the translocation of food, from leaves to the storage organs of the plants.
Companion Cells
Companion cells are living, thin-walled cells. Their main function is in the translocation of food. These are elongated cells attached to the lateral wall of the sieve tubes. These are mostly found in angiosperms.
Phloem Parenchyma
The phloem parenchyma is made up of living cells which have cytoplasm and nucleus. Their function is to store food materials.
Phloem fibres or bast fibres:
Phloem fibres have a thick wall with a narrow lumen.
Sclerenchymatous cells associated with primary and secondary phloem are commonly called phloem fibres.
These cells are elongated, lignified and provide mechanical strength to the plant body.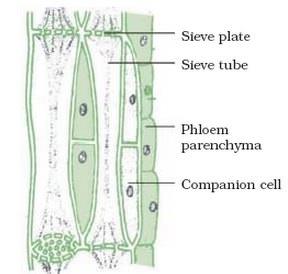 Special tissues
Special tissues are structurally modified and specially organized for secretary function. These are two types:
Laticiferous tissues
These are specialized tube-like structures known as laticiferous ducts found in many angiosperms. These ducts are filled with white or yellow latex. Laticiferous ducts are of two types: Latex cells and Latex vessels as found in rubber, papaya etc.
Glandular tissue
It consists of different types of glands which are formed by a single cell or group of cells. These secrete resin, oil, mucilage, tannin, gums etc.
All the best!!