Conjugate Acid-Base Pair(CABP) :-
In an acid-base reaction
Acid → H+ conjugate base
Base + H+ → conjugate acid.
e.g.
HCl(aq) + NH3(aq)

NH4 (aq) + Cl-(aq)

Note:- A CABP is different from each other only by single proton.
e.g.
HSO-4 is the conjugate base of H2SO4 but SO2-4 is not.
Relative strength of Acids/Bases :-
Any Species and its conjugate species are opposite of each other in terms of strength. e.g.

e.g.
Strength order of acids.
HClO4 > H2SO4 > HCl > CH3COOH
strength order of conjugate bases
ClO4- < HSO4- < Cl- < CH3COO-
An ionic Equilibrium exists between the unionised electroyte molecules and the ions that result from ionisation

Types of keq
1. Self ionization of water

2. Acid dissociation constant

3. Base dissociation constant

4. Salt hydrolysis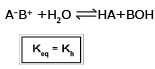 5. Sparingly soluble salt