What are Conventional Sources of Energy?

The sources of energy which have been in use since a long time are called conventional sources of energy. Coal, petroleum, natural gas, hydel energy, wind energy, and nuclear energy are considered to be conventional sources of energy.

Pie chart showing the major sources of energy for our requirements in India
1. Fossil Fuels:
In ancient times, wood was the most common source of heat energy. The energy of flowing water and wind was also used for limited activities. Can you think of some of these uses? The exploitation of coal as a source of energy made the industrial revolution possible. Increasing industrialization has led to a better quality of life all over the world It has also caused the global demand for energy to grow at a tremendous rate The growing demand for energy was largely met by the fossil fuels and petroleum. Our technologies were also developed for using these energy sources. But these fuels were formed over millions of years ago and there are only limited reserves. The fossil fuels are non-renewable sources of energy, so we need to conserve them! In order to avoid these alternate sources of energy were explored. But we continue to be largely dependent on fossil fuels for most of our energy requirements.
⇛Disadvantages of burning fossil fuels
If we were to continue consuming these sources at such alarming rates, we would soon run out of energy.
The oxides of carbon, nitrogen and sulphur that are released on burning fossil fuels are acidic oxides. These lead to acid rain which affects our water and soil resources.
The problem of air pollution recall the greenhouse effect of gases like carbon dioxide.
The pollution caused by burning fossil fuels can be somewhat reduced by increasing the efficiency of the combustion process and using various techniques to reduce the escape of harmful gases and ashes into the surroundings.
(a).Process of Thermoelectric Production

A model to demonstrate thermoelectric production
This is our turbine for generating electricity. The simplest turbines one moving part, a rotor-blade assembly. The moving fluid acts on blades to spin them and impart energy to the rotor, Thus, we see basically we need to move the fan, the rotor blade, with speed which would turn the shaft of the dynamo and convert the mechanical energy to electrical energy-the form of energy which has become a necessity day's scenario. The various ways in which this can done depends upon availability of the resources. We will see how various sources of energy can be harnessed to run the turbine and generate electricity in the following sections.
(b).Thermal Power Plant
Large amount of fossil fuels are burnt every day in power stations to heat up water to produce steam which further runs the turbine to generate electricity, The transmission of electricity is more efficient than transporting coal or petroleum over the same distance. Therefore, many thermal power plants are set up near coal or oil fields. The term thermal power plant is used since fuel is burnt to produce heat energy which is converted into electrical energy.
(c). Hydro Power Plant
Another traditional source of energy was the kinetic energy of flowing water or the potential energy of water at a height. Hydro power plants converts the potential energy of falling water into electricity. Since there very few waterfalls which could be used as a source of potential energy power plants are associated with dams. In the last century, a large number of dams were built all over the world. A quarter of our energy requirement in India is met by hydro water plants.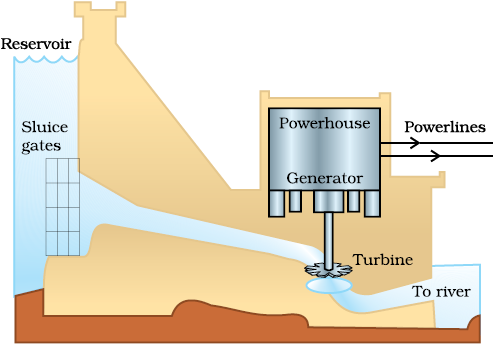 Working:
In order to produce hydel electricity. high rise dams are constructed on the river to obstruct the flow of water and thereby collect water in larger reservoirs. The water level rises and in this process, the kinetic energy of flowing water gets transformed into potential energy. The water from the high level in the dam is carried through pipes, to the turbine, at the bottom of the dam(as shown above). Since the water in the reservoir would be vented back time it rains (hydro power is a renewable source of energy) we would not have to worry about hydroelectricity sources getting used up the way fossil fuels would get finished one day.
Problems associated with the construction of big dams
The dams can be constructed only in a limited number of places. preferably in hilly terrains.
Large areas of agricultural land and human habitation are to be sacrificed as they get submerged.
Large eco systems are destroyed when submerged under the water in dams.
The vegetation which is submerged rots under anaerobic conditions and gives rise to Iarte amounts of methane which is also a green-house gas.
It creates the problem of satisfactory rehabilitation of displaced people. Opposition to the construction of Tehri Dam on the river Ganga and Sardar Sarovar project on the river Narmada are due to such problems.
---
Question 1:Which of the following is a renewable source of energy?