CULTURE 8.1
 NATIONAL MISSION ON MONUMENTS AND ANTIQUITIES
Why in News?
 Poor implementation of National Mission on Monuments and Antiques is being said to be one of the reasons of idol theft seen in recent times.
Background
 The Antiquities and Art Treasures Act of 1972, mandates compulsory registration of antiquities.
 Ministry of Culture launched the National Mission on Monuments and Antiquities (2007) (NMMA) to document antiques in India (public or private).
 It was initially approved for 5 years from 2017-2012 (XI plan). It was also proposed to be extended in the XII plan as a Central scheme.
 Performance audit by CAG on Preservation and Conservation of Monuments and Antiquities in 2013 observed India's poor acquisition, documentation and conservation systems.
 In recent times CBI and ED have apprehended large scale antique thefts by Subhash Kapoor. One of the reasons of this is poor documentation of the idols and lack of specialized force for it.
 Despite our fundamental duty to preserve heritage, several monuments are the victims of abuse and disrespect. E.g. Taj Mahal affected by pollution.
About NMMA
 It offers advice on heritage matters, framing guidelines on conservation of heritage monuments and sites and suggesting appropriate amendments to the heritage laws.
 It documents and creates a suitable database on built heritage and sites to disseminate information to planners, researchers, governments etc. and to help in their better management.
 It also promotes awareness and sensitizes people on preservation of the cultural aspects of built heritage, sites and antiquities.
 It also trains and builds capacity of the concerned State Departments, Local bodies, NGOs, Universities, Museums, Local communities etc. in
management of heritage.
 It is also involved in Publication and Research in relation to monuments and antiques.
 It will also draw up a national thematic atlas of built heritage, sites and antiquities.
 Documentation will be done both by Archeological Survey of India and also by outsourced agencies.
Other missions under Culture Ministry
1.National Mission on Manuscripts – It was started in 2003. It aims to identify, document, conserve and make manuscript heritage of India accessible.
2.National Mission on Libraries –
It aims to create a National Virtual Library of India.
It also aims to set model libraries and build capacity of library professionals.
Raja Ram Mohan Roy Library Foundation is its nodal agency.
Suggestions
 Apart from fulfilling the objectives of the NMMA, there should be a creation of a dedicated idol theft wing at the national level based on Italian model. Presently CBI investigates into such cases.
 Greater budgetary and alternative funding is the need of the hour to preserve the heritage and also fulfill its documentation.
 NMMA should be linked to major schemes like Digital India and Skill India to have a better focus on implementing it.
 
Way Forward
 Monuments and Antiquities form the aesthetic aspect of our cultural heritage. Therefore it should be documented and maintained. Government should also amend the 1972 Act on Antiquities and Art Treasures to make it relevant to the present times.
8.2. REPUBLIC DAY TABLEAU
Why in News?
Tableaux from 17 states and UTs and six ministries showcased the varied historical, art and cultural heritage of the country at the 68th Republic Day.
 
8.2.1. ODISHA-DOLA JATRA
 Dola Yatra or Dola Melana or Dola Festival is a festival of get together of Lord Krishna's idols.
 It is believed that all year devotees visit the deities but in the month of Falguna, the deities visit the devotees.
 The festival is celebrated from 10th day of bright fortnight up to full moon day of Falguna.
 Deities from different villages and different Sahi Bhagabat Ghara come to the Melana Padia (field) by Dola, a specially designed temple like structure made of wood.
 The get together is celebrated in different villages/cities across Odisha. Odissi and gotipua dancers also perform in front of the Bimana/Dola.
8.2.2. YAK DANCE-ARUNACHAL PRADESH
 The Yak dance is one of the famous mask dances of the Buddhist tribes (Mahayana sect) of Arunachal Pradesh
 It is performed during the Losar festival.
 Individuals put on Yak costumes and masks and perform the Yak dance in order to honour the Yak.
 The masked dancers represent the members of the family who are said to have discovered the Yak with the help of a magical bird hundreds of years ago.
 The Yak is believed to be the symbol of wealth and prosperity.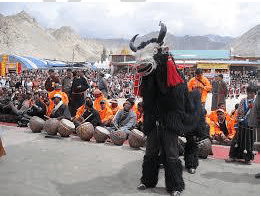 8.2.3. LAI HAROBA-MANIPUR
 Lai Haroba meaning "festivities of Gods" is a native festival of the Meities, the largest ethnic group of Manipur.
 The festival of Lai Haroba celebrates the creation of universe. The festival has twelve events which displays different phases of creation.
 The festival is characterised by song and dance performance and is celebrated in the month of April and May.
 
8.2.4. FOLK DANCES OF KARNATAKA
 Dollu Kunitha
 Dollu Kunitha is one of the variations of the Kunitha dance. The other being Suggi.
 The dance is widely performed during the harvest season.
 Mainly performed by the shepherd community (known as Kuruba), it involves dancing to the drum beats.
 Bayalata Dance
 It is a folk dance of Southern Karnataka which marks the end of harvest season.
 It is a religious dance fused with drama and dialogues.
 Yakshagana Dance
 Yakshagana is a fusion of dance and drama.
 Stories depicted from the epics of Ramayana, Mahabharata and Purana are performed on stage.
 A narrator narrates the story along with musicians playing traditional instruments while actors enact the story.
 Nagamandala Dance
 It is a night long ritual performed in the regions of Southern Karnataka.
 It involves ritualistic appeasement of the serpent which is considered to be a symbol of fertility.
 This dance form is performed by male dancers (called Vaidyas) who dress as female serpents (nagakannikas).
 The dancers perform around a design painted on a sacred ground which represents the serpent spirit.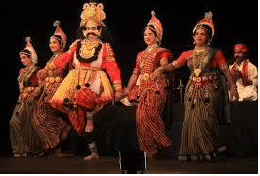 8.2.5. CHAMBA RUMAL-HIMACHAL PRADESH
 Chamba Rumal is a form of embroidery done on cotton or muslin cloth with help of silk threads.
 It originated from Chamba village near Ravi river in Himachal Pradesh.
8.2.6. KARAKATTAM-TAMIL NADU
 Also known as Karagam, this popular folk dance originated from Thanjavur and spread to the neighbouring areas.
 It is a ritualistic dance involving acrobatics feats performed during the month of August. It is dedicated to the goddess of health and rain Mariamman.
 It is performed by an individual or two persons.
 
8.2.7. HOJAGIRI-TRIPURA
 It is a folk dance performed by the Reang clan of the Tripuri people.
 It is performed during Hojagiri Festival (laxmi puja). Laxmi Puja is held on the following full moon night of Durga Puja.
 The dance is performed only by women while the male members sing and play musical instruments.
 The dancers use props like BALING, a wide circular rice cleaning article made of cane, a pitcher or kalash, a bottle, a household traditional lamp, a plain dish and a handkerchief.
8.3. 350TH ANNIVERSARY OF GURU GOBIND SINGH
Why in News?
 Recently 350th anniversary of Guru Gobind Singh was celebrated.
About Guru Gobind Singh
 He was the 10th Sikh guru born in Bihar.
 He forwarded the teachings of preceding Sikh Gurus by promoting social institutions like langar (community kitchen), sangat and kirtan (mass prayer) that acted as unifying agencies.
 He was a poet and philosopher credited with writing 'Dasm granth' which had a collection of hymns, philosophical writings, autobiography etc.
 He is also credited with compiling the Guru Granth Sahib/Adi Granth that became the last and the eternal guru of Sikhism.
 He mastered languages like Sanskrit, Persian, Braj etc.
 He was the founder of a warrior community called Khalsa (saint soldiers) to fight injustice. Eg. Fight social exclusion, Fight religious oppression from tyrants like Aurangzeb.
 He appraised Mughals of the misdeeds towards Sikhs in his letter to Aurangzeb called Zafarnama. He also fought him in Battle of Muktsar in 1705.
About Khalsa: The Khalsa were obligated to wear the Five K's –
oKesha (longhair) – Not cut hair to show acceptance to the form that God intended humans to be
oKangha (comb) – A symobol of cleanliness
oKara (steel bracelet) – To remind Khalsa of self-restraint
oKaccha (Knee shorts) – For being always ready to go into battle. oKirpan (sword) – To defend oneself and the weaker section.
Current relevance of ideas of Guru Gobind Singh
 Religious bigotry stands no ground in a multicultural land like India. He laid emphasis on social equality, universal brotherhood, altruism and social service.
 He synthesized Bhakti or Devotion to God with Shakti or moral and physical strength to stand for righteousness.
 Caste was a taboo in Khalsa and Guru Gobind Singh considered 'all mankind of one caste alone'.
8.4. RIN MUTINY
Why in news?
70th anniversary of the Royal Indian Navy Mutiny was celebrated on February 18th, 2017.
 
About RIN Mutiny
 It started on February 18th, 1946 and is often called the 'forgotten mutiny'. The mutiny started in response to racial discrimination, but factors leading to this mutiny were at play for quite some time
 They declared the RIN renamed as the 'Indian National Navy'.
 They also decided that their struggle would be a non-violent one and henceforth they would take orders 'only from the national leaders'.
 The mutiny soon spread to Kochi, Vizag, Chennai, Karachi and Kolkata.
 The Gurkhas in Karachi refused to fire on the mutineers.
 Local people extended support to the ratings by offering free food and organizing protests in support of mutiny.
 Though it started as a food riot but very soon a formal list of demands were presented which consisted:
 Release of all Indian political prisoners including INA POWs and naval detainees.
 Withdrawal of Indian troops from Indonesia and Egypt,
 Equal status of pay and allowances
 It also formally asked the British to quit India.
 The ratings agreed to surrender after interference of Sardar Patel and Mohammad Ali Jinnah.
8.5. DARA SHIKOH
Why in news?
Dalhousie Road in Delhi was renamed to Dara Shikoh Road.
About Dara Shikoh
 He was the eldest son of Shah Jahan who favoured him as successor. He lost war of succession to Aurangzeb.
 He developed an early interest in the esoteric aspects of Islam and mysticism and in Hindu philosophy.
 He was a philosopher, tolerant and pluralist, who tried to find common threads in Islam and Hinduism.
 His Majma' al-Bahrain (Mingling of the Two Oceans), is one of the earliest works to explore both the diversity of religions and a unity of Islam and Hinduism and other religions.
 With the help of pandits, he also translated 52 volumes of the Upanishads from Sanskrit to Persian into a tome called Sirr-e-Akbar (The Greatest Secret).
 He had served as governor of Lahore, Allahabad, Malwa, Gujrat, Multan, Kabul and Bihar.
8.6. BET DWARKA DARSHAN CIRCUIT
Why in News?
 Ministry of Urban Development has approved the development of 6 km long Bet Dwarka Darshan Circuit in Gujarat under the central scheme HRIDAY.
Bet Dwarka Darshan Circuit
 The Circuit would connect famous Dwarkadish Haveli and Hanuman Dandi.
 There are two important water bodies along the stretch: Ranchod Talav and Shankhudhar Lake.
 Developmental works to be taken up under the project include: development of streets, plantation, provision of benches, resting spaces and so on.
 
National Heritage City Development and Augmentation Yojana (HRIDAY)
 It is a central scheme launched by the Ministry of Urban Development in 2015 with the focus on holistic development of heritage cities.
 The scheme has been implemented in 12 identified cities viz. Ajmer, Amravati, Amritsar, Badami, Dwarka, Gaya, Kanchipuram, Mathura, Puri, Varanasi, Velankanni and Warrangal.
8.7. PREHISTORIC ROCK ART SITE DISCOVERED
Why in News?
 Archaeologists have spotted a prehistoric rock art site at the foothills of Ambukuthi hills in a village located in Sulthan Bathery taluk of Kerala's Wayanad district.
More on the Site
 The site is characterised by petrpgylphs and petrographs similar to those found in Edakkal caves and Thovari
hillocks.
 Petroglyphs and petrographs are usually found in rock shelters but in Ambukuthi, they are found on six small granite blocks independently located on a lakeside.
 Their style, motif and workmanship are strikingly similar to Thovari. They do not have humans or animals in motion which are present at Edakkal Caves.
Petroglyph: These are images created by carving out a portion of the rock.
Petrograph: These are paintings or drawings done on a rock face.
Edakkal Caves
The Edakkal Caves were discovered by Fred Fawcett, an erstwhile police official of the Malabar State in 1895.
They are present in Sulthan Bathery takul of Wayanad district in Kerala.
These caves are formed naturally out of a strange disposition of three huge boulders.
Edakkal Caves are known for Neolithic petroglyphs.
Thovari Hillocks
The petroglyphs at Thovari Hillocks were discovered in 1984.
8.8. MADHWA NAVAMI FESTIVAL
Why in news?
 Recently Madhwa Navami festival was celebrated in Udupi district of Karnataka.
 This annual festival is celebrated to commemorate the journey of great Indian philosopher Sri Madhwacharya to badrinath where he went to meet his Guru Veda Vyasa but never returned.
Sri Madhwacharya
 He was an Indian philosopher and chief exponent of Dvaita (Dualism) philosophy.
 He was born in 1238 AD in Udupi district of Karnataka and also known as Anandatirtha or Purnaprajna.
 His followers known as Madhvas consider him as incarnation of wind God VAYU.
 He differed significantly from traditional Hindu belief of Universal Salvation which states that all souls will eventually obtain Moksha, even though it may be after millions of rebirths.
 He divided the souls into 3 categories of Mukti Yogyas (souls qualify for liberation), Nitya Samsarins (souls subjected to eternal rebirth) and Tamo Yogyas (souls that will eventually condemned to hell).
 He also outlawed Devadasi system in all place of worship under his follower's control.
Dvaita Philosophy (Dualism)
 It is an outshoot of the Vedanta Philosophy of ancient India.
 It proclaims that God and Souls are different entities and that souls are not created by God but depend on Him for their existence.
 This is opposite to Advaita Philosophy of Shankaracharya which believes in Monism (Non-dualism).
8.9. NILAMBUR TEAK: GI TAG
 Kerala's Nilambur Teak is soon to get a Geographical Indication (GI) Tag.
 Nilambur is located in Malappuram district of Kerala and has oldest teak plantation in the world. It also hosts world's first Teak Museum.
 Other Kerala products with GI Tag includes Pokkali rice, Vazhakulam Pineapple, Wayanadan rice varities Jeerakasala and Gandhakasala, Tirur Betel vine, Central Travancore Jaggery, Chengalikodan Nendran banana etc.
About Geographical Indication (GI) Tag
 It is a sign that identifies a product as originating from a particular location which gives that product a special quality or reputation or other characteristic.
 In India Geographical Indication registration is governed by Geographical Indications of Goods (Registration and Protection) Act, 1999 which came in to force in 2003.
 Once Geographical Indication tag is granted it is valid for next 10 years.
8.10. INDIAN COUNCIL FOR CULTURAL RELATIONS
Why in news?
Indian Council for Cultural Relations (ICCR) sponsored Pakistan's Karachi Literature Festival, 2017 despite recent turbulence in Indo-Pak Ties.
About Indian Council for Cultural Relations
 It is an autonomous organization founded in 1950 by Maulana Abdul Kalam Azad, first education minister of Independent India.
 Its mains objectives are:
 To foster and strengthen cultural relations and mutual understanding between India and other countries.
 To promote cultural exchanges with other countries and people.
 To establish and develop relations with national and international organizations in the field of culture.