8.1. CHAMPARAN SATYAGRAHA
Why in news?
The Bihar government will launch year-long celebrations to mark the centenary of Mahatma Gandhi's  Champaran satyagraha with a series of events.
Background
The Champaran Satyagraha of 1917 was Mahatma Gandhi's first Satyagraha in India.
He was approached by several leaders at the first meeting of the Congress in Lucknow in 1916 with a request  to start a movement against the atrocities on farmers in Champaran.
Gandhiji arrived in Champaran but was later ordered by the District magistrate W B Heycock to leave.
Gandhi ji refused and persisted. He decided to commit Satyagraha.
Reason for satyagraha
The peasants of Champaran and other areas of North Bihar were growing the Indigo crop under tinakathia system. Under the system peasants were bound to plant 3 out of 20 parts of his land with indigo.
Farmers were also oppressed by the khurki system. Under Khurki system, the British planters used to pay  money to the farmers (Raiyyat) by mortgaging their lands and houses and compelling them to sow indigo.
Centenary year celebrations
Gandhi Smriti Yatra will be set off from Motihari to mark Gandhi's first visit to Champaran.
A 'Gandhian circuit' will be developed for tourists visiting the State. Prominent places to be developed  include Bhitiharwa Ashram, Brindaba, Shri Rampur, Koeldih, Amolwa, Murli Bharhawa, Sariswa and Hardiya  Kothi, which used to be the house of G.P. Edward, a British Indigo planter.
The Gandhi Peace Foundation will be a partner in the yearlong celebrations.
8.2. ROCK ART
Why in news?
The rock art of central India has been attracting international experts for research and excavations.
What is Rock Art?
Rock art denotes prehistoric man-made markings on natural stone.
This type of Stone Age art is traditionally divided into two main categories:

Petroglyphs: meaning, rock engravings or carvings; this category also includes works of prehistoric  sculpture that are part of the rocks themselves (known as parietal art), such as relief sculpture.
Pictographs: meaning, paintings or drawings.

A third, smaller category of rock art is associated with Megaliths or Petroforms, involving the arrangement of stones to create a type of monument.
Challenges faced by Rock Art
lack of state protection
damage due to vandalism, graffiti and touching by the visitors.
Bio-degradation of rock sites by microorganisms.
Lack of funds for preservation
Absence of state of art technology
Rock Art in India
Of over 150 rock art sites that have been discovered across India,  nearly two-thirds are in central India.
The highest concentration of rock art sites is situated in the  Satpura, Vindhya and Kaimur Hills.
Bhimbetaka alone has 750 rock art shelters that were discovered  by VS Wakankar, considered the father of Indian rock art.
One of the most fascinating rock art sites in India in recent times is Daraki Chattan. It is a narrow cave in a  hill in Mandsaur district, where petroglyph (rock carvings) in the shape of 530 cup-marks or cupicles (circular  depressions in the rock-wall) have been found. The experts studying it claim it to be the "oldest rock art in  the world", about 2 to 5 lakh years old.
8.3. RESTORING THE JEWELS OF DECCAN
Aga Khan Trust for Culture (AKTC)
The AKTC is a philanthropic foundation
In 1997, it undertook garden restoration at Humayun's Tomb in New Delhi.
Why in news?
The Aga Khan Trust for Culture's ongoing restoration of the Qutb Shahi necropolis in Hyderabad.
Who were the Qutb Shahis?
Contemporaries of the Mughals, the Qutb Shahi dynasty was  founded in 1512 by sultan Quli Qutb-ul-Mulk. Before founding his empire, he served in the Bahmani  Sultanate.
The fifth king, Quli Qutb Shah, established Hyderabad in 1591. He also built the Charminar.
They ruled till 1686-87, when Aurangzeb conquered Golconda.
About Qutb Shahi necropolis in Hyderabad
The 106-acre park consists of 75 monuments, including 40 mausoleums, 23 mosques, six baolis (step-wells),  a hamam (Persian bath), pavilions and garden structures.
They have Iranian influences as well as the elements of Vijayanagara architecture.
The park has already been nominated for UNESCO World Heritage Site status.
While the Mughals worked mostly with sandstone and marble, it uses granite that was available locally.
8.4. SINDHI LANGUAGE
Eighth Schedule of Indian constitution
It contains the languages recognized by the Constitution.
There is no established criteria for the inclusion of languages.
Originally it had 14 languages but at present there are 22.
National Council for Promotion of Sindhi Language released  software tools and eBooks developed by Centre for development  of Advanced Computing in order to adapt Sindhi language into  digital form.
The occasion marked the 50th year since Sindhi language was  included in the Eighth schedule of Indian Constitution by 21st amendment of Constitution in 1966.
Such step has been taken for conservation and propagation of  Sindhi language both in Devnagiri and Arabic scripts.
National Council for Promotion of Sindhi Language
It was established in 1994 as an autonomous Body under the Department of Higher Education (HRD Ministry) under the Societies Act of 1860. It is headquartered in New Delhi.
its main objective includes:

To promote, develop and propagate Sindhi Language
To advise GoI on issues related to Sindhi language.
To make sure that knowledge of Scientific and Technical Terminological development are available in Sindhi.
8.5. SAHITYA AKADEMI AWARD
Recently, English translation of writer Perumal Murugan's novel "Mathorubhagan" called "One Part Woman"  has won the Sahitya Akademi's award for translation in English by Aniruddhan Vasudevan.
Also, Rajasthani translation of "Mere Saayian Jio" (Bhai Veer Singh) done by Ravi Purohit called "Jeevo  Mahara Sanwara" won the award in same category.
About Sahitya Akademi
It is dedicated to promotion of literature. Though set up by the Government of India in 1954, it functions as an autonomous organization.
Besides the 22 languages enumerated in Schedule VIII of the Constitution, it has recognised English and  Rajasthani as languages in which its programme may be implemented.
The Akademi has instituted an annual prize for literary translation to be given to translations in the 24
languages recognised by it.
8.6. CHANNAKESHAVA TEMPLE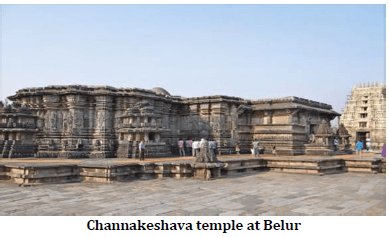 Why in news?
The Channakeshava temple (aslo known as Vijayanarayana Temple) in Belur in Hasan district, Karnataka  turned 900 this year.
The temple has been built by King of the Hoysala dynasty between 1106-1117 AD.Vishnuvardhana
About Hoysala Architectural style
The Hoysala architectural style is considered an  intermediate between the Indo-Aryan and Dravidian  traditions.
They were influenced by the western Chalukyan architecture and employed their craftsmen as well.
Some of the distinctive styles are:

The temples have a star shaped base with the main  structure standing on a raised platform.
The garbha griha (sanctum sanctorum) houses a  centrally placed murti(enshrined icon) on a pitha (pedestal).
There are three shrines structured around a central pillared hall, each with a tower.
Pillars with horizontal mouldings, produced by a mechanical process.
There are intricate grille windows, an abundance of sculptural details.
The sikharas unlike the northern style (parabolic) are constructed in well-defined horizontal tiers and together with sanctum sanctorum they form the vimana of temple.
In temple courtyard (Prakram) several minor shrines and outbuildings often abound.
The temple may be approached via entrances with gigantic gopurams (gigantic entrance towers)  towering over each doorway.

The temples are almost entirely covered with intricate sculptural carvings. This was mainly possible, for the  temples were constructed out of a very fine grained soft soap stone (chloritic schist).
Other major temples of these styles are: Hoysaleswara temple, Halebid, Karnataka and Kesava temple,
Somnathapura, Mysore (Karnataka).
 
8.7. BORI DIGITISING RARE MANUSCRIPTS
What is National Mission for Manuscript?
National Mission for Manuscripts (NMM) was established in the year 2003 under the Ministry of Culture.
The Mission has designated IGNCA (Indira Gandhi National Canter for Art) as the Nodal Agency for implementing the Mission.
Its aim is to document, preserve and digitize the vast manuscript wealth of India.
To enhance the access, improve awareness about cultural inheritance and encourage the use of manuscripts for educational and research purpose.
Why in News?
Bhandarkar Oriental Research Institute (BORI)  launching an e-library initiative for preservation of  repository of precious manuscripts in Sanksrit and  its related languages such as Pali and the Prakrits.
The initiative comes under National Mission for  Manuscript.
What is Manuscript?
It is the document written by hand or typewritten, before the reproduced in mechanised form.
It is a primary source of databank of perfect testimony written material of historical significance.
 
8.8. PAIKA REBELLION
Why in news?
Government honored descendants of 16 families associated with Paika rebellion of Odisha in 1817.
Occasion marks the completion of 200 years since this rebellion took place in April 2nd, 1817.
About Paika Rebellion (Also known as Paika Bidroh)
Paiks were the traditional landed militia of Odisha, used to perform policing functions.
Paiks owned rent-free land that had been given to them for their military service to Kingdom of Khurda.
However problem started when British forcefully usurped their land rendering them landless.
They were also subjected to repressive land revenue policies and humiliation by the British.
At that critical juncture, Bakshi Jagabandhu Bidyadhar, the military chief of the King of Khurda, led army  of Paikas forcing the East India Company forces to retreat.
Though this rebellion predates the first war of independence of 1857 but did not get similar recognition.