CULTURE
8.1. THREE INDIAN SITES GETS INTO WORLD HERITAGE LIST
Why in News?
 The World Heritage Committee, a UNESCO body notified three Indian sites as heritage sites at its 40th session.
 The sites include Chandigarh's magnificent Capitol Complex, Mt Khangchendzonga, and the archaeological site at Nalanda Mahavihara (Nalanda
University) in Bihar.
 This is also the first time that India got a mixed site notified as heritage site. A mixed site is the one which exhibits qualities of both natural and cultural significance.
 It is also the first time that any country has got three sites named as World Heritage Sites in a single session.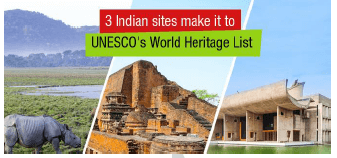 _______________________
Heritage Sites in India
Now, there are a total of 35 World Heritage Sites in India. Out of which, 27 are cultural, 7 natural and 1 mixed site.
________________________
Khangchendzonga National Park (KNP), Sikkim (Kanchenjunga Biosphere Reserve)
 It is the first and only mixed site in India to be notified as World Heritage Site.
 The park covers 25 percent of Sikkim and exhibits one of the wildest altitudinal ranges of any protected area in the world.
 It boasts of a unique topography of snow clad mountains and steep valleys. In fact, it is home to the world's third highest peak, Mt. Khangchendzonga.
 It is inhabited by endemic, rare and threatened plant and animal species. It is home to musk deer, snow leopard and Himalayan tahr.
 It has been notified as a mixed site due to its ecological significance along with the religious and cultural practices of Buddhism.
 There are many glaciers including the Zemu glacier.
 The park also has few Lepcha tribal settlements. Lepcha is an indigenous tribal community of Sikkim. They number between 30,000 and 50,000.
________________________
What is a World Heritage Site?
A World Heritage Site is place (such as a building, city, complex, desert, forest, island, lake, monument, or mountain) as notified by UNESCO for having cultural or physical significance.
Convention Concerning the Protection of the World's Cultural and Natural Heritage was adopted by UNESCO in 1972.
The list of World Heritage Sites is maintained by UNESCO World Heritage Committee which comprises of 21 member states elected by the General Assembly.
________________________
Chandigarh's Capitol Complex
 The Capitol Complex includes three buildings, three monuments and lake.
 It was designed by French architect Le Corbusier in the 1950s.
 This complex is part of 17 works of Le Corbusier spread across 7 countries including France and India, that have been included together in the list under a single entry.
 The Capitol Complex comprises of the Legislative Assembly, Secretariat, High Court, Open Hand Monument, Geometric Hill and Tower of Shadows.
 He was Swiss-French architect and urban planner, and is known as one of the pioneers of modern architecture.
 He is known for "five points for modern Architecture" and was called a functionalist and rationalist.
Nalanda Mahavihara (Nalanda University), Bihar
 It is the most ancient university of the Indian subcontinent.
 It engaged in organized transmission of knowledge over an uninterrupted period of 800 years.
 It comprises the archaeological remains of a monastic and scholastic institution dating from around 3rd century BC to 13th century BC.
 It includes stupas, shrines, viharas and important art works in stucco, stone and metal.
 The historical development of the site testifies to the development of Buddhism into a religion and flourishing of monastic traditions.
8.2. INDUS VALLEY CIVILIZATION (IVC) AGE
Why in news?
 Indian researchers have used carbon dating techniques on animal remains and pottery fragments to conclude that the Indus Valley settlements could be 8,000 years old—2,500 years older than previously believed.
 This could make the Indus Valley settlements even older than the Mesopotamian and Egyptian civilisations.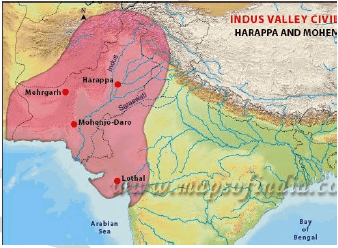 Highlights of the Study
 The study was conducted in Bhirrana in Haryana
 The site shows preservation of all cultural levels, from the pre-Harappan Hakra phase through the Early Mature Harappan to the Mature Harappan time.
 Researchers used a technique known as Optically Stimulated Luminescence.
 According to the researchers, the civilisation was spread over a much larger part of India than previously believed.
_______________________
Optically-Stimulated Luminescence is a dating technique used to date the last time quartz or feldspar sediment was exposed to light. It measures doses from ionizing radiation.
______________________
Cause of decline for IVC
 Researchers also proposed a new theory for the decline of the civilization.
 The study argues that although climate change played a role, it was changes in cropping patterns and storage of grains which led to the civilization's decline.
 Large-grained cereals like wheat and barley were cultivated during the early part of intensified monsoon
 People shifted to drought-resistant species of small millets and rice in the later part of declining monsoon.
 Because these later crops generally have much lower yield, the organised large storage system of mature Harappan period was abandoned
 It gave rise to smaller more individual household based crop processing and storage system
 It could have acted as catalyst for the de-urbanisation of the Harappan civilisation rather than an abrupt collapse.

8.3. KHASI TRIBE
Why in News?
 Megalithic stone structures and iron implements dating back to pre-historic period have been found in the ridge spread over 1.5 km in Ri-Bhoi district, Meghalaya.
 Radiocarbon dating of the megalithic structures and tools indicates that Khasis made Meghalaya their home way back in 1200 BC.
 This excavation at Lummawbuh is the first Neolithic site in Meghalaya.
About Khasi
 The Khasis are an indigenous tribe, majority of who live in the state of Meghalaya.
 What sets this tribe apart from other tribes is that the descendents are recognised from the mother and not from the father i.e it follows the matrilineal system of society.
 The Khasis have been granted the status of Scheduled Tribe.
 They practice shifting cultivation (JHUM) for their survival.
8.4. MAHASWETA DEVI
Why in News?
 Mahasweta Devi passed away at the age of 90 on July 28, 2016.
Who Was She?
 She was born in 1926 in Dhaka, British India and was one of the most prominent writers of independent India.
 She wrote about 100 novels and 20 short stories.
 She was also known for her social work that she did to uplift the extremely backward tribal community of Kheria Sabar.
 She was honoured with various literary awards such as Sahitya Akademi Award (in Bengali) for her novel Aranyer Adhikar, Jnanpith Award, Ramon Magsaysay Award as well Indian civilian awards; Padma Shri and Padma Vibhushan.
 Some of her famous works of literature are: Hajar Churashir Maa, Rudali and Aranyer Adhikar. Although she wrote in Bengali, her work has been translated in English as well.
8.5. JNANPITH AWARD
Why in News?
 President conferred the 2015 Jnanpith Award (51st Jnanpith Award) on Gujarati litterateur Raghuveer Chaudhary.
Significance of the Jnanpith Award
 The Jnanpith Award recognises litterateurs who write in any one of the 22 Indian languages listed in the Schedule Eight of the Indian Constitution.
 The nomination and award is decided by the Bhartiya Jnanpith foundation.
Background of Bhartiya Jnanpith
 The Bhartiya Jnanpith organisation was founded in 1944 by Sahu Shanti Prasad Jain of Sahu Jain family.
 It was founded in order to undertake systematic research and publication of Sanskrit, Prakrit, Pali and Apabhramsha texts.
 It aimed to cover subjects like religion, philosophy, logic, ethics, grammar, astrology and poetics.
About Schedule Eight of the Indian Constitution
 The constitutional provisions relating to the Eighth Schedule occur in articles 344(1) and 351 of the Indian Constitution.
 The Eighth Schedule recognises 22 official languages other than Hindi.
 Article 344(1) talks about the constitution of a commission by the President which shall include a chairman and such other members representing the different languages specified in the Eighth Schedule. The commission shall make recommendations to the President for progressive use of Hindi for official purposes of the Union.
 Article 351 talks about promoting the Hindi language so that it may serve as a medium of expression without interfering with other languages in the 8th Schedule.
8.6. MAGSAYSAY AWARD
Bezada Wilson
 A renowned campaigner against manual scavenging, he is a national convenor of the Safai Karmachari Andolan.
 A Dalit activist born in Karnataka, has been felicitated for his work towards asserting the right for human dignity.
 As per reports, due to his efforts the number of total manual scavengers in the country has come down to 2 lakhs in 2013 from 15 lakhs.
 He was awarded for "asserting the inalienable right to a life of human dignity" .
T. M KRISHNA
 He is a carnatic music vocalist from Chennai.
 He was awarded under the category of "Eminent Leadership" for bringing "social inclusiveness in culture".
 He is often accepted as a challenger to carnatic orthodoxy.

About Magsaysay Award
 The Ramon Magsaysay Award is an annual award established to perpetuate former Philippine President Ramon Magsaysay's example of integrity in governance, courageous service to the people, and pragmatic idealism within a democratic society.
 The prize was established in April 1957 by the trustees of the Rockefeller Brothers Fund based in New York City with the concurrence of the Philippine government.