Moral Values
India is our country comprising 28 States and 8 union Territories.
Andhra Pradesh
Arunachal Pradesh
Assam
Bihar
Chhattisgarh
Goa
Gujarat
Haryana
Himachal Pradesh
Jharkhand
Karnataka
Kerala
Madhya Pradesh
Maharashtra
Manipur
Meghalaya
Mizoram
Nagaland
Odisha
Punjab
Rajasthan
Sikkim
Tamil Nadu
Telangana
Tripura
Uttarakhand
Uttar Pradesh
West Bengal.
Union Territories in India
Andaman and Nicobar
Islands
Chandigarh
Dadra and Nagar Haveli & Daman and Diu
Delhi
Jammu and Kashmir
Ladakh
Lakshadweep
Puducherry.
In 2019, Jammu and Kashmir reconstituted into two union Territories, one designated as Jammu and Kashmir and the other as Ladakh.
Our Government
President - Shri Ram Nath Kovind
Vice President - Shri Venkaiah Naidu
Prime Minister - Shri Narendra Modi
Defence Minister - Shri Rajnath Singh
Home Minister - Shri Amit Shah
Finance Minister- Smt. Nirmala Sitharaman

Education Minister - Shri Ramesh Pokhriyal 'Nishank'

Chief Minister of Uttar Pradesh - Shri Yogi Adityanath

Chief Minister of Delhi - Shri Arvind Kejriwal
Important Days
Independence Day: On 15th August 1947, India got freedom from the British rule and since then this day is celebrated as Independence Day throughout the country. India has proudly celebrated 74th Independence Day on 15th August, 2020.
Republic Day: Republic Day is celebrated annually on 26th January. On the same day in 1950, our Constitution came into effect. India has proudly celebrated 1st Republic Day on 26th January, 2020. The chief guest for 71st Republic Day was the President of Brazil, Jair Messias Bolsonaro.
National Science Day: National Science Day is celebrated on 28th February each year across the country as on this same day, the discovery of Raman Effect was announced by Sir CV Raman. He got Nobel Prize in 1930 for this discovery. Theme for National Science Day, 2020 was ''Women in Science'' and for 2021 is ''Future of STI: Impacts on Education, Skills and Work''.
Sports
1. FIFA World Cup
FIFA World Cup is the most prestigious Football competition in the world.
It is played in every four years.
Last FIFA World Cup was hosted in 2018 by Russia. It was won by France.
Next FIFA World Cup is scheduled to be held in Qatar from 21st November to 18th December 2022.
2. Olympics
The Olympic Games are considered to be the world's best athletic competition with more than 200 participating countries.
Last Summer Olympics was held in Brazil in the year 2016.
Winter Olympics was held in South Korea in year 2018. In this, Norway won 39 medals which were more than any other nation.
The 2020 Summer Olympics have been postponed due to the COVID-19 epidemic. Now it has been scheduled on 23rd july, 2021.
3. IPL
It is the Twenty20 cricket league.
It is generally held between March and May each year.
Eight states of India representing eight teams take part in it every year.
The last IPL that was IPL 2020, was won by Mumbai Indians.
4. Wimbledon Championship
It is the oldest tennis tournament of the world.
It has been held at the All England Club in Wimbledon, London since 1877.
The winners of Wimbledon Championship 2019 are: Wimbledon Titles Wimbledon

The Wimbledon Championship, 2020 has been postponed due to Corona Virus Disease and will begin on 28th May, 2021
5. Khelo India University Games
It is the national sporting event held in India.
It is the largest competition ever held at university level in India.
The first edition of this competition held in Odisha started on February 22 and ended on March 1, 2020.
Awards 2020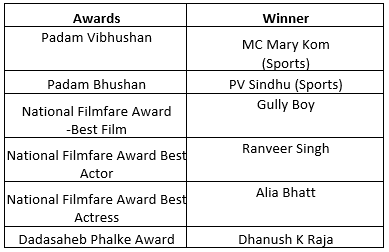 Science and Technology
Pinakin App: Pinakin App has been launched recently by the Tamil Nadu Tourism Department which provides information as a guide on major tourist destinations in South India.
Chandrayaan-2: It is second mission of India to Moon launched on 22nd uly 2019 by the Indian Space Research Organisation, after Chandrayaan-1.
CORONA Virus
Corona Virus causes infection caused by socializing. It was firstly identified in Wuhan, China. It primarily affects our respiratory system and damages it. To prevent it from spreading, we should wash our hands with soap for approx. 20 seconds and follow social distancing. It is also known as Covid-19 which stands for 'Corona Virus Disease 2019'.