Malayan Giant Squirrel

In a first-of-its-kind study, the Zoological Survey of India (ZSI) recently projected that the numbers of the Malay Giant Squirrel in India could decrease by 90% by 2050, and it could be extinct by then if urgent steps are not taken.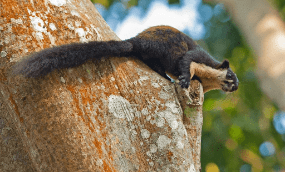 Headquartered in Calcutta, ZSI is a subordinate organization of the Ministry of Environment, Forestry and Climate Change, set up in 1916.
The National Faunal Survey and Resource Exploration Centre is responsible for advancing knowledge of the country's vibrant faunal diversity.
Core Points
Scientific Name: Ratufa bicolor.
Features:

It is one of the world's largest squirrel species with a dark upper body and a long, bushy tail. Giant squirrels are daily (active during the day), but arboreal (tree-dwelling) and herbivorous like the flying squirrels, unlike the nocturnal flying squirrels.
India is home to three giant squirrels species, and the other two in peninsular India are the Indian Giant Squirrel and Grizzled Giant Squirrels.

Inhabitat:

It is mostly found in evergreen and semi-evergreen forests, ranging from plains to hills at altitudes between 50 m and 1500 m above sea level.
It is distributed globally throughout Southern China, Thailand, Laos, Vietnam, Burma, Sumatra, the Malay Peninsula, and Java.
In India, it is found in the northeastern forests and is currently found in parts of West Bengal, Sikkim, Assam, Arunachal Pradesh, Meghalaya, and Nagaland.
Of the approximately 1.84 lakh sq km of Asia's squirrel range, about 8.5 per cent is in India.

Significance:

It is deemed to be an indicator of forest health.
The indicator species provide information on the overall condition of the ecosystem and other species in that ecosystem.
The quality and changes in environmental conditions and aspects of community composition are reflected in them.

Dangers:

According to the study, deforestation, forest fragmentation, crop cultivation and food over-harvesting, illegal trade in wildlife, and hunting for consumption threaten the squirrel and its habitat.
In many Northeast areas, the cultivation of slash and burn jhum contributes to the destruction of its habitat.
By 2050, the destruction of its habitat could limit squirrels to only southern Sikkim and northern Bengal.
Only 43.38 per cent of the original habitat of the squirrel in India is now favourable to it. The favourable zone could shrink to 2.94 per cent of the area the species was intended to inhabit by 2050.
Over the last two decades, the squirrel population in India has declined by 30 per cent.
Great Barrier Reef
The International Union for Conservation of Nature (IUCN) has recently highlighted that the Great Barrier Reef of Australia is in a critical state and deteriorating as the waters in which it lies are warmed up by climate change.
Core points:
➤ Great Barrier Reef:
The system is made up of more than 2,900 individual reefs and 900 islands.
The reef is located off Queensland, Australia, in the Coral Sea (North-East Coast).
It can be viewed from outer space and is the largest single structure produced by living organisms worldwide.
This reef structure consists of billions of tiny organisms, known as coral polyps, and is constructed by them.
Genetically identical organisms called polyps, which are small, soft-bodied organisms, are made up of them.
A hard, protective limestone skeleton called a calicle, which forms the coral reefs' structure, is at their base.
These polyps have microscopic algae living within their tissues, called zooxanthellae. A mutualistic (symbiotic) relationship exists between corals and algae.
It was selected in 1981 as a World Heritage Site.
➤ Concern:
Corals have been killed by rising sea temperatures linked to climate change along large swaths of the 2,300-kilometer reef, leaving behind skeletal remains in a process known as coral bleaching.
They expel the symbiotic algae zooxanthellae living in their tissues when corals face stress through changes in conditions such as temperature, light, or nutrients, causing them to turn completely white.
This phenomenon is called bleaching of coral.
When the stress-caused bleaching is not severe, corals can recover.
Coral bleaching has occurred regularly in the Caribbean, Indian, and Pacific oceans.
Australia downgraded its long-term outlook to "Very Poor" for the first time in August 2019, and it is highly likely to be considered for the List of World Heritage in Danger.
➤ The International Union for Nature Conservation
It is a union of members uniquely made up of both government and civil society organisations.
Established in 1948, it is the global authority on the natural world's status and the measures necessary to protect it.
It has its head office in Switzerland.
Peacock Soft-shelled Turtle
The Peacock soft-shelled turtle (a turtle of a vulnerable species) was recently rescued from the Assam Silchar fish market.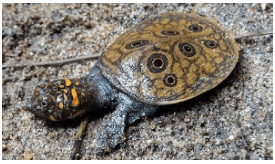 Core Points
➤ Characteristics:
They have a large head, a bent snout with a low and oval carapace, dark olive green to almost black, and a yellow rim.
The head and limbs are olive-green; there are dark reticulations on the forehead and large patches or yellow or orange spots, particularly behind the eyes and across the snout.
Males have relatively longer and thicker tails compared to females.
➤ Inhabitat:
This species is confined to Bangladesh, Pakistan and India.
In India, it is widespread in the Indian subcontinent's northern and central parts.
These are found in rivers with mud or sand bottoms, streams, lakes and ponds.
➤ Significant threats:
Its meat and calipee species is heavily exploited (the outer cartilaginous rim of the shell).
The threats to the Ganga River species are common to all large river turtles, including the reduction of fish stocks due to overfishing, pollution, river traffic, and sand mining, among others.
➤ Conservation Status:
Wildlife Protection Act, 1972: Schedule I
IUCN Red List: Vulnerable
CITES: Appendix I
Emissions Gap Report 2020
The Emissions Gap Report 2020 of the United Nations Environment Programme (UNEP) was published recently.
The UNEP Annual Report measures the gap between expected emissions and levels consistent with the Paris Agreement's
objectives of limiting global warming to well below 2 ° C this century and pursuing 1.5 ° C.
Analysis for the 2019 year:
➤ Record high emissions of greenhouse gases (GHGs):
For the third consecutive year in 2019, global GHG emissions continued to grow, reaching a record high of 52.4 Gigatonne carbon equivalent (GtCO2e) without including land-use changes (LUC).
There is some evidence that global GHG emissions growth is slowing.
In the Organization for Economic Cooperation and Development (OECD) economies, GHG emissions are declining and are increasing in non-OECD economies.
➤ Carbon Emission Record:
Emissions of fossil carbon dioxide (CO2) (from fossil fuels and carbonates) dominate GHG emissions.
In 2019, fossil CO2 emissions reached a record 38.0 GtCO2.
➤ Forest fires that increase emissions of GHGs:
Global GHG emissions have increased on average 1.4 per cent per year since 2010, with a more rapid increase of 2.6 per cent in 2019 due to a large increase in forest vegetation fires.
The majority of emissions are accounted for by G20 countries:
The top four emitters (China, the United States of America, EU27+UK and India) have contributed 55 per cent of GHG emissions without LUC over the last decade.
The top seven emitters (including the Russian Federation, Japan and international transport) contributed 65%, with 78% being members of the G20.
When considering per capita emissions, the ranking of countries changes.
➤ On emissions based on consumption:
There is a general trend that rich countries have higher emissions based on consumption(emissions allocated to the country in which the goods are bought and consumed instead of where they are produced) rather than territorial emissions, as they typically have cleaner production, relatively more services and more primary and secondary products being imported.
At similar rates, both emission types have declined.
➤ The Pandemic's Impact:
Emissions Level:
Compared to 2019 emissions levels, CO2 emissions could decrease by about 7 per cent in 2020, with a smaller drop in GHG emissions expected because non-CO2 is likely to be less affected.
In both 2019 and 2020, the resulting atmospheric concentrations of GHGs such as methane (CH4) and nitrous oxide (N2O) have increased further.
The sector with the lowest emission drop due to pandemics:
The biggest changes in transport have occurred, as restrictions have been aimed at limiting mobility, although reductions have also occurred in other sectors.
Issues and potential solutions:
This century, the world is still heading for a temperature rise of more than 3° C.
For the 2° C pathway, the levels of ambition in the Paris Agreement still have to be roughly tripled and increased for the 1.5° C pathway at least five times.
In global temperatures, an increase of 3° C could cause catastrophic weather-related events around the globe.
UN experts believe that promoting green recovery for countries facing Covid-induced economic slumps is the way to prevent this.
According to the UN, green recovery involves zero-emission technology and infrastructure investments, reducing subsidies for fossil fuels, stopping new coal plants, and promoting solutions based on nature.
Such measures could cut 25 per cent of projected emissions by 2030 and give the planet a 66 per cent chance to keep warming below the 2° mark set as a long-term goal by the Paris pact.
Climate Change Performance Index (CCPI)
The Climate Change Performance Index (CCPI) 2021 ranked India 10th.
India continued to remain in the top 10 for the second time in a row.
Last year, India was ranked in ninth place.
Core Points
➤ About the Performance Index on Climate Change (CCPI):
Published by Germanwatch, The New Climate Index Institute and Climate Action Network since 2005 on an annual basis.
Scope: It is an independent monitoring tool to monitor the performance of
57 countries and the European Union in the field of climate protection.
Together, these nations produce 90 percent+ of global greenhouse gas emissions.
➤ Aim: It aims to increase transparency in international climate policy and makes it possible to compare the efforts and progress made by individual countries on climate protection.
➤ Criteria: Four categories are considered by the CCPI, with 14 indicators: greenhouse gas emissions (40% of the overall score), renewable energy (20%), energy use (20%) and climate policy (20 per cent).
➤ CCPI, 2021:
As no country had met the criteria to get placed high enough on the index, the top three ranks were empty.
In CCPI 2021, which covers the year 2020, only two G20 nations, the United Kingdom and India are among the top rankings.
Six other G20 nations are ranked at the bottom of the index, including the USA, Canada, South Korea, Russia, Australia and Saudi Arabia.
This is the second time in a row to be ranked at the bottom by the USA (ranked last), the largest historical polluter.
China, the largest current greenhouse gas emitter, is ranked 33rd in the CCPI 2021 report.
➤ The Performance of India:
Overall performance: India placed 10th out of 100 and scored 63.98 points.
Renewable Energy: This time, India was ranked 27th out of 57 countries in the category. The country was ranked 26th last year.
At the United Nations Climate Action Summit in September 2019, India announced that it would increase its renewable energy target to 450 GW by 2030 from 175 GW by 2022.
In its Intended Nationally Determined Contribution (INDC), India has pledged to increase electricity share based on non-fossil fuels to 40 per cent by 2030.
Emissions: Emissions per capita have remained at relatively low levels.
India was 12th ranked
BS-VI Emission Standards: India has switched to the BS-VI Emission Standards to control car emissions.
Climate Policy: the performance of India has been rated as medium (13th).
The Climate Change National Action Plan
(NAPCC) was launched in 2008 to raise awareness among public representatives, various government agencies, scientists and industry about the threat posed by climate change and the steps taken to counter it.
Energy Use: Under this category, India was ranked high (10th).
Not only did the country establish a comprehensive energy efficiency policy - National Mission on Enhanced Energy Efficiency (NMEEE), but successful demand-side management programs have also been implemented for consumers and municipal corporations to gradually achieve overall energy savings while mitigating climate change. NMEEE is a NAPCC component.
Recovery from Coal Mining in Meghalaya's Moolamylliang

Moolamylliang, a village in the East Jaintia Hills district of Meghalaya, progresses to become a greener place in the midst of abandoned rat-hole mining pits.
Context:
In the East Jaintia Hills district, the Jaintia Coal Miners and Dealers' Association claims that there are around 60,000 coal mines in 360 villages.
Until the National Green Tribunal (NGT) banned hazardous rat-hole coal mining in Meghalaya in April 2014, Moolamylliang used to be one such village and set a time limit for transporting the coal already mined until that time.
Although the NGT ban did not stop the district's illegal mining, it helped reform Moolamylliang.
➤ Northeast Coal Mining:
Coal mining is part of a larger trend in the northeast, which is natural resources decay.
For instance, in the Garo and Khasi Hills of Meghalaya, in addition to limestone mining in the Jaintia Hills, large-scale deforestation is taking place.
Assam, which has lost most of its once extensive forest cover, sees poaching in the region of Dima Hasao, Upper Assam coal mining, and river bed sand/stone mining.
There are three notable characteristics of coal mining (and elsewhere in Meghalaya).
Being a tribal-state where the 6th Schedule applies, all land is privately owned, and private parties conduct coal mining. Explicitly, the schedule does not refer to mining.
The state's large coal deposits, mostly in the Jaintia Hills, occur only a few feet high in horizontal seams that run through the hills, which is why rat-hole mining is practised instead of open cast mining.
Most of the workforce (including children) comes from Nepal, Assam's poorer areas, and Bangladesh. The non-tribal is a second-class citizen in Meghalaya, as is the poor tribal, which explains the general absence of concern about the trapped miners even within the State.
➤ Rat-hole Extraction:
It is a term used for a dangerous and arduous mining technique in which miners crawl into winding underground tunnels with a diameter of just 4-5 feet to extract coal with a pickaxe from the deep seams.
➤ Mining for Open Cast:
It is a surface mining method of extracting rock or minerals from the earth by removing them from an open-air pit, sometimes referred to as an open-air pit borrow.
Concerns:
Ecological issues: unsustainable mining contaminates the farmlands in hilly areas and turns the streams acidic, resulting in the loss of biodiversity and local heritage.
Health Issues: Different diseases such as fibrosis, pneumoconiosis and silicosis in workers and locals are caused by mining in an area.
Child Labour and Trafficking: Children are the majority of the workers involved in 'rat-hole' mining. Due to their tiny anatomy that suits small mine tunnels, they are suitable for this job. In addition to engaging with immigrants from many states, rat-hole mining has promoted child trafficking.
Corruption: In states where open cast mining and rat hole mining are the standards, police officials often collaborate with mine owners.

Measurements:
(i) The administration attempted to make coke factories and nearby cement plants contribute to the area's earth rejuvenation programs under its corporate social responsibility (CSR).
(ii) Low-cost rainwater harvesting for recharging the region that has become dry due to coal mining is among the projects being pursued.
(iii) Making Moolamylliang a base camp for tourists to explore caves, canyons and waterfalls that have escaped the impact of mining in parts of East Jaintia Hills will boost tourism and bring in revenue.
Since the 6th Schedule does not explicitly refer to mining, environmental activists call for central mining and environmental legislation to apply to the coal trade.
➤ Mining-related government initiatives
The Ministry of Coal launched the Unlocking Transparency by Third Party Assessment of Mined Coal (UTTAM) Application in April 2018 to monitor coal quality.

In 2019, the National Mineral Policy (NMP) was approved, focusing on sustainable mining, boosting exploration, promoting state-of-the-art technology, and developing skills.

In September 2019, 100% FDI was authorized to sell coal and coal mining activities, including associated processing infrastructure, under the automatic approval route.
In January 2020, the Parliament passed the Mineral Laws (Amendment) Bill, 2020.

It amends the 1957 Mines and Minerals Act (Development and Regulation) and the 2015 Coal Mines Act (Special Provisions).
The 1957 Act regulates India's mining sector and specifies the requirement to obtain mining leases for mining activities.
To ensure continuity in coal mining operations and coal production, the 2015 Act provides for allocating coal mines and vesting of the right, title and interest in and over land and mine infrastructure, together with mining leases to successful bidders.
The Act allows local and global companies to extract commercial coal without imposing any end-user restrictions, and also extends the validity of clearances for mining leases expiring in 2020.