Problems of Punjab's Monoculture
Questions are being raised about the sustainability of paddy-wheat cultivation, particularly in Punjab, in the context of the ongoing farmers' protests.
Core Points

➤ Punjab Monoculture:
Monoculture is the agricultural practice of growing a single species, variety, or breed of crop, plant, or livestock in a field or farming system at a time.
Wheat and paddy account for approximately 84.6 per cent of the total area planted for all crops affecting cotton pulses, maize, bajra and oilseeds.
➤ The Monoculture Problem:
Year after year, growing the same crops on the same land increases pest and disease attacks' vulnerability.
The more crops and genetic diversity, the more difficult it is to devise insects and pathogens to pierce plant resistance.
Unlike pulses and legumes, wheat and paddy can not remove nitrogen from the atmosphere.
Their continuous cultivation leads to soil nutrient depletion and increasing dependence on chemical fertilizers and pesticides without crop rotation.
➤ Suggestions:
Reducing wheat acreage and promoting alternate crops such as coarse grains will lead to better soil resilience and added nutritional benefits for locals by diversifying crops in the region.
Shifting paddy cultivation to eastern and southern states, planting of only shorter-duration varieties of paddy crop which matures early without any effect on production, metering of electricity and the problem of monoculture and depleting groundwater is further addressed by direct paddy seeding.
➤ Wheat against Paddy:
Wheat:
It is naturally tailored to the soil and agro-climatic conditions of Punjab.
It is a cool-season crop that can only be grown in areas north of the Vindhyas where daily temperatures are within the range of early thirty degrees Celsius through March.
For national food security, its cultivation is desirable.
The state's wheat yields more than 5 tons per hectare, compared to the national average 3.4-3.5 tons.
Paddy:
A huge quantity of water is required.
Usually, farmers irrigate wheat five times. In paddy, 30 or more irrigation is given.
Due to the paddy and the state's policy of supplying free energy for irrigation, Punjab's groundwater table has decreased by 0.5 meters per year on average.
It has encouraged farmers to grow water-guzzling varieties like Pusa-44 that are long-lasting.
Pusa-44 has high yield but a growth period of long duration.
To allow harvesting from October and timely planting of the next wheat crop, long-duration means transplanting by mid-May (Peak Summer). However, it also translated into very high water requirements as it was peak summertime.
Paddy is not very sensitive to high-temperature stress as a warm-season crop, so it can be cultivated in much of eastern, central and southern India, where water is sufficiently available.
➤ Punjab Preservation of Subsoil Water Act, 2009:
Before 15 May and 15 June, respectively, it prohibited any nursery-sowing and paddy transplanting and was passed for groundwater conservation.
If transplantation of paddy is only permitted after the monsoon rains arrived in mid-June, harvesting was also pushed to the end of October, leaving a narrow time window before the deadline of 15 November for sowing wheat.
Farmers then have no choice but to burn the paddy stubble that is left behind.
In simple terms, in Delhi, groundwater conservation in Punjab ends up causing air pollution.
Himalayan Serow
For the first time, a Himalayan serow was observed in the Himalayan cold desert region (Spiti, Himachal Pradesh).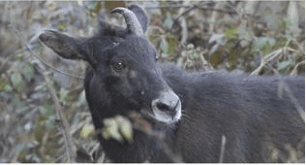 Core Points
➤ Specification:
The Himalayas' Serow resembles a cross between a goat, an ass, a cow, and a pig.
➤ Physical Functionality:
It's a medium-sized mammal with a big head, a thick neck, short limbs, long ears that look like a mule, and a dark coat of hair.
➤ Type of Species:
There are several species of a serow, all of which occur in Asia.
The Himalayan Serow, or Capricornissumatraensis thar, is limited to the region of the Himalayas.
Taxonomically, it is a subspecies of the serowa mainland (Capricornis sumatraensis).
➤ Diets:
The Serows of the Himalayas are herbivores.
➤ Geographical Site:
Typically, they are found at altitudes of between 2,000 and 4,000 meters.
They are known to be found in the Trans Himalayan region, but not in the eastern, central, and western Himalayas.
To the north of the Great Himalayas, the Karakoram, Ladakh, Zaskar and Kailash mountains, is the Trans-Himalayas Mountain Region or Tibet Himalayan Region.
➤ The most recent sighting:
The animal was spotted in Spiti, Himachal Pradesh, near the village of Hurling.
Spiti lies in the western Himalaya's cold mountain desert region. Its valley floor has an average elevation of 4,270 meters above sea level, making the sighting unique as Serows are not usually found at this altitude.
This is the first human sighting recorded of the Himachal Pradesh serow.
The animal had been spotted in the state a few times before, but that was always through camera traps.
The animal was also spotted in the Wildlife Sanctuary of Rupi Bhaba and the higher reaches of Chamba.
Locally, the Sanctuary is well known for its extensive alpine pastures and the numerous treks, trails and passes that link it to the neighbouring Great Himalayan National Park and Pin Valley National Park.
➤ Conservation Status:
IUCN Red List: Vulnerable
CITES: Appendix I
The Wildlife Protection Act, 1972: Schedule I
➤ Salient Features of Wildlife Protection Act, 1972
The Act provides for the protection of the species of animals, birds and plants listed, and establishing a network of protected areas of ecological importance in the country.
The Act provides for the formation of advisory boards for wildlife, wildlife wardens, specifies their powers and responsibilities, etc.
The Act has prohibited> Hunting of endangered species.
The Act provides for licenses to sell, transfer, and possess certain species of wildlife.
Its provisions paved the way for the Central Zoo Authority to be formed.
This is the central body in charge of zoo oversight in India.
It was founded in 1992.
Six schedules were created by the Act that gave different degrees of protection to flora and fauna classes.

Obtaining absolute Schedule I and Schedule II (Part II) Protection and offences under these schedules attract the maximum penalties. The timetables also cover species that can be hunted.

Under the provisions of this Act, the National Board for Wildlife was formed as a statutory organization.

It is presided over by the Prime Minister.
This is an advisory board that provides the central government with advice on wildlife conservation issues in India.
It is also the apex authority for reviewing and approving all matters relating to wildlife, national park projects, sanctuaries, etc.
The Board's chief function is to promote conservation of wildlife and forests and their development.
E20 Fuel

The Indian Government recently invited public comments on introducing E20 fuel adoption to promote green fuels such as ethanol.
Core Points

➤ Composition: The fuel E20 is a blend of 20% ethanol and gasoline.
The current permissible blending rate is 10% of ethanol, although India accounted for only 5.6% of blending in 2019.
➤ Significance:
It will help to reduce emissions of hydrocarbons, carbon dioxide, etc.
It will help to lower the bill for oil imports, save foreign exchange and increase energy security.
➤ Vehicle Compatibility: According to the Government, the vehicle's compatibility with the percentage of ethanol in the combination of ethanol and gasoline shall be determined by the vehicle's manufacturer and the same shall be shown on the vehicle utilizing a clearly visible sticker.
➤ Green Combustible
Green fuel is a type of fuel distilled from plants and animal materials, also known as biofuel, which some belief is more environmentally friendly than the widely used fossil fuels that power most of the world.
➤ Types:
Bioethanol:
It is derived using the fermentation process from maize and sugarcane.
A litre of ethanol contains about two-thirds of the energy that a litre of petrol provides.
It improves the performance of combustion when mixed with petrol and reduces carbon monoxide and sulphur oxide emissions.
Biodiesel:
It is derived by a biochemical process called 'transesterification' from vegetable oils such as soybean oil or palm oil, vegetable waste oils, and animal fats.
Compared to diesel, it generates very little or no harmful gases.
Biogas
Anaerobic decomposition of organic matter, such as sewage from animals and humans, produces it.
Methane and carbon dioxide are the major share of biogas, although they also have small proportions of hydrogen sulfide, hydrogen, carbon monoxide and siloxanes.
It is frequently used for heating, electricity and cars.
Biobutanol
It is manufactured through the fermentation of starch in the same manner as bioethanol.
Among the other gasoline alternatives, the energy content of butanol is highest.
To decrease emissions, it can be added to diesel.
It serves in the textile industry as a solvent and is also used as a base in perfumes.
Biohydrogen-based several processes, such as pyrolysis, gasification or biological fermentation, can produce biohydrogen, such as biogas.
It may be the perfect fossil fuel alternative.
Initiatives to Promote Biofuels:
Ethanol Blended Petrol (EBP) programme: To extract the fuel from surplus quantities of food grains such as maize, jawar, bajra fruit and vegetable waste.
Pradhan Mantri JI-VAN Yojana, 2019: The scheme's objective is to create an ecosystem for setting up commercial projects and boost research and development in the 2G Ethanol sector.
GOBAR (Galvanizing Organic Bio-Agro Resources) DHAN scheme, 2018: It focuses on managing and converting cattle dung and solid waste in farms to useful compost, biogas and bio-CNG, thus keeping villages clean and increasing the income of rural households.
It was launched under Swachh Bharat Mission (Gramin).
Repurpose Used Cooking Oil (RUCO): It was launched by the Food Safety and Standards Authority of India (FSSAI) and aimed for an ecosystem that will enable collecting and converting used cooking oil biodiesel.
National Policy on Biofuels, 2018:
The Policy categorizes biofuels as "Basic Biofuels" to enable the extension of appropriate financial and fiscal incentives under three categories:

First Generation (1G) ethanol & biodiesel and "Advanced Biofuels".
Second Generation (2G) ethanol, Municipal Solid Waste (MSW) to drop-in fuels.
Third Generation (3G) biofuels, bio-CNG etc.
It expands the scope of raw material for ethanol production by allowing the use of sugarcane juice, sugar-containing materials like sugar beet, sweet sorghum, starch containing materials like corn, cassava, damaged food grains like wheat, broken rice, rotten potatoes, unfit for human consumption, for ethanol production.
The Policy allows surplus food grains to produce ethanol for blending with petrol with the approval of the National Biofuel Coordination Committee.
Chillai Kalan
On 21 December, in Kashmir valley, the 40-day intense winter period "Chillai Kalan" began with sub-zero night temperatures across the region.
It will continue until January 31st.
Core Points

Chillai Kalan follows Chillai-Khurd and Chillai-Bachha, respectively.

Chillai Khurd (small cold) is a 20-day period between January 31 and February 19.
Chillai-Bachha (baby cold) takes place between 20 February and 2 March over a 10-day period.

Chillai Kalan, considered the core of winter, usually brings snowfall, sub-zero temperatures that cause water bodies to freeze, including the Dal lake, highway closures, etc.
Glaciers' Calving
Signification:

Calving is the glaciological term used to describe the mechanical loss (or simply breaking) of ice from a glacier margin.
When a glacier flows into water (i.e. lakes or the ocean), calving is most common, but it can also occur on dry land, known as dry calving.

Processes:

Smaller cracks and fractures in glacier ice grow into bigger crevasses before calving occurs.
The growth of crevasses effectively divides the ice into blocks that fall into an adjacent lake from the snout (where they are known as icebergs).

Glacier Snout: It is the glacier's lowest end, also called the glacier's terminus or toe.
Glacier Mass Balance Impact:

Calving is often a very effective ablation process in lake-terminating (or freshwater) glaciers and is an important control over glacier mass balance.
Ablation: It involves combined processes that remove snow or ice from the surface of a glacier or a snow-field (such as sublimation, fusion or melting, evaporation).
Glacier mass equilibrium: It is simply the ice gain and loss from the glacier system.
The frequency of this process has been increased by global warming.
➤ Calving Recent Cases:
For more than 10,000 years, the Larsen Ice Shelf was stable until the end of the 20th century.
Nevertheless, a huge chunk broke off in 1995, followed by another in 2002.
This was followed in 2008 and 2009 by the nearby Wilkins Ice Shelf's breakup, and in 2017 by A68a.
In each case, the main culprit was almost certainly hydrofracturing, when water seeps into cracks on the surface, splitting the ice further down.
Hydrofracturing is a process of water well development involving the injection of high-pressure water into the bedrock formation immediately surrounding it via the well.
It was originally developed to enhance oil and gas wells' production for the oil and gas industry.
On a global scale, drilling or hydrofracturing results in significant emissions of greenhouse gases (GHGs), leading to global warming.