IMPORTANCE OF FORESTS
There are plants and trees in a forest. But do you know that a forest is not only for trees and animals to live. There are people who live inside these forests and spend their lives there only. They are called tribal people. They are very much dependent upon the forests for their food and shelter. As they live inside the forests there are no grocery stores for them and hence they depend upon the fruits and vegetables that grow in the forests. They also do hunting and eat flesh.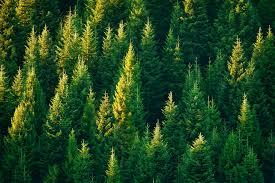 Fig: Forest
They make their homes with mud, palm leaves and wood. But due to industrialization these forests are being cut and it is a danger for the tribal people. Also there is increase in number of buildings being constructed as the population is increasing. All these buildings are being constructed on forest lands. There are places in our cities where there used to be forests sometimes. As there is rapid increase in the deforestation, there is a danger to the tribal life and to our environment too. That's why the need to protect trees was felt. To protect trees and wildlife some parks and sanctuaries were made. Here the animals are fully protected from hunting and the trees also cannot be cut. It is a protected area within which the wildlife is protected.
Taking the importance of forests into consideration, the K government makes these sanctuaries or parks to preserve these forests.
Some of the examples of National Parks are: Jim Corbett National Park, Kaziranga National park, etc. and the S sanctuaries are; Gir and Sukhna Lake.
National parks are the safe regions to make the wildlife better. Here any sort of foresting or agriculture is not allowed.
A sanctuary is a safe place in the forest where animals are protected. Here wood cutting and obtaining the forest products is prohibited.
IMPORTANCE OF PLANTS
Along with their contribution in our food and environment trees have religious values also. For example many trees such as tulsi plant, banana tree and peepal tree are worshipped. Sandalwood is also used to worship. The leaves of a mango tree are also used in worships.
A Tulsi plant (basil) is often found in homes as it has both medicinal and religious value.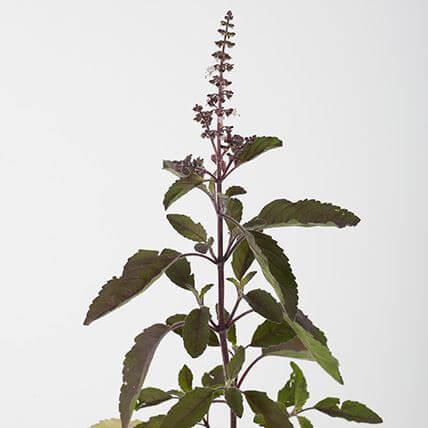 Fig: Tulsi Plant
We use different things obtained from plants, such as fruits and vegetables. But there are some things which we get from plants but do not use them in the same form. For example cotton is obtained from seeds of cotton plant and is used to make cotton clothes.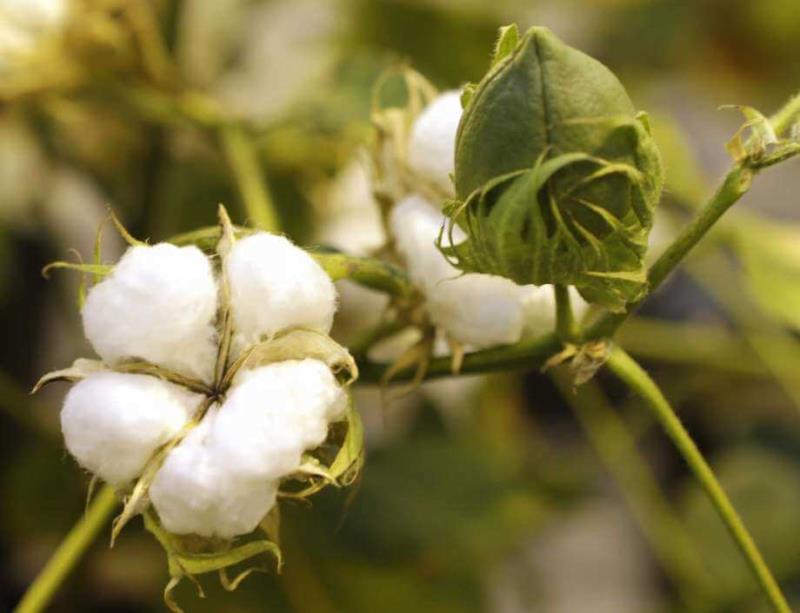 Fig: Cotton Plant
One more important thing which we get from plants is tea, which is made from tea leaves.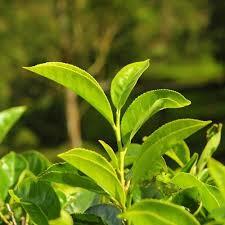 Tea Plant
A tea plant looks like as shown in the figure. The tea plants have thick leaves which are dark green in colour. It is quite different from what we use in our homes. The reason is that the tea leaves are processed before using them.
Tea plant is propagated from seeds or cuttings. This plant needs proper moisture and a particular type of soil to grow. It is cultivated on hillside. The plants on the higher places take more time to grow and develop better tastes. It needs hot and moist climate to grow. The tea plants prefer acidic soils. These are to be watered using soft water or rainfall only.
At times when there was no tea, people used to prefer to drink milk or buttermilk.
So in this chapter we have learnt that there are a lot of things associated with the plants and trees. They not only provide us with food but also shelter for tribes and wildlife animals.
Plants Classification:
Wide variety of living things, from very simple algae to very complex flowering plants, exist in the plant kingdom. Plants convert useful solar energy into chemical energy of food in the process of photosynthesis. Plants are seen everywhere, even in the desert, in the aquatic medium, in the hot damp places and in very cold places. Botany is the science which deals with the study about the plants.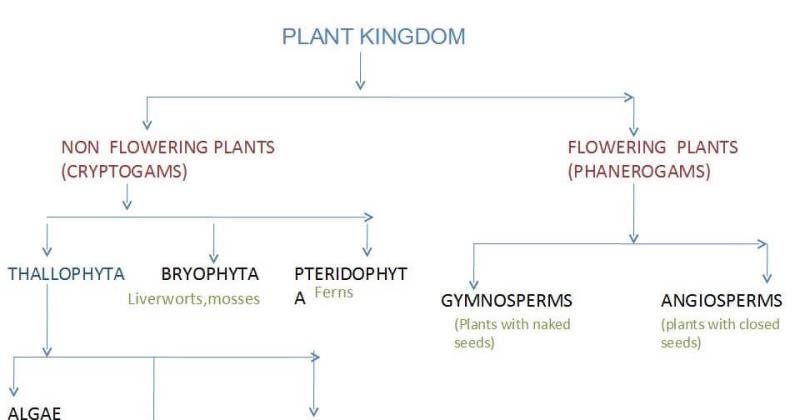 Fig: Plant Classification
Paddy, wheat and maize are monocot plants belong to the grass family.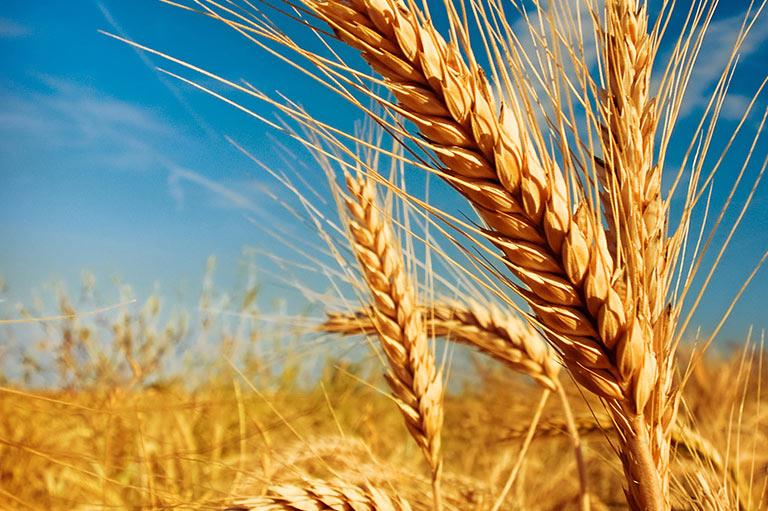 Fig: Wheat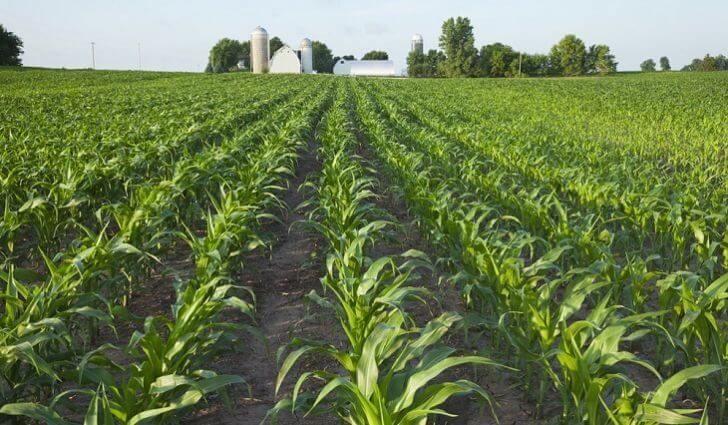 Fig: Corn farming ( Maize Crop)
Pea, bean, gram are dicot plants belong to the leguminous family.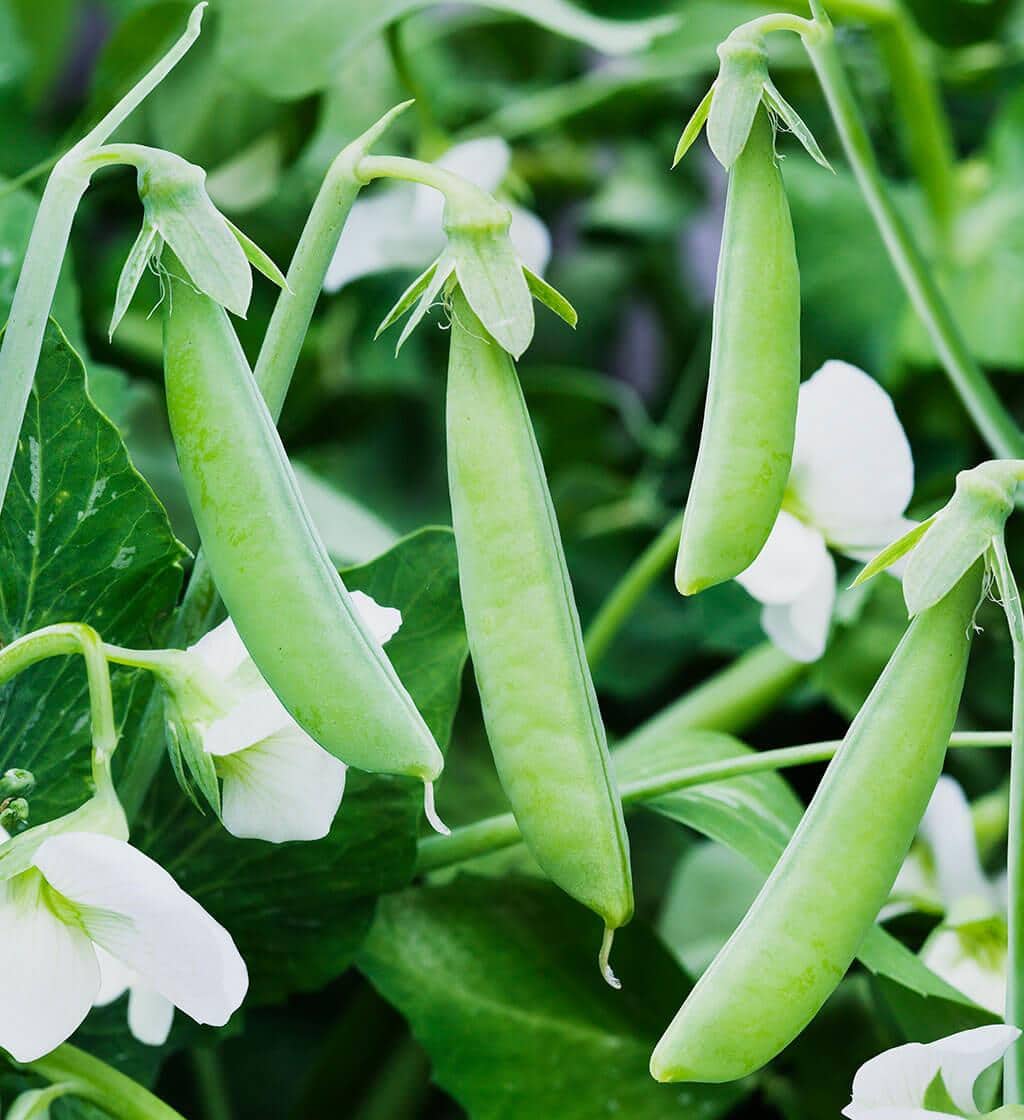 Fig: A Pea plant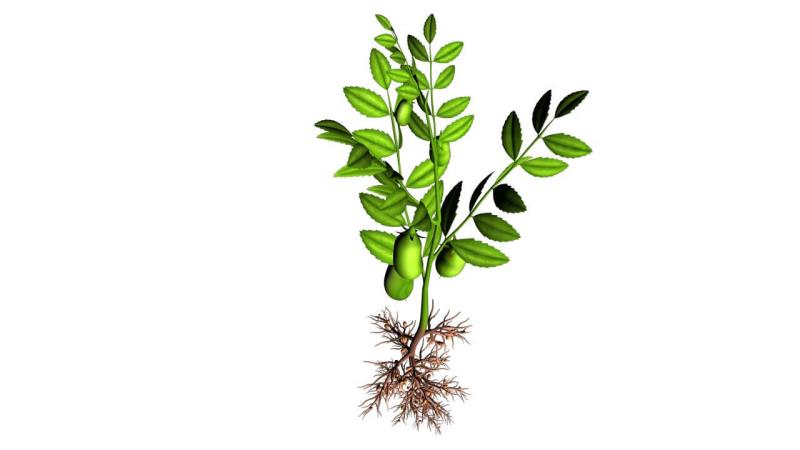 Fig: Gram Plant
In this chapter we will study about gymnosperm and angiosperm (flowering plant).
Gymnosperm
This group of plants bear naked seeds. Plants develop with erect stem and many branches. Male and female plants are separate. Leaves perform photosynthesis. For example, pinus, cycas, gnetum etc.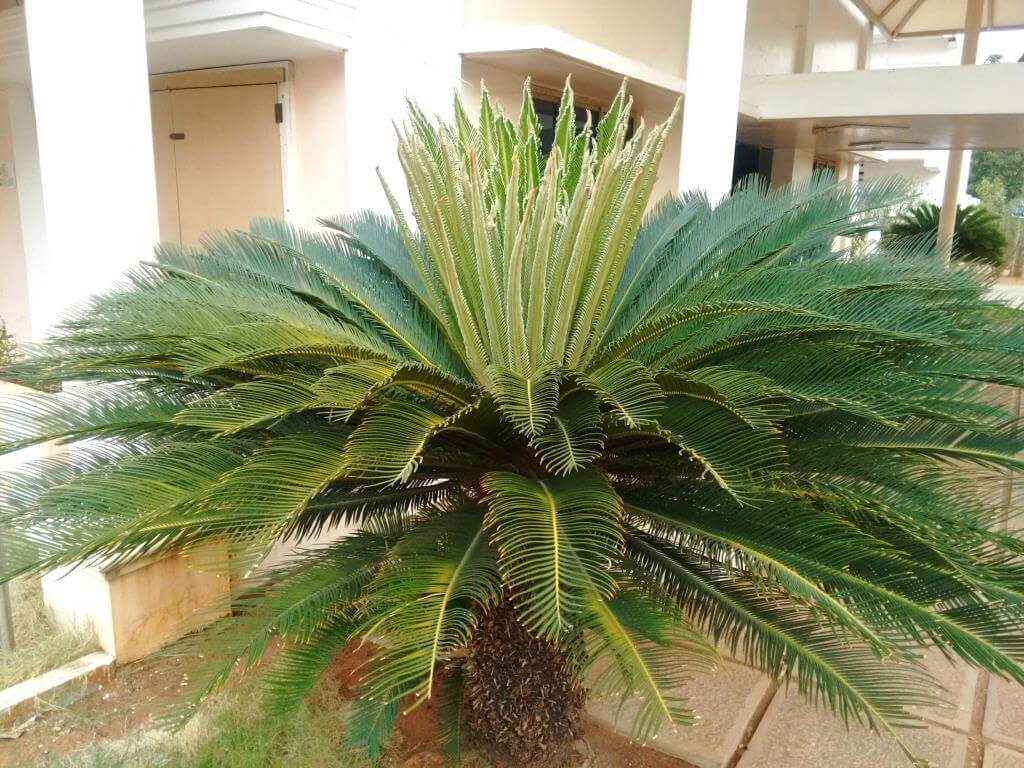 Fig: Cycas
Angiosperm
Angiosperm plants are highly developed. Seeds are not naked and closed inside an ovary. They have well differentiated leaves, roots and stems. Angiosperm are also called flowering plants, which are divided into two groups.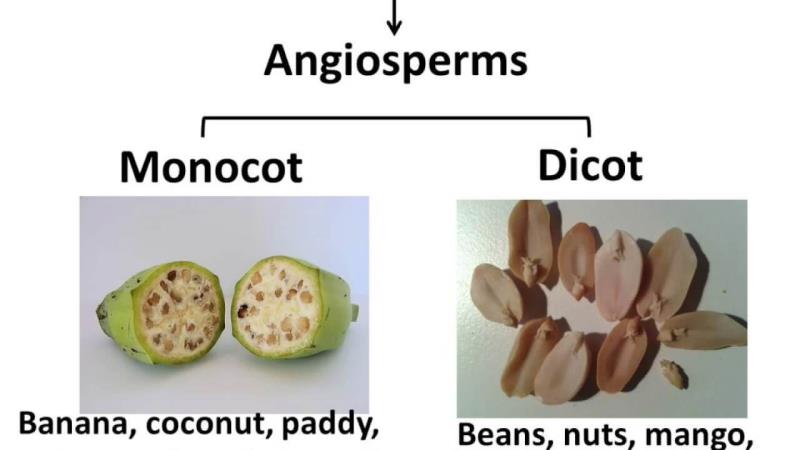 Fig: Angiosperms
Ferns, mosses, fungi etc. do not have flowers, rather they possess spores, which grow into a new plant.


Fig: Mosses and Ferns
Photosynthesis:
Photosynthesis is derived from two words, photo + synthesis. 'Photo' means light and 'synthesis' means manufacturing, i.e. manufacturing food in the presence of light.
All green plants prepare its own food with the help of carbon dioxide and water in the presence of chlorophyll and sunlight.




In this process solar energy is converted into chemical energy. The function of chlorophyll is to absorb solar energy.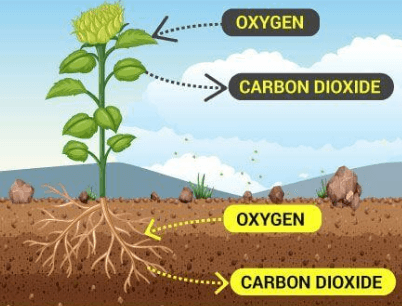 Fig: Process solar energy
Absorption of carbon dioxide and evolution of oxygen takes place through the leaves.
Water is obtained from the soil through the roots and transported to leaves for photosynthesis. Food prepared in the leaves transported to all the parts of the plants. Both the process are carried out with the help of veins.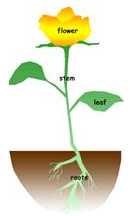 Fig: Roots absorb water from the soil
Path way of carbon dioxide and oxygen in and out of the plant body: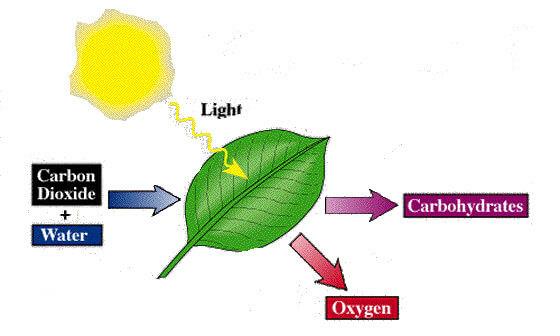 Fig: Path way of Carbon dioxide
Oxygen is a byproduct in the photosynthesis process that leaves the plant body through the stomata, which is present in the leaves. CO2, also enters the body through the stomata.
Mushrooms are grown in the dark places. It doesn't undergo photosynthesis process, rather it feeds on dead and decayed organic matter.


Fig: Mushroom
Mushroom obtains its food from dead decayed plant product

Some plants are parasitic in nature. They eat insects trapped by them. Such types of plants are called insectivorous plants, e.g. sundew, venus fly trap, pitcher plant etc.
Insectivorous plants appear very attractive as they need to attract insects. They can even trap frogs, birds etc.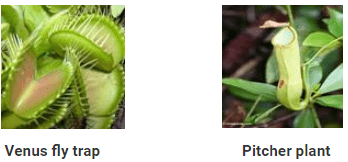 Fig: Insectivorous Plants
Respiration in Plants:
Like animals, plants also need energy; but to a little extent. Because plants don't have to move from one place to another in search of food like animals. This energy comes from the oxidation of the food prepared by leaves. Hence we can say that in the presence of oxygen food is broken down into CO2 and H2O along with the release of energy. Photosynthesis is a synthesis process and respiration is a breaking down process. Respiration is an opposite process of the process of photosynthesis.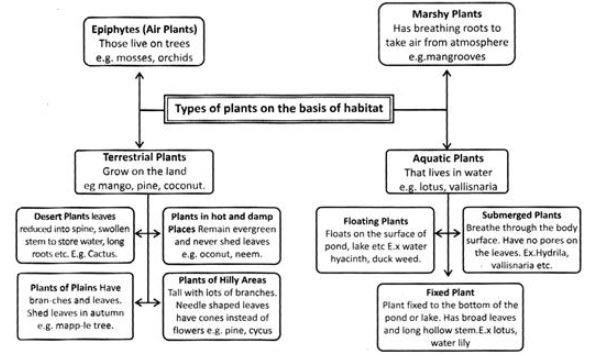 Fig: Types of plant on the basis of habitat

Adaptations in Various Plants:
Adaptations are favorable changes that enable an organism to increase its chances of survival.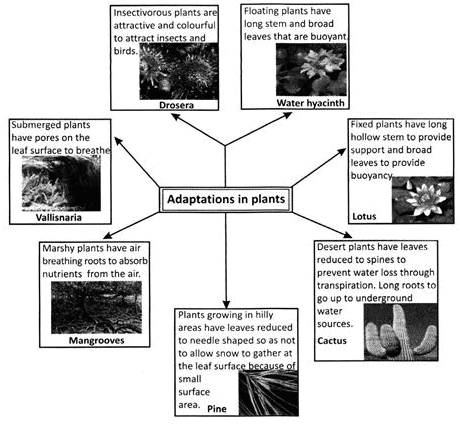 Fig: Adaptations in plant
Commonly Asked Questions:

1. Water and carbon dioxide combine to form glucose and oxygen In the process of photosynthesis. What is the role of chlorophyll?
(a) To absorb solar energy
(b) To look beautiful
(c) To excite water molecule
(d) To break water and carbon dioxide into oxygen
(e) All of these
Answer: (a)
Explanations
Chlorophyll receives sunlight to initiate the photosynthesis process. Therefore, option (A) is correct and rest of the options is incorrect.

Consider the following statements:
Statement X: Xerophytes plants are tall and have large leaves.
Statement Y: Hairy and spiny plants are an adaptation to disperse the seed from one place to another.
Which one of the following is correct about the above statements?
(a) Statement X is true
(b) Statement Y is true
(c) Both X and Y are true
(d) Both X and Y are false
(e) None of these
Answer: (b)
Explanation
Xerophytes plants are short and leaves modified to spines to prevent water loss through transpiration. Hairy and spiny plants get stuck to the animal's body and hence dispersed from one place to another.
Therefore, option (B) is correct and rest of the options is incorrect.