ECOLOGY AND ENVIRONMENT
7.1. DROUGHT PREVENTION AND MANAGEMENT
Why in news?
 Against backdrop of acute water crisis in states, SC ordered centre not to turn "blind eye" to the situation.
 In a PIL hearing, SC ordered the centre to ensure that Food Security Act is implemented across states.
 It also ordered the centre to release pending funds under the MNREGS, to be released by first week of April.
Ground situation
 The country has been suffering an extended period of El Niño, which adversely affects rains and overall productivity.
 The problem is aggravated by declining commodity prices leading to poor income of farmers.
 However, Centre is still lagging in relief measure :
 In 2014-15 ,govt. owed close to Rs 12000 crore as pending liabilities in MNREGS
 First Installment under MNREGS has not been released.
 Wages paid by the govt. under MNREGS is lower wages than statutory minimum wages.
 Food Security act is still not implemented across states.
____________________
 Droughts are not attributed to only scarcity of rainfall but more to inefficient management of water resources.
 For example, due to overexploitation of ground water without proper harvesting methods, limited recharge is taking place.
____________________
Drought Prevention Methods
 Increase investment in irrigation especially micro irrigation practices like drip irrigation. Pradhan Mantri Krishi Sinchayi Yojna would help in this.
 Improving the cropping pattern. E.g. one of the reasons for drought in Maharashtra is large-scale sugarcane farming which is a highly water intensive crop. Agro-climatic
cropping pattern must be promoted by methods like MSP support.
 Also Water intensive crops like sugarcane should be replaced by drought resistant variety crops and crops like pulses in water scarce areas like Marathwada.
 The power and irrigation subsidy must be rationalized to reduce water wastage.
 Promoting conservation of water via rainwater harvesting techniques etc.
 MNREGA needs to be used for watershed management.
 Drought resistant crop varieties.
Drought Management
 Effective drought management has three important components:
 drought intensity assessment and monitoring; need early forecasting so that an informed choice regarding crop varieties to be sown, planning the area to be sown and allocation of water resources can be done
 drought declaration and prioritization of areas for drought management; and
 development and implementation of drought management strategies
 Several interventions with respect to agriculture are also required:
 Contingency plan in case of late monsoon
 Arranging availability of seeds for immediate distribution
 Creating awareness among the farmers on management practices like intercropping, mulching, weed control, intercultural operations
 Encouragement of afforestation
 Ensuring availability of quality fodder and cattle camps
 In order to prevent starvation in drought situation recourse can be taken to intensify the permanent income support measures. For example expanding employment under MGNREGS, providing special food rations under the PDS, and arranging for improved school meals.
 Co-ordination of Centre with states to implement the Manual for Drought Management 2009.
 National Disaster Policy for droughts proposed under National Disaster Management should be prepared without delay.
_____________________
UPSC MAINS 2014
Q. Drought has been recognized as a disaster in view of its spatial expanse, temporal duration, slow onset and lasting effect on various vulnerable sections. With a focus on the September 2010 guidelines from the National disaster management authority, discuss the mechanism for preparedness to deal with the El Nino and La Nina fallouts in India. (250 words)
____________________
7.2. CORAL BLEACHING ON GREAT BARRIER REEF
Why in news?
Australia's Great Barrier Reef is suffering its worst coral bleaching in recorded history with 93 per cent of the World Heritage site affected.

About coral bleaching
 Bleaching occurs when abnormal environmental conditions, such as warmer sea temperatures, cause corals to expel tiny photosynthetic algae, draining them of their colour.
 When a coral bleaches, it is not dead. Corals can survive a bleaching event, but they are under more stress and are subject to mortality.
 Corals can recover if the water temperature drops and the algae are able to re-colonise them.
Other threats to corals
 Pollution due to agricultural run-off leading to eutrophication, sediments run-off, mining and oil spill pollution.
 Crown-of-thorns starfish prey on coral polyps
 Unsustainable overfishing of keystone species can disrupt food chains vital to reef life.
 Shipping accidents.
About Great Barrier Reef
 It is world's largest coral reef system composed of over 2,900 individual reefs.
 The Great Barrier Reef can be seen from outer space and is the world's biggest single structure made by living organisms.
____________________
UPSC 2007
Q. The largest coral reef in the world is found near the coast of which one of the following countries?
(a) Australia
(b) Cuba
(c) Ghana
(d) Philippines
____________________
7.3. OPEN DEFECATION IN RURAL AREAS: NSSO SURVEY
 According to recently released Swachhta Status Report by the National Sample Survey Office (NSSO), more than half the rural population of the country still opts for open defecation.
 The survey estimates that 52.1% of people in rural India choose open defecation compared to 7.5% in urban. Only 45.3% rural households have a sanitary toilet, while 88.8% in urban areas
 USING TOILETS: In villages, 95.6 per cent of persons from families having access to toilet at home or common facility was using it. This proportion is 98.7 per cent in cities.
 In 55% of villages cleaning was done by person employed by Panchayats or on contract payment. In 17% cleaning was done by residents themselves and about 22.6% were not cleaned.
 In comparison, in cities 73% was cleaned by person employed by local municipal bodies. The other fissures rest at 12% and 8.6% respectively.
Analysis
 A good observation is that families with toilet facility are using it.
 The cheaper bio-latrines promoted by WHO, used all across the world, are not preferred in rural India since these require regular pit-emptying, a task associated with severe forms of social exclusion.
 Local community empowerment is the most powerful tool in the efforts towards making India open-defecation free.
.4. PROTECTING SACRED GROVES
Why in news
 Recently, the State Medicinal Plant Board of Kerala has undertaken a project to protect these groves by activities like bio-fencing, preparing inventory of plant wealth, cleaning up water bodies and creating awareness about conservation.
What are sacred groves?
 Forest Fragments of various sizes, which are community protected and usually have a significant religious connotation for that community.
Significance of sacred groves
 Traditional uses
 Medicinal use as it is a repository for plants with Ayurvedic properties.
 Source of replenishable resources like fruits and honey
 The groves are often associated with ponds and streams. They help in meeting the water requirement of communities and also in recharging aquifers.
 Hunting and felling trees is a taboo. This vegetation cover helps in preventing soil erosion.

 Modern uses
 In modern times, they have become biodiversity hotspots due to progressive habitat destruction in neighbouring areas.
 They act as a rich gene pool including rare, threatened and endangered species.
 Sacred groves in urban landscapes act as 'lungs' to the city as well
Threats
 Urbanization and encroachment
 Over-exploitation of resources like overgrazing and excessive firewood collection
 Religious practices; clearing them for construction of shrines and temples
 Invasion by invasive species
Protection measures
 The Wildlife (Protection) Amendment Act, 2002 had introduced a new protected area category called 'community reserve'. Sacred Groves have been put under this.
 Under this significant power is given to the local communities with respect to administration of these areas.
 Many NGOs also work with local people for their protection.
7.5. NATIONAL HYDROLOGY PROJECT
 The union cabinet has approved the Rs. 3,679-crore National Hydrology Project (NHP).
 It aims to collect hydro-meteorological data across India and use it for efficient water management in the country.

Features
 It will set up a system for timely and reliable water resource data acquisition, storage, collation and management
 It will help to build capacity of state and central organisations in water resource management through the use of information systems and adoption of state-of-the-art technologies like remote sensing
 assist in promoting 'efficient and equitable' use of water, especially groundwater, down to the village level and provide information on quality of water as well
 help in gathering hydro-meteorological data which will be stored and analysed on a real-time basis and can be seamlessly accessed by any user at the state, district or village-level
 cover the entire country, unlike earlier hydrology projects that covered only 13 states
 Funding pattern- 50% would come from World Bank loans while the rest would be given as budgetary support.
Significance
 Better information to the public about availability of water in the country. Thus, prudent decision in activities like cropping pattern can be made.
 Increase in lead time in flood forecast from one day to at least three days.
 Mapping of flood inundation areas for use by disaster management authorities.
 Improved reservoir operations through seasonal yield forecast and drought management.
 Better assessment of surface and ground water resources in a river basin for better planning and allocation of resources.
7.6. CIC ASKS MINISTRY TO MAKE GM MUSTARD BIO SAFETY DATA PUBLIC
 The Central Information Commission (CIC) has asked the Genetic Engineering Appraisal Committee (GEAC), under the Ministry of Environment to make public all the data pertaining to the safety of genetically modified (GM) mustard, except proprietary intellectual property data.
 It said that provisions of the Cartagena Protocol on Biosafety should be kept in mind.
 The transparency panel also directed that the data pertaining to all other GM crops in the pipeline be put in the public domain as that is part of voluntary disclosures under Section IV of the RTI Act.
 Activist groups claimed that GM mustard would be a gateway to other GM food crops - tomato, rice, brinjal, etc. Currently GM cotton is the only transgenic crop commercially available in fields.
Arguments of Ministry against the disclosures
 The ministry objected saying the information is exempted under the RTI clause related to commercial confidence of the third party: the Centre for Genetic Manipulation of Crop Plants.
 They also claimed that the trial is premature and thus information cannot be given.
Cartagena Protocol on Biosafety
 The Cartagena Protocol on Biosafety (CPB), the first international regulatory framework for safe transfer, handling and use of Living Modified Organisms (LMOs) was negotiated under the aegis of the Convention on Biological Diversity (CBD)
 It is an international agreement which aims to ensure the safe handling, transport and use of living modified organisms (LMOs) resulting from modern biotechnology that may have adverse effects on biological diversity, taking also into account risks to human health.
____________________
Genetic Engineering Appraisal Committee (GEAC)
 It is a statutory body under Ministry of Environment, Forests and Climate Change (MoEFCC).
 The GEAC the apex body for approval of proposals relating to release of genetically engineered organisms and products into the environment including experimental field trials (Biosafety Research Level trial-I and II known as BRL-I and BRL-II).
____________________
____________________
 It is also responsible for approval of activities involving large scale use of hazardous microorganisms and recombinants in research and industrial production.
 The two-tier regulatory framework for GM crops includes a Review Committee on Genetic Manipulation (RCGM) under Department of Biotechnology and the GEAC under the MoEF.
 The GEAC considers proposals for trial only after approval from the RCGM, a body comprising scientists well versed with the technology.
____________________
7.7. DECLINING POLLINATORS: UN REPORT

Background
 A new UN report has warned that many species of wild bees, butterflies and other insects that pollinate plants are shrinking toward extinction.
 The report is based on the studies done by a scientific panel brought together by the Intergovernmental Platform on Biodiversity and Ecosystems Services (IPBES).
 Two out of five species of invertebrate pollinators, such as bees and butterflies, are on the path toward extinction
Importance of pollinators
 Pollinators are important to growing fruits, vegetables and cash crops though not so much for cereal crops.
 Food output worth more than $250 depend on pollinators especially industries like coffee, fruits

Reasons for the decline
 Changing nature of agriculture with reduced diversity and wild flowers for pollinators to use as food
 pesticide use
 habitat loss to cities
 disease, parasites and pathogens
 global warming
Solutions
 The IPBES report makes a number of recommendations
 strong regulations underlying pesticide use; promoting organic farming.
 restoration and protection of habitats for wild pollinators; e.g. planting strips of wild flowers to attract
pollinators to field of crops, growing plants in back gardens in cities.
 Better land management. This can be included in the 'smart city mission'.
 Improvement in the science of pollination by monitoring wild pollinators, investment in R&D
 For better monitoring of ecosystems of the country, India has launched a programme to establish a network of Indian Long Term Ecological Observatories (I-LTEO).
____________________
Pollination is a process in which pollen is transferred to the female reproductive organs of seed plants, thereby enabling fertilization and reproduction. It is very important for food supply.
____________________
bout IPBES
 Created in 2012, the IPBES seeks to provide scientific information about biodiversity and ecosystem services to policymakers of the member countries.
 Its secretariat is in Germany and is administered by the UN.
____________________
UPSC 2012
Consider the following kinds of organisms:
1. Bat
2. Bee
3. Bird
Which of the above is/are pollinating agent/agents?
(a) 1 and 2 only (b) 2 only (c) 1 and 3 only (d) 1, 2 and 3
____________________
7.8. NEW RULES FOR MANAGEMENT OF CONSTRUCTION AND DEMOLITION WASTE
Why in news?
 The Construction and Demolition Waste Management Rules, 2016 notified by the environment ministry aim at creating a process to recover, recycle and reuse this waste.
Need
 Construction activity is one of the main reasons for high air pollution in Indian cities.
 530 million tonnes of construction and demolition waste is generated in India annually.
 Currently, managed under the existing solid municipal waste management rules which are inadequate. Thus, it is not managed properly.

Notable points
 Responsibility upon local authorities
 Permission for construction and demotion only after a complete waste management plan is presented to local authorities.
 To keep a check on those who dispose waste illegally.
 Responsibility upon large-scale generators: they will have to pay relevant charges for collection, transportation, processing and disposal, as notified by the concerned authorities.
 Emphasis on reuse
 Mandatory for local authorities to utilize 10-20% of construction and demolition waste in municipal and government contracts to lay drain covers etc.
Challenges
 The main challenge is with respect to proper implementation of the rules.
 Appropriate training is needed for contractors and officials before enforcing the clause.
 Appropriate resources, financial and human power, needs to be allocated to local authorities.
 This will also require scaling up of capacity-building and recycling infrastructure.
7.9. THE INVIOLATE FOREST POLICY

Forest areas are a source of huge mineral wealth as well as ecology and biodiversity. The pressure of development needs and the need to conserve environment presents a dilemma with respect to the forests.
Inviolate forest policy
 It seeks to declare certain areas as out of bounds for activities like mining.
 It was originally called the 'go-no-go' area policy.
 First mooted during former environment minister Jairam Ramesh's tenure in 2009.
 It was a pro-forest policy that kept many coal blocks out of the mining permission.
 It used various criteria for classification of forests like forest density, forest type, biodiversity richness etc.
 However, with time and pressure the policy was diluted. It went through successive revisions with more dilution and opening of greater number of coal blocks for mining.
 The policy was revised for the 4th time in 2014 and since been kept under wraps.
 In November 2014, the expert panel under TSR Subramanium recommended the policy to be further pruned.
Issue
 India has a long-term goal of bringing 33% area under forest cover and creating additional carbon sink of 2.5 to 3 billion tonnes of CO2 equivalent through additional forest and tree cover by 2030.
 Present forest cover is 24.16% of total geographical area (December 2015). The pressure on forests is going to further increase due to India's development needs.
 The government is, thus, expected to come out with a policy which sets out clear and scientific criteria to keep certain forests out of the out of bounds for mining and similar activities. It would lend a degree of certainty to the stakeholders about the areas which would be given green clearance to cut forests and mine.
 However, with the inviolate forest policy in limbo, this clarity is missing.
_______________________
UPSC MAINS 2013
Q. What are the consequences of illegal mining? Discuss the ministry of environment and forests' concept of "GO AND NO GO" zones for coal mining. (200 words)
_______________________
7.10. CARBON SEQUESTRATION

 Carbon Sequestration is the process by which CO2 is captured from the atmosphere for long-term storage to slow down the accumulation of greenhouse gases.
 There have been many artificial methods of carbon sequestration that have been developed over time. Afforestation, however, is a natural and safe method of sequestration.
 A study by Gujarat Ecological Education and Research (GEER) has prepared a hierarchy of local trees in India on the basis of their capacity for carbon sequestration.
 As per the report Teak has the highest capacity. A normal teak tree can absorb 3.70 lakh tones of CO2 from the atmosphere in its life-time. It is followed by Nilgiri, Gando baval,
Neem etc.
Significance
 It will help the researchers and forest officials to calculate the carbon sequestration potential of the different trees they have.
 This will facilitate better decision making with respect to trees plantation programmes. For example, trees with high capacity can be planted in areas with high CO2 emission.
____________________
UPSC 2012
Consider the following agricultural practices:
1. Contour bunding
2. Relay cropping
3. Zero tillage
In the context of global climate change, which of the above helps/help in carbon sequestration/storage in the soil?
(a) 1 and 2 only (b) 3 only (c) 1, 2 and 3 (d) None of them
____________________
7.11. CLEAN ENERGY IN INDIA
Background
 India needs more than $200 billion (Rs 13 lakh crore) to meet its target of 175 GW of renewable energy by 2022.
 Renewable energy investment has increased from $8 billion in 2014 to $10.9 billion in 2015. However, this is still way behind the required amount.

Issues in financing
 The present system is mostly based on credit from different financial institutions (national, international, multilateral, etc.).
 However, due to high and variable interest rates and short tenor of debt (especially from Indian commercial banks), the cost of renewable energy increases by about 25-30% than similar projects in US.
 Majority of investment is focused on large-scale or grid-scale projects. Smaller projects like off-grid, rooftop, decentralized projects etc. get ignored in the process.
 Increased preference for solar energy is crowding out other innovating though riskier models like small hydro, biomass-to-energy projects.
 Focus is on renewable energy based electricity. Other applications like heating, cooling and productive and mechanical power receives less attention.
 General issues like uncertainty about revenue flows, projects delays, technology and project efficiency concerns etc.
Steps taken
 Indian government has taken several steps like Infrastructure Debt Funds, National Clean Energy Fund, bringing renewable energy under Priority sector lending etc.
 However, given the scale of its targets new innovative financial projects are needed.
 For example, the government is looking to create a $1 billion equity fund for solar energy and tap the potential of Global finance institutions like World Bank in this.
Way forward
 New policies and clarification from the state government on the solar sector on solar park allocation etc. This would bring more confidence from potential investors.
 Financial institutions must come up with innovative financial products for green finance. E.g. Green bonds, Yieldcos, dollar denominated PPA
 Small projects like roof-top panels must be aggregated to create investible portfolios.
 Need to find a balance between rural and urban projects. The latter receive more private investment due to better commercial opportunities.
 International institutions like World Bank must increase their contribution towards renewable energy. Today WB gives 5% to renewable. India demands this to be increased to at least 15%.
__________________
UPSC 2012
Consider the following:
1. Black-necked crane
2. Cheetah
3. Flying squirrel
4. Snow leopard
Which of the above are naturally found in India?
(a) 1, 2 and 3 only (b) 1, 3 and 4 only (c) 2 and 4 only (d) 1, 2, 3 and 4
___________________
7.12. NGT HALTS TAWANG HYDRO POWER PROJECT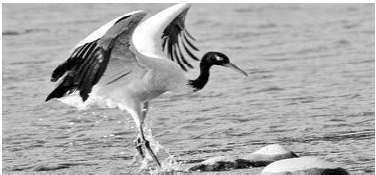  An ongoing Rs.6400 crore hydropower project in Tawang district has been put on halt by the NGT as the project can adversely impact the habitat of black-necked crane.
 As per NGT, the environmental clearance didn't consider this impact on the bird.
 This is probably the first time threat to wildlife has played the central role in deciding upon environmental clearance.
Black-necked crane
 Migratory bird most commonly found in China.
 It is legally protected in Bhutan and India and is considered sacred to certain Buddhist traditions.
 IUCN status- Vulnerable; Birdlife International- Threatened
 Listed in India's Wildlife Act as a Schedule 1 species
 It is locally known as Dhung Dhung Karma. Also it is the only high altitude crane amongst the 15 species found in the world.
7.13. PARIS AGREEMENT: ISSUES
Conflict between developed and developing countries
 On 'transparency': Developed countries want a 'common and unified' system to compare the climate actions undertaken under INDCs. Developing countries, however, want the CBDR-RC principle to be reflected in the transparency provision.
 'Stocktale' provision for estimating the progress in the implementation of INDCs in 5 years. However, the developed countries want to put mitigation aspect specific and hold everyone accountable for that but not the finance and technology transfer provision.
 The principle of 'historical responsibility' is conveniently ignored now; only current emissions are the basis of comparing mitigation strategies. So even if China uses more coal than India, it is ignored because there is an incremental decline even though from a very large base. This is not equity.
 No clarity on finance and technology transfer; IPR issues
 Experts say that target of reducing the temperature by 2°C is over-optimism and not feasible.
 Same is being said about India's INDC of producing 100GW solar power and 60GW wind power due to high costs of renewable energy and India's development needs.
7.14. INDOOR AIR POLLUTION
Need
 The quality of air in and around buildings is seriously affected by gases (like CO2, CO, radon, volatile organic compounds), particulates, microbial contaminants or any mass or energy stressor that can induce adverse health conditions.
 In recent years the health problems due to indoor pollution is increasing, a syndrome called Sick Building Syndrome (SBS)
 Source control, filtration and the use of ventilation to dilute contaminants are the primary methods for improving indoor air quality in most buildings.
 A big problem is absence of an effective air quality measurement system.
 Many of the harmful chemical gases have low concentrations of ppb (parts per billion) levels and are extremely difficult to detect with current environmental sensor technology, which can only detect concentrations of parts per million (ppm)
Recent development
 Scientists have developed graphene-based sensor and switch to detect air pollution at homes.
 The sensor works by detecting the individual CO2 molecules adsorbed onto the suspended graphene one by one by applying an electric field across the structure.
 It brings remarkable improvement is detection limits from ppm to ppb levels. Further, it consumes very low power.