What Are Economic Activities?
The main goal of economic activity is to produce, distribute, exchange, and consume products and services in order to earn a living and accumulate wealth.
This is done by engaging in various activities, such as trade, agriculture, manufacturing, and providing services.
Individuals engage in economic activity in order to make a profit or gain income.
The production, distribution, exchange, and consumption of products and services are at the heart of economic activity.
Examples: A trader, an agriculturist, a manufacturer, a doctor, a teacher, and factory laborers are just a few examples of economic activity.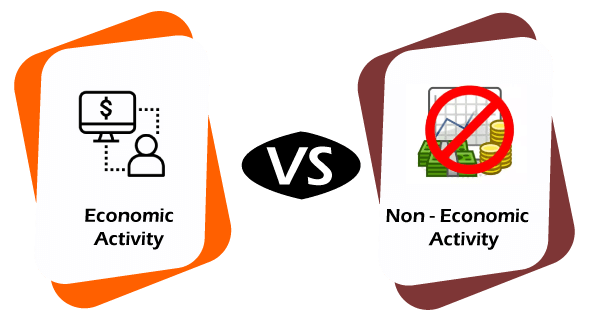 What are Non-Economic Activities?
Non-economic activities are ones that people do not do for money or financial gain.
They may do them out of love, affection, sympathy, or patriotism.
These activities are usually voluntary, and the goal is to help others, not to make money.
They cannot be quantified in terms of money because they are not done for that reason.
Non-economic activities encompass any acts that are carried out to satisfy human emotions, whether they are social, religious, cultural, personal, recreational, charitable, or patriotic.
Examples: Activities to do in your spare time, activities with a family commitment, cultural and religious activities, social welfare activities are examples of non-economic activities.
Comparison Between Economic Activities and Non-Economic Activities