ECONOMY
3.1. PRIORITY SECTOR LENDING CERTIFICATES (PSLCs)

Why in news?
RBI issued a notification on 7 April permitting the issue and trading of PSL certificates, whereby banks can buy and sell such credits to manage their priority sector lending requirements.

What is PSLCs?
 PSLCs are tradable certificates issued against priority sector loans of banks so as
 To enable banks to achieve their specified target and sub-targets for priority sector lending through purchase of these instruments in the event of a shortfall.
 At the same time incentivizing the surplus banks to lend more to these sectors.
 On lines of carbon credit trading the goal of PSLCs is to allow market mechanism to drive priority sector lending by leveraging the comparative strength of different banks.
 All Scheduled Commercial Banks (including Regional Rural Banks), Urban Co-operative Banks, Small Finance Banks (when they become operational) and Local Area Banks are eligible to participate in the trading.
Types of PSLCs
There would be four kinds of PSLCs:
 PSLC Agriculture: Counting for achievement towards the total agriculture lending target.
 PSLC SF/MF: Counting for achievement towards the sub-target for lending to Small and Marginal Farmers.
 PSLC Micro Enterprises: Counting for achievement towards the sub target for lending to Micro Enterprises.
 PSLC General: Counting for achievement towards the overall priority sector target.
Rationale
 Currently many banks find it difficult to meet their PSL requirement as they may not find it viable to lend to the rural or MSME sector.
 Despite agriculture being a prime focus, no substantial gain in capital investment has happened in agriculture because banks tend to lend for short term just to fulfill RBI norms (Economic Survey 2014-15).
 More than half the PSBs (16 of 26) couldn't achieve the 18 per cent agriculture target in 2014, while 13 of the 20 private sector banks failed to achieve sub-targets for agriculture.
Benefits
 Banks unable to meet their priority sector lending targets now have a more viable and easier way to make good their shortfall.
 It offers banks a seamless platform to buy and sell their priority lending targets.
 A bank that is focused on priority sector lending say, agriculture, now has the flexibility to issue and sell certificates with ease in the secondary market.
 Earlier, when a bank fell short of its target, it had to buy out such loans from others, which essentially meant an increase in the buyer bank's balance sheet. But now a bank can buy certificates from another bank to fulfil its requirements without taking on the loans in its books.
 The payment which a buying bank has to make for the PSLCs will be market determined. The price could depend on a host of factors such as the category of loans and demand and supply scenario.
 Issue of banks scrambling towards the year-end to meet their targets will also be resolved. As per RBI guidelines, a bank is permitted to issue PSLCs up to 50 per cent of the previous year's PSL achievement without having the underlying loans in its books.
 It allows the Banks to focus on their strengths and purchase credits from banks with expertise in making such loans (to Priority sector), instead of diverting their own resources towards meeting priority sector lending targets.
 Each bank can focus on its efficient areas.
 Larger social objective of loans to priority sectors and weaker sections of society will be met without burdening each bank with the specific responsibility of doing so.
Possible Concerns
 All the risk lies with the lender with almost no downside risk to the buyer of the PSL certificates
 Lending banks may roll out more than required loans to make profit by selling extra PSL certificates.
Conclusion
RBI's move on PSL certificates is an extremely innovative initiative, and one that was long pending (it was first mooted in the Raghuram Rajan committee report of 2008). It has the potential to usher in large efficiencies in Indian banking, without sacrificing on any of the larger inclusion and equity goals. However care must be taken that banks don't involve too much in chasing fees through excess PSL trading. Secondary trading of such certificates should also be checked.
3.2. CENTRE-STATE INVESTMENT AGREEMENT FOR BILATERAL INVESTMENT TREATIES (BIT)
Why in news?
In a Budget proposal, Union Finance Minister mooted the idea of a Centre-State investment agreement to be signed between the Centre and various State governments to ensure effective implementation of BITs or bilateral investment treaties.

What is a BIT?
 BITs protect investments made by an investor of one country into another by regulating the host nation's treatment of the investment.
 It includes provisions like non-discriminatory treatment, protection against nationalization, Investor State Dispute Settlement (ISDS) provision requiring investors to exhaust local remedies before commencing international arbitration etc.

What is the Centre-State Investment Agreement (CSIA)?
 It is a voluntary agreement between state and centre where states will be required to fulfill their obligations under the BITs.
 India's BIT partners will be informed about states, which don't sign the agreement.
Benefits
 States that sign the CSIA will be seen as a more attractive destination for investments.
 It will ensure better concurrence between centre and state and will better the "ease of doing business".
Criticism
 Even without the CSIA, under Art 253 of the constitution centre can make legislations to give effect to international agreements, which are binding on states.
 Under the concept of sovereignty, even if states don't fulfill their obligations under CSIA, it is the centre that is held responsible.
 States may see this as shifting the blame of violation of BIT to states.
 States that may not sign the CSIA may be seen unsafe for investment, which may further increase the regional imbalance wrt. to investments.

Way Ahead
 It is better to sensitize the state government of various provisions of BIT and their obligations under it.
 Consultations with states with respect to international treaties can be institutionalized. For example, forums like NITI Aayog governing council or erstwhile NDC can be created.
 This would be in line with the concept of co-operative federalism and will ensure better implementation of international treaties.
3.3. UNIFYING AGRICULTURE MARKETS
Background
 As per the Economic Survey 2014-15, India has 2477 principal regulated primary agriculture markets.
 These are governed by APMC Act of the respective states, which has led to market segmentation, exploitation by middlemen & inefficiencies.
 The government launched the National Agriculture Market Scheme in July 2015 in 585 markets and in April 2016 started e-trading on pilot basis.
 A similar successful experiment was conducted in Karnataka, called as the Rashtriya electronic Market Scheme (ReMS), to unite principal markets in e-platform.

Lessons learnt from Karnataka Model
 Despite considerable success, the progress has been slow because of failure to involve various stakeholders like farmers, agents, traders, APMCs, government etc.
 Though middlemen extract rents but they provide timely loans and credit facilities to the farmer. So, it is important to involve them and remove their fears before unifying markets.
 Similarly, over dependence on technological solutions will be slow and may not give desired effect.
Way Ahead
 All stakeholders should be taken on board before attempting a unification of the agricultural markets.
 All states have a uniform policy as proposed by the Model APMC Act so that a national market in the true sense can be created.
3.4. TRADE FACILIATION AND TRADE ENFORCEMENT ACT 2015
Why in news?
On Feb 2016, President Barack Obama signed the Trade Facilitation and Trade Enforcement Act, which introduces important measures relating to intellectual property rights (IPR) issues.
Background
 United State Trade Representative (USTR), which oversees enforcement of US trade policy, including IP policy, brings out the annual Special 301 list. It categorizes countries based on their IPR rules:
 Priority Foreign Countries (PFC) – most serious violators
 Priority Watch List (PWL) – Serious offenders
 Watch List (WL) – less serious offenders.
 India is placed in the PWL for the last 2 years.
Key Provisions of the Act that may influence India
 The Act requires USTR to develop action plans with benchmarks for countries in PWL list, unilaterally.
 Trade sanctions for countries that refuse to comply with benchmarks can be taken.
 It creates a new position within the office USTR titled "Chief Innovation and Intellectual Property Negotiator" which would protect US innovations and IP interests.
 It also created a separate fund for taking legal actions against foreign countries to ensure fair and equitable market access for US.
Impact on India & way forward
 This will further pressurize India to align its IPR policy in line with US interests especially related to pharmaceuticals.
 However, India should resist such pressure and ensure that its laws comply with WTO norms.
 In addition, India should engage with US to resolve such issues bilaterally.
3.5. LABOUR BUREAU SURVEY ON EMPLOYMENT 2015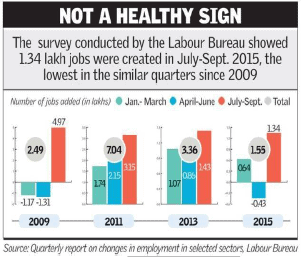 Findings of the survey
 New jobs in eight labour-intensive industries fell to a six-year low in the first nine months of 2015 — with just 1.55 lakh new jobs being created.
 By contrast, 3.04 lakh new jobs were added in January-September 2014 and 3.36 lakh in the same period of 2013.
 Contractual jobs also declined by 21,000 in Jan –Sept 2015 against increase of 1.2 lakh in the corresponding period of 2014.
 The survey found that gems & jewellery sector saw 19,000 job loss during 2015 followed by handloom/Powerloom at 11,000.
 The employment decreased by 8,000 each in leather and
automobiles sectors while 4,000 jobs loss was recorded in transport sector.
___________________________
About the survey
The Labour Bureau, under the Ministry of Labour and Employment, started conducting this quarterly survey after the 2008-09 global crisis to gauge its impact on employment in eight crucial sectors — textiles, leather, metal, automobiles, gems and jewellery, transport, information technology (IT) and handloom.
___________________________
3.6. E-COMMERCE IN INDIA
Why in news?
The report by CII-DELOITTE REPORT calls the e-commerce in India as a game changer for the economy .
Reasons
 By 2020, B2B (Business to Business) model is expected to see a 2 fold increase while B2Cb(Business to Customer) will see 7 fold increase.
 On a long term it has potential to generate employment, increase export revenues and enhance tax-collections.
 Since B2B model is showing more acceptability, this would see an increase in the number of MSMEs and entrepreneurs from hinterland.
Challenges to e-commerce industries
 Lack of uniform taxation across states leading to difficulty in movement of goods.
 Logistics issues and infrastructure.
 Payments and banking penetration as cash transaction comes with high administration cost.
 Internet penetration.
 Skilled manpower.

Recommendation by the report
 Uniform tax structure in the form of GST to ensure free flow of goods.
 Timely implementation of programmes like Digital India, Skill India, Startup India etc to support e commerce ecosystem and rural penetration.
 Increasing the number of years within which the tax holiday can be availed by startups in the e-commerce industry.
31 www.visionias.in ©Vision IAS
3.7. MARATHWADA DROUGHT AND SUGAR FACTORIES
Why in news?
Regions like Marathwada have been facing acute water scarcity (the shortfall was as much as 40%). The rainfall in the region has been in deficit for second consecutive year leading to drought in the region.

Issue: Is sugarcane cultivation responsible for drought in Marathwada region?

Arguments in support
 Sugar cane is a water-guzzling crop (requires 2000 to 2500 mm of water). Unlike Northern regions, which has huge network of rivers, Maharashtra's sugar cultivation is in regions with water scarcity.
 The 4% of land under sugarcane cultivation consumes as much as 71.5% of irrigated water.
 The region has over 20 sugar factories and each uses 1500 litre of water to crush per ton of cane.
 Earlier, Maharashtra Water and Irrigation Commission recommended stopping sugar cultivation.
Arguments against
 Sugarcane consumes less water on a per-day basis, and even less for every unit weight of biomass produced because unlike paddy, sugarcane grows for 365 days a year.
 Mills operate for all round the year and if fodder, electricity (from bagasse) and alcohol from sugar factories are considered, the mills don't appear to consume any additional water or electricity.
Conclusion
 A careful balance between cultivation priorities and water allocation is required.
 Drip irrigation, which can save 40 % of water, should be made mandatory and can be given legal force.
 As per Economic Survey 2015-16, less water intensive crops like Pulses and Coarse grain can be promoted.
 Any ban on sugar factories have to be based on proper evaluation of input cost and output value of sugar, power, ethanol & bagasse produced from them.
3.8. NEGATIVE RATES OF INTEREST IN MONETARY POLICY
Why is news?
In the recently held Spring Meeting of the IMF and the World Bank, concerns about excessive reliance on monetary policy and especially negative rate of interest were voiced.
What is the use of negative rates?
 To stimulate economic growth by increasing consumption.
 To increase inflation in cases of persistent deflation.
 Negative rates leads to depreciation of the currency, which increases exports (as investors switch to areas with better returns).

Negative implications of negative rates of interest
 Negative interest rates may directly harm the banking sector and their profitability.
 It may lead to futile currency war and competitive devaluation.
 May lead to liquidity trap situation, where monetary policy fails to deliver.
 On a long run, negative rates may lead to hoarding of cash and reduce the flow of funds in economy.
3.9. FDI FINANCING
 Apart from bringing new technology, enhancing productivity, job creation, and increasing consumer options, FDI brings in much needed foreign capital into a country.
 It also boosts exports and thus helps to bridge the current account deficit (CAD) of the country and maintain a positive balance of payment (BOP). This is called FDI financing of CAD.

Critique of FDI financing of current account deficit
 FDI may target domestic market instead of being export oriented, thus boosting domestic consumption and ultimately increasing imports.
 Once initial investment starts to turn profitable, it is inevitable that capital returns from the host country to the home country leading to worsening CAD.
 A similar trend is noticed in 2014-15, when despite increase in FDI inflows, CAD component has risen. (refer graph)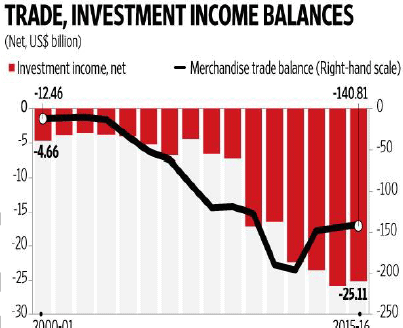 3.10. MEASURING POVERTY: NITI AAYOG TASK FORCE
 Task force appointed by NITI Aayog under Arvind Pangariya has pitched for a low poverty line.
 He also proposed four options to arrive at a poverty line with due considerations from other stake holders. These four options are:
 To continue with the Tendulkar poverty line.
 Switch to the Rangarajan or other higher rural or urban poverty lines.
 Track progress overtime of the bottom 30% of the population.
 Track progress along specific components of poverty such as nutrition, housing, drinking water, sanitation, electricity and connectivity.
 NITI Aayog is favouring for the Tendulkar line which set poverty ratio to 21.9 % as compared to Rangarajan committee which had a higher poverty ratio of 29.5%.
 To remove any criticism that many poor would be left behind if poverty line as per Tendulkar committee is adopted, NITI Aayog has underlined that it will only be used to track progress in combating poverty rather than identifying the poor for entitlements.
 SECC data as suggested by Saxena and Hashim committee will be used for entitlements.
3.11. PANAMA PAPERS LEAK
Why in News
 More than 11 million documents from the secret files of Mossack Fonseca, a law firm headquartered in tax haven Panama, were leaked.
 Records reveal a list of individuals who have set up offshore entities in tax havens around the world.
 These offshore entities mask real ownership but still show compliance with lax tax regulatory system
 FDI may target domestic market instead of being export oriented, thus boosting domestic consumption and ultimately increasing imports.
 Once initial investment starts to turn profitable, it is inevitable that capital returns from the host country to the home country leading to worsening CAD.
 A similar trend is noticed in 2014-15, when despite increase in FDI inflows, CAD component has risen. (Refer graph)
 Over 500 Indians figure on the firm's list of offshore companies, foundations and trusts.
Relevant Laws
 As per RBI norms individuals are allowed to remit funds upto $250,000 a year under the Liberalized Remittance Scheme (LRS).
 But while RBI let individuals buy shares under LRS, it allowed them to set up companies abroad only after August 2013.
 Money cannot be sent to countries identified as "non-cooperative" by the global Financial Action Task Force (FATF).

Way Forward
 Undisclosed Foreign Income and Assets (Imposition of Tax) Act, 2015 should be strictly implemented.
 RBI should clearly define the legality in buying and setting up offshore entities.
 Tax regime in India needs to be simplified to reduce compliance cost.
 Cooperation at multilateral level like G20 to tighten capital flow norms and treaties to share tax information to avoid tax evasion.
 Agreement on Base Erosion and Profit Shifting (BEPS) among OECD countries should be adhered to check tax evasion
3.12. DASHBOARDS TO MONITOR MAKE IN INDIA AND RANK STATES
 Dashboards developed by DIPP to monitor progress made on the two action plans:
 Make in India Action Plan
 'State level Business Reform Action Plan.
 Make in India Dashboard:
 Around 21 Ministries covering 22 Sectors identified to boost manufacturing and services as part of the 'Make in India' will view and update the progress of each of their action plans on the dashboard.
 It will facilitate timely delivery of identified action points.
 Facilitate monitoring and identification of delays in implementation, if any.
 It will also allow PMO, Cabinet Secretariat and DIPP to monitor progress and suggest corrective course on the progress indicated.
 Ease of Doing Business Dashboard
 It will facilitate States to report progress made by them on State Level Business Reforms Action Plan and validation of responses received from the States/UTs by DIPP.
 It also has a feature to identify and disseminate information about the good practices followed by the States/UTs.
 Real-time ranking of States/UTs once a response is validated by DIPP.
 The response posted by the States, their progress and inter-se ranking will be visible to public too.
3.13. WORLD ECONOMIC FORUM REPORT ON SMART CITIES IN INDIA
 'Reforms to Accelerate the Development of India's Smart Cities', a report by the WEF and PwC was released.
 Report mentioned that there is still a need for reforms at various levels to successfully implement the Smart Cities programme.
 It has identified areas such as land acquisition, dispute resolution, permits, information availability and procurement processes that must be addressed.
 The report says that while the country's urban population currently totals around 410 million people (32 percent of the total population), it is expected to reach 814 million (50 percent) by 2050.
Problems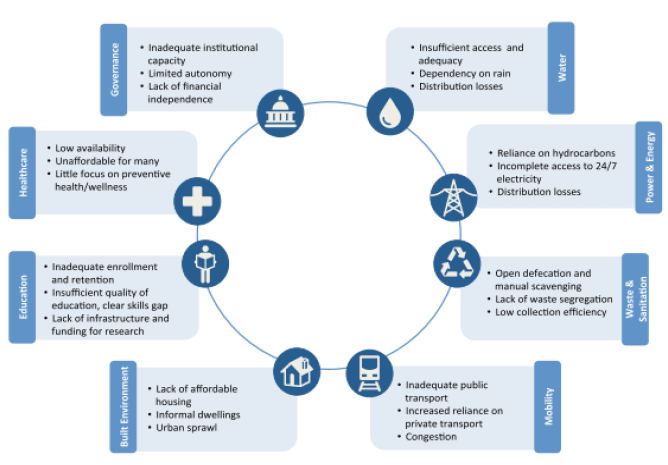 Solutions as per the report
 Single-window systems: Easing the permitting process will accelerate project execution, reduce cost and time overrun, and improve intra- and inter-departmental collaboration.
 Institutional reforms: The report recommends better collaboration and a unified command structure across multiple planning and administrative bodies within a city.
 Devolution of power to local government to determine and collect user charges and taxes in order to make local bodies financially independent.


 Sector-specific reforms: In relation to the physical infrastructure sector, reforms are recommended to establish independent regulators and empower them where they already exist, ensure metering and enforce collections (of user charges and taxes) from large defaulters.
 Private-sector support will enable the rejuvenation of crippling and inadequate infrastructure and help address capacity issues across state governments and urban local bodies (ULBs),

3.14. FCRA TWEAKED TO BOOST CSR SPENDING
What is the amendment?
 The amendment effectively redefines Indian subsidiary of foreign companies as Indian companies, which was till now considered as "foreign source" under FCRA (Foreign contribution and Regulation Act).
 This has been given retrospective effect and will come into effect from 2010 when FCRA was introduced.
_______________________
About CSR (Corporate Social Responsibility): Firms beyond a threshold of net worth, revenue or net profit have to spend 2% of their average profit of three years on social development as mandated by law.
_______________________
 Until now, "foreign source" included any company with foreign investment of above 50%.
Background
 As per the existing regulations, funds of companies with more than 50% foreign shareholding are treated as foreign source, which requires them to partner with only those organizations that are registered with the ministry of home affairs (MHA) under FCRA norms.
 Even foundations run by such companies must obtain a licence under FCRA norms to operate.

Analysis
 Companies with more than 50% foreign shareholding will be able to make donations without ensuring that the non-profit organizations receiving the funds have FCRA clearance.
 It will benefit the smaller NGOs who can't undergo the difficult process of registration with FCRA to receive funds.
 However, it also paves way for political parties to receive funds from foreign entities operating in India (like Vedanta). Political parties are hitherto, prevented from receiving funds from foreign sources.
 Already a case is pending against BJP and Congress in Supreme Court for receiving funds from foreign sources in violation of FCRA norms. Retrospective effect of the amendment may enable the parties to escape punishment.