ECONOMY
3.1. INDIA POST'S PAYMENT BANK
Why in news?
Union Cabinet has approved the setting up of India Post's payments bank at a total project cost of Rs 800 crore.
Highlights
 India Post Payment Bank (IPPB), which will generate employment opportunities for about 3,500 skilled banking professionals, will set up 650 branches and 5,000 ATMs across the country.
 IPPB expects to break even by year seven of its operations.
 IPPB will start operations in March 2017 in about 50 districts and will cover the entire country by the end of FY 2018-19.
_____________________________
What are payment banks?
Payment banks are non-full service banks, whose main objective is to accelerate financial inclusion.
Payments banks will mainly deal in remittance services and accept deposits of up to Rs 1 lakh.
They will not lend to customers and will have to deploy their funds in government papers and bank deposits.
They can accept demand deposit, issue ATM/debit cards but not credit cards.
The promoter's minimum initial contribution to equity capital will have to be at least 40% for the first five years.
______________________________
Significance
 Extensive reach and spread of Indian postal system to blocks, taluks and villages ensuring last mile connectivity.
 Old setup, ease of access, years of trust and familiarity of rural people.
 Brick and mortar banks are unviable to setup in many of the remote areas.
 Helpful for migrants, labourers, MSME, poor household, enhancing access to financial services and promoting financial inclusion.
 Provision of debit facility.

Challenges
 Low revenue: can't undertake any lending businesses and the income stream is initially restricted to remittances.
 75% has to go into government securities. This limits their ability to earn from the deposit base as well.
 Banks are already offering most services that payments banks can and hence, for payments banks to offer a new and differentiated proposition will not be easy.
 Some of the private players (Ex: Mahindra) have given up their plan to set up a payments bank due to some challenges.
3.2. FIXING PSU BANKS
Background
 Our banks are saddled with too many non-performing loans and credit expansion has slowed dramatically. This is called as 'Balance Sheet Syndrome with Indian characteristics – by Economic survey.
 Growth in industrial credit (year on year) has slowed to less than 5% in the first quarter of 2016. This is not enough for creating growth conditions >7%.
The nature of the problem
 Failure in Recognition: Assets which are in reality NPAs were not classified as such by banks, but were being 'ever-greened' into new loans as revealed by RBI's asset quality review
 When NPAs were being recognized due to RBI's initiative, this has led to large losses in to the tune of Rs. 30 crore for PSBs (excluding the SBI).
 All pervading crisis of PSBs: Since all the PSBs have balance sheet problem, the NPAs have to be resolved urgently.
 Indispensibility of PSBs for healthy economic growth. Though the private sector banks are in much better shape, but they account for only a quarter of total lending.
 Contracting credit conditions: Corporate profits are low while debts are rising, forcing firms to cut investment to preserve cashflow.
Solutions
 This requires action on 4 fronts or 4 Rs: Recognition, Recapitalization, Resolution, and Reform.

Need for Recapitalization of public sector banks
 For reviving growth PSBs loans have to increase by 12% which requires an additional Rs.2.4 trillion of capital by end-March 2019 to meet the Basel III requirements.
 Rs.70,000 crore was to come from the budget. The budgetary contribution was to be Rs.25,000 crore in each of 2015-16 and 2016-17 which is grossly inadequate.
 Both restructured assets and stressed assets are currently shown as performing, but a large part could well turn into NPAs in the next two years. In that case:
o The contribution of profits to building up capital is likely to be very small.
o The prospects for raising capital from the markets also need to be revised downwards because PSU bank shares have taken a beating in the markets
 Steps taken: Recapitalization using special declaration of dividends from the built-up reserves in RBI, as proposed in the Economic Survey.
o Indradhanush scheme is being implemented.
Resolving the NPA problem
 Some assets are best classified as loss assets and should be written off in the books, even as efforts are made to recover whatever value can be recovered through liquidation.
 New bankruptcy code is a potential game changer, but may take time to operationalize.
 Banks ought to take a large enough haircut on existing debt to make the restructured project attractive for ideas of SDR. S4A, ARCs, NIIF to work:
 Selling assets to privately managed asset reconstruction companies (ARCs), which can then organize the turnaround.
 A government-owned "bad bank" which purchases problem loans from the banks, and concentrates on turning the projects around, possibly with the help of private ARCs.
 Steps taken:
 RBI has devised two schemes for the purpose of fresh capital from investors and new management. Strategic debt restructuring scheme and Scheme for Sustainable Structuring of Stressed Assets (S4A).
 The proposed National Infrastructure and Investment Fund (NIIF), operating with private partners, will provide both equity and new credit to stressed infra projects going through the SDR mechanism.
Improving the quality of lending
 Improve the quality of lending by PSBs in future so that the same problem does not arise again.
 Increase the autonomy of the banks to operate as commercial entities.
 Reducing the government's shareholding to say 33%, with the remainder dispersed among the public.
 Government should be away from the management:
 The P.J. Nayak committee had suggested creating a public sector holding company and vesting the government's shares in the holding company.
3.3. SCHEME FOR SUSTAINABLE STRUCTURING OF STRESSED ASSETS
Objective
To strengthen the lenders' ability to deal with stressed assets and put real assets back on track by providing an avenue for "reworking the financial structure" of big corporate entities "facing genuine difficulties".
_______________________
Magnitude of the problem
Bad loans surging to as high as Rs 6 lakh crores, 4.35% of total bank loans, there is a lot of stress in the system.
Total stressed assets (bad loans + standard restructured loans) are estimated to be 15% of total bank loans.
_________________________
Highlights
 Banks can split the overall loans of struggling companies into
sustainable and unsustainable based on the cash flows of the
projects.
 The unsustainable debt could be converted into equity or a convertible security. However at least 50% of the debt should be serviced in the same period as that of the existing loan.
 Once the unsustainable debt is converted to equity, banks can sell this stake to a new owner who will have the advantage of getting to run the business with a more manageable debt.
 An advisory body called Overseeing Committee (OC) will be constituted, which will review the resolution plans submitted by the Banks. It will check the reasonableness and adherence to the guidelines and give an opinion.
 Projects with a loan of at least Rs 500 crores and have commenced commercial operations are eligible to be restructured under S4A.
Other steps taken by RBI
 5:25 Scheme: It allows banks to extend long-term loans of 20-25 years to match the cash flow of projects, while refinancing them every 5 or 7 years.
 Compromise settlement schemes.
 Strategic Debt Restructuring (SDR) - consortium of lenders converts a part of their loan in an ailing company into equity, with the consortium owning at least 51 per cent stake
 Corporate Debt Restructuring (CDR) mechanism and Joint Lenders' Forum
3.4. FDI POLICY REFORMS
Why in news?
The government has made changes to the FDI policy. This is the second biggest reform in FDI since those announced in November 2015.
Important changes in different sectors
 Defence Sector: The policy has been tweaked to allow 100 per cent FDI by doing away with the condition of access to "state of the art" technology. It has now been modified to "modern or for other reasons", a move that will widen the scope of investment by foreign players. The new norms have also been made applicable to manufacturing of small arms and ammunitions covered under Arms Act 1959. Under the current policy, FDI up to 49 percent was allowed under automatic route and beyond that under the approval route on case-to-case basis.
WHAT THE CHANGES MEAN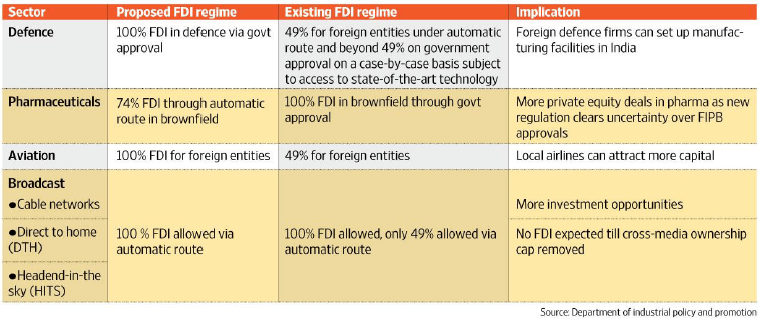  Pharmaceutical Sector: In this sector, 74% FDI would be allowed in the pharmaceutical sector under the automatic route in existing domestic companies (Brown Field projects). Currently, FDI up to 100% is permitted in new projects in the pharma sector (Green field projects).
 Aviation Sector: 100% FDI under automatic route in brownfield airport projects. FDI beyond 74% for brownfield projects is under government route. Earlier, the FDI policy on airports permitted 100% FDI under automatic route in Greenfield projects.
 Animal Husbandry: 100% FDI allowed in Animal Husbandry. The clause of controlled conditions for 100% FDI under the automatic route for animal husbandry has been done away with.
 Food products: 100% FDI under government approval route. It will include trading in food products including through e-commerce, in respect of food products manufactured or produced in India.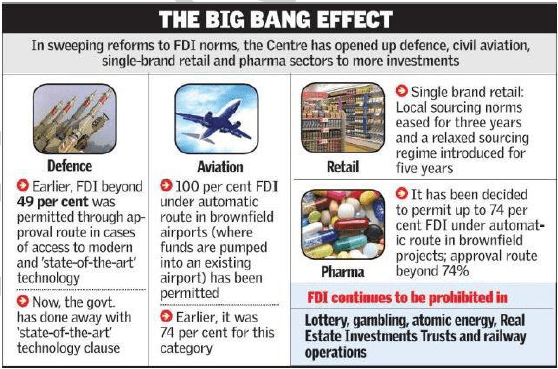  Single Brand Retail Trading: The new policy relaxes local sourcing norms upto three years and a relaxed sourcing regime for another five years for entities undertaking Single Brand Retail Trading of products having 'state-
of-art' and 'cutting edge' technology.
Way Forward
The above changes has led to 100% FDI under government approval route for almost every sector, including defence except in few sectors mentioned in the small negative list.
3.5. P2P LENDING
Why in news?
• Recently, the RBI released a consultation paper on developing regulatory norms for P2P lending.
• It has proposed 6 key areas to frame regulatory guidelines - permitted activity, reporting, prudential and governance requirements, business continuity planning and customer interface.
• RBI proposes a balanced approach to help P2P players flourish as well as safeguard them from various risks of business fallouts. Proper regulation will raise credibility of P2P entities and thus help in their growth
What is Peer-To-Peer Lending (P2P)?
 It is a method of debt financing that enables individuals to borrow and lend money - without the use of an official financial institution as an intermediary.
 It gives access to credit to borrowers who are unable to get it through traditional financial institution.
 P2P lending boosts returns for individuals who supply capital and reduces interest rates for those who use it. However it demands more time and effort from them, and entails more risk.
 The basic business model of an online P2P player is to provide a platform to connect lenders with borrowers. The lender will put their savings/investment into an account for it to be loaned out to borrowers and get a good rate of return.
 Two prominent online lending portals in the country are Faircent and ilend.
Advantages of P2P lending for Indian economy
 It could simultaneously reduce cost and increase access to capital.
 If the general population can lend and finance each other under a robust system, it potentially frees up funds for infrastructure and other capital expenditures.
 A promising alternate form of investment platform.
 Easy, fast online application process – reduces transaction cost for consumers.
 Borrowers can gain access to lending quickly and at more competitive rates than traditional bank loans.
 Lenders can be individuals or institutions and can invest a lower amount but earn more interest.
 As one can invest in a portfolio of hundreds or thousands of loans, risk is diversified.
 There could be a charitable aspect to the lending i.e. funds could be used for social purposes.
Why the need to regulate?
 There are a number of players like Faircent, LenDen club, etc. entering the P2P market.
 Without regulations there is fear of repeat of chit fund, microfinance and the Para banking segment.
 The regulations are also important to balance the interests of consumers as well as the industry.
Challenges and Disadvantages of P2P lending
 High rate of interest hovering from 16 to 20 percent.
 Many borrowers are excluded because they do not have good credit history.
 Chances of default are high, particularly if the borrower has been rejected by traditional intermediaries.
 P2P investing isn't a get-rich-quick scheme as many people think.
 There is huge risk as a lender could lose all money if not invested with proper risk diversification.
 The loan selection and bidding process employed in some online platforms demand a level of financial sophistication many people don't have.
 The prevalence of black money and potential of P2P lending to launder/clean such money will invite "shady" participants.
Way forward
 India being one of the biggest offline peer-to-peer (P2P) lending markets in the world with nearly 50 per cent of all credit circulated amongst friends, families, and communities presents huge potential to technology-enabled P2P lending.
 The consumers need to be educated about this innovative credit access model
 The RBI and SEBI should frame and harmonise regulations on this sector.
3.6. NATIONAL MINERAL EXPLORATION POLICY
Why in news?
 The Union Cabinet has approved the National Mineral Exploration Policy (NMEP).
 To encourage mineral exploration in the country, the Mines Ministry has already notified the National Mineral Exploration Trust (NMET).
Need
 The Ministry of Mines has, in the recent past, taken a series of measures for the growth of the mineral sector, including allowing 100% FDI. However, these initiatives have fetched only limited success.
 Of India's entire Obvious Geological Potential (OGP) area, identified by GSI, only 10 per cent has been explored and mining is undertaken in 1.5-2 per cent of this area.
 Further, over the years the dynamics of the mineral sector have undergone sea change thereby creating new demands and imperatives.
Salient Features
 The NMEP primarily aims at accelerating the exploration activity in the country through enhanced participation of the private sector.
 States will also play a greater role by referring exploration projects, which can be taken up through NMET.
 NMEP has proposed that private entities engaged in carrying out regional and detailed exploration would get a certain share in revenue in mining operation from the successful bidder after the e-auction of the mineral block.
 The revenue-sharing could be either in the form of a lump sum or an annuity, to be paid throughout the period of mining lease with transferable rights.
 Selection of private explorer is proposed to be done through a transparent process of competitive bidding through e-auction.
 For this, reasonable areas or blocks for regional exploration will be earmarked or identified by the government for auctioning.
Major Impacts
 The pre-competitive baseline geoscientific data will be created as a public good and will be fully available for open dissemination free of charge. This is expected to benefit public and private exploration agencies.
 The collaboration with scientific and research bodies, universities and industry for the scientific and technological development necessary for exploration in public- private partnership.
 Government will launch a special initiative to probe deep-seated/concealed mineral deposits in the country.
 A National Aerogeophysical Mapping program will be launched to map the entire country with low altitude and close space flight to delineate the deep-seated and concealed mineral deposits.
 Government will engage private agencies for carrying out exploration in identified blocks / areas with the right to certain share in the revenue accruing to the State government through auction.
 Public expenditure on regional and detailed exploration will be prioritized and subject to periodical review based on assessment of criticality and strategic interests.
3.7. NATIONAL HIGHWAYS GRID
Why is it needed?
 In India the lack of scientific road network pattern has created a problem for drivers who can't take a straight road to reach from one place to the other.
What is being done to check this?
 National Highway Authority of India is proposing a 'National Highway Grid' which will include 27 horizontal and vertical highway corridors spread across the country.
 The corridors, spaced at a distance of 250 kilometres, will crisscross and connect with each other.
 Out of the total 36,600 km, about 30,100 km are already NHs, but only 18,800 km of them are of four-lanes.
 The rest, either single or two lanes and missing NH link of about 6,500 km, which are either state highways or major district roads, will be made NH and widened to 4 lanes.
 The total project is worth Rs 25,000 crores and will help the government re-designate the NHs for easy identification.
 Numbering of all highways running from east to west with even numbers, and north to south roads with odd numbers may also be done.
 The grid will connect 12 major ports, 26 state capitals and more than 45 cities and thus help in quick evacuation and transport of cargo from one end to the other.

3.8. INCOME DECLARATION SCHEME
Why in news?
 The Finance Act 2016 passed in the budget session provided for Income Declaration Scheme which gives an opportunity to all persons to declare their undisclosed income.
 The Scheme becomes effective from 1st June and will be valid till 30th September for filing declarations and 30th Nov for payment of penalty.
Key Features of the Scheme
 Undisclosed income will be taxed at 30% plus a "Krishi Kalyan Cess" of 25% on taxes payable and an additional penalty of 25% on taxes payable, which in totality amounts to 45% of income declared under the scheme. (30%+ (25+25)% of 30%)
 The scheme shall apply to undisclosed income whether in the form of investment or assets pertaining to year 15-16 or before.
 In case of investment the undisclosed income will be based on Fair Market value as on 1st June 2016.
Protection available under the Scheme
 The declarants are given immunity from prosecution under Income tax Act, Wealth Tax Act and Benami Tranaction Act.
 However, foreign assets or income to which the Black Money Act 2015 applies are not eligible for declaration under this scheme.
 Undisclosed income acquired through corruption is not covered under the scheme.
Critical Analysis
If successful it can be a big source of revenue for the government as recent tax report points out that only 1% of population pays taxes. However the scheme may not see much success due to the following reasons:
 Fear of being investigated under other legislations like Excise Act, Service Tax Act etc.
 Very high tax rate of 45%.
 Calculation of investment value based on Fair Market value as on 1st June 2016 can be higher than the original value of investment.
 Assets will be liable for capital gains tax in future.
 No immunity provided for cases covered under Black Money (Undisclosed Foreign Income and Assets) Imposition of Tax Act, 2015 as well as FEMA.
Therefore for the success of the scheme, a much wider immunity from prosecution and harassment under other laws is required.
3.9. CENTRAL PORT AUTHORITIES BILL 2016
Why in news?  The shipping Ministry has come up with a new Central Port Authorities Bill 2016 to replace the 5 decade old Major Port Trust Act 1963.  The new Bill when enacted will enable the 11 major ports to function like corporate entities as many of the provisions are in line with the Companies Act, 2013. Key features of the Bill  The draft bill has proposed a simplified structure for the board by bringing it down to nine members that includes three functional heads of major ports as members apart from a Government nominee member and a labour nominee member.  To increase their functional autonomy, the ports have been delegated powers to raise loans and issue securities for the purpose of capital expenditure and working capital requirement  Ports will now be able to lease land for port-related use for up to 40 years, and for non-port related activities up to 20 years.
 The ports have to comply with the auditing and accounting standards as prescribed in the Companies Act, 2013, i.e. they will conduct internal audit of their activities and functions.
 Power of Central Govt. to take over the control of the Port Authority is limited to the event of grave emergency or in case of persistent default in performance of their duties.
 Provisions of CSR & development of infrastructure by Port Authority have also been introduced in line with Companies Act, 2013.
3.10. MSP FOR PULSES
Why in news?
Centre announced a hike by up to Rs. 425 per quintal (including a bonus of Rs 200 per quintal) in the minimum support price (MSP) for pulses, after Cabinet Committee on Economic Affairs (CCEA) has given the approval.
______________________
What is MSP?
MSP is the rate at which government agencies like Food Corporation of India (FCI) and other state government-owned agencies procure the grain from farmers besides it also taken as benchmark prices in the market.
______________________
Pros
 Encourages farmers to grow more pulses. Pulses enjoy the lowest cost of
production with negligible use of fertilizer and insecticides with higher
potential of production. They are well in accordance with Agro-Climatic region of this country.
 Increases acreage and invest for increase in productivity of pulses.
 Recovery in prices in context of growing labour and input costs.
 India's pulses import is estimated to set the new all-time high record at 4.5-5 million tones, the severity of which may reduce.
 A nominal Rs 50 increase in the minimum support price (MSP) in paddy. This is very important as relative attractiveness of Pulses vis a vis paddy and wheat increases.
Cons
 Hike is too little, too late - MSPs that have been declared are way below the market prices to influence planting decisions of farmers.
 MSP increase in wheat will result in farmers producing more wheat,
 Negligible impact on pulse production in India because of ground level reach of MSP which is <6% of farmers.
3.11. KRISHI KALYAN CESS
Why in news?
Imposition of Krishi Kalyan Cess of 0.5% as announced in the Budget.
What is it?
 KKC is a cess, applicable on all services. It is to be solely used towards financing activities for the improvement of agriculture and farmer welfare.
 Hence new effective Service Tax hence increased to 15% from 14.5%.
 Budget target for Krishi Kalyan Cess is Rs. 5000 crore.
Why is it important?
 The KKC is based on the idea that levying a cess on a thriving sector service sector (58% of GDP) of the economy can help fund a lifeline to a sector that is in distress (Agriculture).
 The problem is particularly acute this year after two consecutive years of monsoon failure.
 Over the long-term, improvement in agricultural productivity will help farmers earn higher income and consumers benefit and low inflation from lower prices as a result of better supplies
Difference between cess, surcharge, levy and tax
 Tax: Any money the government takes from you for doing any economic activity is tax.
 Levy is the act of charging tax.
 "Cess" means tax levied by the govt to raise funds for a specific purpose. It is also a tax on tax.
 Surcharge is a charge on any tax, charged on the tax already paid. Govt can spend it anywhere.
 Duty: This is an on-border tax charged on goods
3.12. FUND OF FUNDS FOR FUNDING SUPPORT TO START-UPS
Why in news?
The Union Cabinet has approved the establishment of "Fund of Funds for Startups" (FFS), an initiative of Department of Industrial Policy & Promotion (DIPP).
What is it?
 The corpus of FFS is Rs.10,000 crore which shall be built up over the 14th and 15th Finance Commission cycles subject to progress of the Startup India scheme and availability of funds.
 The expertise of SIDBI would be utilized to manage the day-to-day operations of the FFS.
 The monitoring and review of performance would be linked to the implementation of the Start Up Action Plan to enable execution as per timelines and milestones.
Significance
 A corpus of Rs. 10,000 crore could potentially be the nucleus for catalyzing Rs. 60,000 crore of equity investment and twice as much debt investment.
 This would provide a stable and predictable source of funding for Startup enterprises and thereby facilitate large-scale job creation.
 Accelerating innovation driven entrepreneurship and business creation through Start-ups is crucial for large-scale employment generation.
3.13. ASIAN DEVELOPMENT BANK - GANGA BRIDGE LOAN
 Asian Development Bank (ADB) has approved $500 million (approximately Rs 3350 crore) loan for constructing a bridge across Ganga.
 Once built, the 9.8 km road bridge in Bihar will be country's longest river bridge.
 The bridge would provide vital transport links between the northern and southern parts of the state and with neighbouring country Nepal.
 The project will run for about 4 years and is expected to complete by the end of December 2020.
 Along with ADB's loan and $900,000 (approximately Rs 6 crore) in technical assistance to improve bridge operation and management, Bihar government will provide support equivalent to $215 million (approximately Rs 1460 crore).
About ADB
 The Asian Development Bank was conceived in the early 1960s as a financial institution that would be Asian in character and foster economic growth and cooperation in one of the poorest regions in the world.
 ADB assists its members, and partners, by providing loans, technical assistance, grants, and equity investments to promote social and economic development.
 ADB is composed of 67 members, 48 of which are from the Asia and Pacific region.
 India became a member of the Asian Development Bank (ADB) as a founding member in 1966.
 India is holding 6.33% of shares in ADB as on 31st December, 2012. India has 5.36% voting rights.
 Japan and the US represent the largest shareholders.
3.14. RAJASVA GYAN SANGAM
Why in news?
The PM has addressed the tax administrators of both Central Board of Direct Taxes (CBDT), and the Central Board of Excise and Customs (CBEC), at Rajasva Gyan Sangam.
________________________
The Prime Minister outlined a 5-point charter for tax administrators, RAPID:
R for Revenue,
A for Accountability,
P for Probity,
I for Information (for non-intrusive tax assessment)
D for Digitization (to record them)
________________________
Suggestions
 The necessity of digitization, voluntary tax compliance, facilitation for
taxpayers, increasing the tax base, upgradation of digital and physical
infrastructure for tax administrators etc.
 Tax evaders should be brought to heel. But the Law enforcement agencies v/s taxpayer friendly departments dilemma, while collecting due taxes from people, should be resolved.
o They both are not essentially at loggerheads, but can be complementary to each other.
 PM has suggested: People should not fear tax administrators.
 Need for tax administrators to engender trust in the system.
 Simplification - User-friendly procedure to increase the tax payments.
3.15. "SURYAMITRA"

Who are Suryamitras?
Suryamitras are skilled technicians who can install, operate, repair and maintain, provide servicing for solar powered panels, solar power plants and equipment (For ex: solar cookers, solar heaters, solar pumps etc.)
Suryamitra initiative
________________________
Suryamitra mobile app
"Surya Mitra" is a GPS based mobile App developed by National Institute of Solar Energy (NISE).
This App is a high-end technology platform, which can handle thousands of calls simultaneously and can efficiently monitor all visits of Suryamitras.
________________________

 "Suryamitra" is a residential program which is 100% funded by Govt. of India and implemented by NISE across the country.
 The institutes like universities, polytechnics, ITIs etc. are executing the "Suryamitra" skill development program at various locations in the country.
 Thus Suryamitra is creating job opportunities to the unemployed youth. About 80% of the Suryamitras are placed in various solar industries with decent salaries. The rest are becoming entrepreneurs in the field of solar energy.
 Suryamitra initiative is also a part of Make in India. Suryamitra course is a 600 hours (i.e. 3 months) skill development program designed to create skilled manpower in installation, commissioning, and Operation & Maintenance of solar power plants and equipment.
 MNRE set a target of 50,000 "Suryamitras" of skilled manpower in solar energy sector in next 3 years. As on date more than 3,200 Suryamitra are trained under the program. The target for FY 2016-17 is to train 7,000 Suryamitra's.
Significance
 To achieve and maintain the target of 100 GW solar power plants for 25 years, India requires about 6.5 lakh personnel, trained in solar energy sector (estimated by CII). This course is designed and oriented as per requirement of solar industry.
 To serve customers at their doorsteps with quality installation, repair, and O&M services and thereby create job opportunities.
 Suryamitra Mobile App would act as an effective catalyst in creating demand for solar products in the country and in offering employment and business opportunities for Suryamitras.
About National Institute of Solar Energy (NISE)
 An autonomous institution of Ministry of New and Renewable (MNRE), is the apex National R&D institution in the field Solar Energy.
 The Government of India has converted 25 year old Solar Energy Centre (SEC) under MNRE to an autonomous institution in September, 2013 to assist the Ministry in implementing the National Solar Mission and to coordinate research, technology and other related works.
3.16. NATIONAL SOLAR MISSION
Aim
 Generating 100 GW of solar power by the year 2021-22
 To generate 60 GW ground mounted grid-connected solar
power and 40 GW through roof-top grid interactive solar
power.
 The target for the current year is 2,000 MW and next year target is 12,000 MW.
_____________________________
Solar power potential in India
As per the study conducted by ministry of new and renewable energy (MNRE), India's solar power potential is as high as 748 GW, against our country's cumulative installed capacity from all sources at around 275 GW.
_____________________________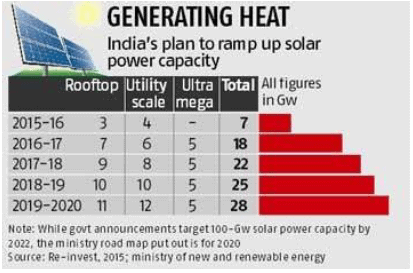 Work being done
 States step up
 This year India had 6,762 megawatts (MW) of grid-connected solar power projects. Of this, Rajasthan tops the list with around 1,269MW.
 states like Telangana (527.8MW), Andhra Pradesh (573MW) Tamil Nadu (1,061.8) and Gujarat (1,119.1MW)are also doing well
 Bridge to India report released in April highlighted that states such as Maharashtra and Uttar Pradesh that are large power consumers have been relatively slow to grow
 To achieve above stated objective, the Ministry of New & Renewable Energy has initiated several projects like:
 Scheme for Development of Solar Parks and Ultra Mega Solar Power Projects;
 Scheme for Development of Solar PV Power Plants on Canal Banks/ Canal Tops;
 Scheme of setting up 1000 MW of Grid- Connected Solar PV Power Projects by CPSUs with Viability Gap Funding.
____________________________
Solar power getting cheaper
Solar panels made from materials called perovskites.
Recent bids by companies such as SkyPower, SunEdison were at Rs. 5-6/ unit which is very much comparable to thermal power plants.
Less practical than conventional energy
Solar energy works only when the sun is shining
Solar systems do not operate efficiently during monsoons or winters when there is fog.
Blending of solar energy in the grid with thermal energy – and that poses all sorts of practical problems.
Capital costs of solar installation are also higher.
Domestic manufacturing remains a weak link:
Indian products are of low technology.
Self-sufficiency is needed for success of Make in India. Will save $42 billion in equipment imports by 2030 and create 50,000 direct jobs and at least 125,000 indirect jobs.
____________________________
Challenges
 Availability of land: for solar units is a major problem.
 Land ownership and the willingness of the owners to part with these lands are an issue that needs to be addressed.
 Evacuation of power from remote areas is difficult. Wasteland is available, but the problem is that they are typically in remote locations.
 RPOs: The lifting of solar power by the distribution companies is also a question mark because of their poor financial health, and because renewable energy purchase obligations may not be effectively enforced.
 Many investors are asking deeper questions about viability. Nearly one square kilometre of land is needed to put up a 40-60 MW solar plant. Such large chunks of land are not readily available except in isolated areas from which evacuation of power becomes even more difficult.
Way Forward
 Germany has become a world leader in Solar Energy because of the system of Feed-in-Tariffs (FITs - fixed per kWh for 20 years, covering investment )and guaranteed priority grid connections to renewable energy producers
 Farmer co-operatives to harvest solar fields, especially in areas that have low irrigation and cropping intensity, like Marathawada and Bundelkhand. This will also supplement in the income of farmers.
 Resolution of WTO solar dispute and finding out alternatives for increasing the domestic production.
3.17. WORLD INVESTMENT REPORT 2016
Why in news?
UN Conference for Trade and Development (UNCTAD) has released the World Investment Report 2016.
Salient points
 Global Investment Trends
 Recovery in FDI was strong in 2015. Global FDI flows jumped by 38 per cent to $1.76 trillion, their highest level since the global economic and financial crisis of 2008–2009.
 Looking ahead, FDI flows are expected to decline by 10–15 per cent in 2016, reflecting the fragility of the global economy, persistent weakness of aggregate demand, sluggish growth in some commodity exporting countries, effective policy measures to curb tax inversion deals and a slump in MNE profits.

 Regional Investment Trends
 After three successive years of contraction, FDI inflows to developed countries bounced back sharply to the highest level since 2007, reach a new high of $765 billion, 9 per cent higher than in 2014
 India continues to be among the top ten countries in terms of foreign direct investment (FDI) inflows globally and the fourth in developing Asia
 India's FDI inflows have increased to $44 billion in 2015 as compared to $35 billion in 2014

 Causes for increased FDIs
 Make in India initiative, alongside liberalization measures and reforms initiated by the Government.
 The recent announcement of increasing FDI in seven new sectors, including civil aviation, defence, food products and pharmaceuticals, has huge
potential for attracting FDI.
 Huge potential offered by India, the fastest growing major economy,

 Outflows
 In terms of outflows, there has been a decline in most developing and transition regions.
 The declining trend in India's outflows can be explained by the collapse in the commodity side.

 Investment Policy Trends
 Most new investment policy measures continue to be geared towards investment liberalization and promotion.
 Governments' space for applying national security regulations needs to be balanced with investors' need for transparent and predictable procedures.
 Necessity for striking the right balance between liberalization and regulation to promote investment for sustainable development.
About UNCTAD
 United Nations Conference on Trade and Development (UNCTAD) is the principal organ of the United Nations General Assembly dealing with trade, investment, and development issues. The organization's goals are to: "maximize the trade, investment and development opportunities of developing countries."
 It organizes: World Investment Forum
 It publishes reports like:
 World Investment Report
 Technology and Innovation Report
3.18. MODEL GST LAW
Why in news?
The Government has unveiled a draft version of the 'Model GST Law' for comments from various stakeholders. Once implemented, the GST will subsume all existing indirect tax provisions under customs law, central excise law, service tax law, VAT laws, etc.
What is GST?
GST is a value added tax that will replace all indirect taxes levied on goods and services by the Government, both Central and States, once it is implemented.GST would amalgamate various taxes and create a single tax which would mitigate cascading or double taxation.
Features
Model GST law contains two parts - the Goods and Services Tax Act, 2016 and the Integrated Goods and Services Tax Act, 2016.
 The GST law will comprise of Central GST (CGST), State GST (SGST) and Integrated GST (IGST) which will be levied on the same taxable value.
 The CGST and SGST shall be simultaneously imposed on intra-state supply of goods and services, while the IGST on interstate supplies.
 Taxable event under GST is 'supply of goods and services' instead of the existing multiple taxable events like manufacture, rendering of service and sales of goods.
 The GST law maintains distinction between goods and services. The definition 'goods' is in line with the Sales of Goods Act, 1930 and services has been defined to mean anything other than goods. Therefore, all intangible services fall under 'services'.
 GST rate will be specified in the schedules of this law.
 It also provides for tax deduction at source (TDS) for online transactions, clearly bringing ecommerce under GST fold.
 The law provides for appointment of three classes of officers, viz.,
 CGST officers
 SGST officers and
 IGST officers who will be responsible for administering the respective GST law.
 The law gives central and state GST officers above a certain rank the powers to conduct audit and inspection as well as search and seizure operations in cases of tax evasion.
 Suppliers are liable to be registered in each State from where supply of goods and/ or services is made.
 The law provides for the constitution of a National GST appellate tribunal by the Centre, with a branch in each state to hear disputes. Appeals must be filed within 3 months from the date of communication of order.
_______________________________
GST council
A council will be set up to recommend rates of tax, period of levy of additional tax, principles of supply, special provisions to certain states, resolve disputes etc. The GST Council will consist of the Union finance minister, Union minister of state for revenue, and state finance ministers.
_______________________________
Challenges
 To ensure that States adopt and enact the model law in its fullest form, to ensure uniformity of the levy and its consistent administration, as also the concept of "unified market" that has been central to the proposed GST regime since its inception.
 GST Dispute Settlement Authority: is not included in the Bill.
This is a serious lacuna that must be filled. GST council may not be able to deal objectively due to political contingencies.
 Voting pattern within the GST Council: is unduly weighted in favour of the Centre. Centre getting one-third share in voting rights. On the other hand, states' collective share will be limited to two-third. This was pointed out by Tamil Nadu CM.
 Rewarding destination states: GST, by nature, is a destination-based consumption tax.
 Disparity in IT connectivity: GST aims to achieve a tectonic shift to a singular digitised compliance set-up.
 Dependence of GST on IT: The proposed GST is also highly dependent on IT. For instance, the Integrated Goods and Services Tax (IGST) mechanism, which enables the crucial fungibility of taxes across States, will be unworkable outside an automated set-up, especially given the sheer volume of transactions that the GST will subsume. The proposed IT infrastructure will have to be suitably equipped, as any snags would effectively render the levy dysfunctional.
 Conflict between the Centre and the States: past precedent has shown that such dual taxing power has resulted in complete chaos at the cost of assesses.
 Issues of place of supply: Though this is a loop-hole where Centre and States can assert to garner tax revenue, Model Law has taken enough care of this.
Way forward
 All the states have united recently, for the passage of GST bill. This is a good sign.
 States have rejected the provision for a constitutional cap on the GST rate. There has been complete consensus on no constitutional cap, as exigencies may arise in future to revise the rates.
 The government has made it clear that there was no deadline for the implementation of the GST, which makes further negotiations easy.
 The government aims to introduce the GST Constitution Amendment Bill in the Rajya Sabha in the monsoon session of Parliament.

3.19. LOAD GENERATION BALANCE REPORT
What is LGBR report?
 The government used to plan generation with deficit of power in the past in its LGBRs, which are brought out every year to project electricity demand and supply situation.
 The report covers the month-wise anticipated energy requirement and availability as well as peak demand and availability for the year against an all India annual generation target.
 The LGBR is finalised by the Central Electricity Authority and approved by the Power Ministry after detailed discussions with the States/ utilities and Central/State/Private generation companies.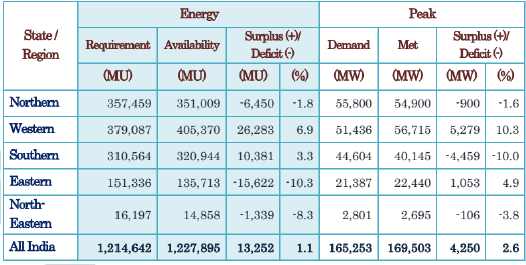 Highlights
 To make the country energy surplus with a target of generating 1,178 billion units, leading to a 1.1 per cent overall electricity surplus this fiscal.
 Among the States where power surplus is anticipated in the current fiscal are: Delhi at 18.6 per cent, Madhya Pradesh at 11.9 per cent, Maharashtra 7.4 per cent and Tamil
Nadu at 11.2 per cent, among others.
 The States where electricity deficit is anticipated are Jammu and Kashmir, Uttar Pradesh, Uttarakhand, Bihar and Jharkhand, among others.
 Increase in availability: Import of Power from Generation Projects in Bhutan and also availability from non-conventional and renewable energy sources in the country.
 During the year 2015-16, a total of 28,114 circuit-km of transmission lines and 62,849 MVA transformation capacity was added.
 With the commissioning of these transmission lines, the inter-state and intra-state capability of power transfer in the country enhanced considerably.
 A generating capacity above 16,654.5 mw has been considered in the LGBR for 2016-17
3.20. FALL IN NRI REMITTANCES
What is the Issue?
 Sixty per cent of the India's remittances come from Gulf countries.
 Due to slide in oil prices the suppliers i.e., gulf countries are most affected. Remittances by non-resident Indians (NRIs) fell 87 per cent in April.
 The biggest fall was registered in the Non-Resident (External) Rupee Account (NR(E)RA) category, which saw inflows decreasing to $203 million in April. It was $2,200 million in the year-ago period.
Impact on India
 Healthy current account deficit has been one of the redeeming features of the country's external sector and prevented crisis.
 A huge drop in the import bill has compensated Indian economy.
 According to Moody's diversified location of Indian workers overseas will balance out falling remittances from Gulf.
 Further, relatively diverse occupations of their workers would provide a buffer against an oil-related slowdown in remittances.
 Negative Impact:
 Certain regions in country (for ex: Kerala) are
significantly affected.
 Lay-offs in many Gulf countries have increased the unemployment conditions in India.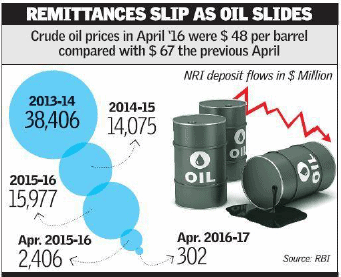 3.21. SINGAPORE INTERNATIONAL ARBITRATION CENTER
Why in news?
Singapore International Arbitration Centre (SIAC) in June 2016 signed a Memorandum of Agreement (MoA) with Gujarat International Finance Tec-City Company Limited (GIFTCL) and GIFT SEZ Limited (GIFT SEZ) to establish a representative office in India.
Aim: To resolve international commercial disputes with the collaboration of SIAC and the Singapore International Mediation Centre (SIMC) with Indian companies.

Highlights
 As per the agreement, GIFTCL, GIFT SEZ and SIAC will collaborate to promote the use of arbitration, mediation and other dispute resolution mechanisms
 It also includes the innovative 'Arb-Med-Arb' service (Arbitration - Mediation - Arbitration).
 SIAC's representative office will promote its international arbitration services to Indian users.
Arb-Med-Arb
Arb-Med-Arb is a process where
 A dispute is first referred to arbitration before mediation is attempted.
 If mediation works, mediated settlement may be recorded as a consent award.
 If mediation fails, they may continue with the arbitration proceedings.
Economic implications
 Promote SIAC's arbitration services to Indian users.
 Indian parties are among the top five foreign users of SIAC in the last five years & India was the top foreign user of SIAC in 2013 and 2015.
 GIFT city can bring back money lost to other rival financial centres i.e., IFSCs of Dubai, Singapore and Hong Kong.
 Strengthens the GIFT city as International Financial Services Centre (IFSC) as any successful IFSC requires an efficient dispute resolution mechanism.
 SIAC increases the 'Ease of doing business' by improving the contract enforcement, reducing delays, protecting investors, resolving insolvency etc.
Gujarat International Finance Tec-City or GIFT
 It is first of the 100 smart cities.
 GIFT city is the first IFSC (International financial services centre) and to be set up in a SEZ.
 As part of the budget, a reduced Minimum Alternate Tax (MAT) rate of 9% was proposed for the IFSC in an SEZ in Gujarat, while retaining 18.5% MAT on all other SEZs.
 GIFT City is a US$20-billion project combining state-of-the-art connectivity, infrastructure and transportation with sustainable growth.
 From offshore banking to currency convertibility, re-insurance, commodity and securities trading
and capital raising all kinds of financial activity can take place inside this IFSC.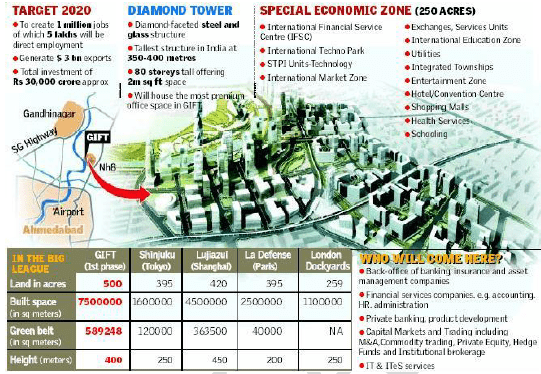 3.22. CIVIL AVIATION POLICY
Why in news?
The Union Cabinet recently cleared the Civil Aviation Policy in order to boost the domestic aviation sector and provide passenger-friendly fares. This new policy aims at providing various benefits to domestic airline passengers.
The Policy aims at
 India to become 3rd largest civil aviation market by 2022 from 9th.
 Domestic ticketing to grow from 8 crore in 2015 to 30 crore by 2022. To grow domestic passenger traffic nearly four-fold to 300 million by 2022.
 Airports having scheduled commercial flights to increase from 77 in 2016 to 127 by 2019.
 Cargo volumes to increase by 4 times to 10 million tonnes by 2027.
 Enhancing ease of doing business through deregulation, simplified procedures and e-governance.
 Promoting 'Make In India' in Civil Aviation Sector.
 Ensuring availability of quality certified 3.3 lakh skilled personnel by 2025.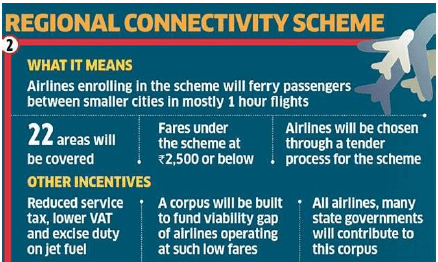 Highlights of NCAP
 The cornerstones of the new civil aviation policy are
 competition
 consumers
 connectivity (within India and with the rest of the world)
 investment-both from domestic and foreign investors

 Regional Connectivity Scheme
 Capping of fare: Rs 1,200 for 30 minutes and Rs 2,500 for hour-long flights.
 Revival of airstrips/airports as No-Frills Airports at an indicative cost of Rs.50 crore to Rs100 crore
 Route Dispersal Guidelines (RDG)
 MoCA will categorize the air traffic routes into 3 categories.
 5/20 rule scrapped.
 Replaced with a scheme which provides a level playing field
 All airlines can now commence international operations provided that they deploy 20 aircraft or 20% of total capacity, whichever is higher for domestic operations.

 Bilateral Traffic Rights
 GoI will enter into 'Open Sky' ASA on a reciprocal basis with SAARC countries and countries located beyond 5000 km from Delhi. i.e., these countries will have unlimited access, in terms of number of flights and seats, to Indian airports, leading to increased flight frequencies with these countries.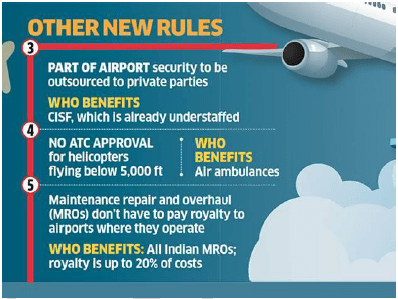  Ease of doing business
 A single window for all aviation related transactions, complaints, etc.
 More focus on ease-of-doing business as government plans to liberalize regime of regional flights.
 Permission for Indian carriers to get into code-sharing agreement with foreign carriers for any destination within India.
 The earlier proposed 2% cess on all regional flights has been done away with. The cess was proposed to collect funds to improve regional infrastructure.

 Infrastructure development
 Restoration of air strips at a maximum cost of Rs 50 crore through Airports Authority of India (AAI).
 Four Heli-hubs to be developed. Helicopter Emergency Medical Services to be facilitated
 Development of Greenfield and Brownfield airports by State government, private sector or in PPP mode to be encouraged.
 Future tariffs at all airports will be calculated on a 'hybrid till' basis
 Strategic partnership between Ministry of Skill Development and Entrepreneurship and Ministry of Civil Aviation to boost skill initiatives in aviation sector.
Shortcomings in the new policy
 Structural reforms ignored
 There has been no direction on improving institutional capability in the Ministry of Civil Aviation.
 The policy also doesn't provide the civil aviation sector with the institutional infrastructure required for long-term growth.
 The policy gives no direction for professionalizing the Directorate General of Civil Aviation (DGCA) and Bureau of Civil Aviation Security (BACS), independent Civil Aviation Authority (CAA). Airports Authority of India (AAI).
 AAI is important as India's massive airport infrastructure development plans requires a strong entity to see the execution through and AAI needs to be revamped.
 Other shortcomings
 Rs 2,500 for a one-hour flight ticket - and subsidising private airlines in case the ticket prices exceed this per-determined rate. Arbitrary price curbs and bureaucratic interference in the affairs of private airlines may lead to rent-seeking.
 NCAP remains silent on increasing Foreign Direct Investment (FDI) in Airlines.
 Scrapping away 5/20 rule may not help new carriers like Vistara and AirAsia India significantly as they cannot fast track expansion owing to a resource crunch.
 The helicopter industry will structurally change with the announced measures, but its success is dependent almost entirely on DGCA, BCAS and infrastructure development.
3.23. SEBI ISSUES STRICTER KYC & DISCLOSURE REGIME FOR P-NOTES
Background
 Special Investigation Team (SIT) on black money has suggested ensuring that P-Note route is not used for money laundering.
 Earlier in 2007, Offshore/overseas derivative instruments (ODIs) used to account for as high as 55% of the total foreign fund flows in Indian capital markets, now their share has fallen to a record low level of 9.3%.
Facts
 Under the new norms, all the users of P-Notes would have to follow Indian KYC and Anti Money Laundering (ALM) Regulations, irrespective of their jurisdictions.
 Henceforth, P-Note issuers will be required to file suspicious transaction reports with the Indian Financial Intelligence Unit.
 ODI holders have to report monthly reports on ODIs all the intermediate transfers during the month.
 ODI issuers have to carry out reconfirmation of the ODI positions on a semi-annual basis.
What are offshore derivatives instruments (ODIs)?
 (ODIs) are investment vehicles used by overseas investors for an exposure in Indian equities or equity derivatives.
 These investors are not registered with SEBI, either because they do not want to, or due to regulatory restrictions.
 These investors approach a foreign institutional investor (FII), who is already registered with SEBI. The FII makes purchases on behalf of those investors and the FII's affiliate issues them ODIs.
 P-Notes are a type of offshore/overseas derivative instruments (ODIs)
Financial Intelligence Unit – India: was set by the Government of India in 2004 as the central national agency responsible for receiving, processing, analyzing and disseminating information relating to suspect financial transactions.
3.24. SEBI RELAXES RULES FOR REITS, OFFSHORE FUND MANAGERS
Why in news?
The Securities and Exchange Board of India (Sebi) has relaxed rules on Real Estate Investment Trusts (REITs) by allowing them to invest more in under-construction projects, rationalised unit holder consent on related party transactions and removed restrictions on special purpose vehicle (SPV) to invest in other SPVs holding the assets.
 The current regulations cap investment of REITs' assets in under-construction projects at 10%, which will be raised to 20%.
 Sebi also proposed to raise the number of REIT sponsors, which is now capped at three.
 Additional relaxation is also proposed on clearing related-party transactions and the number of shareholders needed to pass a resolution.
 The Sebi board has also approved changes to portfolio manager regulations to allow a foreign fund manager to relocate to India as an eligible.
 However, the intent to allow REIT to invest more in under-construction assets may dilute the idea of a REIT. Globally, REIT is composed of only stable assets. Allowing more investments in incomplete projects may improve return on investment but on the flip-side it will also increase risks,
3.25. NRI CAN APPLY TO NPS ISSUE
 The Centre has announced that non-resident Indians (NRIs) can now open National Pension Scheme (NPS) accounts online. Earlier NRIs could only make paper-based applications to banks.
 Through e-NPS, NRIs will need just an Internet connection and an Aadhaar/PAN card.
 In addition, NRIs will get to open NPS accounts on both repatriable and non-repatriable basis.
 For both, they will be able to join through their NRE/FCNR/NRO accounts. At the time of maturity or during partial withdrawal, the NPS funds would be deposited only in their NRO.
________________________
Repatriable Accounts: Legally Indian rupees can be transferred back to foreign currency, that is money can be converted to any foreign currency.  Ex: NRE Account (Non-resident External Account): Savings, Current & Time Deposits
 FCNR-B Account (Foreign Currency Non-resident Bank Deposits)
Non-Repatriable Accounts: Money cannot be converted to any foreign currency.
NRO Account (Non-resident Ordinary Rupee Account) – Savings, Current and Time Deposits accounts
____________________________
Significance
 India has the second-largest diaspora in the world, with around 29 million people living in over 200 countries and out of these 25 per cent live in the Gulf countries.
 Both repatriable and non-repatriable schemes will greatly appeal to NRIs who intend to return to India after their employment abroad.
 Most of the Indians going to the Gulf and some other countries go for employment and return to India after having worked abroad for a certain period.
 NPS can provide a long term solution to their old age income security.
 It is also attractive due to NPS scheme's active returns, low cost, flexibility for NRIs
 Also NPS is being regulated by the PFRDA, which gives the confidence and trust factor very important for pension dependent old-age population.
3.26. INCENTIVES OFFERED FOR TEXTILE SECTOR
Why in news?
The Centre has announced a Rs. 6,000 crore special package to help create one crore jobs, mostly for women, in the next three years.
What is in it?
 The package includes several tax and production incentives. The package also provides the sector more flexible labour laws and financial incentives.
 Labour welfare: Overtime hours for workers shall not to exceed eight hours per week - in line with International Labour Organisation norms.
 Fixed term employment will be introduced for the sector to mitigate seasonal nature of employment.
 Employees Provident Fund: Govt. is tol bear the entire employer's contribution of 12 per cent under the EPF Scheme, for new employees of garment industry earning less than Rs. 15,000 per month, for the first three years.
 A New scheme: will be introduced to refund the state levies which were not refunded so far. Of the Rs.6,000 crore package, Rs.5,500 crore is for an additional 5% duty drawback for garments.
 Drawback at 'all industries rate' would be given for domestic duty paid inputs even when fabrics are imported under 'Advance Authorization Scheme.'
 Rs.500 crore will be for additional incentives under Amended Technology Upgradation Funds Scheme (ATUFS), also the subsidy in this scheme is increased from 15% to 25%, providing a boost to employment generation.
From input-based to outcome-based incentives i.e., to disburse subsidy only after expected jobs have been created.
Significance
 Compared with Bangladesh and Vietnam India was the leader in apparel exports between 1995 and 2000. They have surpassed India.
 With the package the Indian textile and apparel sector would be strengthened by improving its cost competitiveness in the global market. With policy support, India can again regain its position in the next three years.
 The government hopes the package will create one crore new jobs in three years, attract Rs. 74,000 crore in investment and generate $30 billion in exports earnings.