Electric current
An electric current is a flow of electric charge through an electrical conductor.
In electric circuits this charge is often carried by moving electrons in a wire.
It can also be carried by ions in an electrolyte, or by both ions and electrons such as in a plasma.
The SI unit for measuring an electric current is the ampere, which is the flow of electric charges through a surface at the rate of one coulomb per second.
Electric current can be measured using an ammeter.
Direct & Alternating current
Direct current (DC) is the unidirectional flow of electric charge.
Direct current is produced by sources such as batteries, thermocouples, solar cells, and dynamo .
In alternating current (AC), the movement of electric charge periodically reverses direction.
Electromagnetism
Electric current produces a magnetic field. The magnetic field can be visualized as a pattern of circular field lines surrounding the wire that persists as long as the current flows.
Magnetism can also produce electric currents.
When a changing magnetic field is applied to a conductor, an EMF is produced, and when there is a suitable path, this causes current to flow.
Electric current can be directly measured with a galvanometer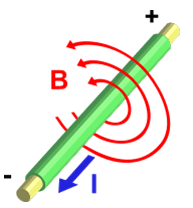 Electromagnetism
Generating Electrical Current
Electrical current can be generated by moving a metal wire through a magnetic field.
This applies both to alternating current (AC) and direct current (DC) electricity.
This is a different method than where DC is created by a battery, which uses chemical reactions.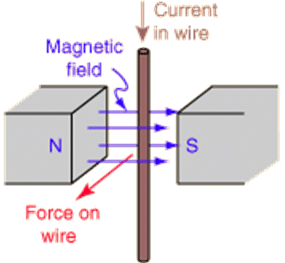 Generation of electric current
Electrical generators rotate a coil of wires through a magnetic field.
An electric motor is very similar to a generator, except that power is provided to turn the rotors.
Electrical Generators
Hydel-Power station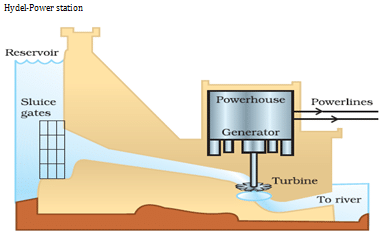 Hydel Power Station
Fuse Wire
Fuse Wire is used in a circuit to control the maximum current flowing in a circuit. It is a thin wire having high resistance and is made up of a material with low melting point.