Vibration Isolation is ususlly required in two cases:
a. Isolating a noisy machine - Here, the focus us on design of a suitable foundation which can absorb the vibrational energy and stop propagation. Example: Machine foundation for P.A and F.D fan in a power plant, vibration isolation of washing machine.
b. Isolating a sensitive instrument - Here, the focus is on developing a supporting structure that can isolate a precision system from severe ambient excitation. Example: vibration isolation of satellite structure from the Launching Vehicle
To reduce the transmitted excitation isolators in the form of springs and dampers are used. These are grouped into several catagories as shown below
Important Isolating Elements

Use of elasto-damping materials
Springs
Dampers
Complex damping/stiffness
In this lecture, we will discuss about various industrially applied springs and dampers.
Springs
Various springs are used for vibration isolation. A few of them are discussed here.
Helical spring
Helical steel springs are often used in earthquake/vibration prone areas below the superstructure. These springs offer high load bearing capacity and effective low frequency isolation. The spring constant is given as follows:

Performance of such springs in compression may vary significantly if the ends are not properly secured.
Transversely loaded spring
The transversely loaded arrangement as shown below offer higher load carrying capacity (due to smaller deflection). This also offers increased damping due to the friction between the spring surface and the support.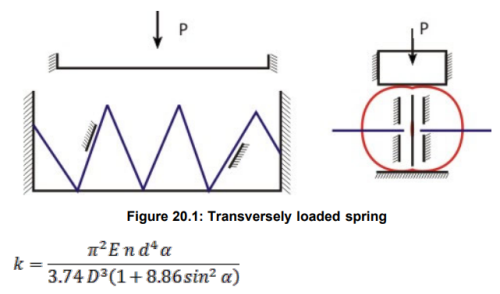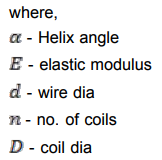 Springs
Slotted Spring
This type of springs can be fabricated by machining tubular blanks.
High stiffness ( load carrying capacity ) with high accuracy in a small outline is obtainable with such springs. The spring constant is given by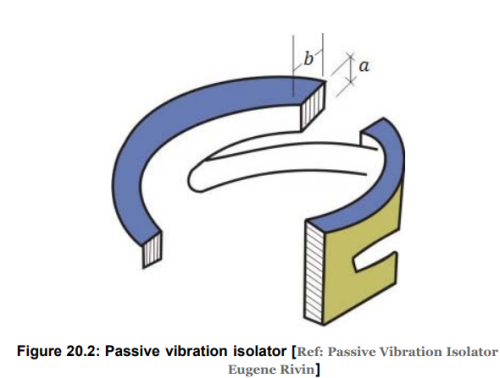 Springs
Statically nonlinear coil spring
Nonlinear coil springs of different types as shown below are used such that the springs show constant natural frequency isolation. Such system may have undesirable effects like sub or super harmonic Vibration. Isolators with high damping may alleviate this problem.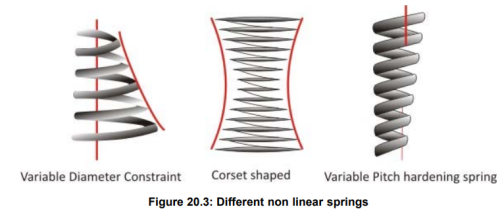 Belleville Springs
Beleville springs are also used to provide high load carrying capacity in a small volume similar to slotted springs.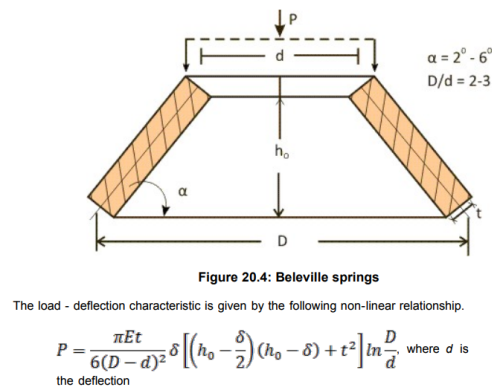 As has been shown in the next figure, by varying the h0/t ratio one can obtain a drastic change in the load deflection behaviour of this system.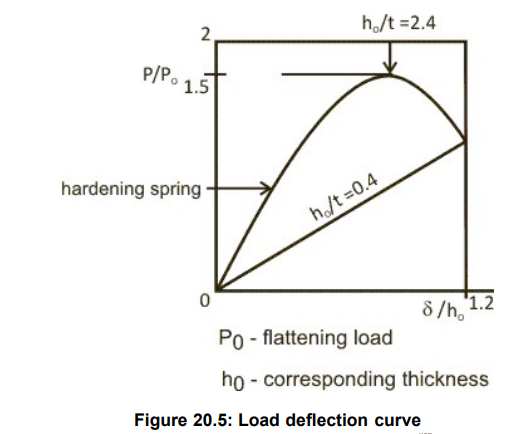 Wire mesh material
Use of stainless cold drawn wire (0.1-0.6 mm) diameter; knit into bands and wrapped into round packs has been used widely as vibration isolator. The stiffness of the system is given by:

The material is strongly hardening for static loading and strongly softening for dynamic loading.
Felt
Same like wiremesh but developed using nylon or rubber fibre. The dynamic stiffness is given by

The next figure shows an approximate guideline for choosing an isolator material based on the level of development.