EMBRYOLOGY
CLEAVAGE (Cellulation or segmentation)
- The term 'Cleavage' was given by "Von Baer".
- In fertilized egg or activated egg, the egg undergoes repeated cell divisions which occur rapidly producing a multicellular structure without changing its size. All these rapid mitotic cell divisions are collectively called cleavage or segmentation. Due to the process of cleavage, a single celled zygote, through a successive mitotic cell divisions changes into a complex multicellular structure. Cells produced as a result of cleavage are termed as blastomeres. The total size of the embryo remains the same. Though the number of blastomeres as a result of mitotic cell divisions increases, the size of blastomeres gradually decreases as compared to parent cell. Interphase stage is very short in cleavage. In interphase only DNA duplication and histone protein synthesis takes place up to some extent. In the interphase of cleavage only 'S' phase is present, G1 & G2 phases are absent. Protein synthesis and RNA synthesis do not occur during this interphase. Nucleolus is absent in the nucleus of blastomeres.
Size of blastomeres decreases during cleavage. When size of blastomere becomes equal to that of size of somatic cells, the divisions of cleavage are stopped. Only normal cell divisions take place. Cleavage can be observed till end of gastrula stage. After gastrulation, cleavage is completely checked. Nucleous appears first in gastrula stage. The consumption of oxygen is increased during cleavage.
CLEAVAGE PLANE
The travelling path of cleavage furrow in fertilized egg is called cleavage plane. Different animal eggs show different cleavage planes :-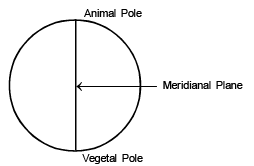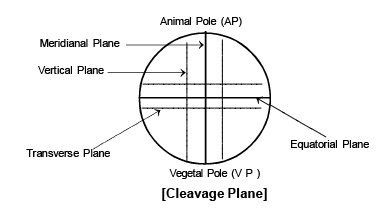 PATTERNS OF CLEAVAGE -
(a) Radial Cleavage - In this pattern, cleavage furrows are straight and form right angle with each other. In this case I, II cleavages are meridianal, which are at right angle to each other. III cleavage is equatorial. In this way 8-celled octate is formed. In radial cleavage, 4 blastomeres of upper tier and 4 blastomers of lower tier are on same plane i.e, Blastomeres are arranged in radial symmetry in the begining.
Example :- Deuterostomia [Under this group echinoderms & chordates are included].
(b) Biradial Cleavage - In this pattern, first two cleavages are meridianal and at right angle to each other and III cleavage is vertical. In 8 - celled stage 4 blastomeres of central zone are bigger and 4 blastomeres of peripheral region are smaller.
Examples - In the eggs of Ctenophora.
(c) Bilateral Cleavage - In this pattern, first two cleavages are meridianal in same plane and III cleavage is transverse. i.e, embryo shows bilateral symmetry in 8 - celled stage. The blastomeres of one side are smaller and blastomeres of other side are larger.
Examples :- In the eggs of tunicata, cephalochordata (amphioxus) and amphibia. (d) Spiral Cleavage - The cleavage furrow passes obliquely. In this pattern 4 blastomeres of lower tier rotate clockwise or anticlock wise. If this rotation is clockwise, then it is called dextral spiral cleavage e.g. In Mollusca.
If this rotation of lower tier blastomeres is anti-clockwise, then this pattern is called sinistral spiral cleavage, e.g.
In helminthes and annelida.
CLASSIFICATION OF CLEAVAGE
On the basis of fate of blastomeres :-
A. Determinate Cleavage - In this pattern of cleavage, the fate of blastomeres is fixed, determined i.e. each blastomere forms a particular portion of embryo. If (by certain reason) any blastomere is damaged or destroyed, then the part of embryo (which would have developed from that blastomere) will be absent e.g., Nematoda, Annelida, Mollusca and . Some chordates like amphibia & ascidians.
B. Indeterminate Cleavage - In this type of cleavage, the fate of blastomeres is not definite. All the blastomeres form all the parts of embryo. If some blastomeres are lost, no loss is observed in this embryo. If in the early stages of cleavage, the embryo is cut into small pieces, then each piece of embryo will develop into a complete embryo, and all the embryos are identical. So identical twins are monozygous. This is the basis of embryo cloning.
CLASSIFICATION OF CLEAVAGE
On the basis of amount of Yolk :-A scientist namedBalfour gave a law. According to him, rate of cleavage is inversely proportional to amount of yolk present in the egg. The yolk present in egg, disturbs the rate of cleavage. The rate of cleavage is slow in that part of egg, in which amount of yolk is more, and the rate of cleavage is faster in the portion of egg in which yolk is in lesser amount. Mostly cleavage is of 2 types :-A. Complete or holoblastic :- When cleavage furrow passes through the egg completely. As a result of this the whole egg divides. Holoblastic cleavage is found in all the eggs except megalecithal eggs. The whole egg divides into blastomeres. No part of egg remains undivided. It is of 2 types :-(a) Equal holoblastic cleavage - In those eggs, in which amount of yolk is less and it is distributed evenly in the egg, cleavage occurs in whole egg, blastomeres (So formed) are of same size. All the parts of egg show same rate of cleavage.
Example : It is found in microlecithal and isolecithal eggs. (b) Unequal holoblastic cleavage - In those eggs in which amount of yolk is medium and it is distributed unevenly in the egg. The blastomeres are bigger and less in number where the concentration of yolk is higher in the egg. The part of egg which contains small amount of yolk, blastomeres here formed are smaller and more in number. The bigger blastomeres are called megameres and smaller blastomeres are called micromeres.
Examples : Unequal holoblastic cleavage is present in mesolecithal and telolecithal eggs and human eggs.
B. Meroblastic cleavage - This cleavage is found in megalecithal eggs, in which amount of yolk is large. Cleavage does not occur in that part of egg, where yolk is present cleavage occurs only in Cytoplasmic part, yolk remains undivided. Meroblastic cleavage is of 2 types on the basis of distribution of yolk in egg.
(a) Discoidal meroblastic cleavage - Cleavage occurs only in blastodisc of egg. This is mainly found in megalecithal or polylecithal eggs, because in these eggs, cytoplasm is found in the form of a disc. Examples - Reptilian eggs and birds eggs.
(b) Superficial meroblastic cleavage - In insect egg, central cytoplasm shows free central division, due to which so many nuclei are formed. All these nuclei migrates towards peripheral cytoplasm.
Cleavage occurs only in peripheral region. As a result of this, a superficial layer of blastomeres is formed around the yolk. This type of cleavage is also called superficial meroblastic cleavage. Example - In centrolecithal eggs.