EMBRYOLOGY
EXTRA EMBRYONIC MEMBRANES AND PLACENTA
Extra embryonic membranes
In chordates like reptiles, birds and prototherian mammals, blastula is a disc shaped structure called as blastodisc.
The cellular layer formed of blastomeres remains as blastoderm. The central part of blastoderm gives rise to embryo proper, while the peripheral portion does not take part in the formation of embryo. This peripheral part is known as extra embryonic region. This region takes part in the formation of certain membranes called extra embryonic membranes. These extra embryonic membranes provide facilities for nutrition, respiration and excretion to the embryo. Extra embryonic membranes are of four types–
1. Amnion
2. Chorion
3. Yolk sac
4. Allantois
On the basis of presence or absence of amnion, two groups of vertebrates are categorized
1. Amniota- This group is characterized with the presence of amnion in the embryos of its members.
For example members of class Reptilia, Aves and Mammalia.
2. Anamniota- Animals of this group are devoid of amnion in their embryos. For example class cyclostomata, pisces and amphibia.
Extra embryonic membranes in human
The process of gastrulation in embryo results into the formation of endoderm or hypoblast, ectoderm or epiblast, amniotic cavity, yolk sac, extra embryonic parietal and visceral mesoderm, connecting stalk etc. Extra embryonic membranes are also formed during this process. Each extra embryonic membrane is derived from two layers.
1. Amnion– It is formed by the layer of amniogenic cells present around the amniotic cavity and the extra embryonic mesoderm. Extra embryonic mesoderm layer surrounds the amnion. The connecting stalk is also attached with it. With a gradual increase in size the amnion covers the embryo from all sides. After about eight weeks of fertilization, amnion is completely incorporated into connecting stalk, which finally forms the umbilical cord. Embryo, in this stage, is called as foetus remains hanging in amniotic fluid.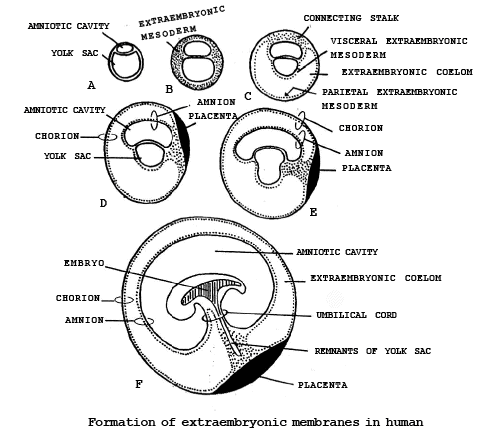 2. Chorion– It is formed by the extra embryonic parietal layer of mesoderm and the cell of trophoblast.
After implantation of blastocyst, the trophoblast gives out several finger like processes, the chorionic villi which get embedded into uterine endometrium Mesoderm also contributes in the formation of these villi. After a period of four month these villi disappear from all parts except the connecting stalk where they grow rapidly and participate in the formation of placenta.
3. Yolk sac– Yolk sac is formed by the cells of extra embryonic visceral mesoderm and endoderm. Initially the size of yolk sac is larger as compared to that of the embryo. About eight weeks after fertilization, the yolk is reduced in size and changes into a tubular structure. Ultimately a placenta is developed with the incorporation of yolk sac and mesodermal connecting stalk with the amnion and chorion.
4. Allantois– It is a solid and cylindrical mass formed by embryonic mesoderm. A small cavity lined by endodermal cells develops in it. The mesoderm of allantois forms many small blood vessels in this region. These vessels connect the embryo with placenta and ensure nutritional and respiratory supply to embryo. In human, allantois does not function to store the excretory wastes as it does in reptiles and birds.
PLACENTA
The eggs of viviparous animals are unable to develop into their embryos outside the uterus independently. This is because of the very little or negligible amount of yolk present in these eggs, which can not fulfill the nutritional and other physiolgical demands of a developing embryo. Here the embryo depends upon maternal tissues for shelter, nutrition, respiration etc. These animals therfore, have developed adaptation, respiratory and other physiological requirements from mother's body.
Placenta is found in all viviparous (exept sub-class-prototheria; oviparous) animals.
Structure of Placenta
Placenta is not a simple membrane.It is made up of the tissues from two different sources
Maternal tissue-These include uterine epithelium, connective tissues and blood capillaries.
Embryonic tissue- These include extra embryonic membranes (mainly chorion). Yolk sac and allantois may also take part in placenta formation. Embryonic connective tissues and blood capillaries are also constituents of it.
On the basis of extra embryonic membranes, the placenta is of three types.
1. Yolk sac placenta- It is formed by yolk sac and uterine epithelium.For example, Elasmobranchs (Sharks), Mustelus etc.
2. Chorio-vitelline placenta- It is formed by chorion and yolk sac combinely. Hence it is called as choriovitelline placenta. For example, Didelphis, Macropus and other metatherian mammals.
3. Chorio-allantoic placenta- This type of placenta is formed by embryonic chorion and allantoic membranes.
It is also referred to as a true placenta. It is found in eutherian mammals.
Chorio-allantoic placenta in mammals.
1. In this type of placenta, allantoic mesodern and the mesoderm of umbilical cord jointly form the blood vessels of umbilical cord. The endodermal part of the allantois remains as a very small cavity.
2. To obtain nutrition from maternal blood several finger like processes or villi are formed by chorion which penetrate deeply into the crypts of uterus.Initially the villi are scatterd over the whole surface of chorion but later they become restricted in the decidua besalis region . The chorionic villi on the remaining surface disappear shortly. The part of chorion, which helps in placenta formation is known as chorionic frondosum.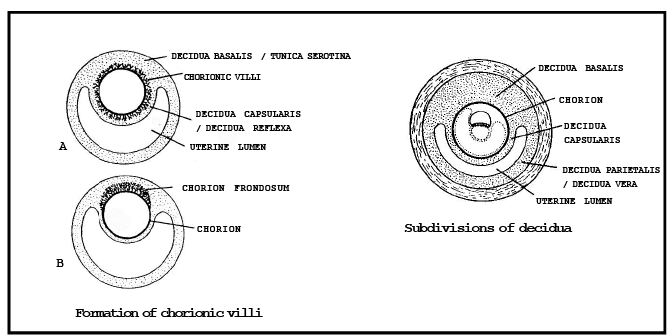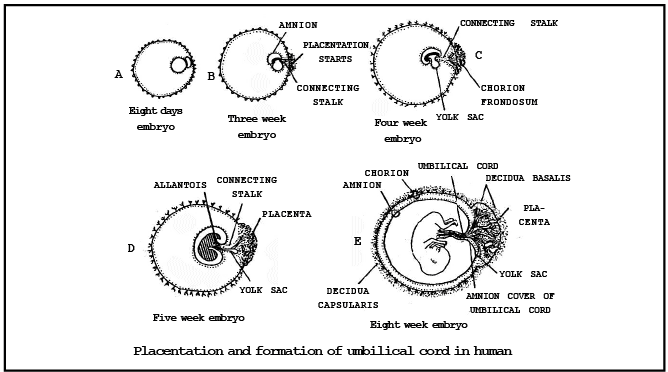 Classification of Placenta
On the basis of different characters, the placenta are classified in following manner1. On the basis of intimacy After implantation, the wall of uterus is called as decidua, instead of endometrium. The part of decidua, where placenta is formed is calleddecidua basalis whereas, the part separating the embryo from lumen of uterus is called decidua capsularis. The remaining part of lumen of uterus is called decidua parietalis. Decidua also comes out from uterus at the time of parturition. On the basis of intimacy between embryo and uterine wall the placenta is classified into three classes
(i) Non-deciduate or Semi placenta- In this type of placenta, there is no close and rigid association between embryo and the wall of uterus. Hence, at the time of parturition, there is no bleeding as the chorionic villi are easily pulled out from the crypts of uterus. For example, cow, buffalo, horse, pig.
(ii) Contra