The competitive exams are commonly used for the admission purpose in Universities and Colleges. These exams are taken to check the analytical skills of the applicant, presence of mind, pressure handling skills, and knowledge not just about its field but general awareness too This exam follows a procedure and system, if there are seats for 'n' number of seats in the market than the top 'n' number of students from the applicants will clear the exam. Every university or college has different criteria and syllabus for the candidates who crack the entrance exam. Due to the huge difference between the number of applicants and the number of seats available, a cracking entrance exam is not everyone's cup of tea. Don't get disheartened, one's determination, consistency, hard work can help in cracking any entrance exam. Get your belts and shoe tight and be ready to run in the race of entrance exam.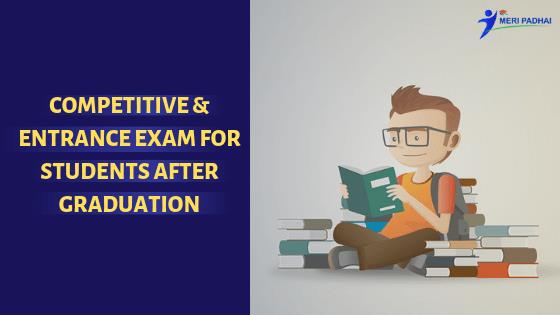 Upcoming Competitive exams
Here comes the season of exams, various entrance exams are lined up and here is a list of them.
1.IBPS PO: This examination is for the Institute of banking personnel selection which is commonly known as the BANK PO examination. This examination consists of two stages, prelims, and mains. Prelims are expected to be held on October 12th, 13th, 19th, 20th of 2019. The main is expected to be held on November 30th, 2019.
2.RRB JE: This examination is held by Railway Recruitment Board, applicants who are interested in railways jobs take up this examination. It has two stages (stage 1, stage 2). Stage 1 exam is expected to be held on 26th June 2019 to 28th June 2019 (Rescheduled).
3.NDA: This examination is for admission to the National Defence Academy which provides training for all three sectors of Indian armed forces- Army, Air, Navy. The selection procedure in the academy has three stages (entrance exam, interview, medical test). The entrance exam (II) is expected to be held on 17th November 2019.
4.CDS: UPSC CDS Exam 2019 (II) is held for recruiting candidates for the course conducted by Indian Military Academy, Indian Naval Academy, Air Force Academy and Officers Training Academy. This examination is conducted twice a year. CDS (II) is expected to hold on 8th September 2019.
5.CAT: CAT (Common Admission Test) is a computer-based management entrance exam held for the candidates seeking admissions in MBA, PGDM and other postgraduate
management courses from the top b-schools of India. The exam is conducted by IIMs on a rotational basis. The exam is likely to be conducted in November 2019.
Competitive exam preparations
Cracking any competitive exam is tough, not impossible. There are few things which the applicant should keep in mind while preparing for the examination.
1.Determination: It is the key as it keeps you moving and doing hard work. Hard work always pays off. If an applicant is determined enough than cracking any entrance exam is not tough.
2.Consistency: Only hard work is not the key, consistent hard work makes you attain your goal. It means you keep on keep on learning daily. Study daily, just for an hour but daily.
3 Working in the right direction: Before studying for an exam, one should study the exam first. Means applicant be known about the exam its criteria, syllabus, etc. this will help the applicant to work in a particular direction and that one direction is the right direction.
4.Time management: The one who knows the art of time management knows the art of getting successful in life. Working efficiently makes you step closer to your goal.
5.Healthy lifestyle: A person with pink health can achieve anything, so taking care of health is a must for every applicant. Take 7-8 hours of sleep and avoid studying in odd hours as it decreases efficiency and effects health.
Competitive exam coaching institutes
The coaching center plays an important role in the preparation of any entrance exam as it guides an applicant. At the same time aiming for a right coaching center that fits in applicant need is a big task nowadays. The coaching center charges a huge amount of fees at the same time if it doesn't give the desired results that create pressure over the applicant.
---
Meri padhai is a platform that works a gap between the applicant and the coaching institutes. It suggests applicant the institute which fits in the need of the applicant.
To get the institute you desire for, contact Meri padhai and get the guidance for your competitive entrance exams.
Frequently Asked Question

Q1. What are the tips to prepare for competitive exams?
A. When you are getting ready for competitive exams, there are a few things you must keep in mind. First and foremost, prepare for them properly. If you are facing problems while getting ready for a competitive exam and don't know exactly what you should do in order to ace it, then this is the post you should be reading. In this article, we are going to tell you about the do's and don'ts of doing well in an exam and how you can do well for yourself by doing the right things. Always remember that it's not always about studying hard but studying enough.

Q2. How do I prepare for a competitive exam?
A. 1. Create a practical study plan
2. Know your strength and weakness
3. Plan your exam strategy
4. Practice previous year papers
5. Stay Physically and Mentally Balanced
6. Find a Good coaching institute.
7. Practice, Practice, Practice.