Environmental catalysis
Environmental catalysis involves reduction in emission of SOx, NOx, COx and volatile organic materials. The sources of these pollutants include mobile sources such as exhaust gases from automobiles and stationery sources such as exhaust gasses from various industries. Removal of these gases is done by catalytic treatment of the exhaust gas. Some of the processes will be discussed here.
Catalytic converter
The pollutants from automobile exhaust gasses are removed by passing the gases through the catalytic converter. Automobile combustion processes generate large quantities of CO2 and H2O. However, significant amount of CO and unburned hydrocarbons (HC) are also produced due to inefficiencies of combustion processes. NOx is produced due to high temperature reaction between N2 and O2 of air. The quantities of each pollutant varies with Air to Fuel ratio (A/F).
CO and HC concentration can be reduced by oxidizing it to CO2 and H2O while NOx is reduced to N2.

NOx reduction readily occurs at fuel rich condition whereas CO and HC oxidations occur at air rich conditions. However there exist a narrow window (A/F =14.55 ± 0.1) in which 90 % NOX is reduced to N2 and 90% CO and 85 % HC are oxidized to CO2 and H2O. Controlling the A/F ratio within this narrow window is critical for efficient conversions and done by using O2 sensor placed immediately before the exhaust manifold.
Catalysts
At specific stoichiometric value of air- to- fuel ratio using a selective catalyst all the three pollutants, CO, NOx and unburned hydrocarbons, can be removed. The catalyst used for promoting these three reactions simultaneously is known as a three way catalyst. These catalysts consist of cellular monoliths with parallel open channels. Details about auto exhaust catalysts are given by Heck and Farrauto [1]. Ceramic monoliths are shown in Fig 1. These monoliths have large open frontal area (~ 70 %) resulting in low pressure drops and unrestricted flow. The monoliths are usually made of cordierite having composition of 2MgO. 5SiO2. 2Al2O3. Typically, the monoliths that are used in automobiles, contains 60-65 cells/cm2. Monolith catalyst is mounted in a stainless steel container wrapped with matting material. Converters are generally of 10-12 cm diameter and 7-10 cm long.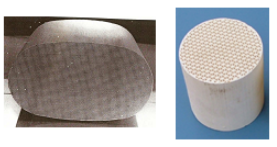 Fig. 1 Ceramic monolith
The typical composition of three way catalysts as defined above is shown in Fig. 2.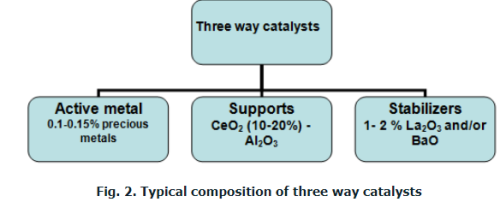 The alumina-ceria is deposited on monolith honeycomb by dipping the monolith in the slurry of the components. Alumina washcoat is chemically and physically bonded to the surface. Washcoat is generally about 15 wt% of the finished honeycomb catalysts.
Pt and Rh are used as active metals. Pt is active for oxidation reactions but converts NOX to NH3. But Rh highly selective for NOX to N2. A bimetallic catalysts with Pt: Rh ~ 5: 1 ratio is generally used. CeO2 act as O2 storage component and liberates or absorbs O2 during air to fuel perturbations according to the following reactions.

CeO2 also act as steam reforming catalysts.

This H2 reduces a portion of NOX to N2
Kinetics and mechanism
According to Bunluesin et al.[2] mechanism of CO oxidation is significantly affected by CeO2. In absence of CeO2, oxidation of CO over Rh/Al2O3 is modeled as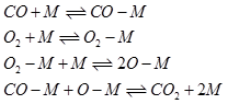 Here M is the adsorption site. The rate of CO oxidation is given as


is partial pressure of oxygen and PCO is partial pressure of CO.
While mechanism pathway in presence of Rh/CeO2 is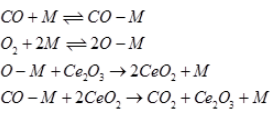 Here M is the adsorption site a nd rate of CO oxidation is given as

Hence, rate is independent of CO partial pressure in the presence of ceria. At high conversion, rate becomes limited by external mass transfer. The rate of CO2 formation over Pt catalyst has been modeled based on Langmuir-Hinshelwood models. According to Liu et al. [3], CO and O adsorb on adjacent sites on Pt surface. Considering surface reaction between adsorbed CO and O to be the rate-controlling step, the rate expression is obtained as :
Where k is forward rate constant for generation of CO2. Ko2 and Kco are adsorption constant for O2and CO.
Deactivations
At temperatures above 800°C in oxidizing atmosphere Rh can reacts with Al2O3 forming a less active aluminates. Poisoning by SO2 may also occur to some extent.
Selective catalytic reduction of NOx
NO and NO2 are undesirable by-products of combustion of fuels in boilers, engines and turbines as well as in chemical operations such as HNO3 production. In selective catalytic reduction (SCR) process ammonia reacts selectively with NOX to produce N2 without consumption of excess oxygen.

The process is associated with following side reactions
1. Oxidation of SO2 if any present.

2. Oxidation of ammonia

Selectivity for these different reactions depends on catalysts and operating conditions
Catalysts
Different types SCR catalysts are used such as Pt, V2O5 /TiO2 and Zeolites. Each of these catalysts has different maximum NOX conversion temperature and operating window. Pt is active in temperature range of 100-250°C while zeolite is active at temperature greater than 400°C. Most common catalysts is V2O5 supported on TiO2. Its operating temperature is 300 - 400°C. Here vanadia is the active metal and titania stabilizes vanadia. WO3 / MoO3 promoters are added to increase the activity while significantly decreasing SO2 oxidation activity. SCR of NOx with ammonia is also carried out with structured monolith based catalysts. For monolith catalyst based process, the pressure drop is lower, resistance to attrition is higher and surface area per volume of catalyst is higher compared to fixed bed. The monolith is usually wash coated with a porous support material such as zeolite or carbon along with incorporation of the active phase. V, Fe or Mn is used as the active phase.
Kinetics and mechanism
Dumesic et al. 1993 [4] proposed following three step mechanism for SCR of NO with ammonia on V2O5 /TiO2.

M = ammonia adsorption site = acidic site
SO = reactive site on which ammonia is activated = Habstraction
The third step that is the reaction between NO and NH2M is the rate determining step. The derived rate expression is



Deactivation
Fouling or solid deposition of side products such as fly ash or ammonium bisulfate on the catalyst surface results in catalyst deactivation. Ammonium bisulphate is formed by the reaction of SO3(from SO2 oxidation) reacts with unconverted ammonia and is a sticky corrosive compound, fouling heat exchanger and other equipment downstream. Another cause of deactivation is sintering of titania. Abrasion, fouling and/or poisoning by fly-ash can be prevented by installation of electrostatic precipitator. Fouling by SO3 can be minimized by keeping SO3 concentration low by using lower active catalyst or keeping temperature lower than 350°C or using monolith catalysts which lower the residence time. Sintering can be minimized by addition of promoter.