ENVIRONMENT
7.1. OIL DEGRADING BACTERIA TO UNDERGO FIELD TRIALS
Why in news?
 The Malabar Botanical Garden and Institute of Plant Sciences, Kozhikode, has joined hands with Bharat Petroleum Corporation Limited (BPCL) for field trials to establish the oil-degrading properties of three new strains of bacteria.
 The key hydrocarbon-degrading enzyme produced by the bacteria has been isolated and purified and laboratory tests have been successful.
 This active enzyme (Catechol 2, 3- dioxygenase) produced from three new strains of oil-degrading bacteria (two species of Burkholderia and one species of Pseudomonas) is going to be used in pilot plant in Kochi.
What is Bioremediation?
 It means the use of microorganisms to degrade environmental pollutants.
 Advantages of Bioremediation:
 Less expensive
 Conventional methods like mechanical removal, burial, evaporation, dispersion, and washing are expensive and can lead to incomplete decomposition, leaving residual contaminants to pollute soil and water.
 Employed in areas that are inaccessible without excavation. For ex: spills affecting ground water.
 Clean up petroleum pollutants from the environment conserving aquatic wildlife without negatively affecting bio-diversity.
Bioremediation related technologies
 Bioventing - an in situ remediation technology that uses microorganisms to biodegrade organic constituents in the groundwater system.
 Bioleaching - extraction of metals from their ores through the use of living organisms instead of using harmful chemical substances such as cyanide etc.,
 Land farming - ex-situ waste treatment process that is performed in the upper soil zone or in biotreatment cells. Contaminated soils, sediments, or sludges are transported to the Landfarming site, incorporated into the soil surface and periodically turned over (tilled) to aerate the mixture
 Composting - Aerobic bacteria and fungi decompose the organic matter into compost used as fertilizer.
 Bio-augmentation - the addition of archaea or bacterial cultures required to speed up the rate of degradation of a contaminant.
 Bio-stimulation - modification of the environment to stimulate existing bacteria capable of bioremediation.
7.2. AIR POLLUTION REPORT: IEA
Why in news?
 The "Energy and Air Pollution, World Energy Outlook Special Report" has been released in June.
Observations
 Less than 1% of India's population lives in areas that meet WHO air quality guidelines. This could increase to almost 10 per cent by 2040, if stringent air pollution regulations are in place.
 The report identifies sources for three big pollutants:
 NOx (nitrates) -transport is the major contributor of nitrates.
 SO2 (sulfates) - power sector (thermal power stations, back-up generators) for sulfates.
 PM2.5 (particulate matter) – residential sector, biomass burning for cooking and heating.
 But due to new power sector regulation, SO2 is likely to be restricted to around 10 per cent relative to current situation.
 NOx emissions growth could be contained to 10 per cent in 2040 by new passenger car standards (BS VI).
 Further, efforts to promote access to clean cooking facilities (Solar cooker, PM Ujwala scheme) for poor households have to be continued to moderate PM2.5 rise to around 7 per cent.
 The report acknowledges the role of Environmental Protection Amendment Rules (EPA) 2015 in strengthening emission standards for new and existing plants
 But even with all existing policies, absolute growth in emissions (especially PM2.5), coupled with strong population growth, means the number of premature deaths linked to outdoor air pollution will still grow significantly.
Challenges
 Weak norms and implementation.
 Though control technologies for nitrates and sulfates are installed, they are often suboptimal or operate inefficiently.
Way forward
 Ambitious long-term WHO-benchmarked air quality goal should be set.
 A clean AIR strategy for the energy sector: Avoid pollutant emissions, Innovate to reduce pollution abatement costs and reduce emissions should be made.
 Further, it calls for effective monitoring, enforcement, evaluation and communication using reliable data.
 Energy sector must work closely with a range of stakeholders to tackle air pollution successfully.
7.3. GANGOTRI GLACIER AND FLOW OF RIVER GANGA
Why in news?
 Government said that the retreat of Gangotri glacier will not impact the flow of river Ganga drastically as the river is not totally dependent on glaciers for its water even in the head-water region.
Background
 There has been a retreat of 3 km over the past 2 centuries. The rate of retreat has increased significantly since 1971 to 22 meter per year, which was less than 12 meter per year in the preceding century.
 Winter precipitation is when the glacier receives adequate snow and ice for maintaining itself. About 10-15 spells of winter snow as part of western disturbances feed the glacier.
 It has been observed that the snowfall in the region is reduced with increasing rainfall and higher temperatures transferring heat to the glacier causing it to melt faster.
 Mapping of glaciers in the Himalayan region by ISRO using satellites shows that there are nearly 35000 glaciers in Indus, Ganga and Brahmaputra regions in the Himalayan and Trans Himalayan ranges.
 87% of the glaciers show no Change while 12% retreated and 1% advanced.
Facts about Gangotri glacier:
 The terminus of the Gangotri Glacier is said to resemble a cow's mouth, and the place is called Gomukh.
 Raktvarn, Chaturangi and Kirti are the three main glacial tributaries of Gangotri.
7.4. KERALA BIRD ATLAS PROJECT
 Kerala Bird Atlas is an ambitious citizen science project, to map the distribution and abundance of birds of an entire Indian state.
 This is the first time in India that birds in an entire state are being mapped. The only similar effort was in Mysore city few years back.
 The programme is being coordinated by the Hume Centre for Ecology and Wildlife Biology, a conservation organization in the district, in association with the Bird Count India and e-bird.
 Kerala has the distinction of having six bird monitoring schemes, which includes recording common birds, heronries, water birds, pelagic (sea) birds, and forest birds.
 The project has begun in Wayanad district.
 It is envisaged as a five-year activity. By repeating the process over a period of 25 years or so, it will be possible to scientifically document changes in distribution and abundance of our birds over a period of time.
 This has huge implications on nature conservation as a whole as birds are perfect indicators of the changing ecological conditions.
_________________________________
Atlas outputs are used by policy makers in several countries and are perfect examples of citizen science being used in conservation of nature. The 2014 RSPB Medal was awarded to the team behind the British Bird Atlas 2007–11 and they acknowledged its role as a valuable resource to everyone involved in conserving, researching or understanding Britain and Ireland's birds.
_________________________________
7.5. GANGA CLEANING
Why in News?
 231 projects under clean Ganga mission have been inaugurated simultaneously at various locations across the states through which the river flows.
Efforts to clean the river
 Namami Gange:
 It focuses on pollution abatement interventions namely
 Interception, diversion and treatment of waste water flowing through the open drains through bio-remediation
 appropriate in-situ treatment
 use of innovative technologies
 sewage treatment plants (STPs)
 effluent treatment plant (ETPs)
 Rehabilitation and augmentation of existing STPs and immediate short term measures for arresting pollution at exit points on river front to prevent inflow of sewage etc.
 Aims to make more than 1600 panchayats on the banks of Ganga open defecation free.
 8 biodiversity centers would be developed along the Ganga for restoration of identified priority species
 It focuses not merely on the main river but also on the tributaries. Funding fully to be taken up by center.
 Use of technology like SMS based pollution level monitoring, coordination with ISRO's Bhuvan.
 Structure
 national level committee chaired by Cabinet secretary- assisted by NMCG (National mission for clean Ganga)
 State level committee chaired by chief secretary- assisted by SPMG (State program management group)
 District level committee chaired by District collector.

 NRGBA: established by the Central Government of India, on 20 February 2009 under Section 3 of the Environment Protection Act, 1986.
 It declared the Ganga as the "National River" of India.
 The chair includes the Prime Minister of India and chief ministers of states through which the Ganga flows.
7.6. OZONE LAYER OVER ANTARCTIC
Why in news?
 Atmospheric scientists have seen signs of the mending of the ozone hole above the Antarctic.
 It is ascertained by the scientific fraternity that the healing is a direct result of the curb on the release of chlorofluorocarbons following from the Montreal protocol of 1987.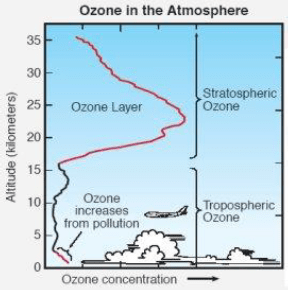 About Ozone hole
 The Antarctic ozone hole is an area of the Antarctic stratosphere in which the recent ozone levels have dropped to as low as 33 percent of their pre-1975 values.
 The ozone hole occurs during the Antarctic spring, from September to early December, as strong westerly winds start to circulate around the continent and create an atmospheric container. Within this polar vortex, over 50 percent of the lower stratospheric ozone is destroyed during the Antarctic spring.
 The primary cause of ozone depletion is the presence of chlorine-containing source gases primarily CFCs and related halocarbons. In the presence of UV light, these gases dissociate, releasing chlorine atoms, which then go on to catalyze ozone destruction.
 The Cl-catalyzed ozone depletion can take place in the gas phase, but it is dramatically enhanced in the presence of polar stratospheric clouds (PSCs). These polar stratospheric clouds (PSC) form during winter, in the extreme cold.
 Stratospheric chlorine is stored in reservoir compounds like chlorine nitrate and Hydro Chloric acid. During the Antarctic winter and spring, however, reactions on the surface of the polar stratospheric cloud particles convert these "reservoir" compounds into reactive free radicals (Cl and ClO).
 The role of sunlight in ozone depletion is the reason why the Antarctic ozone depletion is greatest during spring. During winter, even though PSCs are at their most abundant, there is no light over the pole to drive chemical reactions.
 Most of the ozone depletion happens in the lower layers of Stratosphere and not in the upper layers.
 In recent times, natural processes such as El Nino and volcanic eruptions have slowed down the process of healing.
7.7. REPORT ON ANIMAL AND PLANT DISCOVERIES 2015
The report is released by the Ministry of Environment and Forest with the help of the studies of scientists and experts of Botanical Survey of India (BSI) and Zoological Survey of India (ZSI).
Notable Findings of the Report
 India's biodiversity has improved with 445 new species been added to the list in 2015.
 The figure includes 262 animal species and 183 plant species.
 The list includes 4 species of reptiles, 6 species of amphibians, 26 species of fishes, etc.
 The most discoveries were made in the Eastern Himalaya region, which accounts for 19% of the total discoveries followed by the Western Ghats (18%) and Andaman and Nicobar Islands (15%).
Notable Additions
 Animals
 Rock gecko (Hemidactylus yajurvedi) found in Kanker Chhattishgarh
 New frog species (Fejervarya gomantaki) from the Western Ghats
 A shiny new species of fish (Barilius ardens), from the Western Ghats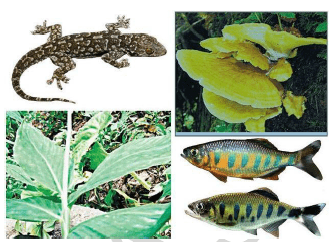  Plants
 A new species of ginger Zingiber bipinianum in the South Garo hills of Meghalaya
 A species of mushroom (Bondarzewia zonata) collected from north Sikkim at an altitude of 2,829 m.
About BSI and ZSI
 The Botanical Survey of India is an institution set up by the government of India in 1890 with the objective of identifying the plant resources of this country.
 The Zoological Survey of India was established in 1916 to survey explore and research the fauna.
 The Headquarters of both the institutions are situated at Kolkata with many regional centers.
7.8. COMMUNITY AWARENESS BY NDRF
 The National Disaster Response Force (NDRF) took a special initiative to spread awareness among the people about response during disasters.
 The trainers and instructors of NDRF reached 482 villages, towns and cities in 22 states and trained more than a lakh people in basic understanding of disaster management and combat.
 This first-of-its-kind exercise will help in sensitizing vulnerable sections to disasters, community capacity building which in turn will ensure resilience and better preparedness against disasters.
 Community capacity building is most significant in reducing adverse impact of disasters.
 This is line with the National Disaster Management Plan as well as Sendai Framework.
7.9. GREEN HIGHWAYS POLICY
Why in news?
The government recently launched the initial plantation drive on 1,500 km of National Highways at a cost of about Rs 300 crore under the National Green Highways Mission.
What is it?
 The Union government had last year launched Green Highways (Plantation, Transplantation, Beautification and Maintenance) Policy 2015.
 The policy aims to take care of the ecological needs, help the environment and local communities, and generate employment by planting trees along all the highways in the country.
Key features
 Financing: 1% of the total project cost (TPC) of National Highways will be kept aside in a Green Highways Fund to be used for plantation and its maintenance.
 Strict auditing: Release of money to the empanelled agencies only if they have achieved a survival rate of 90% in the previous year.
 The implementation and progress of plantation will be monitored via images by ISRO and audit will involve modern IT tools
 Contracts will be given to NGOs, private cos. and govt. organisations with proven track record.
Benefits
 The community involvement in tree plantation directly benefits local people by generating employment. It is estimated that greening of one km of highway provides employment to ten people. Government plans to link it to MNREGA as well.
 The trees can reduce the impact of air pollution, dust as well as noise pollution due to their quality of acting as a natural sink
 It will help in arresting soil erosion at the embankment slopes
 Plants along highway median strips and along the edges reduce the glare of oncoming vehicles that can sometimes cause accidents.
7.10. GREEN CORRIDOR PROJECT
Why in news?
Recently eight states have proposed to issue tenders worth Rs 5,000 crore for the projects.
What is green corridor project?
 A project for evacuation of renewable energy from generation points to the load centres by creating intra-state and inter-state transmission infrastructure.
 The intra-state transmission component of the project is being implemented by the respective states and the Power Grid Corporation of India (PGCIL) is implementing inter-state component.
 It is being implemented in two parts
 Power Grid is setting up the first corridor connecting states rich in renewable energy.
 A second corridor would connect the solar parks in Andhra Pradesh, Madhya Pradesh, Karnataka, Rajasthan and Gujarat.
 The present renewable capacity of the country is 40,000 MW. The Grid can handle 30,000 MW. An additional system for 10,000 MW would be issued by September of this year.
Finance
 It is a Rs. 40,000 crore transmission network project. The intra-state projects are worth Rs 11,000 crore.
 German bank KfW and the National Clean Energy Fund will pick up 40% of the tab each and the rest 20 per cent will be with the respective states.
 These projects will be awarded through transparent bidding to speed up transmission for upcoming solar parks.
Significance
 Distribution network is one of the weakest links in India's power infrastructure. This is a step towards mending that.
 This is a step towards realizing India's target of achieving 175 GW energy from renewable sources.
 The problem of voltage fluctuation in integrating conventional grids with renewable energy grids would be taken care of by the German technology and support.
7.11. OZONE LAYER OVER ANTARCTIC SHOWS SIGNS OF HEALING
Why in news?
 Recent observations have showed signs of mending of this ozone hole.
 Atmospheric researchers have found that the ozone hole has shrunk by more than four million sq kms since 2000 which is the year when ozone depletion was at its peak.
What is Ozone Hole?
 Ozone hole is a region of exceptionally depleted ozone in the stratosphere over the Antarctic that happens at the beginning of Southern Hemisphere spring (August–October).
 The thinning increasing the penetration of UV rays on the earth surface thereby increases the risks of its adverse impacts such as skin cancer.
What has caused the healing?
 The most dominating factor in the depletion of ozone layer is the release of Chlorine from CFCs molecules. The Montreal Protocol has led to reduction in the production and release of CFCs in the atmosphere.
 According to scientists, there are three stages in the ozone recovery process:
 Reduced rate of decline.
 Leveling off of the depletion.
 Ozone increase linked to reduction of the levels of CFC
 Once the CFCs reduce to a certain level, the pace of recovery process will increase automatically.
Significance
 Reduction of UV radiations has tremendous health and environmental benefits.
 It points towards the success of global efforts towards environmental protection. The success of Montreal Protocol should encourage the international community to come together with higher dedication, optimism and vigour to fight other common problems.
7.12. KENDRAPADA SHEEP
Why in news?
 Recently it was conferred 'rare and singular species' tag by the Union government.
 They have some rare genetic traits which lead to multiple birth syndromes in them.
What is it?
 A threatened breed of sheep found only in coastal Jagatsinghpur and Kendrapara districts of Odisha.
 It is also known as 'Kuji Mendha'.
Significance
 Kendrapada sheep are primarily used for production of mutton. The other product of economic importance is their skin. Hence, they make a profitable livelihood source.
 However, unchecked rearing could lead to adverse impact. Thus, sheep farmers need to be sensitized on their commercial viability.
 The new status will give a boost towards their conservation efforts.