ENVIRONMENT
7.1. NATIONAL DISASTER MANAGEMENT PLAN
Why in news?
 The plan was unveiled recently. It is the first major national plan for disaster management.
 The plan aims to make India disaster resilient and reduces loss of lives.
 It is made keeping in mind the Sendai Framework and Sustainable Development Goals (SDGs).
About Sendai framework
 The Sendai Framework is a 15-year non-binding agreement on disaster risk reduction.
 It replaced the earlier Hyogo Framework.
 It was adopted at the Third UN United Nations World Conference on Disaster Risk Reduction held at Sendai, Japan in March 2015.
 It aims for the substantial reduction of disaster risk and losses in lives, livelihoods and health and in the economic, physical, social, cultural and environmental assets of persons, businesses, communities and countries
Major highlights of the plan
 Comprehensive definition of disaster
 The plan is based on the four priority themes of the "Sendai Framework," namely:
 understanding disaster risk,
 improving disaster risk governance,
 investing in disaster risk reduction (through structural and non-structural measures);
 disaster preparedness- early warning and building back better in the aftermath of a disaster.
 It covers all phases of disaster management: Prevention, Mitigation, Response and Recovery.
 It covers human induced disasters like chemical, nuclear etc.;
 Planning
 Planning for short medium and long run respectively 5, 10, and 15 years to deal with disasters.
 Integrating approach with role clarity
 It provides for horizontal and vertical integration among all the agencies and departments of the Government.
 The plan also spells out the roles and responsibilities of all levels of Government right up to Panchayat and Urban local body level in a matrix format.
 Ministries are given role for specific disasters e.g. Ministry of Earth Sciences is responsible for Cyclones
 The plan has a regional approach, which will be beneficial not only for disaster management but also for development planning.
 It is designed in such a way that it can be implemented in a scalable manner in all phases of disaster management.

 Major activities
 It also identifies major activities such as early warning, information dissemination, medical care, fuel, transportation, search and rescue, evacuation, etc. to serve as a checklist for agencies responding to a disaster.
 It also provides a generalised framework for recovery and offers flexibility to assess a situation and build back better.

 Information & media regulation
 To prepare communities to cope with disasters, it emphasises on a greater need for Information, Education and Communication activities.
 It calls for ethical guidelines for the media for coverage of disasters as well as self-regulation. The plan wants the media to respect the dignity and privacy of affected people.
 Also, in a move aimed to stop rumours and spread of panic, the plan directed the authorities to schedule regular media briefing (depending on the severity of the disaster) and designate a nodal officer for interacting with the media on behalf of the government
 Focus on training, capacity building and incorporating best international practices

Significance of the plan
 It closes a critical gap in our disaster management system- while most states and districts have prepared their plans, the national plan that was supposed to guide this process at the sub-national level was missing.
Missing points
 Unlike Sendai Framework or SDGs it does not set any goals or targets or a definite time frame.
 Further, a framework for funding is missing
 Apart from these some other improvements can be done. For example:
 Role of corporate bodies need to be institutionalized
 Inclusion of innovative methodologies- a judicious mix of new technology with traditional practices
 Need to give space to disaster insurance provisions
_______________________________
UPSC MAINS 2013
Q. How important are vulnerability and risk assessment for pre-disaster management? As an administrator, what are key areas that you would focus in a disaster management? (200 words)
_______________________________
7.2. GYPS VULTURE REINTRODUCTION PROGRAMME
Why in news?
 It was launched last year by Government of Haryana by putting ten captive bred vultures in pre-release aviaries close to Jatayu Conservation Breeding Centre at Pinjore in Haryana.
 It is Asia's first Gyps Vulture Reintroduction Programme
 Recently, two Himalayan Griffons were released in the wild as part of this programme.
 The programme is an ex-situ means of conservation whereby some vultures are kept at the breeding center for some time and then released into the wild.
 As vultures play a vital role in keeping the environment clean, their breeds should be increased and the government should constantly work to increase their numbers.
Status of vulture species in India
Mainly four kinds of vultures are found in India
 Gyps species- also called Indian vulture, Long-billed, slender billed vulture- Critically endangered
 Himalayan Griffon; closely related to Indian Gyps- not endangered; only Near Threatened
 Red-Headed Vulture- Critically endangered
 Egyptian Vulture- Endangered as per IUCN
Why is population of vulture declining
 Mainly due to use of Diclofenac, a drug which is given to cattle for inflammation and pain. The drug results in kidney failure in vultures when it enters its body through the Caracas.
 The government has banned Diclofenac since 2006 but its illegal use remains in force. People need to be made more aware of the use of alternate drug Meloxicam
Jatayu conservation breeding centre
 It is a facility within Bir Shikargah Wildlife Sanctuary for the breeding and conservation of Indian vultures in Pinjore town near Chandigarh, Haryana.
7.3. TRANSBOUNDARY MANAS CONSERVATION AREA (TRAMCA)
 The second monitoring of big cats across the Transboundary Manas Conservation Area (TraMCA) covering Manas National Park (MNP) in Indian side and the Royal Manas National Park (RMNP) in Bhutan has found altogether 21 individual tigers.
 The first monitoring in TraMCA in 2011-12 found 14 individual tigers in the landscape.
 The latest tiger monitoring, carried out by the MNP, RMNP, National Tiger ConservationAuthority (NTCA), WWF-India and conservation group Aaaranyak last year, covered an area of 560 sq km across the two protected areas.
 Apart from the increase in number, the results also indicate of the presence of a healthy core breeding tiger population in the region, which can well serve as a source population for tigers for Bhutan as well as North Eastern region of India.
 Findings also suggest that there is unhindered movement of the tigers and wildlife across the corridors of cross border forests. This underscores the importance of maintaining the connectivity between the respective protected areas comprising the landscape, for long term conservation of the big cats.
 Transboundary Manas Conservation Area (TraMCA) covers Manas National Park (MNP) on the Indian side and the Royal Manas National Park (RMNP) in Bhutan
 TraMCA, floated in 2008, is a joint initiative of India and Bhutan for trans-boundary biodiversity conservation.
7.4. NEW MODEL TO STUDY URBAN HEAT ISLAND
Why in news?
 A new climate model to study the heat island effect in Abu Dhabi has been developed by researchers. The model, once completed, would help in tackling the effect across the globe.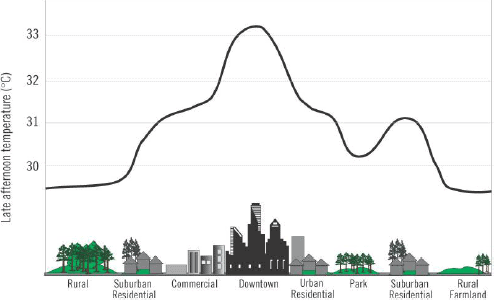 About urban heat islands (UHI)
 Urbanization negatively impacts the environment mainly by the production of pollution, the modification of the physical and chemical properties
of the atmosphere, and the covering of the soil surface. Considered to be a cumulative effect of all these impacts is the UHI.
 It is defined as the rise in temperature of any man-made area, resulting in a well-defined, distinct "warm island" among the "cool sea" represented by the lower temperature of the areas nearby natural landscape (figure 1).
 Though heat islands may form on any rural or urban area, and at any spatial scale, cities are favoured, since their surfaces are prone to release large quantities of heat.
 On an average the annual air temperature of a heat island in a city with 1 million people or more can be 1-3°C warmer than its surroundings which goes upto 12°C in evenings.
 Heat islands can affect communities by increasing summertime energy demands, air-conditioning costs, air pollution and greenhouse gas emissions, heat-related illness and mortality
 The major causes are vehicle, dark pavements, multi-storey buildings and air conditioners. Among these the use of ACs is most adverse as it creates a vicious cycle.
 The effects of a heat island can be reduced by developing efficient cooling systems, adding vegetation to buildings, cooling paved surfaces with reflective paint etc.
__________________________
UPSC MAINS 2013
Bring out the causes for the formation of heat islands in the urban habitat of the world. (100 words)
__________________________
7.5. DRAFT WETLANDS (CONSERVATION AND MANAGEMENT) RULES
 The new draft rules have been recently put into the public domain the government.
 In 2010, the MoEF had notified Rules for conservation and management of wetlands under the Environment Protection Act, 1986. The new rules will replace them.
Major changes from the old rules
 The Central Wetlands Regulatory Authority (CWRA) will be removed. The power of notification would rest with the chief ministers of respective states.
 There is no time limit for notification as against the period of 12 months stipulated in 2010 rules
 The numbers of restricted activities have been reduced.
 Earlier the decision taken by CWRA could have been challenged before NGT by a citizen. No provision of citizen check is present under the new rules.

Issues
 The record of states in implementation of the rules has not been encouraging. It is observed that states are susceptible to yielding under local pressure. Recently the NGT reprimanded some states for not even notifying wetlands under the 2010 rules. In this light the decentralization without adequate checks could be counter-productive.
 The draft does away with the Central Wetlands Regulatory Authority, which had suo moto cognizance of wetlands and their protection.
 It contains no ecological criteria for recognising wetlands, such as biodiversity, reefs, mangroves, and wetland complexes as was mentioned in 2010 rules.
 It has deleted sections on the protection of wetlands, and interpretation of harmful activities, which require regulation, which found reference in the 2010 rules. It seems the protection has been diluted as restricted activities have been reduced drastically. Activities under vague terms like 'wise use' have been permitted.
 No role to local people and institutions have been given.
Suggestions
 There is need for scientific criteria for identifying wetlands- an independent authority can help with respect to this.
 Use this method to create a data bank on wetlands; proper data of only Ramsar sites is present. In absence of proper data bank extent of wetland is not ascertained and encroachment becomes easier.
 Proper checks and balances- both on part of central government and citizens is required.
 The rules should be people-centric; involvement of town and country planning Board in identification of wetlands. More role to locals like fishing community, farming and pastoral community in management-they have experience as well as interest in their protection.

(Note: Also see February edition of Vision Current Affairs for more)
___________________________
UPSC IN PAST
Q. Discuss the wetlands and their role in ecological conservation in India. (150 words) (MAINS 2009)
Q. List any eight 'Ramsar' wetland sites located in India. What is the 'Montreux Record' and what Indian sites are included in this Record? (150 words) (MAINS 2010)
____________________________
7.6. ALTERNATIVE TO BT COTTON
Why in news?
 The Union government is working to develop a suite of Bt cotton genes that can be integrated into traditional varieties and be made available to farmers.
 This would be a viable alternative to the current Bt Cotton technology, which is largely sourced from foreign company Mahyco Monsanto Biotech India Ltd. (MMB).
 It would be a joint collaboration of Council of Scientific and Industrial Research (CSIR) and the Department of Biotechnology (DBT).
Why the need to develop alternate variety
 Freedom from dependence on foreign technology.
 Improving the availability of seeds to the farmers at affordable prices.
 Under the present licensing system between seed companies and seed technology companies (like MMB), the availability and affordability of the seeds is not optimal. The government has even brought proposals to make changes to this royalty and technology sharing system and also seeks to regulate the seed prices. An indigenous alternative would address this issue as well.
About Bt Cotton
 Bt Cotton is a genetically modified variety of cotton that contains insecticidal genes sourced from soil bacterium targeted at key cotton pests.
 It is the only GM crop that is legally allowed in India at present. Gm food crops such as brinjal and mustard, which are in advanced stages of regulatory clearances, are yet to become available to farmers due to stringent opposition by anti-GM activist groups.
7.7. CARBFIX PROJECT
Why in news?
 Recent reports show that the project was able to solidify 95% of the injected 250 tonnes of CO2 into calcite in 2 years, using 25 tonnes of water per tonne of CO2.
 This is a significant achievement and offers hope for future.
What is it?
 It is a project in Iceland that aims to lock away CO2 by reacting it with basaltic rocks.
 Carbonated water is injected into the rocks so that it reacts with Calcium, Magnesium or Silicate material present in Basaltic rocks. This is called enhanced weathering.
 Thus, the CO2 is captured permanently without releasing any harmful by-products.

Issues
 Cost of the process is very high.
 Since the reactions are exothermic, it is reversible if the rocks are heated.
 The pumping activity generates seismic activity.
7.8. SPACE COLLABORATION TO TACKLE CLIMATE CHANGE
Why in news?
 The monitoring of GHG emissions can be done effectively and accurately by space satellites.
 Keeping this mind, 60 space-faring nations have agreed to engage their earth observing satellites, coordinate their methods and data to monitor human-induced GHG emissions.
 They will establish 'an independent, international system' to centralize data from satellites.
Significance
 This would help to get the best data possible on climate change with most authenticity.
 The satellites would also be used to verify the efforts of nations towards fulfilling their commitments under the Paris Agreement.
 The goal now will be to inter-calibrate these satellite data so that they can be combined and compared over time.
 The decision was taken at a meeting at New Delhi, which was called upon at the invitation of ISRO and French space agency Centre national d'études spatiales (CNES).

7.9. CLIMATE SMART AGRICULTURE
Why in news?
Recently the three-day Annual Forum of the Global Alliance for Climate-Smart Agriculture (GACSA) was organised at Rome by FAO.
Need for climate smartness in agriculture
 Rising challenges of food security: The UN Food and Agriculture Organisation (FAO) estimates that feeding the world population will require a 60 percent increase in total agricultural production.
 Negative impact of Climate change on agriculture: Climate change is already negatively impacting agricultural production globally and locally, particularly in low-income countries where adaptive capacity is weaker. Impacts on agriculture threaten both food security and agriculture's pivotal role in rural livelihoods and broad-based development.
 Impact of agriculture on environment: The agricultural sector, if emissions from land use change are also included, generates about one-quarter of global greenhouse gas emissions.
About CSA
 Climate smart agriculture (CSA) is an integrative approach to address these interlinked challenges of food security and climate change. It basically aims at three main objectives:
 sustainably increasing agricultural productivity, to support equitable increases in farm incomes, food security and development;
 Adapting and building resilience to climate change at multiple levels; and
 Reducing and/or removing greenhouse gas emissions, where possible.
 It is supported by Food and Agricultural Organisation (FAO).
Elements of CSA
 CSA is not a set of practices that can be universally applied, but rather an approach that involves different elements embedded in local contexts. It relates to actions both on-farm and beyond the farm, and incorporates technologies, policies, institutions and investment.
 CSA approaches include four major types of actions:
 Expanding the evidence base and assessment tools to identify agricultural growth strategies for food security that integrate necessary adaptation and potential mitigation
 Building policy frameworks and consensus to support implementation at scale
 Strengthening national and local institutions to enable farmer management of climate risks and adoption of context-suitable agricultural practices, technologies and systems
 Enhancing financing options to support implementation, linking climate and agricultural finance
7.10. REVIEW OF THE NATIONAL FOREST POLICY
Why in news?
 The Environment Ministry had tasked the Bhopal-based Indian Institute of Forest Management, an affiliated organisation, with reviewing and revising the existing forest policy.
 This is the first time that the policy was being re-looked since 1988 as it wanted to update the several changes in forest laws and provide a forward-looking policy that talked about increasing India's forest cover and tackling the effects of climate change.
 It may be noted that many demands have been made to review the 1998 policy as it does not meet the present day requirements.
Highlights of the study
This study was prepared for 'consideration of the government' and it was funded by United Nations Development Fund as well. In this light it is important to consider the major proposals of the study.

 Increasing forest cover
 It aims to bring a minimum one-third of India's total geographical area under forest or tree cover through scientific interventions and enforcing strict rules to protect the dense cover.
 This should be done replenishing it with native species rather than introducing exotic species
 Carbon tax: It proposes to levy environmental cess, green tax, carbon tax etc. on certain products and services
 Diversion of land
 It underscores the need to exercise special caution in case of land diversion projects related to mining, quarrying, construction of dams, roads and other linear infrastructure
 Use of state-of-the-art technology which causes minimum pollution and damage should be promoted.
 Finance: It calls for enhancement of the budget of the forestry sector so that objectives enshrined in the this policy can be achieved
 Eco-tourism: It calls for developing "sound eco-tourism models" with the focus on conservation while supplementing the livelihood needs of local communities.
 Implementation: The policy envisages that a national implementation framework be put in place within six months of the notification, to deliver on the commitments. It also urged states to formulate their forest policies and prepare an implementation framework.
 Agro-forestry: The policy also emphasized on large-scale expansion of agro-forestry and farm forestry through incentives and operational support systems such as lowering input costs and enabling access to reasonably priced quality planting material.
7.11. SHAILESH NAYAK COMMITTEE REPORT
 The Report of the Committee to Review the Issues relating to the Coastal Regulation Zone, 2011, was submitted to the Ministry of Environment, Forests and Climate Change in January 2015.
 The ministry has disclosed the report after an order from the Information Commissioner last month ordering the ministry that it cannot deny the report under the Right to Information (RTI), Act.

Highlights of the report
 The committee found that the 2011 regulations, especially with regard to construction, have affected the housing, slum redevelopment, redevelopment of dilapidated structures and other dangerous buildings.
 Since January 2015, several dilutions appear to be taken from this report, such as
 Allowing construction of monuments/memorials (Sardar Patel statue in Gujarat) in CRZ VI zones;
 Proposal to allow high-rise buildings (Chennai) in CRZ II zones within 500 metre of the high-tide line;
 Proposal to allow reclamation of land from sea (Mumbai) for facilities such as ports, roads, quays, harbours and others.
 The report proposes the devolution of powers to state and union territory governments along with local authorities as sought by several states.
 The report even suggests that both CRZ II and III zones (500 metres from the high-tide line that are developed and relatively undisturbed, respectively) should not fall under the environment departments of the State or Central Ministry, and instead be guided by the rules of State town and planning departments.
 It further proposes to reduce the "no development zone" to just 50 metres from existing 200 metres for "densely populated" areas.
7.12. POPLAR TREES IN KASHMIR
 Kashmir is known for its Pine trees. However, the pine forests have diminished significantly in last few decades due to large scale timber extraction.
 In the search for alternative, the Social Forestry Department introduced the populous deltoids, or Eastern Cottonwood or more popularly called Poplar.
 Introduction of the species boosted the veneer and ply-based industry in the Kashmir region while its timber, used for fruit-packing boxes, is a cost-efficient option for the horticulture industry, which forms the backbone of the state's economy.
 The financial benefits offered by growing poplars helped Kashmiri farmers look to agro-forestry as a better means of livelihood.
 In recent years, however, people have been raising concern over the increased instance of infections caused by the cotton produced by the poplars.
 As a result, the HC of J&K has ordered the felling of all Poplar trees in Kashmir valley.
 This is being opposed by many members of civil society who argue that poplar-induced allergy is not that significant when compared to other causes of allergy like dust, lawn grass etc.
7.13. PALAEOCHANNEL
Why in news?
 Central Ground Water Board (CGWB) under Ministry of Water Resources, River Development and Ganga Rejuvenation has been putting great emphasis on studying the various aspects of Palaeochannels in India so that its ground water potential can be optimally utilized.
 Recently it organized a workshop on this issue.
About Palaeochannel
 A palaeochannel is a remnant of an inactive river or stream channel that has been either filled or buried by younger sediment.
 A palaeochannel is distinct from the overbank deposits of currently Active River channels because its river bed is filled with sedimentary deposits which are unrelated to the normal bed load of the current drainage pattern.
 Palaeochannel forms when river channels aggrade, depositing sediment on their bed. For these channel deposits to be preserved, the flow must not re-occupy and re-erode them. For example, when the channel is in a net-depositional environment, or in a subsiding sedimentary basin.
Importance of Palaeochannel
 Geological importance
 Understanding movement of faults
 Preserving sediments and fossils useful for understanding past rainfall, temperature and climate- this could aid in understanding global warming and climate change as well
 Preserving evidences of older Erosional surfaces and levels
 Economic importance
 The old sediments contain deposits of minerals like Uranium, lignite and precious metals like gold and platinum
 Ground water source
 Because of better flushing mechanism in the ground water system of palaeochannels due to coarser nature of sediments and fast recharge, the quality of ground water is often better than the surrounding environment.
7.14. EFFICIENT AND SUSTAINABLE CITY BUS SERVICE PROJECT
Funding agreement
 India has signed a $9.2-million grant agreement with the World Bank for the 'Efficient and Sustainable City Bus Service Project' aimed at improving the efficiency of the transport and reduce greenhouse gas emissions.
 The project will be classified under Global Environment Facility (GEF) grant with IBRD as the implementing agency.
 The total cost of the programme is $113 million. The rest will be funded by the Centre, state and city governments for the funding of buses and ancillary infrastructure.
About the project
 The project has been designed to specifically focus on identifying institutional, regulatory and fiscal constraints to operation of sustainable city bus services.
 The project will complement Union Government's Bus Funding Scheme, which was launched to promote public transport in cities by modernizing their bus services.
 It will introduce modern Management Information Systems and Intelligent Transport Systems for better planning and management of operations.
 It will also provide technical support to drivers and vehicles for better fuel efficiency, etc.
7.15. EURASIAN OTTER
Why in news?
 Recently Eurasian Otter were discovered from Satpura Tiger Reserve, Madhya Pradesh and Kanha-Pench Corridor.
 It was believed to be restricted to Himalayas and in some parts of the Western Ghats.
What is it?
 It is one of the rarest Indian mammal.
 It has wide distribution covering Europe, Africa and Asia. But it is rare in India.
 It is classified as 'Near Threatened' under IUCN.
7.16. DRAFT WIND-SOLAR HYBRID POLICY
Why in news?
 The draft National Wind-Solar Hybrid Policy aims at providing a framework to promote large grid connected wind-solar photovoltaic (PV) system for optimal and efficient utilization of transmission infrastructure is criticized for many reasons such as being restrictive and for lacking details about tariffs.
Key features of the Policy
 It proposes hybridization of existing solar PV and wind power plants apart from new projects.
 Low cost financing for hybrid projects may be made available through IREDA and other financial institutions like multilateral banks.
 For new hybrid wind-solar projects, the draft policy proposes to provide the developer with the option of using the hybrid power for captive use, third party sale or sale to state electricity distribution utilities.
Significance of the Draft Policy
 Given that critical infrastructure such as land and evacuation network for wind or solar project accounts for about 10-12% of overall project cost, hybrid projects would benefit from common infrastructure.
 The variability in generation profile is likely to be reduced to some extent, as generation from both the sources is at different intervals and in complimentary seasons.
 This would partially address the concerns of distribution utilities over the grid stability arising due to the intermittent nature of wind or solar generation.
Criticism of the Policy
 The draft policy is a good step, but is restrictive as it puts a cap on size of such units.
 The policy lacks in details relating to tariffs and financial incentives.
 It is restrictive in suggesting that hybrid capacity addition, for existing plants, must be limited to the sanctioned transmission capacity.
Way Forward
 Though the policy is a good step however the policy implementation needs to done very carefully - the evacuation policy needs to be clear, transmission augmentation might need to be done in most cases, scheduling and forecasting of delivered power needs to be calculated accurately, and plant layout needs to make sure that wind mills don't cast any shadows on the solar panels.
 Central Electricity Regulatory Commission (CERC) needs to come up with an FIT (Feed in Tariffs) (FIT is a payment made to households or businesses generating their own electricity through the use of methods that do not contribute to the depletion of natural resources, proportional to the amount of power generated) for Wind Solar Hybrid framework.
7.17. CULLING OF ANIMALS
 Environment Ministry recently provided a spate of clearances allowing culling of several species in different states.
 The state Boards were permitted to declare animals that were coming in conflict with humans like nilgai, rhesus monkey, wild pigs etc. as vermin in Bihar, HP and Uttarakhand
 This means that those who kill these animals will, for a year, will not be subject to the jail terms and fines that hunting these animals typically invite.
 Wild animals are protected by the Wildlife (Protection) Act, 1972 under which animals and birds are classified, on the basis of threats they face, into four schedules.
 The highly endangered tiger is in the highest Schedule 1 and hares in Schedule 4.
 Each class gets different grades of protection and the law allows all, except Schedule 1 animals, to be temporarily slotted as Schedule 5 or 'vermin.'
 Nilgai, wild pig and rhesus macaque come under schedule 2 and 3.
 In response to a petition, SC refused to stay the notification that allowed for the culling.
Animal Welfare Board
 It is a statutory advisory body advising the Govt. on animal welfare laws and promotes animal welfare.
 It has questioned the "vermin" decision and called it arbitrary.
 It was established in 1960 under Prevention of Cruelty to Animals Act, 1960 and works under MoEF.